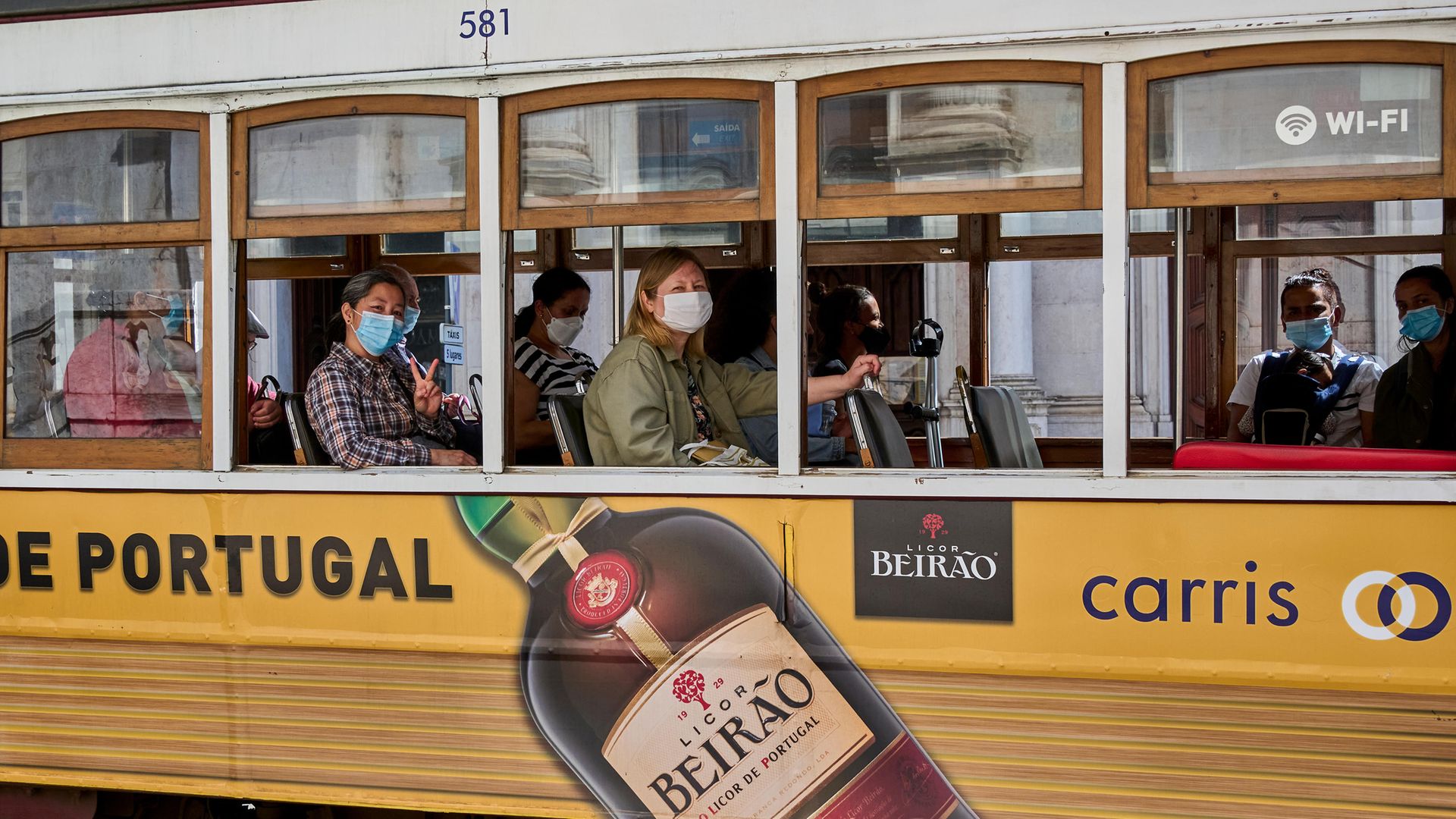 As Portugal tops the list of 'green' destinations for UK tourists, Will Self looks back on trips there and ahead to the future of tourism after the Covid-19 pandemic
So, the list of 'green' destinations has been published and holiday bookings have already soared. The Great British Jet-Off – a major component of our national life and culture – will resume! Let joy be unconfined – as we will be. Let us go forth, as our foremothers and fathers did, to savour the delights of other nations and cultures. Once we were rapacious imperialists, only out to pillage the alien societies we encountered and enslave their peoples – but now, we come among them in peace, seeking only the rich experience that comes when you open yourself to the mores and mentality of the Other. 
Able was Napoleon ere he saw Elba, and exiled on our own miserable isle for eighteen months now, our attitudes will have changed, I'm sure. No longer will we be content to beam down on to some patch of the Mediterranean littoral, unroll a towel, sop up rays and ethyl alcohol for a week or two, and then head back to the airport. Oh, no – being deprived of other places and spaces for so long, now we will begin to reverence them. The package tour companies are saying there's already massive demand for holidays in Portugal – one of the few places Britons can go without having to quarantine on return where the sun actually shines and there isn't a counter-insurgency war underway or a disgustingly repressive regime.
Ah, Portugal! I remember going there as a very small child indeed and visiting the fairytale castles of Sintra, shrouded in clouds – then being driven down switchback roads by my fearless mother, to a little restaurant perched on a wooden jetty over pellucid waters. Here we ate fried fish, and I marvelled at the sea horses kept in a tank. That's all. I went back alone in my late teens, by coach from London – and from this trip I remember bullet holes in Lisbon walls (there'd been a military coup only a few years previous); smoking hash with a hippy from Dortmund on some Algarve bluff; and crossing the Guadiana River to enter Spain. That's it.
In truth, I've learned far more about Portuguese culture and Portugal more generally in the immediate vicinity of my south London home. Why? Because I live within a few hundred yards of a neighbourhood known as Little Portugal, where migrants from both the motherland and the Portuguese-speaking world more generally – Brazil, Cap Verde, Angola &c – have settled over the past fifty years. If you drive south over Vauxhall Bridge, then head up the South Lambeth Road, you'll encounter a long line of Portuguese wine shops, delicatessens, cafes and restaurants that stretches to Stockwell, then almost as far as Brixton. When the sun shines, the outside tables are full of people talking Portuguese volubly while they sip Super Bock lager, and chow down on the stygian and leguminous intensity that's feijoada stew. 
When the sun shines and Portugal are playing an international football match as well, passersby can become completely flummoxed – such is the riot of red-and-green banners, and the throaty roar of "Olé! Ola! Portugal!" – thinking themselves mysteriously teleported to the western littoral of the Iberian Peninsula. The Metropolitan Police get flummoxed hereabouts as well – which explains why, in July 2005, they mistook a Portuguese-speaking Brazilian electrician, Jean Charles de Menezes, for a British-Ethiopian Islamist bomber, Osman Hussain, and shot him seven times in the head while he sat on a train at Stockwell tube station.  
All of which is by way of saying: if any of us really want to engage with other cultures, we need to do a little more than simply go on holiday. There's been a great deal of guff expelled over the past year or so about how the pandemic will make us rethink our lifestyles going forward: no longer will we sacrifice our souls on the altar of consumerism – no longer will we leave huge and sooty carbon footprints all over the place, and no longer will we treat other cultures as if they were a form, of exotic wallpaper, to be hung for a couple of weeks then stripped. As I say: a great deal of guff – and as we know, guff is a greenhouse gas as well, so all of that bloviating will also have contributed to the climate emergency.
If there were any real willingness – or indeed capability – for such major changes in our behaviour, they would have been instituted by now. Globalisation – purely understood as a physical process: namely the free movement of goods, services, capital and people, suffered a major slowdown in 2020-21. Within our national economy, the bullshit character of so many of the jobs we do was compellingly revealed to us as this vicious rather than virtuously circular economy stopped revolving. But all Boris 'Stanley's Law' Johnson has to do is put us on starters' orders, wave the green flag, and we're off.
What do you think? Have your say on this and more by emailing letters@theneweuropean.co.uk
Most popular