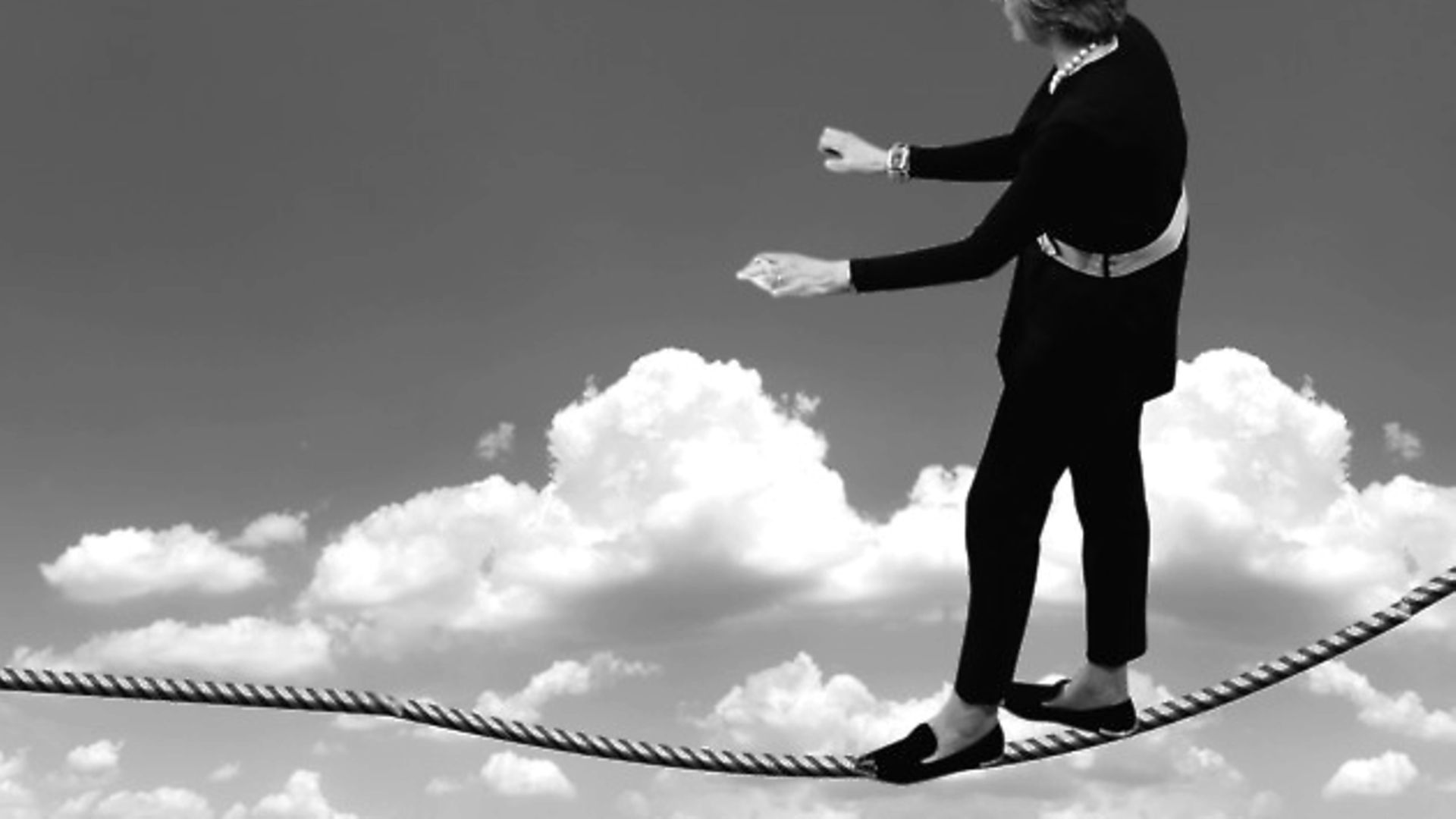 The last three Conservative Prime Ministers were all brought down by the issue of Europe – and none faced problems anything like as grave as those confronting May
This darkly wretched year moves towards its end with a row between Number Ten and a former cabinet minister over Theresa May's leather trousers. A few days before the whacky saga of 'Trousergate' Number Ten's most senior civil servant wrote to May's ministers warning about the number of leaks to the media. His warning was leaked. Several months earlier unease at the top of the Conservative government took a different form. David Cameron resigned as Prime Minister and George Osborne was sacked as Chancellor.
All these eruptions, the trivial and the historic, have the same cause: Europe. The Conservative Party continues to fall apart over Europe as it has done since 1990. The last three Conservative Prime Ministers fell from power because of this single issue. Margaret Thatcher was deposed as she raged about Europe. John Major spent five years of hell after he won the 1992 election struggling to keep his party together over the Maastricht Treaty. He was slaughtered in the 1997 election. Cameron resigned after losing the referendum this summer leaving May with challenges more mountainous than those that agonised her three Tory prime ministerial predecessors as they strode towards their EU-related doom.
'Trousergate' became a fleeting drama as the former Education Secretary, Nicky Morgan, wondered aloud whether May should spend nearly a thousand pounds on a pair of leather trousers. Morgan spoke out because she has become a feisty campaigner for a Soft Brexit. She would not have done so if she had not metamorphosed from loyal minister to insurrectionary rebel. When she raised questions about the lavish trousers Number Ten hit back not because they are that bothered about starting a civil war over May's wardrobe. They did so because they have become neurotic about what Morgan and other Tory rebels are up to over Europe. It is always Europe.
The top official in Number Ten, Jeremy Heywood, took a tough line over leaks because disclosures to the media gave the impression of incoherence and divisions over Brexit. The impression is formed because there is incoherence and division. The leaking of Heywood's warning about leaks was part of the internal battle.
May and her assiduously loyal inner court display signs of paranoia because they have much to be paranoid about. They have inherited a complex multi-layered nightmare with no time for preparation. The divisions in her government are similarly complex. There is no precision yet, nothing as straightforward as one group opposing joining the euro and another supporting it, the cause of an earlier civil war. Ministers are fighting shapelessly because there is no shape yet as to what will happen next.
May always gives interviews that are more interesting than they seem. In her most recent for The Spectator she stated the obvious, but her words offer part of the explanation for her government's tottering start in relation to Brexit.
May pointed out she assumed that Cameron would win the referendum. She added she also believed Cameron when he repeated persistently that even if he lost he would not resign. In other words May did not expect to be Prime Minister this summer in this particular daunting context.
After Cameron resigned she assumed even then she would be fighting a leadership contest for several weeks. She would have a bit of time to prepare before navigating the latest Europe related hell. Instead all the other candidates imploded spectacularly, another symptom of unruly times, and May was Prime Minister before she had time to think beyond Brexit means Brexit.
Most Prime Ministers were a Leader of the Opposition, spending years preparing their approach to the big issues of the day, testing them in the media and with the wider electorate. Some become Prime Minister from within government but usually after a testing contest. May moved into Number Ten in the most daunting context of any Prime Minister since 1945 after a day or two to prepare.
Ever since, her government has given the impression of having several different positions on Brexit, all of them vague and yet distinct. The Chancellor, Philip Hammond, is the one who conveys the most determined pragmatism. Unsurprisingly for a Chancellor, the economy takes centre stage for him rather than the need for an ideologically pure Brexit.
During his speech to the Conservative conference, Hammond dared to make the near insurrectionary observation that no one voted to be poorer in the referendum. More recently he has argued mischievously that 'thoughtful politicians' would support transitional arrangements after the UK has formally left in 2019. As some of Hammond's parliamentary colleagues have questioned the need for transitional plans and called on the government to get on with Brexit speedily the Chancellor was implying clearly and deliberately that some of the more ardent Brexiteers are thoughtless. Hammond's occasional acts of public provocation, a new side to his public persona, are part of the early skirmishes.
The Brexit Secretary, David Davis, was on the other side of the campaign. But Davis is smart enough to follow the evidence before acting. He was an impressively forensic chair of the Public Accounts Committee in the 1990s, a role that only works when a mountain of documents are read and assimilated. In his new position Davis made waves recently by noting, albeit vaguely, that the UK might have to pay for access to the single market. He has spoken to others in the EU and could reach no other conclusion.
Still, both his statement of the obvious and the prospect of a transitional deal extending for an unspecified period of time beyond 2019 had some Conservative MPs foaming at the mouth.
Liam Fox, the Trade Secretary, is thought to be on the Hard Brexit wing of the cabinet. He has a too robust confidence about the UK's future outside the EU, but in fairness to Fox he has said little in public since assuming responsibility. Perhaps he has not had the time to say very much. The UK has not had to negotiate trade deals as a country outside the EU for the obvious reason it has been inside the EU since 1973. Boris Johnson has said a lot but his words do not add up to very much, pragmatic at some moments and hardline at others.
The key to it all as far as her cabinet is concerned is the new Prime Minister. She says little about her 'plan' not because she is hiding deviously a set of propositions but because she has not got a firm plan. No one has. Her tone was tough in the early days of her leadership as she sought to reassure those who voted for Brexit that she would deliver. She has made clear that constraints of free movement in some unspecified form are a 'red line' but so has Labour's Brexit spokesman, Keir Starmer. She has also said that she wants as much as access as possible to the single market. So has Starmer. At this stage there appears to be a titanic battle between the two main parties when they agree in the broadest terms. They want to have their cake and eat it, as a note from one ministerial adviser put it after a meeting with David Davis.
The note was photographed and shown on every media outlet in the land. May does not want a 'running commentary'. She is getting one.
But the commentary gives a false impression of the likely key division in the Conservative party. For now May and her advisers clash with the Soft Brexiteers in her party. Morgan and Anna Soubury appear closer to Keir Starmer over Brexit than they do to May. But that assumes May will be happy to negotiate a deal that will cost the UK even more as it prepares to pay for Brexit.
The Office for Budget Responsibility puts the bill for £35 billion over the next five years with the caveat that it could be more or less.
Some of those MPs who have spoken to May in private leave with the impression that against such a background May will seek the softest possible Brexit with transitional arrangements and maximum access to the single market.
There have been tensions between her and Hammond over arrangements for the UK's financial sector. Hammond regards protections for the this as a priority. She is inclined not to do so, regarding Brexit as a chance to 'rebalance the economy'. But given the UK's continuing dependence on the financial sector and its wider Brexit related fragilities May is ultimately more likely to be in alliance with her Chancellor than in opposition.
This means that over time another Conservative Prime Minister will be in the more familiar position of battling with her hardline Eurosceptic MPs, those MPs who are not bothered about access to the single market, transitional arrangements and the rest of the options that are likely to leave the UK in a mess but not as big a mess as going it alone in the form of a Hard Brexit.
Part of the misleading analysis at this early stage of the running commentary is to speak of a 'negotiation'. The UK has given up its strongest bargaining card already, the threat to leave. It is leaving.
The rest of the EU will take charge of the departure when May has triggered Article 50. As well as getting the approval of every EU government, the European Parliament must vote on the deal as well. These are very tough obstacles for May. As the nature of the departure takes shape there will be tensions once more in the Conservative parliamentary party. May cannot get a deal that pleases all her MPs. She will look back with affection to the time when she rowed with Morgan over a matter as trivial as a pair of leather trousers.
Europe continues to shape and reshape the Conservative party. It will determine the fate of another Tory Prime Minister. This time the future of the entire country is at stake too.
Steve Richards is a political writer and broadcaster; follow him at @steverichards14