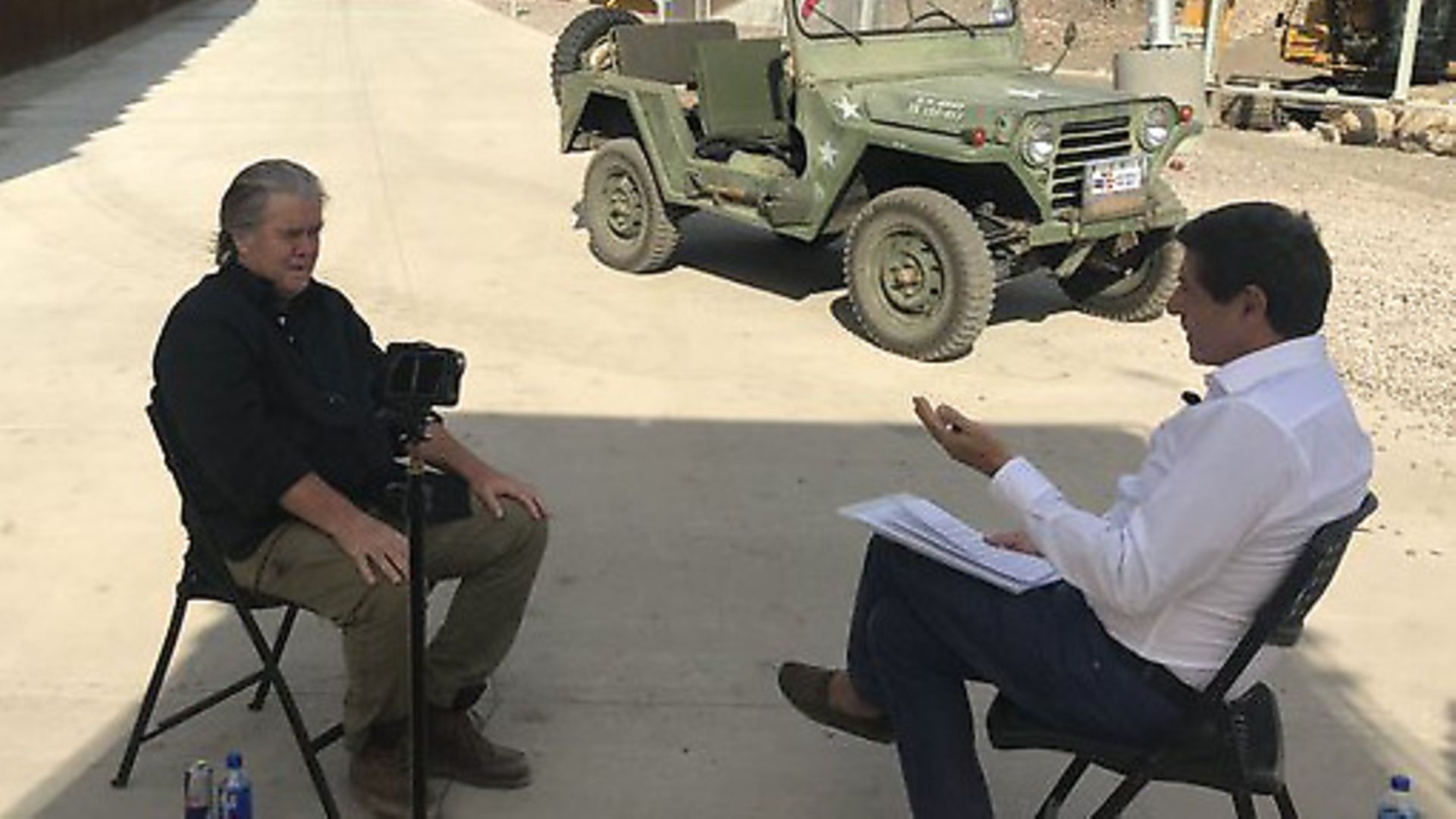 The BBC has been criticised for giving airtime to alt-right figurehead and white supremacist Steve Bannon.
Bannon appeared on BBC Radio 4's flagship Today programme, and quickly provoked outrage with regular listeners to the programme.
Listeners accused interviewer Jon Sopel of failing to challenge the former White House chief strategist to US President Donald Trump for mistruths over a variety of issues.
They included claiming that Boris Johnson had done a "terrific job", that a Johnson and Farage alliance would be "natural" and that a no-deal Brexit is "the way to go".
He said: "I've said from the beginning a no-deal, hard out, is the way to go. But is the civil service bureaucracy in London prepared to do that? I don't think so."
And on Nigel Farage, he said: "People have got to remember that Nigel Farage is the only individual in political history in England to win two national elections with entities he kind of created himself."
The 15 minute interview sparked a backlash from listeners as Bannon's name quickly started to trend on Twitter.
Labour MP David Lammy wrote: "Why is Steve Bannon an avowed white supremacist, anti semite racist given almost 15 mins uninterrupted airtime on
Radio 4 Today? Why was he not challenged on his links to Boris Johnson? Why should I pay my licence fee for this normalising of extremism?"
Comedian David Schneider posted: "If you fell asleep in 2015 and just woke up, Steve Bannon, a white supremacist, was just on Radio 4 praising his pal, our PM, who is now – get this! – Boris Johnson! The UK has a 'war committee' because it's about to declare war on itself. You won't believe who's home secretary."
Plaid Cymru's Leanne Wood tweeted: "Radio 4 continues to give airtime to the far right – item now on a Bannon organised 'symposium' on the US / Mexican border. Is anyone surprised to learn that Bannon supports our new prime minister? How connected is he into the far right, populist network?"
BuzzFeed editor Stuart Millar said: "Why is Radio 4 Today allowing Steve Bannon to deliver a constant stream of misinformation and falsehood almost completely unchallenged on Boris Johnson, Farage, Brexit, Trump, immigration etc. This isn't an interview it's a rant and Jon Sopel is nowhere."
He added: "Absolute case study in how not to handle a controversial subject like Bannon."
Journalist Emily Bell wrote: "This interview is embarrassing and irrelevant . Steve Bannon has zero to say of importance on anything and here is a credulous interview on Radio 4."
She added: "I know what he thinks. Steve Bannon has never *stopped* being interviewed by the press. He has no platform, no responsibility, no job or relevance. And yet – at a time of deep uk crisis – the main agenda setting programme of the day is interviewing him *again*…"
Twitter user Stanners said: "Jon Sopel is asking Steve Bannon questions but barely challenges him afterwards. He's allowing him to say whatever he likes freely."
While Mick Davies asked: "What the hell kind of irresponsible journalism was that? Not only letting numerous Bannon lies go unchallenged but giving him a clear minute+ rancid rant at the end with merely a 'thank you' from Jon Sopel to conclude. Pathetic and dangerous."
Matthew Todd wrote: "Remarkably incoherent opinions from Bannon on Today, sticking with odd fantasies of "the elite" and complaining about "the media" that he relies on. Presumably he's saying all this word salad just to make money. He can't actually believe any of it."
A BBC spokesperson said: "Over the next few days the Today programme is reporting on the current state of US politics. As a key former member of the Trump administration, Bannon led Trump's inaugural presidential campaign and therefore it was legitimate to interview him about the rise of populism, Trump's chances of a second term, the controversy around the wall with Mexico including the detainment of children, and the accusations of racist remarks against Democratic congresswomen. Mr Bannon was robustly challenged on his views and the actions of the president, and as well as being asked to explain his relationship with Boris Johnson and Nigel Farage.
"We also put his assertions to a number of guests on the programme to debate including Professor Matthew Goodwin from the University of Kent, and Guardian columnist, Jonathan Freedland who disagreed with Mr Bannon on a number of points including alleged similarities between Donald Trump and Boris Johnson and on populism and racism."
Most popular