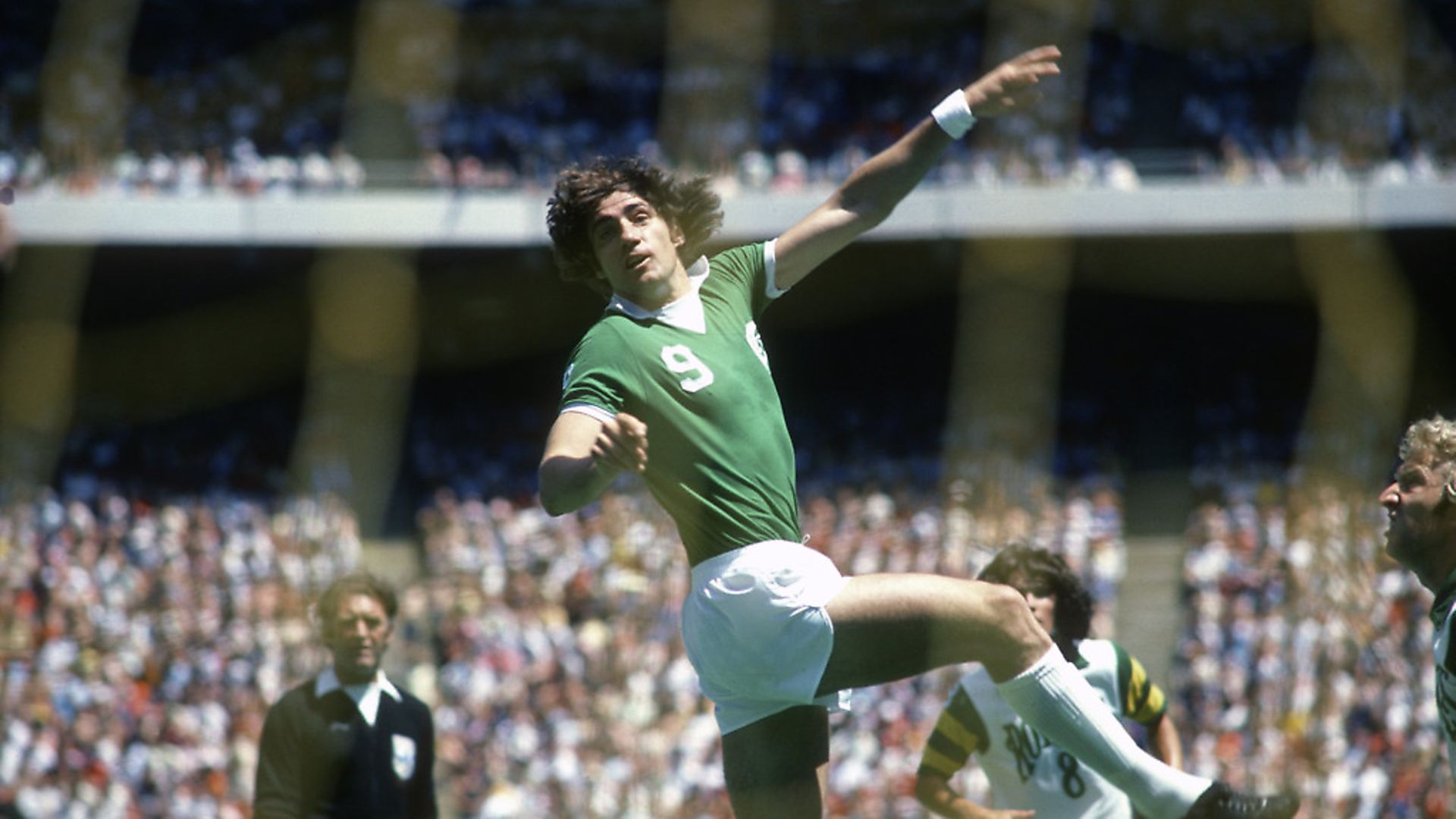 Forget Pele – the man who really put football on the map in New York was an Italian with a Swansea accent who had an ego as big as his talent. RICHARD LUCK reports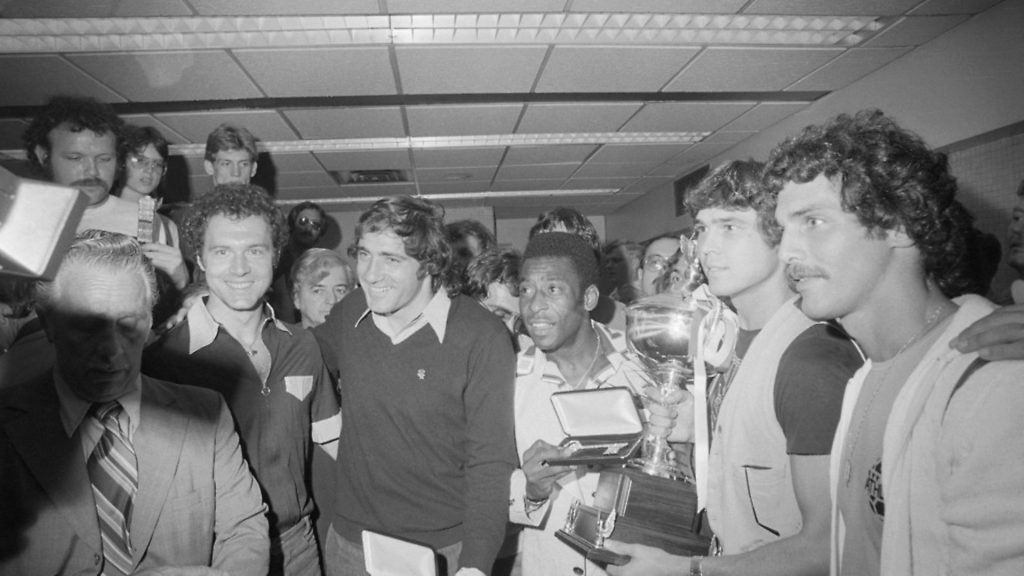 Nineteen seventy-eight was always going to be a tricky year for the New York Cosmos – the season after they bid farewell to the greatest player in the game's history. But while losing Pele hurt the team's chances of success, not to mention their merchandise and ticket sales, there were plenty of reasons for the club to be upbeat.
For besides boasting a brace of World Cup-winning captains in Carlos Alberto and Franz Beckenbauer, the plaything of Warner Communications founder Steve Ross could also lay claim to the most prolific sorcerer in the North American Soccer League, a brash Italian by the name of Giorgio Chinaglia whose appetite for goals was every bit as big as his ego.
Born in the Tuscan city of Carrara, where the world-famous marble comes from, Chinaglia arrived at the world's most glamorous club by the most circuitous of roots. With his father Mario unable to find work in Italy, Giorgio and the rest of his clan relocated to Cardiff where there were jobs aplenty in the ironworks.
It was here in South Wales that Chinaglia's gift for goal scoring emerged. Spotted playing for Cardiff schools by a scout from Swansea Town (as they then were), Giorgio signed his first professional papers while still in his teens. Not that he got a lot of match time during his two years at the Vetch. Indeed, when he returned to Italy to complete his national service, the most notable thing about Chinaglia wasn't that he'd played professional soccer overseas but that he now possessed a thick Welsh accent.
With his square-bashing days behind him by the summer of '66, the then-19-year-old centre forward set about restarting his soccer career. This wasn't as easy at it might have been as, having played professional football outside of Italy, Giorgrio was banned from playing Serie A soccer for three years.
Frustrating seasons at Serie C sides Massese and Internapoli followed, the upshot of which was that, when he signed with Lazio in 1969, Giorgio Chinaglia was a man in a very great hurry.
His Lazio years were a real roller-coaster experience, taking in everything from the ignominy of relegation to the first Serie A title in the club's history. In between, 'Long John' as he became known – in part because of his resemblance to earlier Welsh import John Charles – scored a hat-full of goals, squired every woman in the city and fell out with absolutely everyone.
Opponents, team-mates, the coaching staff, the press – there wasn't anyone Chinaglia couldn't get into a ruck with. He reserved his harshest words for Ferruccio Valcareggi, the manager of the national side who dared to substitute Chinaglia during the opening game of the 1974 World Cup finals. After Italy were eliminated in the first round of the competition, Valcareggi was replaced by Fulvio Bernardini, a great of the game who held the job just long enough to ensure that Chinaglia would never be considered for international selection again.
Though aggrieved that he won only 14 international caps, come 1975 our man had rather more pressing matters to attend to. The sort of guy who could get into a fight in a shower stall, Chinaglia was regularly hassled in the streets of Rome by rival fans or disgruntled Lazio supporters. He was also fearful of being kidnapped, a claim that seems far-fetched until one remembers that John Paul Getty III had been snatched in Italy just two years earlier. All this and the government had driven his extracurricular businesses into the ground with their tax laws – it's little wonder Chinaglia looked at Connie, his American wife, remembered that the couple owned property in New Jersey, and decided that a new life in the New World was in order.
If the legend is to be believed, Chinaglia signed for the New York Cosmos after barging his way into the office of club president Clive Toye and demanding that he either join the club or buy a team of his own. Like a lot of tales about the North American Soccer League in general and Chinaglia in particular, it's best to treat this anecdote with a degree of suspicion.
In fact, if you're familiar with the 2006 Cosmos film Once in a Lifetime, you might believe you already know an awful lot about the club and its star striker. The thing is, while it is lots of fun and features a cracking soundtrack, the documentary buys rather too literally into the myth of the Cosmos.
For a more level-headed assessment, one should turn to Ian Plenderleith's Rock 'N' Roll Soccer: The Short Life and Fast Times of the North American Soccer League. Besides shedding light on George Best and Rodney Marsh's US escapades and reminding the reader of just how big a game football became in cities like Minnesota and Vancouver, Plenderleith makes a strong case for Chinaglia being something more than the pantomime villain depicted in Once in a Lifetime.
For while it's true the Italian didn't particularly care for Pele, the pair functioned very well on the pitch. And if they exchanged words in the dressing room – Once in a Lifetime invests one falling-out with the intensity of a gun-fight – well, that's just something footballers do. Furthermore, while the Brazilian wasn't the only player who found Chinaglia hard to take ('Giorgio is a brilliant player,' remarked Franz Beckenbauer, 'but he has no career as a diplomat'), his goal-scoring feats were adequate compensation for having to rub alongside his ego.
A player who scored a goal roughly every other game for Lazio, Chinaglia really caught fire when he crossed the Atlantic. Scoring 19 times in his first season with the Cosmos, he hit the back of the net on 15 occasions in 1977, his tally including the winning goal in that year's Soccer Bowl, the last competitive match of Pele's career.
From here he'd go on to become the league's top scorer for five consecutive seasons, setting a competition record of 34 in the 1978 season – yes, the first year post-Pele had been anything but a bust. And if you think the majority of these goals were tap-ins, think again – find a Chinaglia highlight reel on YouTube and you'll find everything from hard-won headers to spectacular scissor kicks and wonderful long-range efforts.
Even if the opposition were several leagues adrift of today's Premier League, it's hard not to be impressed by Chinaglia's scoring feats. Besides finding the net in each of the four Soccer Bowls the Cosmos won, Chinaglia racked up 83 assists over the course of his 213 games for the Cosmos, so scotching rumours that he was a glory hog. And his final goal tally? A remarkable 193. His nearest rival, English journeyman Alan Willey, scored 'just' 123 goals and that took him nearly 240 fixtures.
And yet still, he wasn't really loved. Admired? Sure. Respected? By opponents and team-mates alike. But the affection Cosmos fans felt for Pele, Carlos Roberto, even 'The Kaiser' Franz Beckenbauer was never to be fully extended to Chinaglia. Though he mightn't have had the hearts of the spectators, he had something far more valuable – the ear of club founder and Warner Communications kingpin Steve Ross.
As Clive Toye told Ian Plenderleith, '[Chinaglia and Ross's relationship] was something to behold. Even [club vice president] Jay Emmett said to me, 'What is it about Chinaglia and Steve Ross?" Whatever the nature of their friendship, it's fair to say that when Toye left the club, along with coaches Gordon Bradley and Eddie Firmani, it was in some part due to the big cheese being in thrall to his centre-forward.
The Ross connection might also go some way to explaining how Chinaglia came to buy a majority share in the New York Cosmos in 1984. Having long fancied himself a smart businessman, the player had finally done what he purportedly promised during his first meeting with Toye; he'd bought his own NASL franchise. Pity the league was on its last legs by the time his cheque cleared. A subsequent stint as Lazio club president proved equally fruitless, ending in claims of criminal activity and lifelong exile in the US.
In Once in a Lifetime, it's suggested that the death of the New York Cosmos – and, by extension, the collapse of the North American Soccer League – was brought about by Chinaglia's off-field meddling. This simply isn't true: the Cosmos were undone by the impact that Atari's implosion had on Warner Communications, while the league was the victim of rapid expansion and the cancellation of ABC's television contract. Meanwhile, the fact Chinaglia was a shadow of his former self by the time he came to appear in the documentary only enhances the idea of him as part mob heavy, part oafish fool.
But if he's balding and paunchy and not long for this world in Once in a Lifetime – he died in 2012, aged just 65 – the Giorgio Chinaglia of the archive footage is a veritable rock star. And were it not for his contribution to the club, the New York Cosmos would merit only a passing mention in the storied history of association football.
For when, in 1996, soccer returned to something approaching prominence in the US – with the launch of the MLS, the first national league since the demise of the NASL – there was plenty of talk of Pele and Beckenbauer, of the cheerleaders and the celebrity fans, of the wild nights out at Studio 54 and on the road. Time hadn't robbed the Cosmos of any of their lustre. But few could deny they shone their brightest when Giorgio Chinaglia was at large.