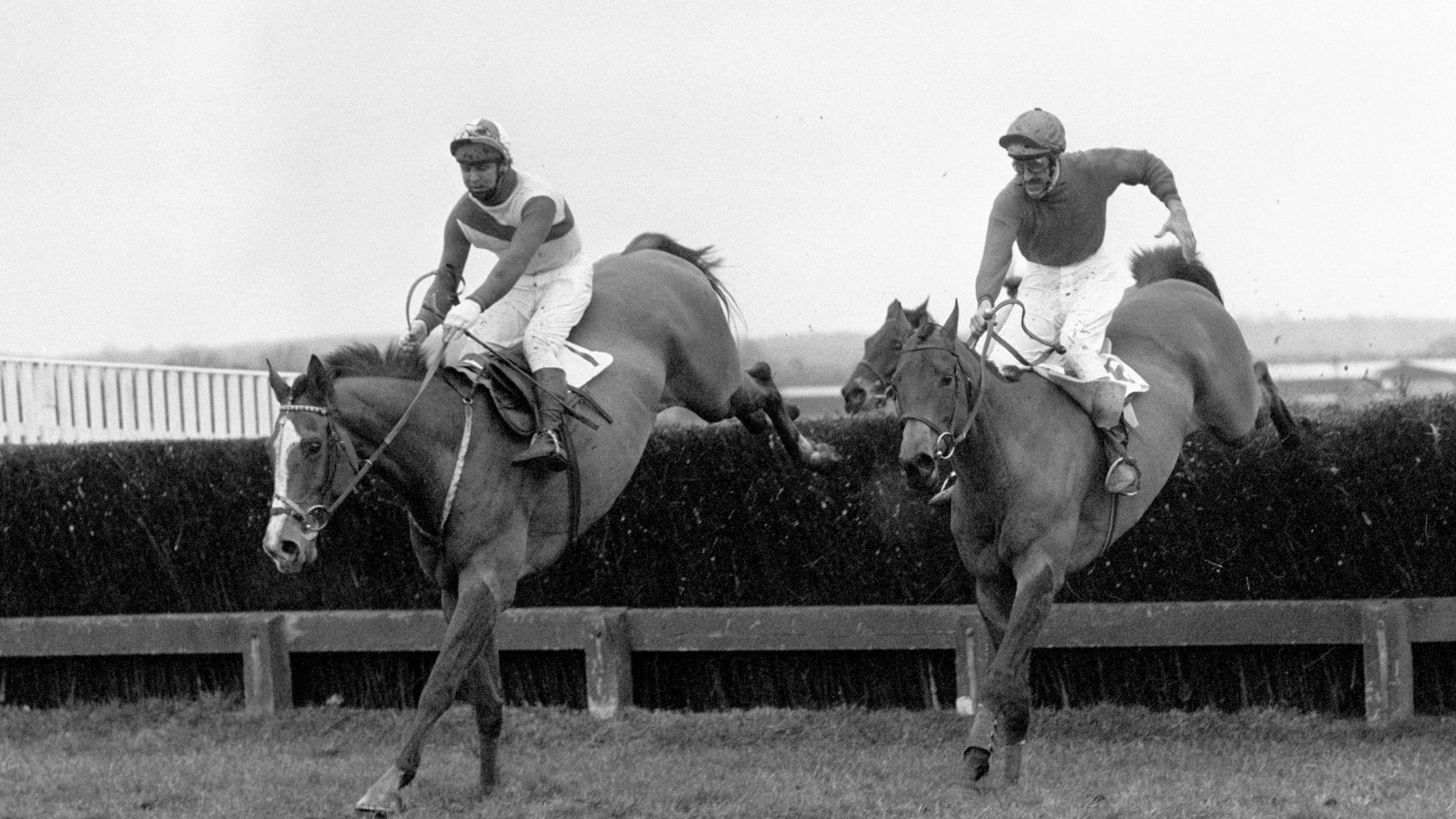 Beltrán Alfonso Osorio broke or fractured 107 bones in seven attempts at trying to finish the Grand National at Aintree
For whichever jockey wins Saturday's Grand National, it is likely to be a career-defining moment. One day you're in the sports pages, the next you're on the front pages.
Yet, one of Aintree's most celebrated riders never got close to winning the race and broke or fractured 107 bones in seven attempts at trying to complete the course. 
Spanish aristocrat Beltran de Osorio y Diez de Rivera aka the 18th Duke of Alburquerque became known to Brits as the 'Iron Duke'. 
His final ride at Aintree in 1976 left him in a coma for two days. Undaunted by this brush with mortality, he planned to come back the following year only to have his riding license in the UK revoked for his own safety.
Instead, he had to watch the race from the stands and said it was "the saddest moment in my life."
His exploits made him a cult figure and led some people to somewhat harshly brand the Duke as the worst jockey to ride in the National. However, he surely ranks among the most fearless and foolhardy riders to take part in the 'World's Greatest Steeplechase'.
The Duke believed his popularity was explained by being something of a curiosity, "like an Englishman becoming a bullfighter," he said. But he also cut a striking figure among the other jockeys. 
Indeed, he was likened to Don Quixote. Just like the fictional character, he was a tall, lean Spaniard, with a long face and pronounced chin, forever fighting seemingly hopeless battles on horseback. And, of course, everybody loves a trier.
Or, as two-time National-winning trainer Toby Balding put it, "He was a total kamikaze pilot and as brave as a lion".
The story of why a nobleman from Madrid developed a dangerous obsession with a racecourse in Liverpool began in 1928. The Duke was eight years old when he watched the race on a cinema newsreel. That year, just two horses completed the course, with Tipperary Tim winning at 100-1. "It was the most exciting thing I'd ever seen," he said.
After serving as a cavalryman for the nationalists in the Spanish Civil War, the Duke achieved his ambition of riding in the National in 1952 on Brown Jack III. Horse and rider blazed the trail until they parted company at Becher's Brook, resulting in his first, but far from last visit to Walton Hospital after suffering from concussion and cracked vertebrae.
The Duke failed to finish on his next four attempts and broke a leg riding Groomsman in 1965. His preparation for the 1974 National illustrated how unwavering commitment to a cause could cross over into downright recklessness.
As the jockeys left the weighing room the BBC cameras focused on one man walking gingerly towards the parade ring. Commentator Clive Graham observed that "He doesn't look at all fit to take part in one of the greatest steeplechases in the world. But there he is, the 55-year-old Duke of Alburquerque."
Graham wasn't wrong. Two weeks earlier, The Duke had 16 pins removed from his ankle. Then, further disaster struck seven days ahead of the big race when he broke his collarbone following a fall at Newbury. 
He returned to Madrid, got a special cast made that would allow him to ride Nereo at Aintree and spent several days learning how to get on a horse without putting any pressure on his collarbone.
Fearing he might not pass the medical, the Duke asked his son, Ioannes, to travel with him and act as his interpreter. In an interview with Galopar in 2015, Ioannes revealed that his Dad, "did not handle English very well. He knew that the stewards were going to do some tests and they were going to question him to see if he was fit to run and wanted me to go with him." 
Not only did they get through the medical but, remarkably, Nereo and the Duke finished eighth behind Red Rum. 
There is a story, quite possibly apocryphal, that on the second circuit of the course at Canal Turn, he collided with fellow jockey Ron Barry who shouted, "What the fuck do you think you are doing?" The Iron Duke retorted "My dear chap, I have no idea. I've never got this far before." In the interests of accuracy, he'd gone further in 1966 on L'Empereur.
Ioannes added, "When the race ended the collarbone was coming out of his skin and he did not want to see the doctors there. So he had to endure three days like this, with unbearable pain, until we came back (to Spain) and were able to operate in Madrid."
When asked to comment on his own performance, the Duke dryly observed that Nereo "didn't have a jockey on board, but a sack of potatoes."
Another fall at Newbury resulted in another broken leg that ruled him out of the 1975 National.
Amazingly, worse was to come. He fell off Nereo at the 13th fence in 1976 with the horse landing on top of him, knocking the rider unconscious and resulting in an extended stay at Walton Hospital. When his license was revoked, champion trainer and close friend Fred Winter remarked, "I am both saddened and relieved."
But even those who keenly followed his exploits at Aintree are largely unaware of his life back in Spain. In 1968, the Duke won the Gran Premio de Madrid on rank outsider Tebas, finishing ahead of some of Europe's top flat racing jockeys.
He also served as a courtier to King Juan Carlos. Because of his close ties to the Spanish royal family, the Duke allegedly become a target for Basque separatist militant group ETA. 
According to a report published by El Pais in 1981, letters sent from prison by a member of ETA were intercepted by the police and revealed that the Duke was under surveillance. ETA claimed to know his new license plate number along with details of where he would be riding.
The Duke passed away in 1994, aged 74. Gone but most certainly not forgotten.
When asked to explain why he continued to put his neck, and pretty much everything else on the line for the sake of a horse race, he simply replied, "without risk, there is no emotion."
What do you think? Have your say on this and more by emailing letters@theneweuropean.co.uk
Most popular