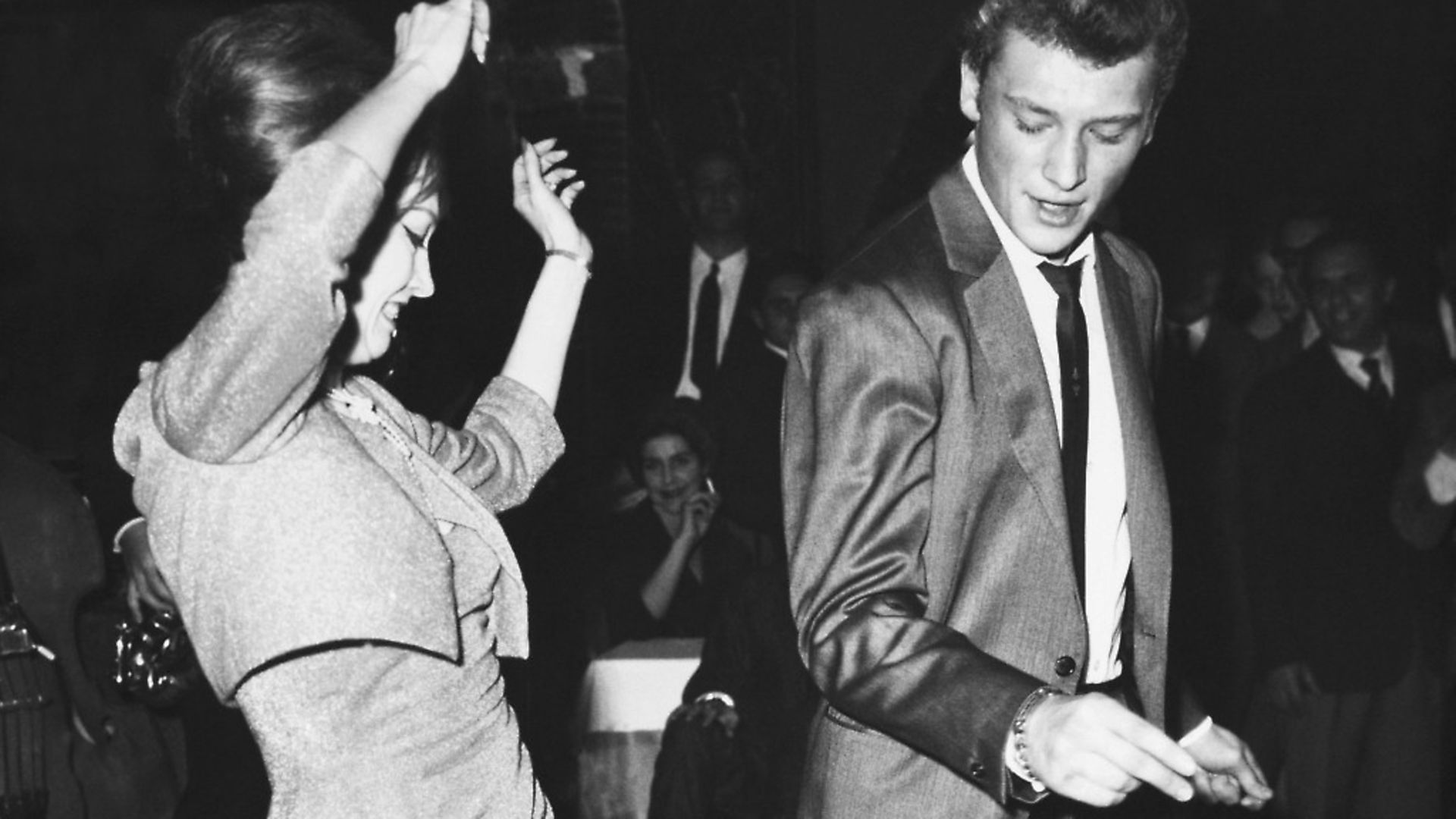 French pop provided the pioneers, as protest music also took voice. SOPHIA DEBOICK reports
Before the Beatles invented the modern teenager in Britain, the Europeans were already ahead of the game. In 1962, France was churning out an iconoclastic, Americanised pop that threatened the grand tradition of chanson française at a time when the country was entering a new era, as Algeria declared independence that summer, indicating a final break with the colonial past.
Future king of French pop Johnny Hallyday was already the figurehead of this new sound, having gained a usefully dangerous reputation by provoking a stadium riot at the previous year's Paris Festival de Rock.
While Hallyday's formula was repackaging American hits in Francophone tones – including enthusiastically jumping on the Twist dance craze bandwagon of 1961 – the fact that his second album had been called Salut les copains indicated something uniquely French was also emerging.
This was the title of the Europe 1 radio show launched in 1959 that had made come to represent the zeitgeist for French youth, and French pop was slowly emerging from the shadow of Anglophone dominance.
Early in 1962, it had seemed that Hallyday's output would remain dominated by derivative Americana. In April, he released the Nashville-recorded, English language Johnny Hallyday Sings America's Rockin' Hits with which he hoped to break the US market. It was an ambitious strategy, to say the least, and it didn't endear him to the French, and he made a swift return to French lyrics with June 1962's LP Madison Twist.
The title track was of course another cover, this time of Johnnie Morisette's Meet Me at the Twistin' Place, a wise approach in a year the dance craze fad went ballistic in the US, with Chris Montez' Let's Dance, The Contours' Do You Love Me?, Chubby Checker's Dancin' Party and Chris Kenner's Land of a Thousand Dances all offering lyrical catalogues of the 'in' dances, from the Stomp to the Watusi. It was the Mashed Potato, which had been launched via Dee Dee Sharp's It's Mashed Potato Time earlier that year, that Hallyday next targeted, with his first live album, Johnny à l'Olympia, containing C'est le mashed potatoes ('In America, all the young people dance it'). By that time, the dance had already been spoofed in Bobby Pickett's No.1 novelty song Monster Mash, proving that such fads soon burned themselves out through over-exposure.
But there was another story to the year for Hallyday. The June launch of Salut les copains magazine saw it move from being just a radio show to a youth movement, and Hallyday was the only possible choice for cover star of the first issue. Already, in January, Hallyday had made his film debut opposite Catherine Deneuve in Les Parisiennes, singing his recently-released Retiens la nuit, written by his mentor, Charles Aznavour, and thus he gained an association with two emerging French icons.
By the time of the release of his final single of the year, L'idole des jeunes, he had become just that, and as the head of a popular cultural phenomenon Hallyday had become something far more than a simple rip-off artist. Meanwhile, a coterie of female French pop stars were emerging to populate the pages of Salut les copains and shape this new paradigm for what it was to be young and French.
Sylvie Vartan left school in 1962, having made her debut with Frankie Jordan the previous year with a French cover of Floyd Robinson's Out of Gas. The song's predatory storyline (it was a call and response duet in the mould of Baby, It's Cold Outside) and the teenage Vartan being known as 'the twisting schoolgirl' had worrying implications, even if she had a less nakedly Lolita-like image than 16-year-old Sheila (real name, Annie Chancel), who had schoolgirl bunches, a single called L'école est finie, and an eponymous song where she sung about herself as 'jolie petite Sheila'. But like Hallyday, Vartan soon proved herself to be more ballsy than she first appeared.
Vartan's year may have been punctuated by covers, from January's Est-ce que tu le sais? (Ray Charles' What'd I Say?) to October's Le locomotion (Little Eva had made it a US No.1 earlier in the year), and her self-titled debut LP, released in November, included covers of Checker's and Montez's 1962 dance craze songs (the dynamic Vartan was never short of some completely unself-conscious dance moves), but its Tous mes copains took the tempo down to reveal her as an affecting ingénue chanteuse for whom style trumped vocal talent.
When Vartan was supporting France's favourite genuine American rocker, Vince Taylor, at the Paris Olympia that year, she met Hallyday backstage – they would be engaged the following year and became the golden couple of French pop, with a huge cultural reach. Vartan's breathless style transposed cabaret sophistication into 1960s cool, and 18-year-old Françoise Hardy joined her in that endeavour.
In 1962 Hardy made an early claim to credibility as her cover of Bobby Lee Trammell's hiccupping 1958 cut Uh Oh, rendered Oh Oh Chéri, proved less successful than her self-written Tous les garçons et les filles, a song about youthful ignorance of love, which sold more than a million copies. As a singer-songwriter of effortless cool, she is now a cult figure.
Meanwhile, in the UK, the Beatles and the Stones were still in gestation and yet to incite British youth to a new view of themselves. The Beatles were rejected when they auditioned for Decca on New Year's Day (legend has it A&R man Dick Rowe told Brian Epstein 'guitar groups are on their way out'), played their first session at Abbey Road, replaced drummer Pete Best with Ringo Starr and released Love Me Do, which wouldn't reach its peak chart position until early 1963.
Mick Jagger and Keith Richards met Brian Jones in April, took on the name the Rolling Stones and debuted at the Marquee in July. In the meantime, Elvis ballads and Cliff and the Shadows dominated the UK No.1 spot, and Acker Bilk's soporific instrumental Stranger on the Shore was the biggest-selling single of 1962 in the UK.
It was also the first British single to get to No.1 on the Billboard Hot 100, but there was another British record which also hit the top on both sides of the Atlantic that year which indicated that the British invasion was already beginning. Twelve days after the well-publicised launch of the Telstar communications satellite, a song by that name was recorded at a home studio in a Holloway Road maisonette that captured the sound of the future. Pop visionary Joe Meek put the Clavioline, the first mass-market electronic instrument, front and centre to create one of the most remarkable songs of the still-young decade, and The Tornados' Telstar instrumental was the soaring sound of wonder and transcendence. It spent five weeks at No.1 in the UK from early October and was Meek's greatest success.
In the US, the folk revival provided the most intriguing sounds of the year, and while Bob Dylan's eponymous debut, an LP of folk standards, was released in March to very little success, he began writing and recording his The Freewheelin' Bob Dylan with which he would make his name. Joan Baez was already enjoying commercial success with her immaculate soprano tones appealing far beyond the folk niche, and by November all of her three albums were on the Billboard charts and heading for Gold certification.
As these voices of the new generation of folk were emerging, stalwart Pete Seeger was rediscovered as Peter, Paul and Mary's version of If I Had a Hammer became a US No.10 hit in July, as well as closing their eponymous debut album of that year with Where Have All the Flowers Gone?, a song which The Kingston Trio also put on the Billboard Hot 100.
This new era for the protest song was well-timed as all-out war was threatened between the US and USSR. The growing isolation of Cuba had continued in early 1962, and a US trade embargo had cut the country off comprehensively in February. Then, in mid-October, spy planes photographed nuclear sites being established on the island. When Kennedy spelt out the extent of the 'threat of sudden mass-destruction' to the world a week later, the Cuban Missile Crisis broke, tensions only easing through a fine balance of luck and judgement. Malvina Reynolds' What Have They Done to the Rain? had been written as an anti-nuclear protest song earlier that year, and the song appeared on Baez's first live album, released in September – music never seemed more relevant as a commentator on the times, and it would grow and grow in that role as the decade marched on.