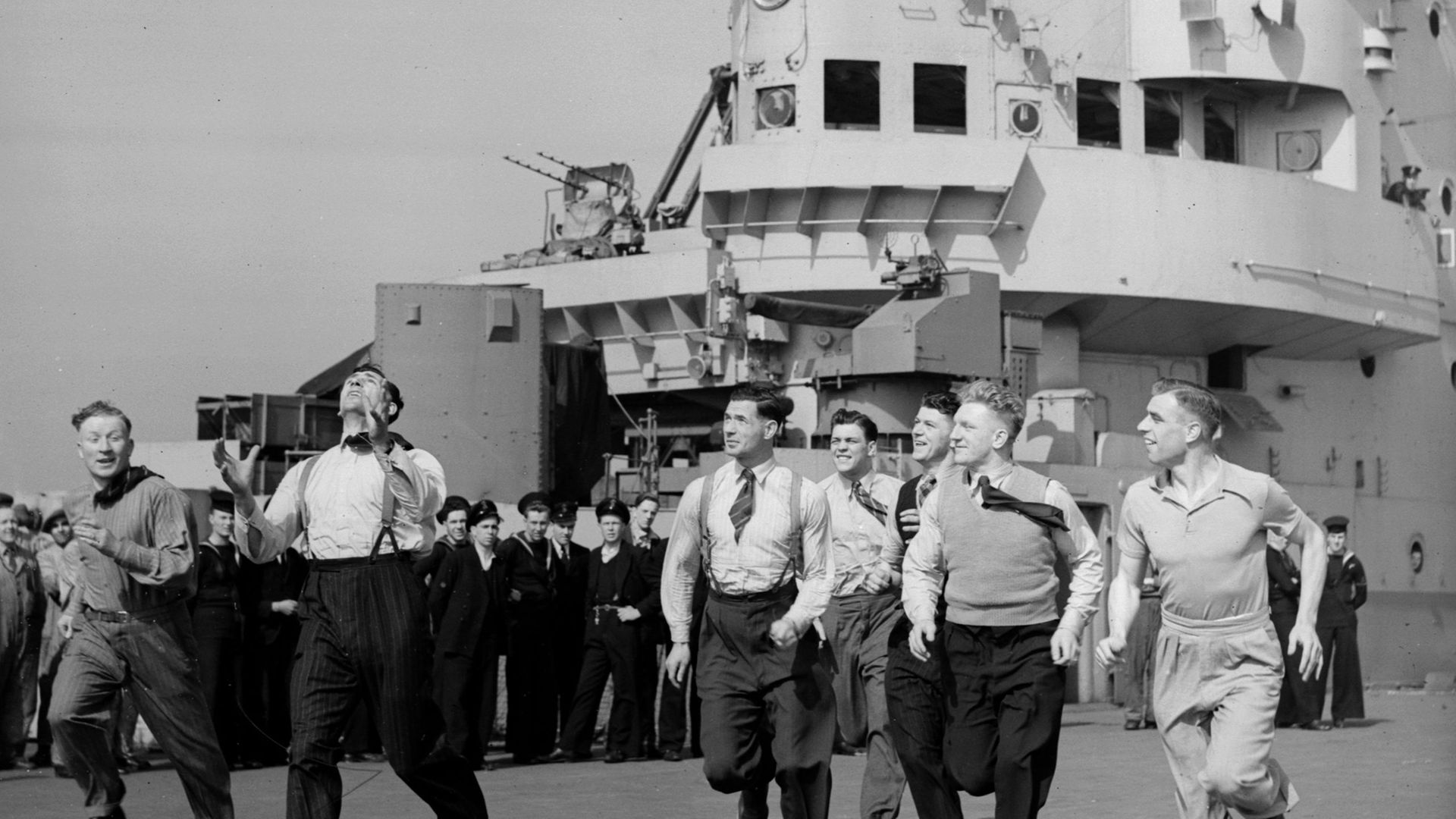 The 1946 British Lions' rugby league tour of Australia was one of the most unusual chapters in sporting history
The officer of the watch heard the splash and the shouts. A man had gone overboard into the shark-infested waters off Port Said. It's no mean feat to stop and bring about a 23,000-ton aircraft carrier but when a life is in danger there's little alternative.
As the rescue boat approached, it found the man clinging to what appeared to be an inflatable. He was hauled aboard and brought back safely to HMS Indomitable. But now Captain Andrews was incandescent. He told the sodden man before him that had he been a naval rating he would have been court-martialed.
Eric Batten was contrite. He ceased trying to explain why he had jumped 20 metres from the deck into the Mediterranean to retrieve a rugby ball. The captain, with good reason, was not interested.
But these were straightened times and Batten was no naval rating. Rather, he was part of the British Lions rugby league squad on board the Australia-bound warship for one of the most unusual sports tours in history, the first by any British team since the end of the Second World War, which had finished less than a year earlier. And rugby balls were in short supply.
The Lions were heading to Australia to fulfil a request from its government. Its war-weary public was desperate for entertainment and Canberra had dispatched minister Herbert Evatt to Britain on a recruitment drive.
The only body to show interest was the Rugby Football League (RFL), but the obstacles seemed immense. Europe was struggling with the fallout from war. Fuel was scarce, rationing in the UK would last until 1954 and men who had seen service overseas were reluctant to spend more time away.
Anyway, how would they to get to Australia? There were no passenger flights and commercial shipping hadn't resumed. But the Australian government, aware its public was also becoming politically restless, explored every option… until they came upon Indomitable.
The carrier was docked in Plymouth. She had survived kamikaze attacks and a bomb crashing through her flight deck during her war service, and was preparing to take home 2,000 Australian servicemen.
Now 26 rugby league players were added to the manifest. It would also provide the tour party with a name that became rugby league legend: "The Indomitables", a fitting moniker for the only British team to return from Australia undefeated in a test series.
The tour, incredibly, was on. Indomitable left Devonport Docks on April 3, 1946.
Team captain Gus Risman recalled the players were afforded petty officer privileges, meaning they had bunks and a mess hall; use of which was later restricted when the officers discovered how much rugby players ate. But their greatest concern was keeping fit. Welsh player Trevor Foster, an army PT instructor, was appointed exercise coach.
None of the players are alive today, but his biography recalls: "The deck was large enough for a canvas swimming pool, training drills and even practising on-field moves but the RFL only provided three balls," hence Batten's retrieval plunge. Worse, however, was the building heat as the ship sailed south through the Suez Canal.
Heavyweight props Frank Whitcombe and Ken Gee set sail weighing 18 stone each, but tropical conditions took their toll. "They were forced to remain below decks as we crossed the equator," explained Foster.
The party included Eddie Waring, paying his own passage. With his fabled accent, he later achieved fame as the BBC's rugby league commentator but in 1946 he was a journalist with the Sunday Pictorial. "Clothing was inadequate, winter gear predominated and shorts were made by cutting the legs off trousers," wrote Waring. "Cabins were intolerably hot and the fans rarely worked." Forward Doug Phillips's diary tells how stops in Gibraltar, Malta and Colombo meant "we could buy cheap fresh clothes instead of washing everything every day. Clean clothes were even better than pub visits."
And there was seasickness. Cumbrian Bob Nicholson bemoaned that his training for the four weeks at sea mainly involved running to the side of the ship.
"No team ever travelled so frugally," wrote Waring. "No luxury hotels for these globetrotters."
Indomitable took the squad to Fremantle expecting another ship to transfer them to Sydney. It never appeared. With almost all matches on the eastern seaboard and no roads across the interior, the party had little choice but to buy train tickets for the six-day journey across the scorching Nullarbor Plain.
The troop train they boarded was rackety and spartan. There were no bunks – the larger forwards slept in the aisles, the more lithe backs in luggage racks. Meals were eaten trackside from steam boilers. "Flies were the worst bit," said Nicholson. "Every mouthful you ate about 17 of the buggers."
On the plain they encountered Aborigines for the first time. The compassionate Waring, noted for being ahead of his time in opposing racism in sport, feared they were "depressingly, a fast-dying race".
Business manager Wilf Gabbatt described the journey as "grim, uncomfortable and inconvenient". Gabbatt also cleaned the team's carriage floor every day, a stipulation of the commanding officer, figuring it unreasonable to expect the players to do it. On arrival in Sydney, Barrow player Willie Horne described his teammates as "like bearded, emaciated convicts." Nobody greeted them so hired taxis took them to their hotel. "There had been a war on, I guess," said Horne.
Their first hotel was a brothel, their second rat-ridden – Whitcombe lost a boot, purloined by a rodent – leaving Waring demanding an upgrade. The third had fewer rats but more spiders, forcing players into two dilemma-inducing camps: which phobia terrified them most? "At least you could crush a spider," said Whitcombe. Yet the tourists received a bad press for complaining. "Our soldiers remain overseas, yet the Poms are whinging," ran one report.
The RFL had attempted to save money on shipping costs by not providing playing jerseys. Tour manager Walter Popplewell had to visit a manufacturer with a promise to pay for the shirts after they received their cut of gate income.
Fortunately the money was good: the Australian government was correct about the public's desire for live sport. Spectators scrambled onto roofs, shops shut and trams stopped running. There were fights for tickets at the first Test in Sydney which drew 64,000 and saw the British tie 8-8 despite centre Jack Kitching being dismissed.
The second Test in Brisbane saw thousands locked out (including, at first, the Australian team). Some tore down fences while Waring recorded "people atop telegraph poles".
Burly Halifax wing Arthur Bassett scored a hat-trick as the Lions won 14-5 before returning to Sydney for another victory to clinch the series 2-0. "No more aid for Britain", pronounced the Sydney Morning Herald, tongue in cheek, while others praised their "kinsmen for making the effort to visit". "We were idolised, like we'd arrived from heaven," said Foster. "The Australians wanted to see us lose but appreciated we'd come at all."
Between the tests they played 17 other matches, some way out in the bush with players transferred by horse-drawn carriages (fuel was limited) and defying wartime travel restrictions. The team, used to rationing, felt they were being treated to banquets in the outback towns.
Phillips, obsessed with maintaining his playing weight, kept a diary of every meal, happiest when procuring eggs and potatoes. Clubs invariably put a turkey on the menu. "We ate six in June," remembered Phillips. "And three pigs."
"We'd almost forgotten what fresh fruit tasted like," added Foster.
The Lions moved on to defeat New Zealand in Auckland, but despite the monies generated by Australian crowds, the same jerseys were being worn. After New Zealand's Charlie McBride swapped shirts with Foster, Popplewell sent the Welshman to the dressing rooms to ask for it back. McBride kindly said Foster could keep his – it will hang in the forthcoming National Rugby League Museum in Huddersfield.
The squad departed Wellington in August, alongside a group of GI brides destined for the US. Heading for the Panama Canal the RMS Rangitiki was struck by lightning requiring a stop for repairs in Nova Scotia. They finally arrived at Tilbury 174 days after departure having clocked up 40,000 miles. Many of their families didn't know they had returned. Foster's mother was out when he arrived in Neath – a message was flashed onto the cinema screen where she was watching Caravan with Stewart Granger.
The Lions may have departed poor but they returned relatively richer. The tour raked in big profits. Although they probably received only a fraction of that generated, the players were each given £123/13s/7d (or around £4,000 today). That plus the distinction of being forever known as rugby league's Indomitables.
Most popular