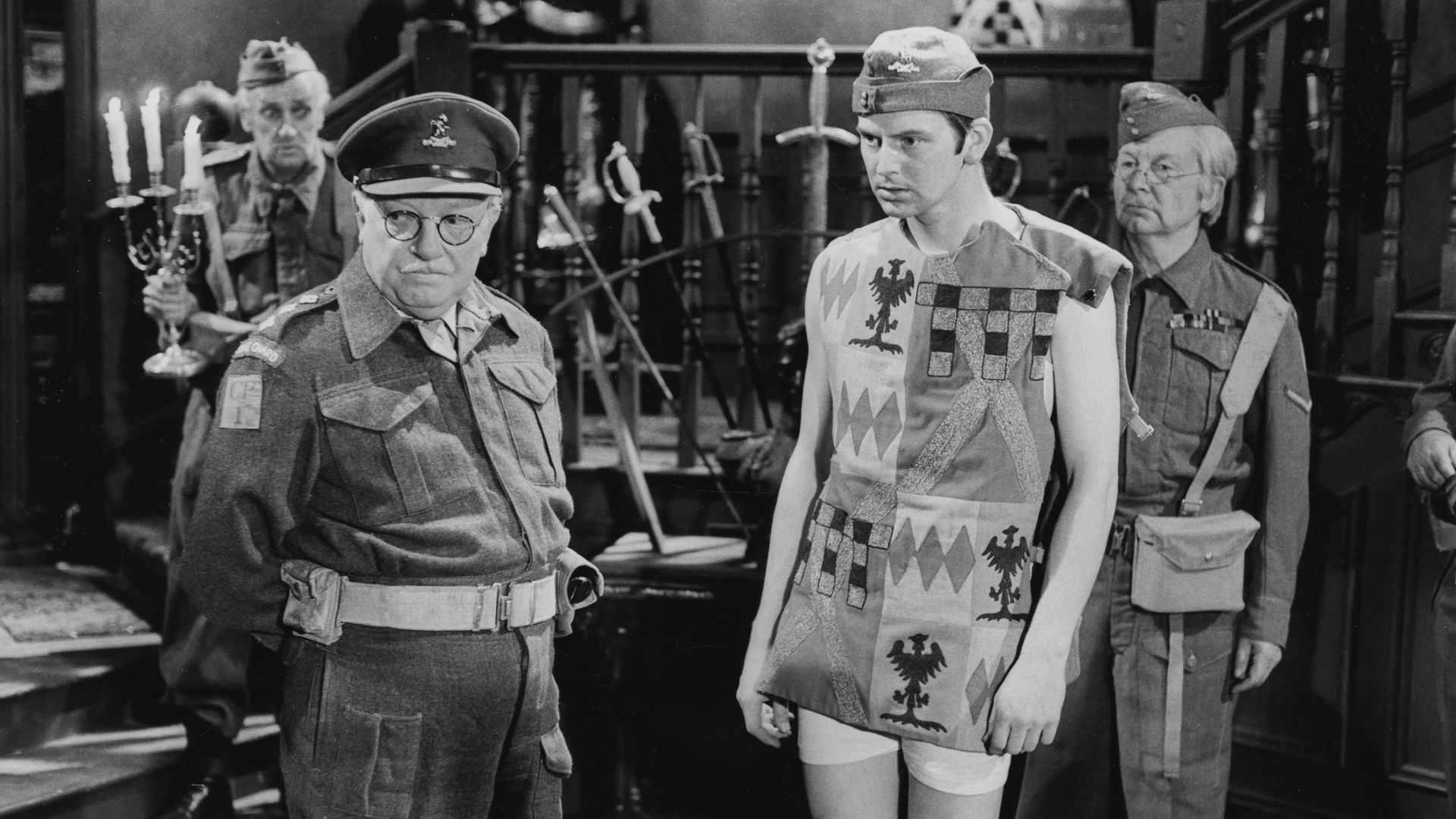 For Ian Lavender, who played Private Pike in Dad's Army, the magic of the series came from the way it was written to suit the actors' personalities. By TIM WALKER.
There have been 10 prime ministers since the first episode of Dad's Army was broadcast, but the Guardian has suggested that the show resonates now more than ever because of Brexit. "It's a precise image of Britain's current predicament," the newspaper ruminated. "We stand alone, cut off from Europe, a little island filled with people trying to muddle through in an increasingly hostile world."
Quite frankly, it can be taken either as a compliment or an insult to be compared to Capt Mainwaring's Home Guard platoon. The elderly gents could never have realistically stood a chance against Hitler's invading forces, but the point was they were willing to have a go and die if it came to it. They personified the French general Pierre Bosquet's description of the Charge of the Light Brigade: "C'est magnifique, mais ce n'est pas la guerre."
I know a lot of Brexit supporters – including the late Daily Telegraph owner Sir David Barclay – who have claimed the series for their own cause, but Capt Mainwaring and his magnificent men transcend politics, and for that matter, class and even time. They speak to everyone for the simple reason they were so honestly and realistically drawn by Jimmy Perry and David Croft. The pair understood this country a lot better than it sometimes seems to understand itself.
A few years ago, I got to meet Ian Lavender, who played Private Pike. At 75, he is one of the last surviving members of the cast. He gave me an intriguing insight into the way the characters were brought to life. "In a way, we weren't acting," he admitted. "If you look at the very earliest episodes, you'll see they are very different to the ones that followed. The reason was that Jimmy and David had got to know all of the actors and they started to write the scripts around our personalities."
So was the young Lavender really as dim as Pike? "I would say we were both naive. Dad's Army was virtually my first job out of drama school and I hardly knew one end of a TV camera from the other. The 'stupid boy' tag was never in the script. Arthur Lowe – playing Capt Mainwaring – once said it to me during rehearsals and it stuck. The facial tic the writers gave me in one episode came from something they'd seen me doing between takes. Even the long scarf I wore was mine, but I didn't wear it because my mother was worried about my croup, but because I was doing a play at the time and I needed to disguise the long hair the part required."
The uneasy relationship between Capt Mainwaring and Sgt Wilson was also inspired by how Lowe and John Le Mesurier – the actors playing the respective parts – treated each other. Lowe was resentful that Le Mesurier was paid more than he was. "Arthur was a pompous little man and John a bit vague, but a bit of an old charmer who had an eye for the ladies and liked a drink," said Lavender. "Arthur saw himself as the senior man on the set, as he was in the platoon."
The other characters were also made to measure for the actors. John Laurie, who played Fraser, could be cantankerous, and, after playing just about every major role in Shakespeare, would say to Lavender how he saw the series as being a bit beneath him. Clive Dunn, whose catchphrase as Corporal Jones was "don't panic," was indeed prone to panic; Frank Williams, who played the Vicar, a bit fey; and Joe Beck, who played Walker, really was a bit of a spiv, and so it went on.
For all that, the disparate actors made a great ensemble. "I think it was the fact we were all really theatre people. Knowing your lines, being on the set at the right time and doing the best you could were all real marks of pride. I don't remember anybody ever calling in sick, which was an achievement for quite such an elderly cast."
Lavender couldn't ever see Dad's Army disappearing from the television schedules and it can be taken as read that people will still be enjoying it long after the current residents of Downing Street are forgotten. Jimmy Perry, incidentally, lived just long enough to see the EU referendum through, and, at the age of 92, let it be known he would be voting Remain. Croft had died in 2011. 
What do you think? Have your say on this and more by emailing letters@theneweuropean.co.uk
Most popular