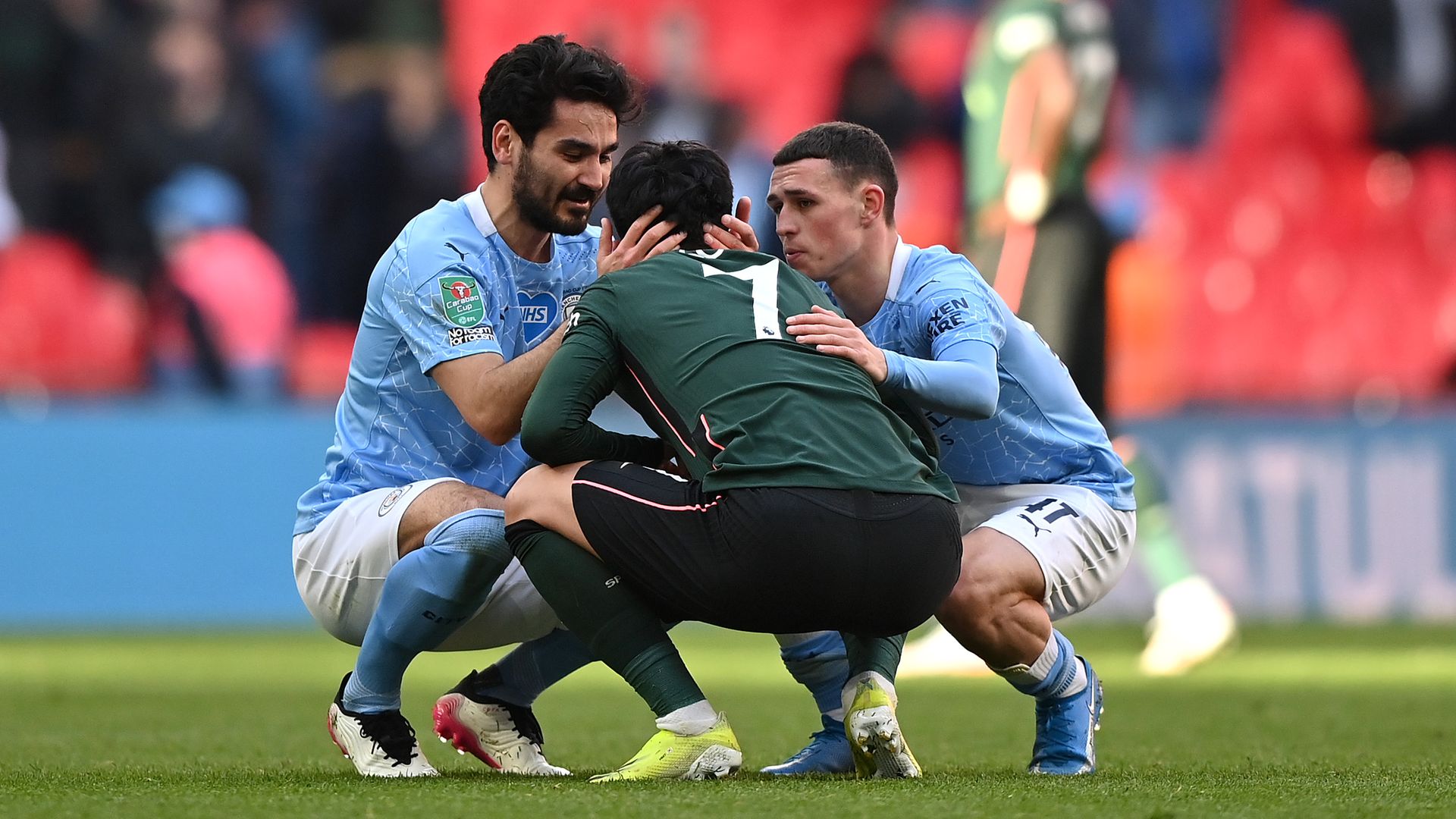 If a picture is worth a thousand words – and if you need that picture to assuage the feeling that football is being sold to the devil – study this photograph.
The scene is Wembley Stadium last Sunday evening. Moments after the final whistle of this season's first cup final, Tottenham's defeated Son Heung-min is down on his haunches, sobbing. First to console him are Manchester City's Ilkay Gundogan and then Phil Foden.
A German-Turk and an English youth comfort a Korean. Soon afterwards, before picking up their medals and the Carabao Cup, four more City players, Kevin De Bruyne, John Stones, Kyle Walker and João Cancelo spoke to Son.
Sportsmanship, compassion, decency. 
This might not resonate down the decades in the way that the embrace of Pelé and Bobby Moore did after Brazil edged out England in the World Cup in Guadalajara in 1970. Nevertheless, Saturday was the timely reminder that the game is more than money.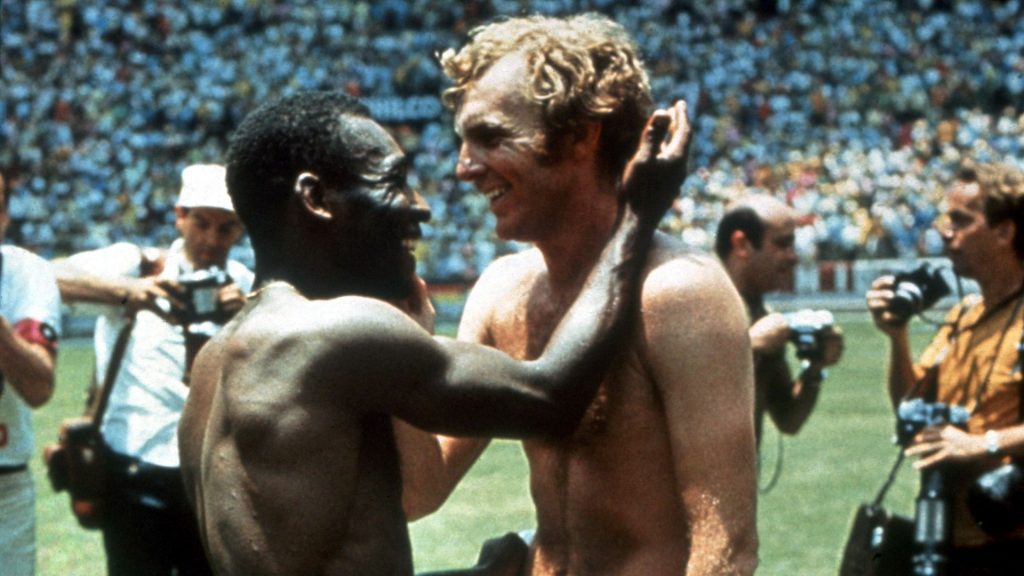 To those who follow football it comes as no surprise that Gundogan was first on the scene, and first in compassion. If there is one player who today sums up human values in a sport, a business, riddled with riches, he would be the epitome of those values.
He may not be the most dynamic game-changer in Pep Guardiola's City squad. That would surely be De Bruyne or, in the very near future, Foden. Even so, Gundogan grows in popularity for a whole variety of reasons.
As a footballer, he is the epitome of vision, of work rate, technical quality, adaptability, above all responsibility. But if I were to name one player in the world who shows the way out of adversity, it would be Ilkay Gundogan.
When he was at Borussia Dortmund under Jürgen Klopp, he endured 14 months of spinal cord compression following a training incident with the German national team. In those long months of pain and doubt, Gundogan personally took the decision to refuse a procedure that would have ended his playing career by having a pin screwed into the bones of the spine. He took the longer, more arduous but ultimately more flexible path demanding patience, belief and no doubt pain.
Shortly after his return, he tore knee ligaments. It takes acute determination, stoicism even, to persevere under those circumstances. But it doesn't take much digging to realise that these are family traits.
Gundogan's grandfather and then his father left Turkey to work in the coal mines of the German Ruhr near Gelsenkirchen, which is as industrious as it sounds.  This history goes some way towards explaining why Klopp and the German team trainer Joachim Löw trusted Gundogan and waited for his return.
It is why Gundogan was the first name on Guardiola's list when he left Bayern Munich to manage Manchester City, in July 2016. City has had plenty more than the €27 million (£24.3 million) that transfer required, and, remember, Guardiola made the request in the full knowledge of the player's medical history.
Today, Guardiola and Gundogan are neighbours, and occasional dining companions, in a Manchester apartment block. They are like many in professional sports, sharing the so-called bubble of club lives, but living apart from their families abroad during this long Covid-19 pandemic.
Yes, footballers are privileged people, especially in the Premier League which pays the highest salaries on earth, even in football. Yes, they share a dressing room and a team environment. But still they are isolated, still Covid-19 can get to them, as it did to Gundogan last September and as it did also to Timo Werner and Kai Havertz in their first months as Chelsea players.
Naturally, they have youth and incredible good health to combat the disease. At least Gundogan knows the city of Manchester which is why two of the charities he personally supports are nurses fighting the pandemic in Germany and a fund he organises for Mancunian restauranteurs where, in better times, he loves to eat out.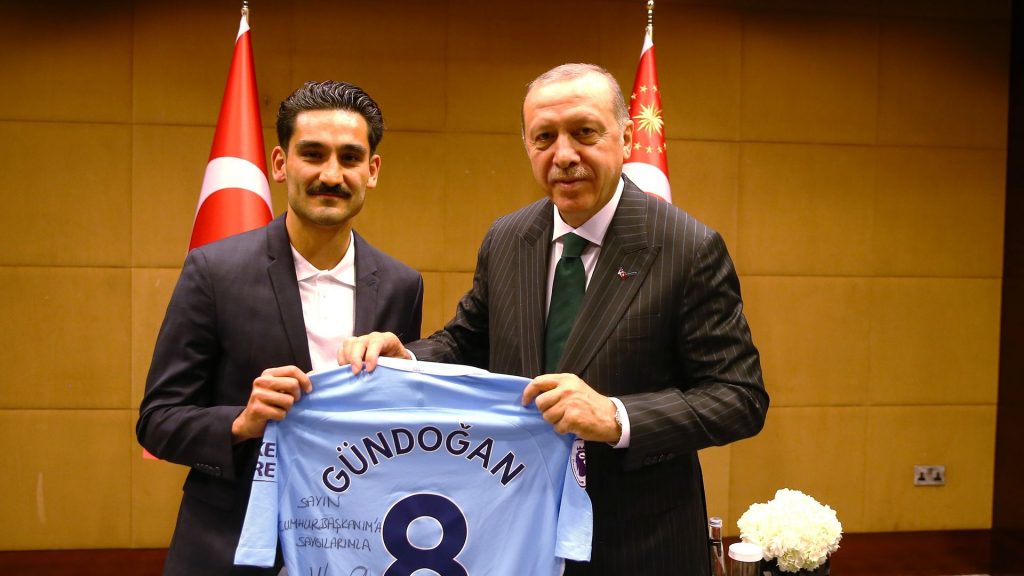 Yet all is not saintly around Ilkay Gundogan. There is another picture, a photograph taken of him together with Mesut Ozil and Turkey's controversial president Recep Tayyip Erdogan in London before the 2018 World Cup.
Two Gelsenkirchen boys. Two sons of Turkish emigrants. Two gifted idols of the German Nationalmannschaft. However, Ozil, the silky playmaker in Germany's 2014 German World Cup-winning lineup, became ostracised and alienated within Germany from the moment that picture was published. He talked of racist attitudes towards him within the country of his birth, retired himself prematurely from representing the national team, and is now in Istanbul winding down his career.
Gundogan, by contrast, found a diplomatic path through the aftermath of the photograph. He remains an automatic choice for the German national team. He will revisit friends and family in Turkey as soon as Covid restrictions allow. And he will not apologise for calling Erdogan "my president". 
And at 30, his game, even his fitness prospers with Man City. Indeed, at a time when Guardiola complains that because of the demands of so many games in so many competitions, he is no longer really a team manager. "I cannot train anything," he said recently. The team plays every three days, he changes as many as eight players each game, yet he insists.  "I just have videos, and tell the players, 'remember what you have to do'."
Change under stress is the order of this sporting life. The Sky Blue greats Yaya Touré, Vincent Kompany, David Silva, and soon Sergio Aguero depart one by one; tactics change, personnel change, roles within roles change like chameleons.
And Gundogan, becoming one of the senior Cityzens, adapts. Because David Silva, the pass master, has gone, Gundogan finds the spaces and makes the seemingly nonchalant brushstroke passes.
Because De Bruyne could not always defy injury, Gundogan stepped forward out of his defensive midfield role to create brushstrokes. Create, and score.
Between January and mid-February, when City rediscovered the omnipotence of previous seasons, Gundogan became the top scorer with 11 goals in 12 goals.
And then, without complaint, he reverted to being City's dependable safety plug alongside Fernandinho. He is, you might say, a man of many pictures.
What do you think? Have your say on this and more by emailing letters@theneweuropean.co.uk
Most popular