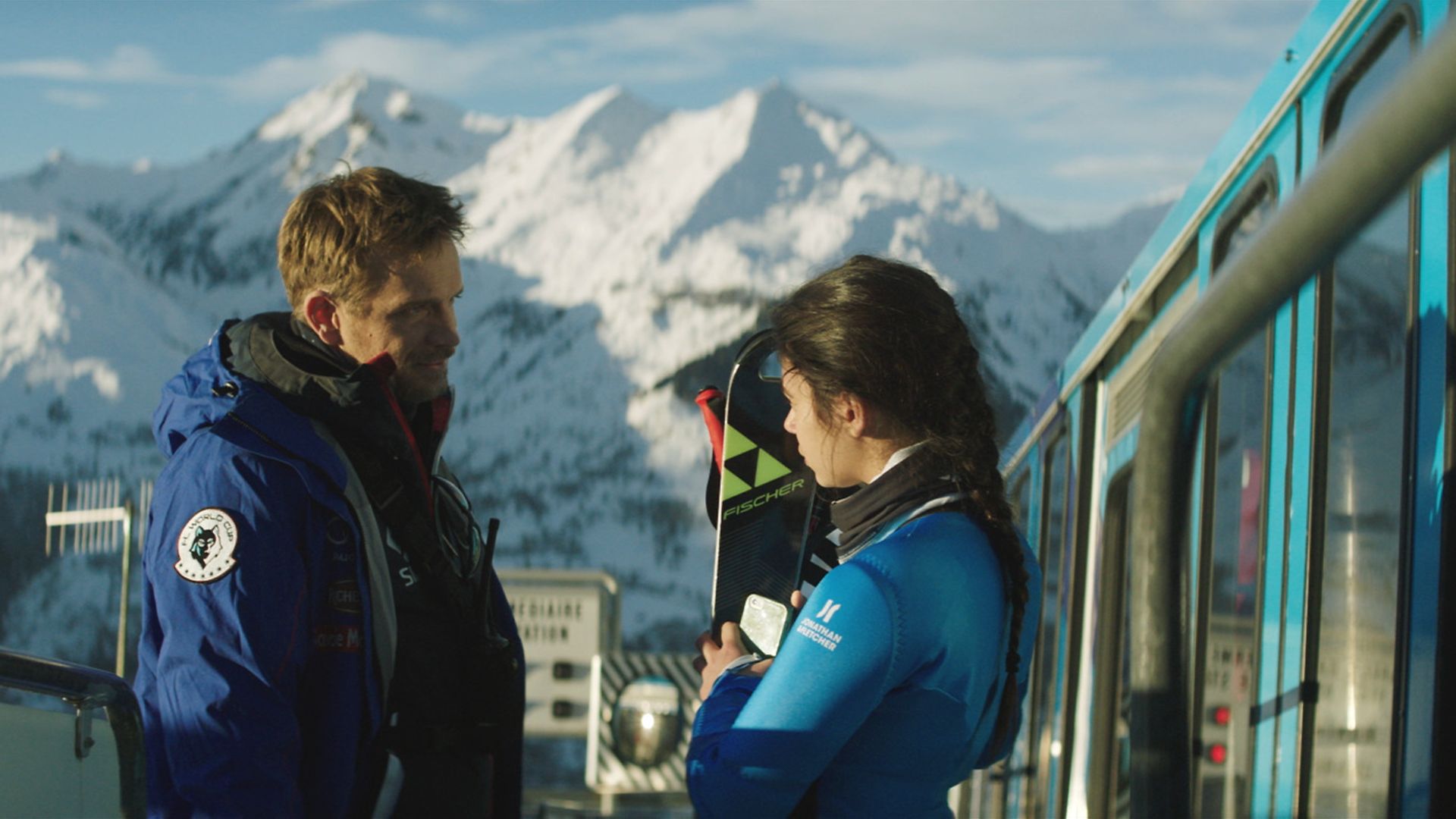 New French film Slalom creates a creepy atmosphere amid the beauty of the Alps and hothouse atmosphere of its resorts. JASON SOLOMONS talks to its director, and comes up with his favourite movies set in the mountains.
Snow falls outside, settling softly on the cars and on the muddy green of a little park.
It's an unusual scene for London and, whilst I can see some homeschool boys having a snowball fight in their lunch break, the blizzard of white flakes spinning at the window earlier this month, and the van skidding gracelessly away down the road, is more reminiscent of a ski resort.
Such settings will be denied most of us this year, the European ski season and resorts shut because of Covid. A few professional races have taken place, some ski jumping and the odd burst of activity in Switzerland at Christmas. But in general, except for a few super rich Brits who can escape Verbier under cover of the night, we have been kept strictly off piste.
Anyone pining for things Alpine might, then, find solace in the arrival of new French film Slalom, shot in the boot rooms, apartments and cable cars of Val d'Isère, Tignes and Les Arcs. However, while the setting may be spectacular and even romantic for some viewers, the story will be rather more shocking. It's certainly far racier than Ski Sunday.
Lyz Lopez (Noée Abita) is a potential champion and the 15-year-old student joins the French Olympic ski training team, under the tutelage of coach Fred, played by the prolific Belgian star Jérémie Renier. From their very first meeting, it's clear this is an unusual relationship, Fred asking his new recruit to strip to her underwear so he can do some calculations. "You need to lose the flab and gain muscle," he says matter-of-factly, pincering her skin with some measuring callipers and then handing her a tub of body-building powdered supplements.
Lyz's young face registers the hurt and issues such a blunt assessment can wreak on a still-developing teenager and yet she is now in this man's hands and he will push her to the limit.
Slalom is the debut feature film from director Charlène Favier, who grew up on the slopes of French mega-resort Val d'Isère where her mother was a ski instructor. "Skiing was what the whole family loved," she tells me, from Paris. "I did a lot of competitive sport when I was a kid so yes, this story is a little bit my story. Right now, I'm very much missing skiing, like everyone because French ski stations have been closed since 8th March 2020, but as you can guess, I don't miss the world of competition."
Let's be frank, the story involves sexual abuse and the crossing of the line between a coach and his student. It's a story that has become increasingly familiar in sport, with news stories emerging in France in figure skating and swimming, as well as documentaries such as the awards-tipped Athlete A on Netflix, which follows the 2016 revelations of abuse levelled at long-standing USA Gymnastics doctor Larry Nassar. But it is also a story that is deeply personal to Favier, as she will tell me.
Yes, Slalom is creepy but it is also exhilarating. We watch Lyz compete, get better, stronger, faster until she starts winning races. The adrenalin courses through her veins and those of her coach as they obsess over details and training, often alone in tight physical spaces, high up a mountain.
Favier captures this other-worldliness with an insider's eye. "A ski resort is a bubble," she says. "People come and go, every week new faces. Nothing is permanent. You can wake up one morning and it all looks completely different after a snow storm. It is a way of life that people think they know but actually it is an alien place."
It's a film of impassive mountains, the waxing of skis, the clunk of boots, of over-heated indoor spaces and tough conditions. Rising French star Noée Abita is terrific in the role of Lyz, a blizzard of confusions, in awe of her coach, in love with him in moments, her life in his hands. Her hands don't exactly stay empty in scenes which will shock and horrify as much as they crackle with sexual tension and transgression, too.
"Skiing is some kind of vertigo," says director Favier. "You have to let yourself go, take the brakes off, like coach Fred says in the film. But when you live there, too, it's a secret society where everything is permitted and not always protected."
Is the film some kind of confession or revenge, then? I wonder what sort of message it will send out to the thousands of parents who hand their children over to elite coaching, pushing them or allowing them their own dream?
"My mother had no idea what the film would be about until I showed it to her," she says. "And she definitely didn't know the abuse I suffered at 15, even though my behaviour changed and I became different. She chose not to notice, or didn't want to admit anything was wrong. So yes, I'm saying: be careful. To my parents, to lots of parents, to the world, be careful – sport is important and it's still a big part of my life, but it also nearly ruined it."
Was she concerned that, in returning to home ground to make the film, she would awaking memories in herself and in others that might be difficult, even dangerous, to handle? She admits she lied to everyone about the subject of her film when she was making it. "I told them it was a love story between a coach and an athlete, that's all," says Charlene. "In any case, my story of abuse personally was not in skiing but in another sport, so I didn't feel I was directly accusing any real persons. but it was a big deal for me to shoot in the mountains I know so well, where I grew up and where I have such happy memories and where I also know some bad things happened."
The film, as its title perhaps suggests, slaloms in and out of picture. One moment you feel all the excitement of the teenage Lyz, the next you feel her shame and her pain, and you feel revulsion toward the manipulations of Fred. But there's also a commitment to winning, and there's the surreal beauty of the ski resort.
In one stunning scene, coach and protégé dangle vertiginously out of a stopped cable car, wiggling their legs over the edge and gazing out at the sky through the perilous open door. It's a remarkable shot, one that puts our protagonists on the precipice, highlighting the dangers and the thrill of the journey they're on. Although there are some famous fight scenes on cable cars such as Where Eagles Dare and James Bond's Moonraker, I don't think I've seen a cable car shot like this one.
"Only if you grew up there do you know it's even possible," smiles Favier. "I used all my contacts and friends to help make the film and it was when I was talking to the guy who runs the téléphérique (cable car), he reminded me of what we used to do as kids and stop the car and smoke, and I immediately knew I could put this scene in, and where I could stand to take the shot, and the exact time of day we could shoot it… it's called the 'blue hour', a very special time in the mountains, when the sun goes and just before the dark comes, the whole sky turns deep blue, the whole light of the mountain. That's what I wanted to capture. I'm not sure it was legal to do, when we were kids, no, or even now…"
Favier recalls teenage night spent partying up the mountain in the piste-bashers' huts or abandoned farmers' crofts. She and her friends would take the last lift up and wait til dark to break into these mountain hideaways, often sleeping there to get the first run down at dawn.
"To be up there, in the nature and, you know, going to new horizons, that's why I liked skiing really, not to be up against the stopwatch and that's what I still love. I am very at home in this environment, so it's a dream for me to be filming there."
Slalom achieves a kind of intimacy with its surrounds. The footage of Lyz racing is a whoosh of up-close speed, unlike the TV coverage you get. As a skilled skier herself, Favier would direct by often skiing alongside the stunt skier who stood in for Abita. "No, she did not do her own skiing!" Favier says of her award-winning actress, from Aix-en-Provence, whose performance has just earned her, at just 21, the Espoir prize (breakthrough) at the Lumières, France's equivalent of the Golden Globes.
"She lied to me, said she could ski and when we got to the slopes she confessed she'd never been on the mountain before. What was important, though, was to get her to act confident in the environment, to look like she was used to it."
As anyone who's grappled with poles and boots and skis coming apart and tumbling into chair lifts, skiing is very much about looking the part. "You can spot a newcomer from a mile away," says the mountain child. "It's all about how you carry yourself, your attitude to the mountain, how you handle the equipment like it's second nature – Noée had to learn all this and to get a skier's body. That's the hips, the big bottom, the strong arms, how to react in the cold with your face, to accept the snow on your neck and nose."
The intensity of the training in gyms and indoor swimming pools, as well as the school work required of Lyz alongside her athletic achievements, also needs an outlet. And while much of the film pits coach and student in hothouse isolation, there are moment when the temptations of après ski life seep in, and Lyz succumbs to teenage peer pressure of drink or drugs, partying at the famous Folie Douce bar, branches of which can now be found in many French resorts, such as Courchevel, Val Thorens, Avoriaz and Megève.
"The nightlife, the bar life, is very important in ski resorts," says Favier. "We would go out at the age of 14 and everyone knew us and we were underage maybe but nobody said anything. It's very strange but we were allowed to be a bit wild like this because it's such a cut-off world. But it's true, Val d'Isère is not the same without the beer or the vin chaud – so much of the atmosphere is about holiday, impermanence, rootlessness. I think that's why the coach Fred feels he can behave like this, that the normal rules don't apply, especially if you have the champion of France with you."
Slalom is an excellent debut feature, a ski movie, a coming-of-age story and a study of female sexuality and desire. It's as close as you'll get to the slippery slopes this year and will make you think several times when watching the Winter Olympics about the sacrifices and bumps and storms suffered by those who get there.
Slalom is showing on Curzon Home Cinema 
What do you think? Have your say on this and more by emailing letters@theneweuropean.co.uk
Nine ski movies
Force Majeure
A brilliant, icy 2014 film by Swedish skier-turned-film maker Ruben Östlund. It won a Jury prize at Cannes before Östlund went on to take the top prize of the Palme d'Or with his follow-up The Square. It was filmed in the French resort of Les Arcs and tells the story of a family man's crisis after he runs away from his wife and children as – in one of the most memorable shots in recent European cinema – an avalanche heads toward the mountain restaurant where they are having lunch. It was remade as Downhill in 2020 starring Will Ferrell and Julia Louis-Dreyfus.
Eddie the Eagle 
One of the most endearing ski movies is, surprisingly, British – and tells the surprisingly British story of Michael 'Eddie' Edwards, the bespectacled man from Cheltenham who became the first ski jumper to represent GB at the Olympics since 1928. The Ealing-esque underdog comedy from 2016 was directed by Dexter Fletcher and starred Taron Egerton – who together went on to make Elton John biopic Rocketman.
The Spy Who Loved Me
James Bond is fond of the slopes. One of the most famous ski sequences in cinema comes at the start of this 1977 outing, featuring Bond skiing off a cliff only to open his Union Jack parachute and float back up into view. Skiing also features in On Her Majesty's Secret Service, For Your Eyes Only, and The World Is Not Enough.
The Crash Reel
A searching 2013 documentary by Lucy Walker, examining the rivalry between half-pipe champions Shaun White and Kevin Pearce heading into the Vancouver Winter Olympics – until a crash nearly kills Kevin. The film is a study of endurance, recklessness and human bravery.
The Art of Flight
Combining techno soundtrack and jaw-dropping footage with the best freestyle snowboarding footage, this 2015 snow movie rivals the best surf films.
Chalet Girl
Billed as a snow-mantic comedy, the 2011 Richard Curtis-style British caper follows Felicity Jones' Kim, who takes a job looking after a rich family's chalet and falls for posh boy Jonny, played by Ed Westwick. It was filmed in Austria's St Anton and German resort Garmisch-Partenkirchen.
The Heroes of Telemark
This popular war movie from 1965 starred Kirk Douglas and Richard Harris and was directed by Western veteran Anthony Mann. Based on a true story, it concerned the sabotage of a Norwegian hydro electric station to prevent Hitler creating an atom bomb.
Snow Job
From 1972, this film stars France's 1968 Winter Olympic hero Jean-Claude Killy, as a down-on-his-luck skier persuaded to rob a bank in the Italian Alps and hide the loot in a crevasse.
Downhill Racer
Perhaps the most famous of Hollywood movies on the chic European slopes, this 1969 film starred Robert Redford as wannabe Olympic racer David Chappellet and Gene Hackman as US team coach. It was shot at famous downhill events including the Lauberhorn in Wengen, the Kandahar in Arlberg and the Hahnenkamm in Kitzbühel.
Most popular