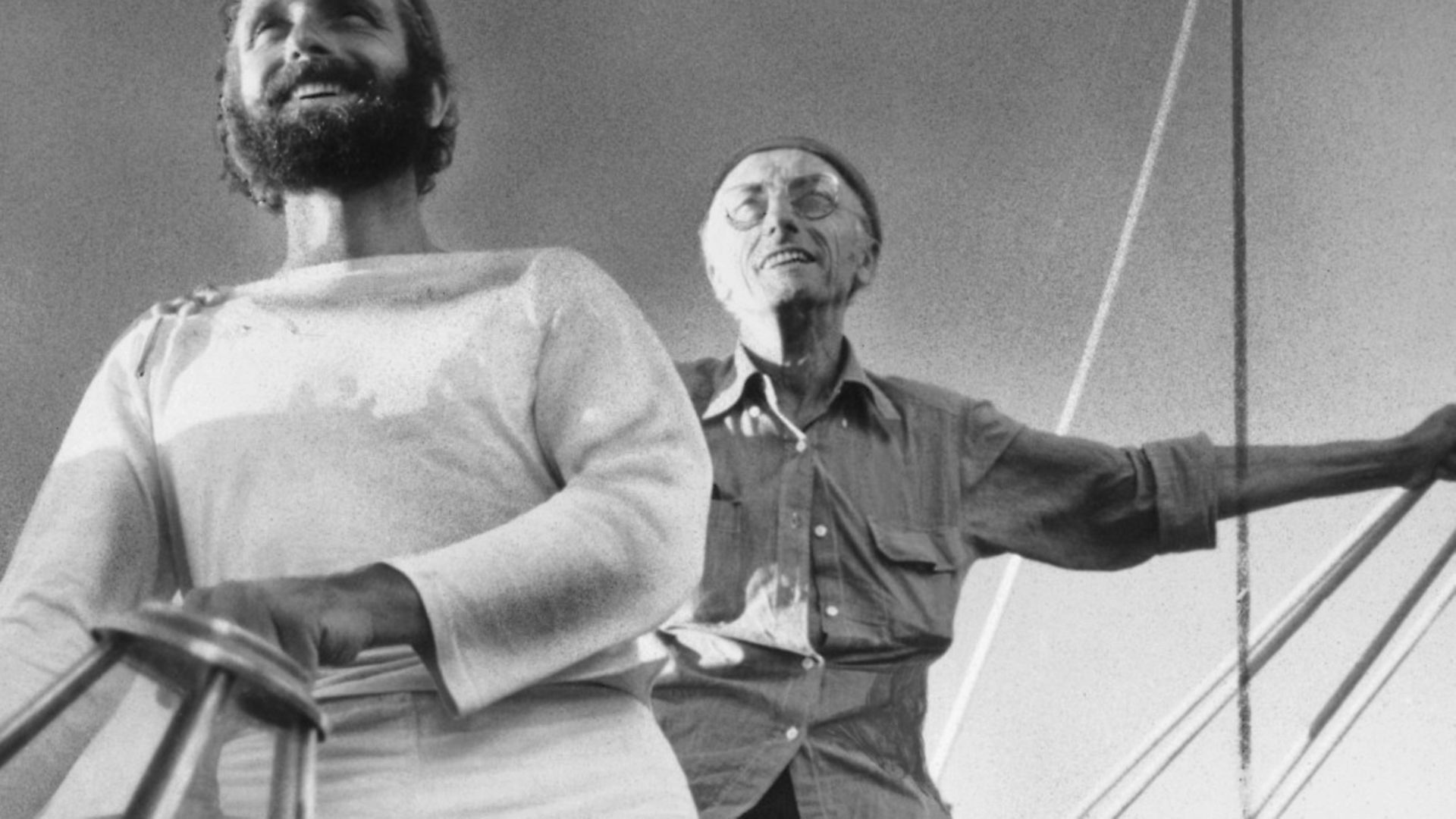 For three decades of the last century, Jacques Cousteau was without doubt one of the best-known Frenchmen in the world.
Throughout the 1950s, 60s and 70s, the pioneering diver, film-maker and adventurer captured the imagination of millions, sailing around the world on his self-constructed ship, Calypso, bringing images of the undersea world that had never been seen before.
His film, The World of Silence (Le Monde du Silence), co-directed with a young Louis Malle, actually won the Palme d'Or at Cannes in 1956, the first and only documentary ever to do so, until Michael Moore's Fahrenheit 9/11 in 2004.
It lead to a succession of lucrative but costly television series for various networks, particularly in America, where The Undersea World of Jacques Cousteau became one of the most popular shows and was exported around the world.
The image of Cousteau in his red beanie hat (taken from the classic uniform of British naval 'hard hat' divers) is perhaps the most iconic and enduring, one re-enforced by actor Bill Murray's affectionate tribute to Cousteau as Steve Zissou in Wes Anderson's film, The Life Aquatic.
It is hard nowadays to imagine the wonder with which Cousteau's freshly-captured images of the deep must have been greeted by audiences. They were truly revolutionary and revelatory pictures, showing the public creatures they had never heard of let alone seen, in colour. Now, there are whole TV channels devoted to sea life, entire areas of science, understanding and conservation, and scuba diving is a global sport and industry – none of this would exist without Cousteau who, lest we forget, even invented the aqualung itself in 1943.
The story of Jacques-Yves Cousteau (known affectionately at JYC, an early instance of name branding) is now set to be re-discovered by a new generation with the release of the French feature film, The Odyssey, starring Lambert Wilson as Cousteau, Audrey Tatou as Simone Melchior his wife, and Pierre Niney as their son, Philippe.
It's an extraordinarily beautiful film, capturing the wonders of the deep, with a particularly memorable scene of Cousteau diving with a whale, a sequence reconstructed from the filming of his 1973 film La Baleine Qui Chante. But it's also a family drama, about the tensions between a father and his son.
'Concentrating on that relationship unlocked so much of Cousteau's character,' says the film's star, Lambert Wilson. 'It revealed every aspect of him – the womanising, the life with Simone, the power, the dreams, the selfishness, the masculinity, the constant desperation for money.'
Wilson, seen previously in films including The Matrix, Of Gods and Men and Suite Francaise, gives the performance of his career as Cousteau, going from dashing naval commander to underwater film maker, to self-centred star and eccentric ecologist.
'For me, the key to playing him was uncovering the inner bricoleur,' recalls Wilson. 'He was always tinkering, pottering, experimenting, inventing new gadgets, trying out new improvements – I mean he invented the aqua lung and the underwater camera and he repurposed the Calypso from a battered old minesweeper into an iconic exploration base that could travel the world's oceans, even to Antarctica and house a crew of 40 for months on end. That was just the tip of his dreams, this incessant curiosity.'
Cousteau, as the film reveals, also dealt in undersea experiments and exploration and, like a demented Bond villain, invented whole sea-bed villages where his self-termed 'aquanauts' would live. He sincerely believed that man would return to live underwater.
And when you see the film's images of Cousteau and his family diving and swimming, you could believe for a blissful moment that it was possible. It's a literal suspension of disbelief and it requires a small act of imagination to remember that these were among the very first humans to witness such wonders.
'Cousteau is famous among the diving community for having a uniquely elegant diving style,' says Wilson, who had to mimic his subject's moves. 'He was an aesthete and for him it was the visual impact of the undersea world that shocked him into making his films, so everything he did was developed in service of making a movie, to look elegant, how to dive creating the least bubbles, to get the camera close to the creatures.'
That serene beauty is perfectly conveyed in Jerome Salle's film, which uses locations including the Bahamas, South Africa, the Antarctic (according to Wilson, the first fiction film permitted to film there) and the Croatian island of Hvar, which stood in for the south of France where Cousteau lived and discovered his passion.
The Odyssey has met with some controversy, of course, in its attempts to portray the real Cousteau, who died in France in 1997 at the age of 87, decorated with most of the highest honours France can bestow, including being a member of the Academy Francaise. His Cousteau Society continues to promote ecological issues and protect its founder's scientific legacy and artefacts. It is currently working, not entirely successfully, to turn Calypso – badly damaged in 1996 – into a museum.
'In France, we like to decapitate our kings and heroes,' says Wilson. 'Some Cousteau fans have been upset, even heartbroken, to have the image of their idol destroyed – but I don't think the film does that. It merely uncovers material that wasn't previously that well-known. I myself grew up with Cousteau, it was appointment television in the days before such a term existed. He was as important as De Gaulle and Pompidou, bigger than Johnny Hallyday – he was a cultural figure that you watched with the whole family, on a Sunday evening. What he was showing in his films was basically news to everyone and as enchanting and surprising to you whatever age you were.'
However, despite such a high-profile over many years, the character of Cousteau is fading for the younger generation. 'I couldn't believe it but with this film, I found out that many people under 40, they've barely heard of him,' says Wilson.
What the film, and Wilson's performance, reveal is a man driven by self-centred passion and curiosity. His relationship with his two sons, Jean-Michel and Philippe is strained by his unemotional decisions to go off on adventures on the Calypso. At the drop of a (red) hat, the kids are sent away to boarding school while Simone and JYC sail off to the Red Sea.
The film shows Cousteau wowing the American TV execs with his poetic intentions, revealing a hustler and a showman, but it also hints at how money problems gnawed at him constantly. There are hints of his womanising, though probably nothing like the real thing – his second family and marriage to Francine are not mentioned at all.
'Simone was like a saint,' says Wilson. 'We couldn't find anyone who had a bad word to say about her. There she was, for days on end, the only woman on board a vessel of 40 men and they revered her.' Simone's nickname was La Bergere (the Shepherdess), for the way she looked after her flock. 'She was happy far from humanity, on a boat,' says Wilson, who admits there are a few similarities between Simone, who died of cancer in 1991, and Audrey Tatou herself. 'Audrey can be a loner, an observer, always taking pictures. And she too likes to sail and has her own boat. In truth, Audrey doesn't have a huge part in this film, but she makes such a strong job of it that you feel her presence throughout, which is exactly what Simone did – she was the Calypso, but you rarely saw her on camera.'
Cousteau's narration was almost as famous as his images. That poetic French voice intoning philosophical bons mots over pictures of strange marine life became a huge part of the appeal. 'The sea, once it casts its spell, holds one in its net of wonder forever,' is just one such musing. He wrote nearly 50 books to go with the films and TV shows, cultivating the world's view of what a Frenchman, and a French accent, should be.
Wilson speaks perfect English with the poshest of accents due to a spell at drama school in London in the 1970s, studying with Pierce Brosnan and Colin Firth. 'So I had to exaggerate his accent, really turn up the Frenchness,' he says. 'But I realise many of us French actors can blame Cousteau because so often we go for an audition with a British or American movie and when we do our 'English-with-a-French-accent' accent, they say, No no no, you don't sound French enough. What they mean is either we don't sound like Pepe le Pew or Jacques Cousteau.'
One irony is that Lambert's father, Georges Wilson, a well-known actor in France and a director at the Theatre National Populaire, once provided the narration for a Cousteau film.
'My father and Cousteau were of the same generation,' he says. 'They were fathers who didn't really know how to love their sons. Yes they could be generous at sharing their passions and their knowledge, but actual communication was hard.
'Unconsciously or otherwise, there's a lot of my father in my performance of Cousteau. Even my family members who've seen it remark on it. They say the way my Cousteau looks at his sons in the film is how my father looked at my brother and me. I find that very shocking and moving at the same time.'
Wilson admits he struggled to reach the wiry thinness so associated with Cousteau, whose gaunt features and bony physique were so often exposed on camera as he hung out with the crew on Calypso or hauled himself once more into the sea. 'It's ok to lose weight for a movie,' says Wilson, 'but not when you need energy to dive and carry heavy scuba equipment. I was constantly starving.'
If it were a different film – and there were many versions of scripts over the years – The Odyssey might have found its drama in several events: the 1943 invention of the aqualung, under the aegis of the German occupation during the Second World War, is in itself a story; as are the early experiments with underwater filming carried out by Cousteau and his colleagues, the so-called 'Mousquemers' (a play on the Mousquetaires), Philippe Tailliez and Frederic Dumas; he also discovered echolocation navigation in porpoises and pioneered small submersibles, such as his signature Diving Saucer.
Winning the Palme d'Or at Cannes in itself might also have made for a great film-making story, such was the awe-struck reaction of the assembled cinema audience. It went on to win an Oscar for Best Documentary, too.
'There was controversy around the film at the time,' admits Wilson. 'It emerged that Cousteau had deliberately injured a whale so that sharks would attack it and he could get the footage; there was an incident in which he dynamited fish around a reef so he could bring more of them to the surface. These can be seen as taboo now, practically crimes. But that was the 1950s and he admits he was exhilarated by this cornucopia of sea life he was discovering.'
The new film brushed on several of these elements but it eventually takes a traditional biopic line, resulting in some dramatically inert but nevertheless spectacular-looking stretches. One crucial, thrilling scene is a beautiful family moment in which Cousteau and Simone take their sons diving near their home in the Var and enter a wondrous cave filled with fish. Years later, the same dive reveals the same cave, once teeming with life, now empty and barren and Cousteau, urged by his son Philippe, realises the planet is in danger.
The Odyssey covers it all as best it can. The business empire collapse, which made the cover of Time magazine; the life on the Calypso; the underwater city experiments; the shooting of various episodes of the TV show around the world; capturing sea lions; the tense but always loving relationship between Cousteau and Simone; his fractious exchanges with his sons and the battles for creativity versus commercial imperatives.
'Thirty years ago, I discovered a new world. I wanted to conquer it, when really I should have protected it,' says Wilson's Cousteau. 'It's not too late.'
In the end, you'll remember the lone whale sequence and a throat-tightening shark sequence as well as the gorgeous cinematography by Matias Boucard and his team and the impeccable period costumes, including the 1950s high-waisted swimwear. 'Those trunks got very heavy, took seven hours to dry and do absolutely nothing for you,' blushes Wilson.
If it doesn't quite have the Homeric grandeur associated with its title or reach the depths plumbed by its protagonist, The Odyssey remains one of the most beautiful films of the summer and reminds us of one of Europe's most celebrated and vital cultural figures, as important for mankind as he was for life beneath the waves.
Jason Solomons is a film critic, broadcaster and author of Woody Allen: Film by Film
Most popular