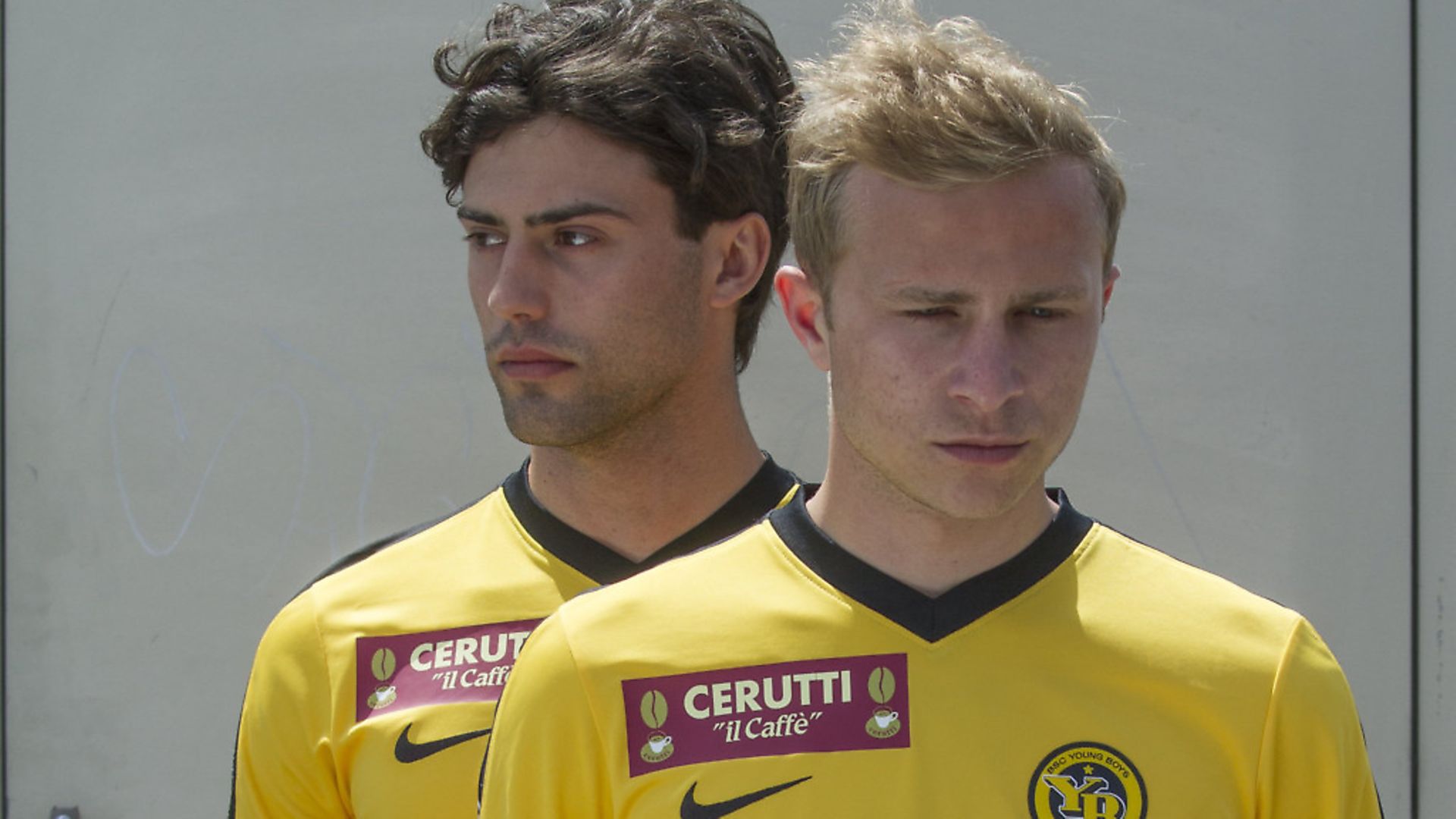 Does the modern game make it even more difficult than ever for players to come out? Jason Solomons writes about a timely film that puts a sport on the spot
Of the 736 players registered as team members in Russia for the recent World Cup, how many were gay? Statistically, the likelihood is quite a few. Not that anyone admitted it, particularly not in a society where homosexuality is hardly welcomed with open arms. Of course, the issue is one not just for Russia but rather football as a whole sport, all around the world. How many gay footballers do you know? Why are there not more, openly gay players?
That's the burning question raised by new Swiss-German film Mario, about two young players, Mario and Leon, who fall passionately in love while forming a successful strike partnership for their Swiss team.
Like millions of boys around the world, Mario (played by Max Hubacher) has dreamed of playing professional football all his life. He's trained, practised and come up through the ranks, supported by his father and family. Now aged 20, he's about to break into the first team at his club Young Boys and the game's summit is in sight, just like the spectacular mountains around where he grew up. He's even got an agent, a local guy, who's been looking after Mario's best interests for a few years already.
Mario's is a typical story, the trajectory of thousands of hopeful boys and their families around Europe, a dream chased every Saturday and Sunday morning in local leagues and in wet, weekday training sessions. Another such young man is Leon (German actor Aaron Altaras), who has now been loaned from his German team to this Swiss outfit to help with their promotion push. 'I have the same dreams as you,' Leon tells Mario. 'First team, national team, World Cup – that's all I ever thought about.'
At first they are rivals, but when they start combining well on the pitch, the management decide to billet Mario and Leon together in the city centre and their position as friends and flatmates soon spills over into something more powerful and more sexual.
However, football is one arena where homosexual love still dare not speak its name. As Mario's devastated agent says when he finds out: 'Drugs, sex with minors, gay stuff – there are certain things every professional footballer knows he just can't do.'
Rumours spread among the team, some of whom simply tease because they can, while other seek to take advantage to win their place up front by getting rid of their rival strikers. The club board are forced to take a position and go into damage limitation mode: Mario and Leon cannot continue – they must be given girlfriends. The charade must go on.
Directed with great sensitivity and honesty by Marcel Gisler from his own screenplay (with Thomas Hess and Frederic Moriette), the film has an unflinching, matter-of-fact realism about it. How common a story is this, really? 'I think it goes on all the time,' says Gisler. 'We spoke to many inside football as research and the way it happens in the movie is exactly the process in place at many clubs to deal with it. The top people in football know all about it but it's a secret that must never get out because there is just too much at stake in terms of money.'
I'm surprised that well into the 21st century, so many people would still have a problem with gay footballers. 'Half the world is not accepting of homosexuality in any form of society, let alone football,' says Gisler. 'The problem is that football is a global game, as we have seen at the World Cup, so all teams, in Switzerland, Germany, England, Spain, all of them need to keep up their image in every country around the world. You can't sell a shirt with a gay footballer's name on in so many places.'
Altaras, who plays the darkly handsome Leon, tells me he cried when Germany went out of this World Cup and that he used to be a Hertha Berlin season ticket holder. When the film premiered at the BFI Flare festival last year, he mentioned on stage afterwards that he also supported Arsenal and now, he tells me, although he himself isn't gay, he's been made an honorary member of the Gay Gooners, Arsenal's supporters' group for gay fans. 'I'm very proud of that,' he says.
It's a big step to have, as many big clubs now do, gay supporters' groups, helping eradicate homophobia from previously prejudiced terraces. But there is precious little progress being made on the pitch for gay players. According to Gisler no major or even minor star is poised to come out any time soon. 'I know of several instances at high level – Champions League, Bundesliga – where these things have been hushed up, false girlfriends paid for.'
As for Altaras, he says: 'I would go as far as to say every club knows about this as an issue – the captains, the coaches, the chairman. There are systems and structures in place in the pro game that facilitate their players being gay – all systems designed to keep it as secret as possible. They do everything to make sure it is ignored.'
We do discuss a few rumoured gay footballers, some of them big European names, including a couple of major managers. There are a few – such as former Aston Villa, Lazio and Stuttgart star Thomas Hitzlsperger aka 'Der Hammer', with 52 Germany caps and now a media pundit, or Justin Fashanu, who met a much sadder fate – who came out after their pro careers ended, but their experiences don't seem to have encouraged any current players to do so.
As the film Mario shows, there is a gradually destructive side effect of not admitting one's sexuality in football. Careers suffer, transfers are rejected, team mates murmur about broken trust. 'Life could be horrible for anyone who came out,' says Altaras. 'That's why it would need to happen en masse. A group of players could come out together and find support in numbers.'
'It isn't about homophobia and anger,' adds Gisler. 'As soon as you come out, you lower your transfer value – there are markets where you won't get employed as a footballer and the modern footballer has to be ready to play all over. To be gay would be commercial suicide. The fees and wages are so big these days, that many clubs look for excuses not to sign players and being gay would be one easy reason to refuse them, because of the complications.'
Personally, I believe the first gay footballer could be a huge star that could alter the landscape for so many and, if a big enough name, could become an icon and a hero. 'But,' says Altaras, 'you'd better be good. Fans are maybe ready for a great player who is gay – but if they're not so good, or even just have a bad spell, well their sexuality could be seen as a sign of weakness maybe and fans, opposing fans and home fans, would make life miserable for that player, just to seek an advantage.'
Mind you, in these summer days of Wimbledon and golf's Open Championship, nor can I think of a gay men's tennis player or a gay golfer. 'In elite professional sport, there is still very little room to express such sexuality,' agrees Gisler. 'Obviously, it shouldn't be something you notice in any player, of course – you're there to watch their performance on the field, nothing to do with how they are in their private life. But the reality is very different still and people both in the games and in the crowds have not got their heads around the problem yet. Which is why I made the film, to push the conversation further.'
Mario the movie operates at a clever level. To set it among the best players, the top clubs, would demand more budget, more fame, more verisimilitude. But here among the U21s, the 'espoirs', the young men knocking at the door of opportunity, there is less of a glare, though just as much pressure and potential. Mario's and Leon's story shows, from a very human level, the sacrifices such hopefuls may have to make. Of course, a knee injury or a cruciate ligament can put paid to a sporting career at any moment. But sexuality isn't seen in the same light, despite having a potentially ruinous effect.
Just as many players and bodies such as FIFA came together to combat racism, it might be that top players can rally to support gay footballers, although there doesn't appear to be the pressing need or political will for this. Gisler, who is gay, says among his friends, very few of them are actually interested in football as fans. 'So there isn't an economic imperative,' he says. 'If 20,000 gay fans said they wouldn't come to a club that was homophobic to a gay player, then I'm sure the board of that club and the sponsors, would act very quickly. But I'm not sure gay people aren't so into football.'
Or maybe it is a community that's simply been turned off of it by years of machismo, of feeling excluded from the swell of banter and locker-room lambast that is so much a part of the game on the pitch, off it and on the terraces.
There is surely much to attract a gay audience to football, even if purely in commercial terms of sporting equipment, fitness, male company, whatever – the pink pound is huge and football's definitely missing out.
Tender, relevant, emotional and timely, the film Mario makes you realise just how much still needs to change in the world's beautiful game. Is it really that big a step, after all?
Most popular