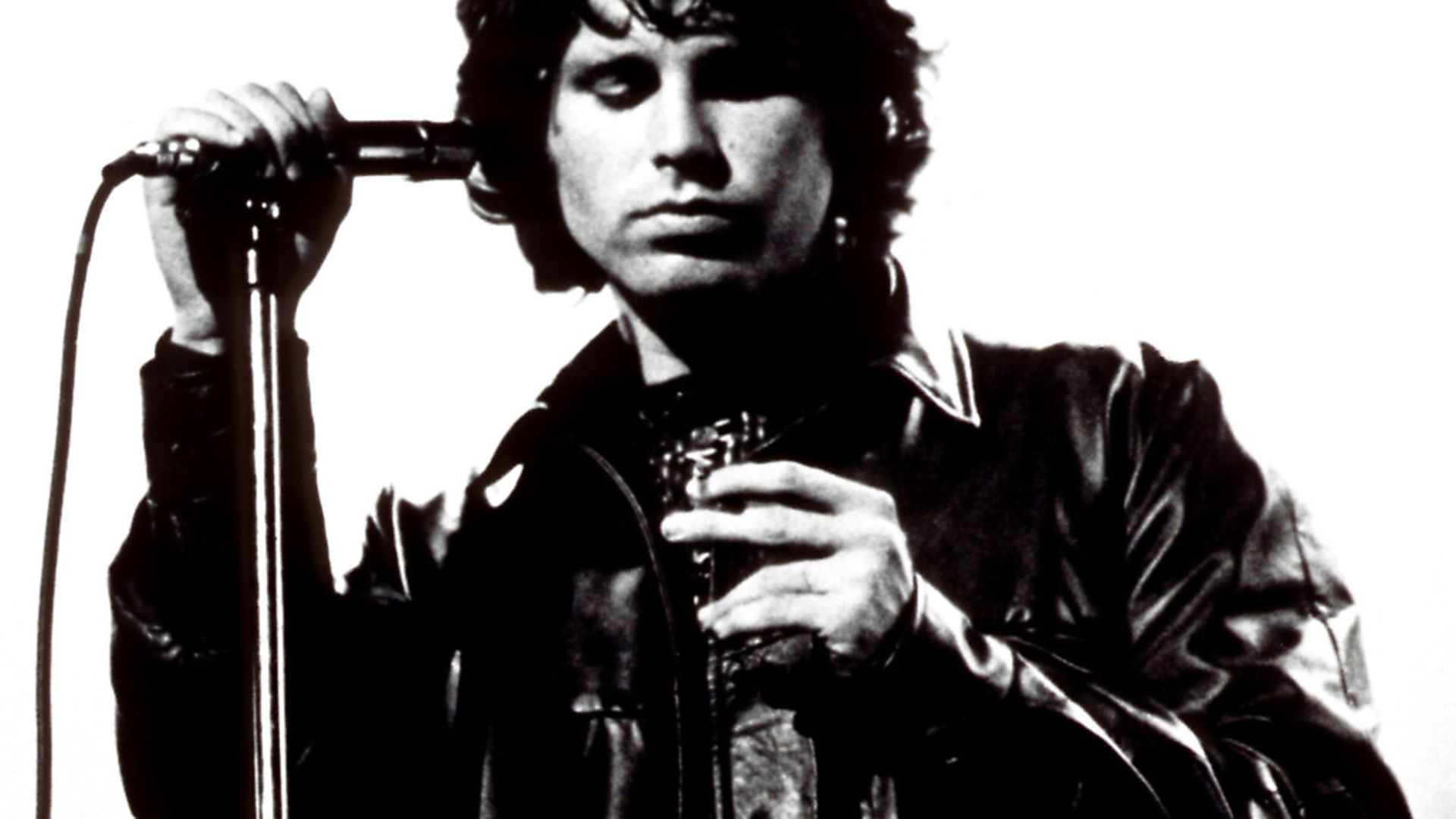 The Doors' frontman was supposed to go to the French capital to find inspiration, but found only disintegration. Sophia Deboick pieces together his final weeks.
For three days after his death in an apartment at Number 17 Rue Beautreillis, Jim Morrison's body remained at the property. Wrapped in plastic and packed in dry ice, it was kept in the bathtub where his girlfriend Pamela Courson had found him, lifeless and submerged in the still warm water, at around 6am, on Saturday July 3, 1971. It stayed there until undertakers finally delivered the coffin she had ordered (the cheapest model available, worth around £30). At some point during those 72 hours, a doctor visited the flat and a death certificate was issued. The official cause was listed as heart failure. No post-mortem examination was performed.
The body was finally laid to rest the following Wednesday, at an unmarked grave in Paris' Père Lachaise cemetery, located in the Poet's Corner near 17th century playwright Molière. There were fewer than half a dozen mourners in attendance. It was only the day after the funeral that news of Morrison's death was announced, to a questioning world. Was there a police investigation? Why was there no post-mortem? Who was the examining doctor? (Courson, according to some reports, could not remember the medic's name, and his signature on the death certificate was illegible). Why weren't Morrison's parents told? (The authorities were apparently notified he had no immediate family, paving the way for a quick, no-questions-asked burial.)
In the almost half a century since the death, such questions have remained, fuelling a vivid array of conspiracy theories, from those suggesting the lead singer of The Doors was the target of a CIA operation to assassinate counterculture heroes to others suggesting he was victim of a Wiccan hex or simply faked the whole thing. The truth is that the reality of his sad, lonely death in Paris can be found in the four months that led up to it.
It was a creatively-spent Morrison who arrived in the French capital in early March 1971. He was unrecognisable from the lithe-bodied, chiselled-featured 'Lizard King' who had become a popular icon, having gained weight and grown an unkempt beard. Struggling with an alcohol problem which had blighted The Doors' creative efforts as the 1960s drew to a close, he also had a six-month prison sentence hanging over his head. His appeal was pending after a gruelling 40-day trial the previous autumn, on charges of exposing himself on stage at a gig in Miami.
While the trial had been quickly followed by the unusually successful recording sessions for the sixth Doors album, L.A. Woman, Morrison's recent live appearances had been dire. His performance in New Orleans in December – what would turn out to be The Doors' last gig – had seen Morrison descend into drunken rambling, sitting on the stage in a crumpled heap. All motivation was gone, and despite his desire to pursue his role as a poet, he admitted in an interview with the Village Voice 'I don't read or write much. I don't do much of anything. But I will get back in the saddle'.
If Morrison thought Paris would allow him to make this return to creativity, it was a serious mistake. Joining his long-term partner Courson, a heroin addict who was staying with Jean de Breteuil, an aristocratic drug dealer, Morrison became immersed in a drug-fuelled milieu.
The Left Bank clubs like the Rock n' Roll Circus and L'Alcazar were awash with heroin, and they became his night-time haunts. France was a heroin trafficking hub (The French Connection, released in late 1971, would bring this world into the public imagination) and Paris was a playground for rock royalty, offering luxury and decadence rather than a Spartan setting for recovery.
Morrison likened his first home in Paris, the Hôtel Georges V, off the Champs-Élysées, to 'a red-plush whorehouse', and he checked into the infamous L'Hôtel in the altogether more bohemian Saint-Germain-des-Prés a week later. Morrison's fellow resident of Père Lachaise, Oscar Wilde, had died there, and it was the favoured lodgings of The Rolling Stones. When the couple found a more permanent home, it was a large and lavish apartment on rue Beautreillis in the Marais district, and its shops, restaurants and squares became the backdrop of a more sedate daytime routine for Morrison.
The Marais escaped Haussmann's urban planning, and its narrow medieval streets are still marked by the pre-revolutionary grandeur that went with being the favoured quartier of the nobility. Previously a Jewish district, by the early 1970s it was a cosmopolitan neighbourhood with a large Chinese population. The early 17th-century Place des Vosges, the oldest planned square in Paris, was just three minutes' walk from Morrison's apartment and he would sit and write there, basking in the atmosphere of the city of Molière, Rimbaud, Balzac and the Marquis de Sade, his literary heroes since he was a teenager.
Morrison would make pilgrimages to the Hôtel de Lauzun, the home of Baudelaire, where he had founded his Club of the Hashish-Eaters, just a short walk across Pont de Sully, on Île Saint-Louis. Carrying on over to the Left Bank, he would go book shopping at Shakespeare and Company, a place still replete with the spirit of the student riots of three years before. He worked on several writing projects during his time in the city – an essay inspired by his obscenity trial, a rock opera and ideas for a novel – but principally he filled notebooks with poetry. An exercise book that Morrison had titled Paris Journal contained violent, darkly sexual and surreally nihilistic lines, and has since been published in full. Another of his Paris notebooks sold at auction for $250,000 in 2013, and this poetry, fragmented as it was, was the most substantial work to emerge from his stay in Paris.
French gastronomy and Parisian café culture was a large part of Morrison's life in the city. He bought bottles of white Bordeaux from Vin des Pyrénées on rue Beautreillis and went grocery shopping on adjoining rue Saint-Antoine, buying cheese at Les Fils Pervrier. Opposite the apartment was Le Beautreillis, a conveniently-located restaurant for Morrison and Courson (its Yugoslav owner of the early 1990s enterprisingly filled it with Doors memorabilia), but the couple were naturally drawn further afield to the Left Bank's Saint-Germain-des-Prés.
They frequented the famed literary and artistic haunts Café de Flore, Les Deux Magots and La Palette, dining out with the arty friends to match, including New Wave directors and spouses Agnès Varda and Jacques Demy (Varda's dialogue for Last Tango In Paris, the tale of an exiled American in Paris, may have been influenced by Morrison).
L'Astroquet bar, opposite the church of Saint Germain, was also patronised by Morrison and two days before his death he was spotted by an American fan in Le Mazet, rue Saint-André-des-Arts, in the neighbouring Monnaie quartier, eating a Croque Monsieur. In late June he had written to a friend that he and Pamela hoped to stay in the city permanently, saying 'Paris is beautiful in the sun, an exciting town, built for human beings'.
Yet despite this enthusiasm and his largely anodyne daytime routine, the city wasn't working for Morrison and he needed to get away. He was still highly dependent on drink and drugs, all too readily available in Paris, and he began suffering from respiratory problems.
He and Courson escaped the city's April showers and went to warmer Toulouse, going on to Andorra, Spain and Morocco. In May they visited Marseille and Corsica with two Parisian friends. But little had changed on their return. Both were still locked in a downward spiral.
When they went to London in June, Jean de Breteuil was hosting drugs parties in Keith Richards' and Anita Pallenberg's Chelsea home and Soho simply replaced the Paris club scene by facilitating Morrison and Courson's self-destructive behaviour. Their lifestyle followed them wherever they went, with devastating consequences.
Unlike these escapades of the previous months, Morrison's last day, July 2, 1971, was entirely prosaic. He spent it with his friend Alain Ronay, idly walking around the Marais, never straying further than a five-minute walk from his front door. He bought Pamela a pendant in one of the little boutiques on rue des Rosiers before having lunch at Ma Bourgogne on Place des Vosges, which counted Sartre and de Beauvoir among its former patrons.
He went to collect some boots from the shoe repairers – they weren't ready yet. He and Ronay drank beer at the Café des Phares, Place de la Bastille, before Ronay left to have dinner with Agnès Varda. According to Courson's police statement, Morrison ate at a Chinese restaurant on rue Saint-Antoine, and then they went to see the Robert Mitchum film Pursued at the Action Lafayette, 20 minutes' drive away. That night Courson was woken by Morrison's laboured breathing, but he sent her back to bed while he had a bath. As dawn broke she found him dead in the bathtub.
At least, that is the mainstream, 'accepted' version. A rival account has gained traction in recent years, with New York Times journalist Sam Bernett, former manager of the Rock n' Roll Circus, claiming that he discovered Morrison dead in the toilets of the club. He had taken a heroin overdose and his body was carried out by two dealers and placed in his bathtub as a cover-up. In a 2014 interview Marianne Faithfull further claimed her then-boyfriend, Jean de Breteuil, had supplied the fatal dose of exceptionally pure heroin that was flooding Paris at that time.
In fairness, the circumstances surrounding the death have given ample ammunition for conspiracy theorists and speculation. On the weekend it happened, rumours began to circulate around Paris that Morrison had passed away. But when reporters called his apartment they were told he was in hospital 'resting'. The regional office of the United Press International reported the singer was 'recovering and being treated in a hospital or sanitarium,' according to Rolling Stone. Representatives from The Doors' record label Elektra began to receive inquiries, but were unable to find information. The American Embassy was not able to help – after all, no body had been checked into a local morgue. Morrison had been the subject of death rumours and hoaxes before,
The Doors' manager Bill Siddons was contacted in California and he eventually able to reach Courson by telephone. She initially said Morrison was fine, before explaining what had happened.
Siddons took the first flight to Paris and he was among those to attend the funeral.
The reasons for the secrecy were, it seems, pretty prosaic: to give Morrison and Courson's friend Alain Ronay a better opportunity to secure a plot at Père Lachaise, where he could join Wilde, Édith Piaf and Georges Bizet, among others. A rock star with Morrison's reputation might have faced a difficult challenge to be granted a space, so Courson had the singer's death certificate inscribed 'James Morrison, poet' and the application was made 'under the radar'.
Whatever the precise circumstances of his death, his final weeks showed that Paris was far from a place of salvation for Morrison.
Instead, as it has been for many others, it was place of exile and impersonal social interaction that offered little foothold for recovery. His death, if it indeed came about under circumstances where he was just another junkie client to faceless dealers, was certainly impersonal, and was a matter of being in the wrong place at the wrong time. The final lines of his Paris Journal were prophetic: 'I didn't mean to kill you. You were just there.'