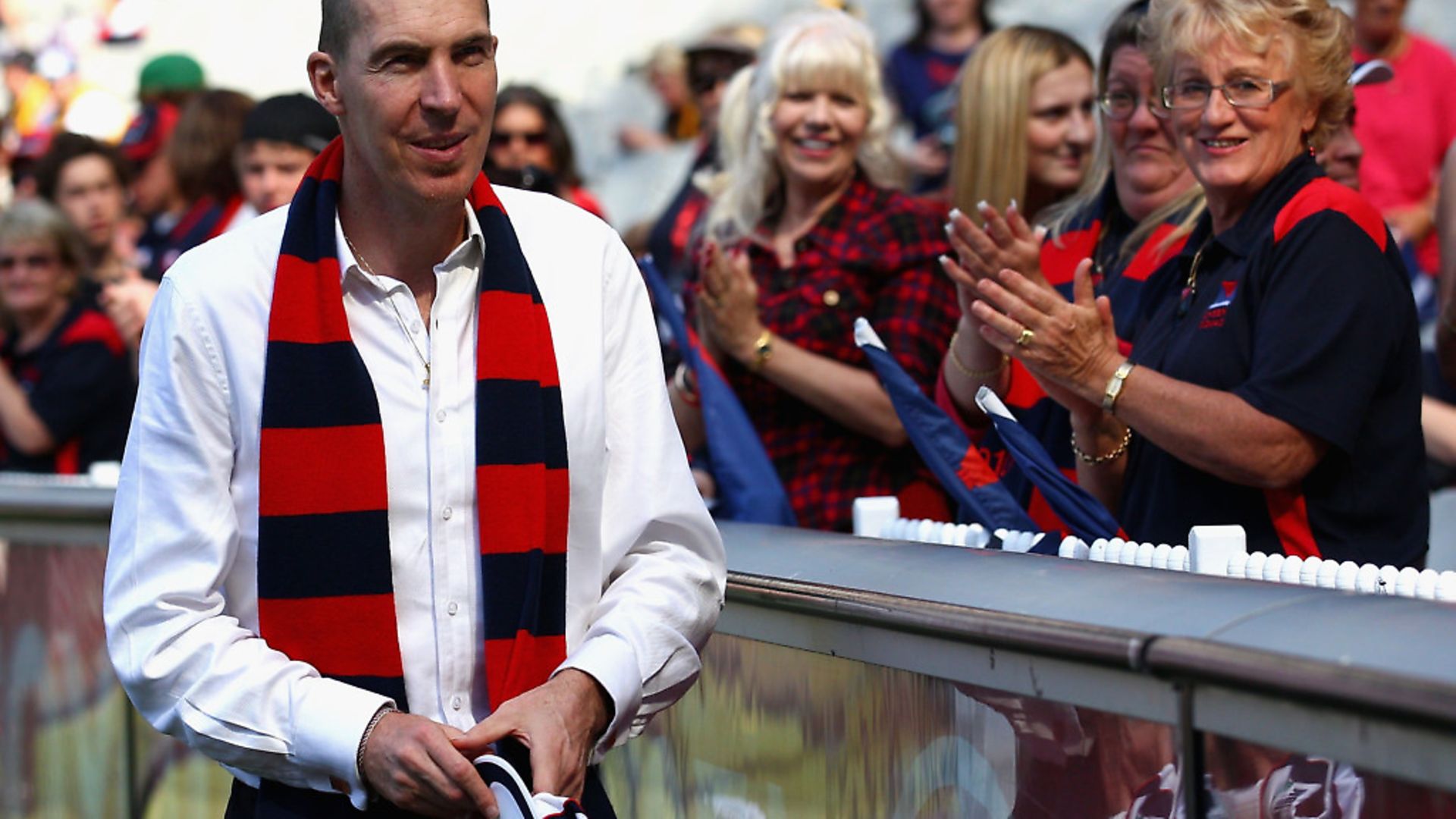 Despite an ignominious start, Jim Stynes came to dominate Aussie Rules. RICHARD LUCK pays tribute to one of Europe's great unsung – and tragic – sporting heroes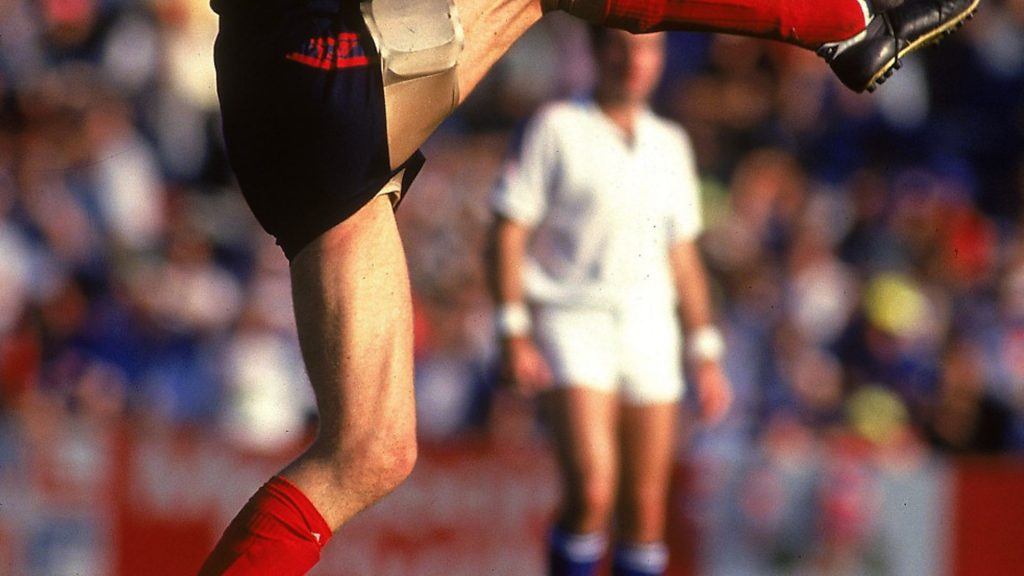 Were it a real place, the European sporting pantheon would be on the scale of the British Museum. If one was to walk through its imaginary galleries, it's unlikely that you'd find a lot of room given over to Irish Australia Rules Football star Jim Stynes. Which is a shame because few people have shaken up a sport that isn't native to the continent in quite the same way as the affable Dubliner.
Between 1987 and 1998, Stynes played 244 consecutive games for the Melbourne Football Club. As sporting streaks go, it's right up there with Cal Ripken Jr playing 2,632 games on the trot for the Baltimore Orioles. For while baseball certainly takes a toll on the body, it's got nothing on Aussie Rules, a game so aggressive the comedian Jasper Carrott once suggested that the reason the shirts don't have sleeves is to prevent the players from ripping them off and throttling the opposition.
Endurance wasn't the only thing Stynes brought to AFL, mind. Widely praised for reinventing the role of the ruckman in Aussie Rules, his combination of talent and temperament saw him become the only player born outside Australia to win the sport's highest individual honour, the Brownlow Medal. He was also admitted to the AFL Hall Of Fame; named in Melbourne's team of the century; twice selected for the All-Australian Team; and a four-time recipient of Melbourne's award for best and fairest player, the Keith 'Bluey' Truscott Medal. Not bad for a gangly bloke from County Dublin.
Born on April 23, 1966, James Stynes was all but destined to become a sportsman. The grandson of Gaelic football great Joe Stynes, young Jim took to the sport before he turned 10. Often playing alongside his younger brother Brian, Stynes – who was also something of a rugby union player – stood out from the crowd, only in part because he was 6ft 6in. Central to Dublin's success in winning the All-Ireland Minor Football Championship in 1984, Stynes looked set to dedicate his sporting life to getting his county to Croke Park for the annual GAA grand final. That was until he came across an advert in his local paper, one that had been paid for by the Melbourne Football Club…
The ad in question was part of what became known as the 'Irish Experiment'. With club legends such as Ron Barassi noticing the similarities between Aussie Rules and Gaelic football, Melbourne sought to tap the Irish talent pool. To attract the likes of Sean Wight – the first man to take them up on the offer – the club offered all-expenses-paid scholarships to both play football in Australia and study at university.
The chance to study at college really caught Stynes' imagination; a gifted student, his desire to attend university in Ireland was scuppered by his financial situation. As for AFL, his knowledge of the game pretty much began and ended with The Club, the 1980 Bruce Beresford film about the boardroom skulduggery and changing room infighting at a Victorian Football League outfit. It is a fine movie adapted from a great play but it is hardly the best advert for Aussie Rules. Still, it was enough to convince the tall, skinny kid to board the plane to Melbourne.
Arriving in Australia in November 1984, whatever dreams Stynes might have had were quickly doused by the reality of his situation. When Niall Quinn had to decide whether to play for Melbourne or sign papers with Arsenal, he weighed the thousands of pounds the Gunners put on the table against the $60 a week and 50 bucks a game the Demons were offering and caught the first cab to Highbury. In accepting a similar deal, Stynes must have realised it would be a while before he would make any real money. And being completely unfamiliar with Australian Rules, it would be a long time before Stynes took to the oval. Indeed, it was 1987 that he made his debut in the then Victorian Football League against Geelong.
That 1987 season ought to have ended on an incredible high. Melbourne were leading in the penultimate game when, as the siren sounded to mark full time, Stynes ran across the goal kicker's mark. As AFL offences go, it was a very minor one, albeit punishable with a 15-metre penalty. As Hawthorn's Gary Buckenara smacked the ball between the posts to steal victory, the Melbourne faithful mourned the fact that club captain Robbie Flower would now retire from the game having never reached a grand final, AFL's equivalent of the Super Bowl.
And then they set upon Stynes. After receiving an epic bollocking from coach John Northey, Stynes copped so much hassle that he toyed with quitting the game. It was only after he was recognised on a train while holidaying in Europe that it dawned on him that, no matter how hard he ran, he could never get away from his ignominy. Instead, he decided to stay and fight.
Disaster has touched many a great sporting career. In the case of British rugby league great Don Fox, missing a straightforward conversion in the Challenge Cup Final all but ruined him. Stynes, however, refused to be defined by his misfortune.
Just a year later, he was part of the Melbourne side that reached the 1988 Grand Final. And though that game ended in defeat, there was little doubt that the Demons' man of the match was the 22-year-old Irishman. In the years that followed, Stynes would excel in the role of ruckman. One of the game's key positions, it's the ruckman who contests centre bounces and boundary throw-ins. Though tall by everyday standards, Stynes was by no means the largest ruckman. And while he could jump like a stag and grapple like a freestyle wrestler, it was his understanding of the strategic aspects of the position – together with his stamina – that earned him the praise of Melbourne teammate Gary Lyon, who heralded Stynes as the first of a new breed of mobile ruckmen.
Then came 1991, the year in which Jim Stynes' place in AFL history was all but guaranteed. The Brownlow Medal is awarded annually to the league's best and fairest player. To list the winners is to be reminded of generations of Aussie Rules greats. That Stynes' name had now been added to the roll of honour is extraordinary when one considers that, seven years before, he'd not so much as kicked a Sherrin. And to this day, Stynes remains
the only non-Australian-born player to be awarded the Brownlow.
Further history was made when Stynes eclipsed Jack Titus' record of 202 consecutive Australian Rules matches. Eventually elevating the figure to a seemingly-unbeatable 244 games, Stynes' feat of endurance was the product of a stoicism that saw him play through fractured ribs and ligament tears. In the end, it would take a broken hand to send him to the subs' bench. The streak finally ended in 1997; Stynes would retire from Australian Rules Football in 1998.
But if Stynes was done with AFL, AFL wasn't done with him. So it was that after a decade of writing books and running his Reach Foundation – a charity aimed at improving the mental health and physical well-being of young people – the softly-spoken football star became president of his cash-strapped former club. Putting his charisma and legendary status to good use, Stynes silenced fears that the side might be relocating to the Gold Coast. And by encouraging club membership, he went a fair way towards elevating Melbourne from debts in excess of $5million.
He also maintained a vigorous workout regime. As former Melbourne FC massage therapist Matt Courtney recalls: 'I used to come in on a Monday morning and the place was empty. I remember hearing the clinking of weights in the gym and wondering what was going on, no players were ever there at that hour. So I walk in and it's Jim Stynes. Cue goose bumps and being taken back to a 12-year-old watching him play.'
Stynes never lost his aura. A two-time Victorian of the Year and the recipient of the Medal of the Order of Australia, he was a gracious man who always took more pride in his wife and children than in the prizes and awards. The dictionary definition of laconic, his demeanour couldn't even be dimmed by the cancer which entered his life in July 2009. As anyone who'd seen him on the pitch could tell you, there was no way Jim Stynes was going down without a fight, and through an aggressive if often unconventional campaign – he was, like Steve McQueen, a big believer in coffee enemas – the disease that might have killed him before Christmas was kept at bay until March 20, 2012.
To read Stynes' obituaries is to be humbled by how much he accomplished in 45 short years. I haven't even touched upon his career in International Rules, the AFL/Gaelic football hybrid which gave him the chance to represent both the country of his birth and the place he came to call home. Feted by two nations on opposite sides of the planet, it is sad that the Stynes name isn't better known elsewhere in the world. Sad but not surprising given the reach of the sports he dominated. It's just fortunate that he made his name in a country determined to celebrate heroes.
So if you pay a visit to the Melbourne Cricket Ground today, you'll find a statue of Jim Stynes alongside legends the stature of Shane Warne, Keith Miller, Neil Harvey and the aforementioned Ron Barassi – fitting company from the boy from the Emerald Isle who came out on top Down Under.