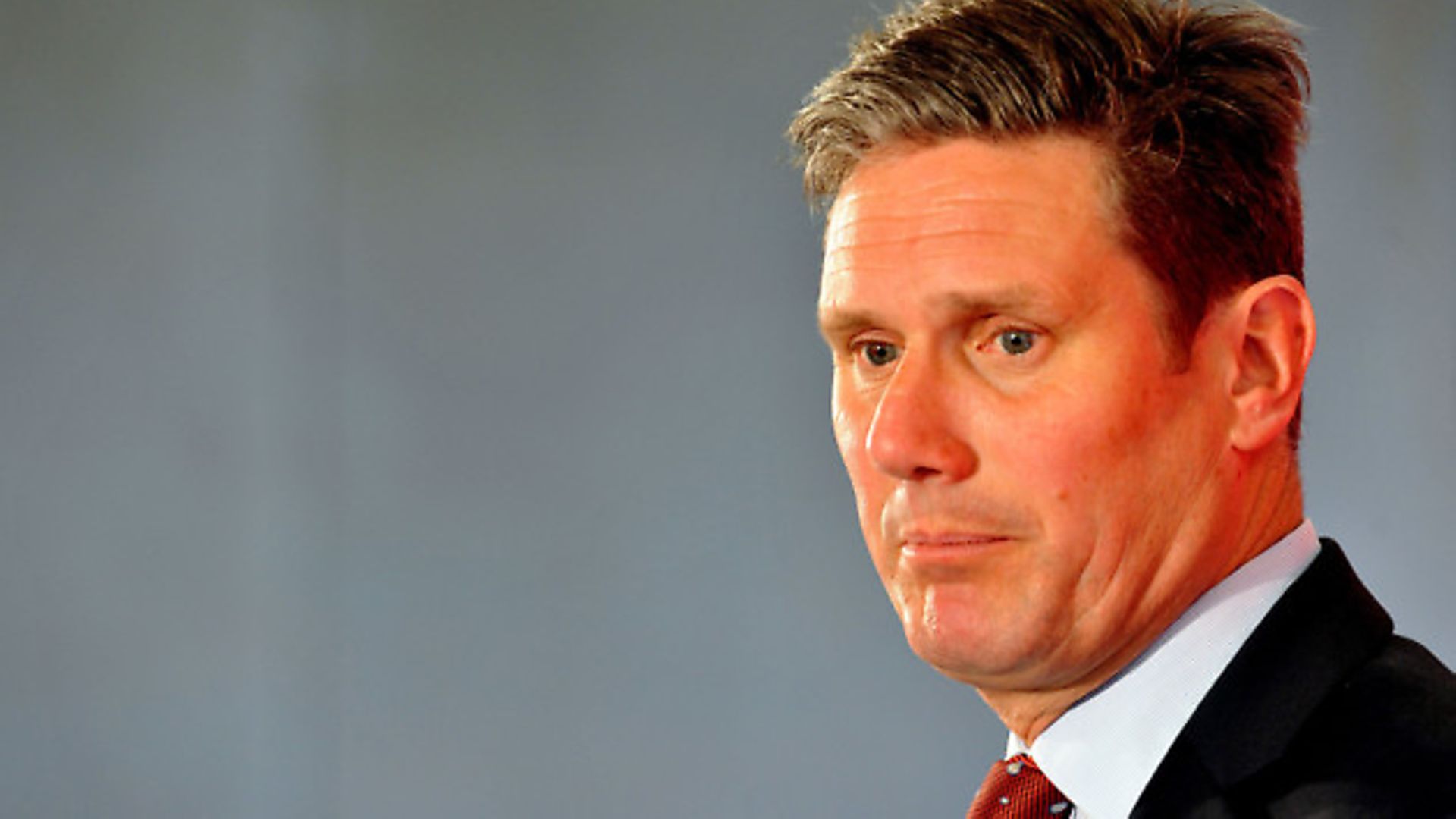 With the triggering of Article 50 due this month, Keir Starmer outlines what Labour will fight to achieve from Brexit – and acknowledges what the process cannot resolve
It is eight months and eight days since the Referendum. Although there has been no end of debate over Brexit in that time, it has too often been narrow, technical and – as John Major said this week – frequently dispiriting.
Legitimate concerns about our future relationship with Europe or the Government's direction of travel have been too readily dismissed as 'scaremongering', 'remoaning' or simply wanting to rerun or ignore the referendum.
As a result, our politics and the country have become more divided. Many people, particularly (though not exclusively) those that voted to Remain – feel their views have been ignored or silenced.
All of this, of course, was entirely avoidable.
The Prime Minister should have been far more open, transparent and willing to listen to the concerns many businesses, trade unions and people across the country feel.
She should have sought to bring people together over Brexit and speak to both sides of the referendum divide.
Instead the Government decided to fight a case in the Supreme Court and has been slow and reluctant to allow a proper role for Parliamentary scrutiny.
In the last three months Labour has made important, albeit incremental, progress in strengthening the Article 50 process. The Government has moved from promising 'no running commentary' and refusing to grant Parliament a vote on the final deal, to publishing a 76-page White Paper, committing to give the UK Parliament the same reporting-back procedures as the European Parliament, and that there will be a vote in the House of Commons on the final draft Article 50 deal before it is considered by the European Parliament.
I'm continuing to follow this up with colleagues in the House of Lords to try to secure amendments, in particular on the legal status of EU nationals and ensuring that the vote on the final draft deal is more meaningful (including the power to require the Government to go back to the negotiating table if it is rejected by the Commons). This all matters, as the Article 50 process will shape the final deal that emerges.
But it is a source of real frustration that so far the debate has been focused too much on Parliament and process, and not enough on the principles and priorities that will shape the Brexit deal and our future relationship with the EU.
As the British Chamber of Commerce said earlier this week: 'What's debated in Westminster often isn't what matters for most businesses. Most firms care little about the exact process for triggering Article 50 but they care a lot about… sudden changes to regulation, the inability to recruit the right people for the job or if their products are stopped by customs authorities at the border'.
I campaigned passionately to stay in the EU. I did so not just because I firmly believe this would be better for trade, counter-terrorism and combatting serious organised crime (an area I worked on closely for five years as Director of Public Prosecutions), as well as science, technology, education, arts and culture – but also because fundamentally I am an internationalist who believes that we have an interest and a duty to solve international problems co-operatively and collaboratively; that we achieve more when we work together with other countries, than we do alone.
Although I accept and respect the result of the referendum, and believe Labour was right to allow the Prime Minister to start Brexit negotiations, I will continue to make the case for Labour to adopt an internationalist approach to our future relationship with the EU that is rooted in our values of cooperation, collaboration, social justice and economic fairness.
That obviously starts with securing strong and mutually beneficial trading arrangements. In recent months I have gone across the UK talking to businesses, trade unions and communities engaging in literally hundreds of conversations, meetings and discussions about what really matters for our future relationship with the EU.
The answers are always the same when it comes to trade – non-tariff barriers, no additional impediments, regulatory alignment and a deal that works for services and goods.
There is also uniform concern about the very real danger of the UK exiting the EU without a trade deal in place, and with businesses reverting to WTO terms.
That is why Labour has emphasised that jobs and the economy must come first.
The Government should also commit early to effective transitional arrangements that will deliver David Davis' promise of the 'exact same benefits as we [currently] have' from membership of the single market and customs union. That is the bar the Government has set, and Labour will hold them to it.
But trade is only part of the strong future relationship we need to build with Europe.
Labour accept that we will soon cease to be members of the EU, but that does not and will not preclude us from arguing that our values of collaboration and co-operation should be the founding pillars of our changed relationship with the EU.
Not severance; not walking away; but a full and meaningful final agreement establishing a values based continuing relationship with our EU partners.
After all, the big challenges of the 2020s and beyond – globalisation, climate change, terrorism – are not confined to nation states and can only be met by multilateral, cross-border action. Those questions cannot be solved by retreating into isolationism, but only by reasserting Labour values of internationalism and collaboration.
That is why we will seek continued engagement with the EU in a whole range of areas where it is in our national interest – from human rights, counter-terrorism and climate change to science, technology, research and education.
We will also argue for continued membership of agencies such as Euratom (the European Atomic Energy Community), the European Aviation Safety Agency (which certifies aircraft before they are allowed to fly), the European Medicines Agency (EMA), Europol and Eurojust.
The Prime Minister's current ideologically-driven approach puts all of this at risk. The other reason we need to reassert Labour values at this pivotal moment in Britain's future is that we recognise Brexit itself cannot solve the problems the referendum exposed.
Brexit cannot tackle stagnant wages, resolve a chronic skills gap, reduce unequal growth across the UK or improve underfunded public services.
Brexit cannot mend public trust in politics or build more cohesive communities. And it cannot provide a place for Britain in a more complex and chaotic global order. For too long the EU has been used as a mask for domestic political failure – and in the eight months and eight days since the Referendum that has not changed. The debate has been too limited and the answers have been insufficient to the challenges Britain faces.
The truth is that even if the final Brexit deal achieves the Government's aims – and that is a huge 'if' – these underlying issues will remain unresolved. Only far-reaching, radical responses can do so.
That is why Labour must see the Brexit debate as part of a far wider process of reshaping Britain and equipping it for challenges of the decades to come.
A process-based approach can never hope to do so. A values-based one just might.
Keir Starmer is the Labour MP for Holborn & St Pancras and Shadow Secretary of State for Exiting the EU
Most popular