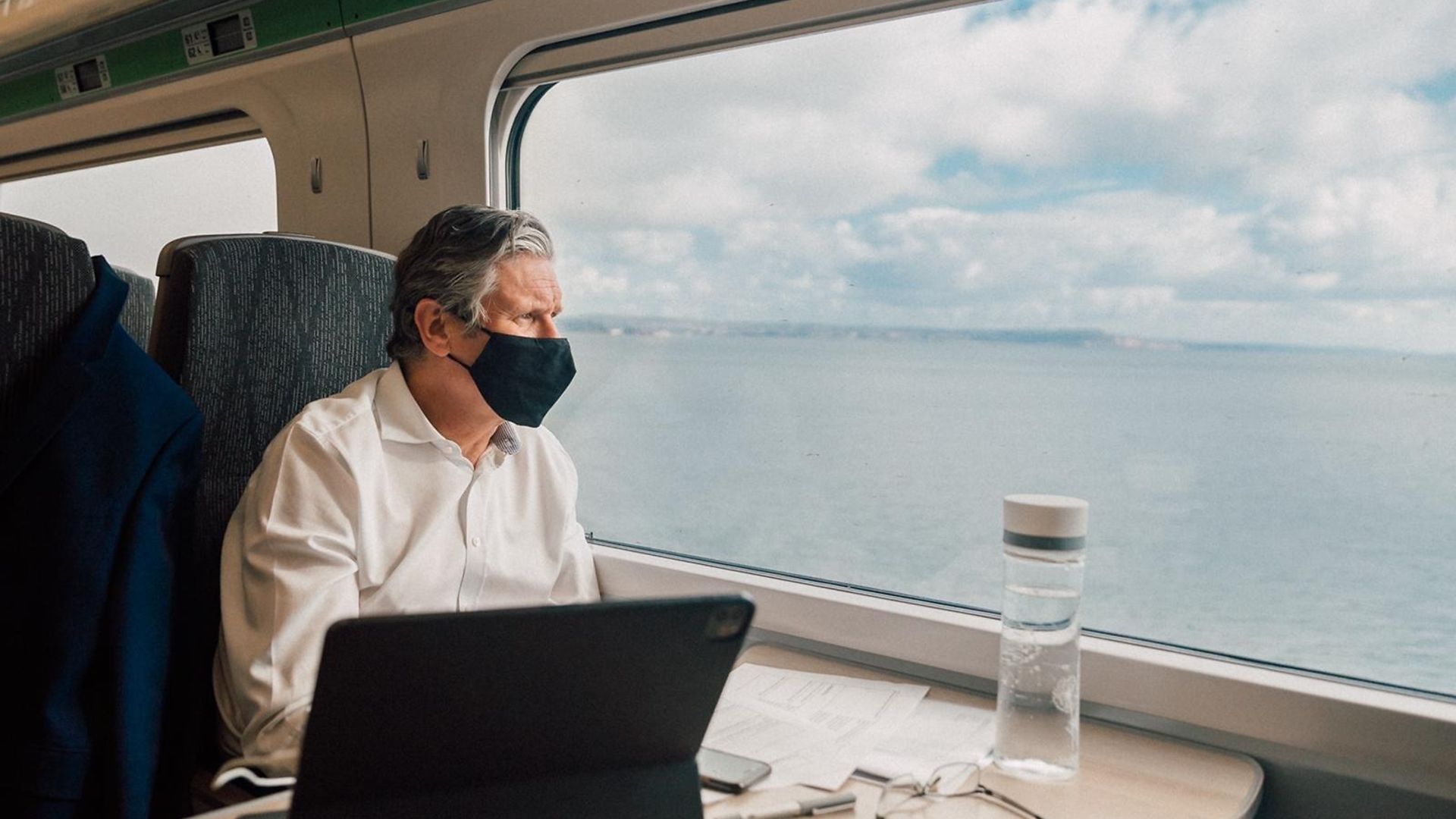 The town's by-election will be of immense significance for the Labour Party, but its fate is not an issue that is particularly troubling the locals.
Outside a cafe near Hartlepool's marina, Eve Parker, a student, and Stuart Bown, who works as a gravedigger for the council, are queueing for lunch.
They are among a significant percentage of the public who have never voted and, for them, the by-election on May 6 will be no different.
"I'm not really bothered," says Bown. "I'd have no idea who to vote for." Parker nods. "I wouldn't know where to start."
Their attitude is common in the UK but especially here in Hartlepool where only 58% of the population voted at the election in 2019, compared with the national average of 67%.
Yet their indifference is not shared among wider political circles, where the by-election is the focus of much anticipation, not least because of what it will reveal about the state of the Labour Party under Keir Starmer.
Hartlepool is one brick that remained with Labour when the Tories demolished the party's so-called Red Wall in December 2019. If the party cannot retain it – especially given the government's many ongoing travails – it will prompt a very uncomfortable conversation about the future for Labour and its leader. But if it can succeed, it will offer an opportunity to change the negative narrative that has developed around Starmer and his prospects.
Part of the problem is that the contest — with 16 candidates, including six independents  — is proving extremely difficult to call. Separate polls have put both Labour and the Tories ahead and locals are not any better than pollsters at guessing which way it will go. No matter who you ask locally, the answer is usually the same: "I have no idea."
Bookies favour the Tories, with odds at 8/13, and it is statistically unlikely that Hartlepool will elect anyone other than a Labour or Tory candidate. But it is fair to say if an outsider were to win anywhere, it would be here.
Place of rebellion
Famously Peter Mandelson's seat in the 1990s and early 00s, Hartlepool is often labelled a Red Wall constituency but, despite its industrial heritage, it has not truly been a Labour heartland for quite some time. If it were to 'flip' and turn blue next month, it would not represent a sudden change of heart for voters here.
"The older people, and I mean the very oldest people, in their 80s and 90s like my grandma, would always vote Labour. But anyone younger than that has no loyalty to Labour whatsoever. I don't think Labour have ever actually been properly popular here," says Mike Haigh, a shopper who works as a software engineer.
He thinks he will vote but he is not sure which way yet. He says: "I haven't talked to anyone about politics, to be honest. All anyone's thinking about is Covid, I haven't really had time to think about politics. People have got that much on their mind at the moment."
The town has a fairly recent tendency towards political rebellion. It was only in 2002, for instance, that  Hartlepool United FC mascot H'Angus the Monkey was elected as mayor on a ticket of "free bananas" for school children.
"It started off as a joke," assures life-long Hartlepudlian Keith Bradley. But that joke turned into three terms as an independent for Stuart Drummond, the man inside the costume.
Bradley, a retired bricklayer, does not think much of either of the main parties and it seems Hartlepool agrees. Of the 30 councillors on Hartlepool council, only six are Labour and four are Conservative. The majority are from smaller parties or are independents.
He says: "People are sick of both parties. A lot of people round here wouldn't want to vote Conservative, since it's a traditionally Labour area but I don't think Labour will get in.
"The last one they called the 'invisible MP' because we never saw him."
Mike Hill was elected to Westminster in 2017 – the latest in a Labour MPs going back into the 1970s, when the seat was established. He resigned in March this year, facing employment tribunal claims of sexual harassment and victimisation, which triggered the byelection.
His majority in 2019 was less than 6,000 and Labour may face a tough time holding on to those votes, in part due to the challenge of the newly-formed Northern Independence Party (NIP), a group made up largely of despondent former Labour members.
Overlooked
Thelma Walker, previously a Labour MP for Colne Valley, was supposed to be the NIP's first official candidate but the organisation failed to get Electoral Commission regulation in time for the deadline, which means she is standing as an independent aligned with the NIP.
Walker, who was a Labour member for 40 years and is more experienced than any other candidate here, sees Hartlepool as a genuine opportunity for the NIP to gain a seat.
"People are quite uncertain, there are a lot of floating voters out there," she says. "Labour have taken for granted the vote in, not just Hartlepool, but across the north."
Walker thinks the key to redressing this is listening to local people, something that she says previous parties have completely failed to do.
"There are forgotten towns across the north where the control on spending and budget comes from Westminster and those decisions are being made in Westminster.
"We've had austerity for 11 years, but more than that, decade after decade we've been promised extra funding for housing, for health, for transport, for education. And it's not been forthcoming."
It is true that many people in the town feel overlooked by mainstream politics. One is Pauline Field, who runs the Dunkirk Little Ship, a historic boat berthed in Hartlepool marina.
The 1930s boat, which is fully restored inside thanks to painstaking work by local volunteers — mostly retired people from the community — would normally serve as a popular local cafe, but food and drinks are currently all take-away.
Field waves a sandwich on a paper plate at a man approaching the door to the boat, which is named Watchful.
"Bacon bun?" she offers. He accepts it, handing over the correct change. Most of Field's customers under lockdown are regulars but she is looking forward to welcoming visitors from outside the area again.
She says the only politician to ever visit was Nigel Farage, during the peak of the Brexit campaign. Though parties have stepped up campaigning locally, she says she has never had a canvasser from any party visit her.
"I've never had one knock on the door." She turns to a volunteer on the boat: "Have you?" He shakes his head.
"Not one councillor has been. You see what I mean?" she shrugs. "I'm not really bothered about the by-election."
In the last few weeks, Boris Johnson has visited with Tory candidate Jill Mortimer, a North Yorkshire farmer, and Labour has sent prominent MPs, including Starmer, to the constituency in support of candidate Paul Williams, previously an urgent care doctor at the University Hospital of Hartlepool.
Dr Williams has been campaigning hard on the NHS, one of the few issues that appears to give potential Tory voters misgivings locally. Hartlepool's A&E was closed in 2011 despite a bitter public backlash and, a decade on, people are still angry and they still blame Tory cuts.
Brexit's echoes
The NHS offers Labour a chance of success, especially when added to the fact that many people expect the Tory vote to be split by Reform UK, formerly the Brexit Party, which came a very close third in 2019.
Again in a demonstration of Hartlepool's rebellious nature, 69.5% of people here voted to leave the EU, making it one of Labour's most pro-Brexit constituencies.
Field is one such Brexit fan — "very much" so — and the fact that Brexit has already happened does not change her support for the movement and her likelihood of continuing to back some of the people who drove that movement.
"I like the Brexit Party, they've been popular here," she says.
She puts the party's popularity down to the very visible decline in the industries that Hartlepool was known for. The shipping industry, chemicals, coal and steel have all shrunk substantially since the 1970s. And, in the case of Liberty Steel, which employs 250 people at its Hartlepool plant, jobs are at imminent risk.
Field says: "I don't know what young people do for work around here now. I think a lot of them probably move away."
She is right to wonder — Hartlepool had the highest unemployment rate in the UK for many years and it was only last year that employment rose enough for the town to be knocked off the top spot by its neighbour, Middlesbrough. Even still, nearly one in 10 young adults aged 20-24 in Hartlepool are on Universal Credit and looking for work.
But among those who are in work, while there are still jobs in heavy industry, particularly in chemicals and steel, almost half are in white-collar professions.
This, and the fact that Hartlepool has an older than average population, might go part-way to explaining why the Conservatives have some support here. 
Field, like many in Hartlepool and the UK, thinks the government is doing its best in difficult circumstances. She says: "Down south they think we're all cloth caps and street houses but I personally admire Boris Johnson. He gets it wrong sometimes but he keeps going. My parents would turn in their graves if they heard me say that," she adds, laughing.
Split vote
Some think Hartlepool should rightfully be a Tory seat already, one that was denied to them when the Brexit Party refused to stand aside in 2019. Certainly, adding together the Tory and Brexit Party vote in 2019 would give a substantial majority. But Brexiteers are not all Tory voters here, and that is what makes Hartlepool so difficult to predict.
On top of this, if the NIP does gather substantial votes next month, it would not be right to assume they would all come from Labour. The issue of northern independence, like Brexit, cuts across party lines and for those who may have otherwise voted for the Green Party, the Lib Dems or even the Brexit Party as an alternative to the two main parties, the NIP could offer an alternative — that is as long as they make an impression locally.
Though the party may be attracting attention on Twitter, Walker has her work cut out in Hartlepool, as the Northern Independence Party is not a familiar name on the street.
"Never heard of them. They're obviously not doing a good enough job," says one man.
Walker has a small army of jaded former Labour supporters who plan to campaign where lockdown rules permit. She says it feels like 2017 when passionate and dogged Labour activism contributed to the party's highest vote share since Tony Blair in 2001.
"Many of the people who, I'm sad to say, like myself have left the Labour Party, were very good activists, they were very good on the ground. They are now, even from out of the area, saying, though Covid makes it more difficult we're going to come and we're going to support," she says.
Though quietly ridiculed in Westminster — and openly by some Labour MPs — it is impossible to ignore that in a remarkable five months, the NIP has gained more column inches than any other party outside of the main two.
The party's branding — the silhouette of a whippet and the slogan "It's about bloody time" — might seem like a joke but Walker and her fellow party members insist they are fighting to win in Hartlepool.
"At first people dismisses it as not serious but what we know, don't we, as northerners, is that we're good at making fun of ourselves and being self-deprecating. We can laugh at ourselves, but there's a very serious political messaging going on there. A lot of people, especially the younger generation get that."
Though Hartlepool is divided over party politics, one thing virtually everyone on the street appears to recognise is the gaping — and ever-growing — north/south divide. And that is something that the NIP is ready to harness.
Walker says: "We are a small party, but never, never underestimate the underdog."
As they say, stranger things have happened — and nowhere is that more true than in Hartlepool.
What do you think? Have your say on this and more by emailing letters@theneweuropean.co.uk
Most popular