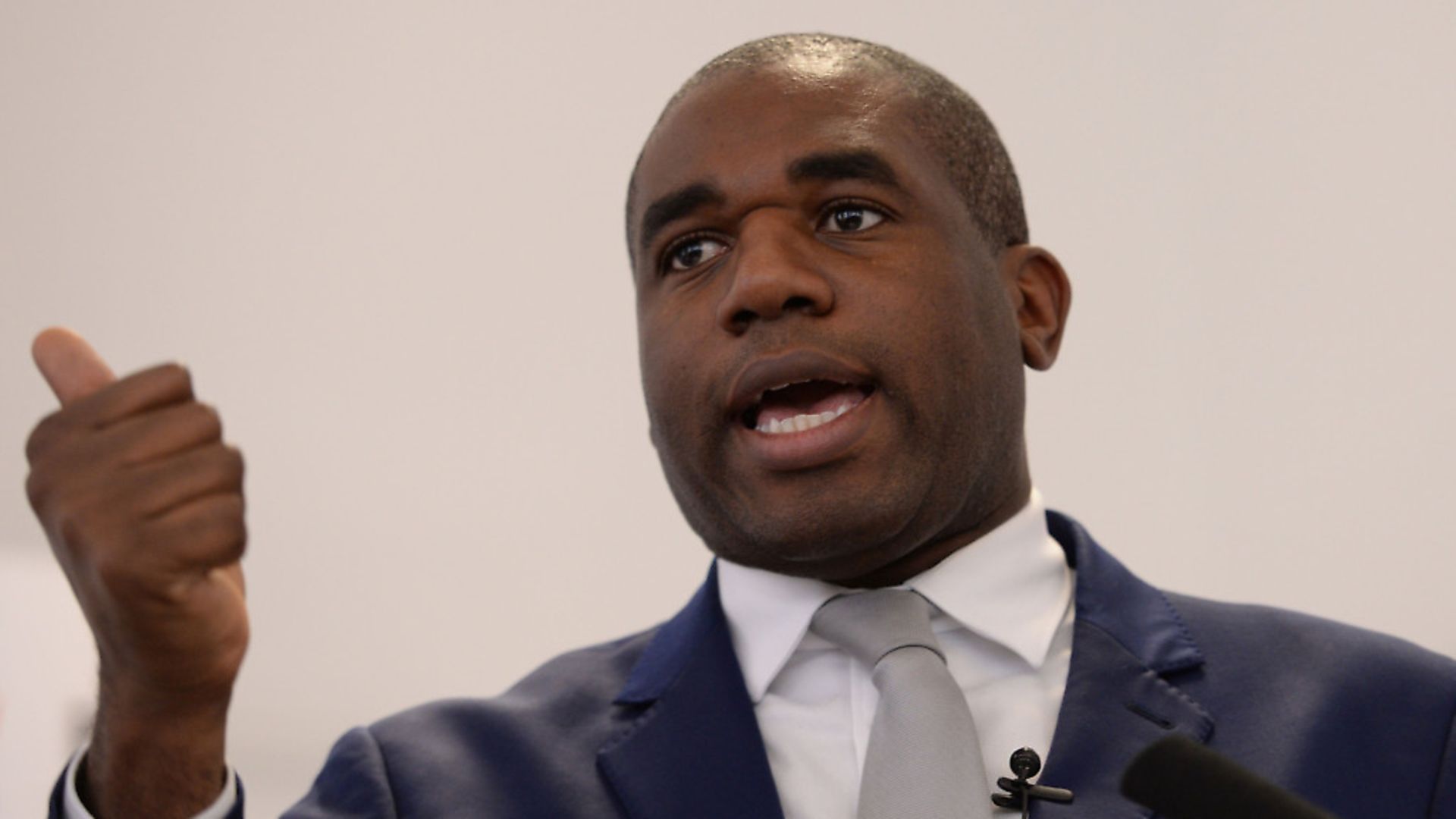 TIM WALKER talks to Labour MP David Lammy about what he expects to happen later this year, when the full force of Brexit hits the UK.
The final descent towards Brexit has begun: safety belts are tightened and prudent passengers are in brace position. At some point in the autumn, as David Lammy warns, the rubber is going to hit the Tarmac hard. 'It'll bring a lot of people down to earth with a bump, as that's when we're going to get the terms of the deal on which we leave the European Union and it's going to be shocking.'
The Labour MP for Tottenham in north London is talking to me in his office in the Commons and his voice is calm, but fatalistic.
'We never went into those negotiations with a strong hand and we never had in May, Johnson and Davis our best people handing them. The deal will make the overwhelming majority poorer. Worse, Mrs May will be saying to anyone who is in their twenties, starting their working lives, that she is going to screw up the next 15 years for them. There will be Brexit propagandists who will make still more money with their hedge funds in the chaos, but, for everyone else, it will be clear what will be in store for us, and no amount of 'red, white and blue' soundbites will able to hide how appalling it will be.'
Westminster is abuzz with rumours that the moment of impact will result in a realignment in politics, with Chuka Umunna and Anna Soubry, among others, taking top positions in a refashioned Lib Dem party, and the old Tory-versus-Labour politics changing virtually overnight into a straight fight between Remainers and Leavers.
'It will be a time of reckoning, for sure, and there will be a danger of fracture for the Conservative Party, but I do think parliamentarians will think of their places in history and will put common sense first when they vote on that deal,' says Lammy.
I ask him if he would consider joining such an anti-Brexit party if Jeremy Corbyn still, when push comes to shove, refuses to alter course. There is an interestingly long pause.
'I have in my head my father saying 'always vote Labour', and I certainly don't envisage leaving the Labour Party. I don't, however, spend a lot of time thinking about my party's positions. I think about my own principles. I have seen my party travel closer to my position and let's see if it travels a bit more.
'The fact my party is putting economics at the centre of its response to Brexit means it must surely in the end want to remain in the single market, even if that has not been said explicitly. There are some colleagues on the Labour benches who share my views on Europe, but also have a great enmity for our leader. I don't have any enmity for Jeremy. He's my neighbour and I have worked closely with him. So let's see where we are in the autumn.
'My guiding light will be the mood of my constituents – irrespective of my party's or the nation's mood.'
Our politics has been in constant flux since the EU referendum, but Lammy, returned with an 82% share of the vote in the last election, has been the one fixed point in the midst of the madness. He was the first to say in the House he believed Brexit would be a disaster for the country, and, unlike Umunna and Soubry, he voted against triggering Article 50. He admitted he felt a stranger in his own party after the Referendum, but he has been heartened that more colleagues are now finding common cause with him.
Almost immediately after the vote it was brought home to him how it had rendered a lot of the old tribal politics obsolete. 'I remember after June 23, 2016, being on the phone to Ken Clarke, Michael Heseltine, Nick Clegg, Will Straw and Anna Soubry. Some of us started to talk about new things emerging. We realised we were a coalition of people who had to come together in some form.
'What was disappointing for me was that my own party, at that vital time, embarked on a fight about who should be our leader. They spent three months obsessed with this internal fight and I thought at the time it was incredibly self-indulgent, which is why I didn't get involved with it.'
Lammy's ability to see the bigger picture has enabled him to admire Sir John Major's recent intervention on Brexit, and to see, too, a shared love of country in the contributions from the likes of Dominic Grieve and Ken Clarke. As for Soubry, he reckons, if the Tory Party still has any sense at all, it should regard her as 'a leader-in-waiting'.
The even bigger picture is, he feels, the move towards automation, which is having a huge effect on the labour market and underlies the country's current predicament.
'There are fewer jobs in Western economies as a result of technology, computers and social media, and, while there are still jobs at the top end of the labour market, they are going at the bottom, where people are finding it a very precarious existence, with zero hours contracts and no security at all. This is the reason there is such currency with Jeremy Corbyn's Labour Party. It is why social democrats who are failing to articulate their response to this problem are losing ground across Europe and why the Democrats have got themselves into such difficulties in the States.
'It means that now to be a Conservative genuinely means you have to occupy a One Nation, compassionate position, but I am afraid, when I look at the party opposite mine, it has, as a consequence of having to leave the EU, adopted a brutally laissez-faire stance.
'The historical arc of the next few decades means there is going to have to be more redistribution of wealth.
'You can go down the route of saying, as the Tories now are, 'let's keep the pot for ourselves and keep everyone else out as they are the enemy', but Germany tried that after the crash of the 1920s and we all saw how catastrophically that worked out.'
He adds that the great irony for people who voted for Brexit to keep the foreigners out is that it will almost certainly lead to a great many more being admitted.
'When we negotiate our trade deal with India, the first thing that country will want will be visas, so these people who have been worried about Poland are going to have to get their heads around the size of India.'
He predicts a Brexit backlash that could well see the end of the Conservative Party as we now know it.
'The party in London will be finished, and along the commuter belts into it, because they will never be able to forgive them. In the North East, too, there will be great anger when the reality of a 16% drop in GDP there hits. If we don't stop Brexit, we will become a twilight zone on the edge of Europe and anyone who can leave will leave. Once again, as we try to renegotiate trade deals after Brexit, we will not have the upper hand. We will be over a barrel.
'I know some people are switching their savings into euros, but, you know, it's a bit like Game of Thrones. We can't escape this: winter is coming.'
Most popular