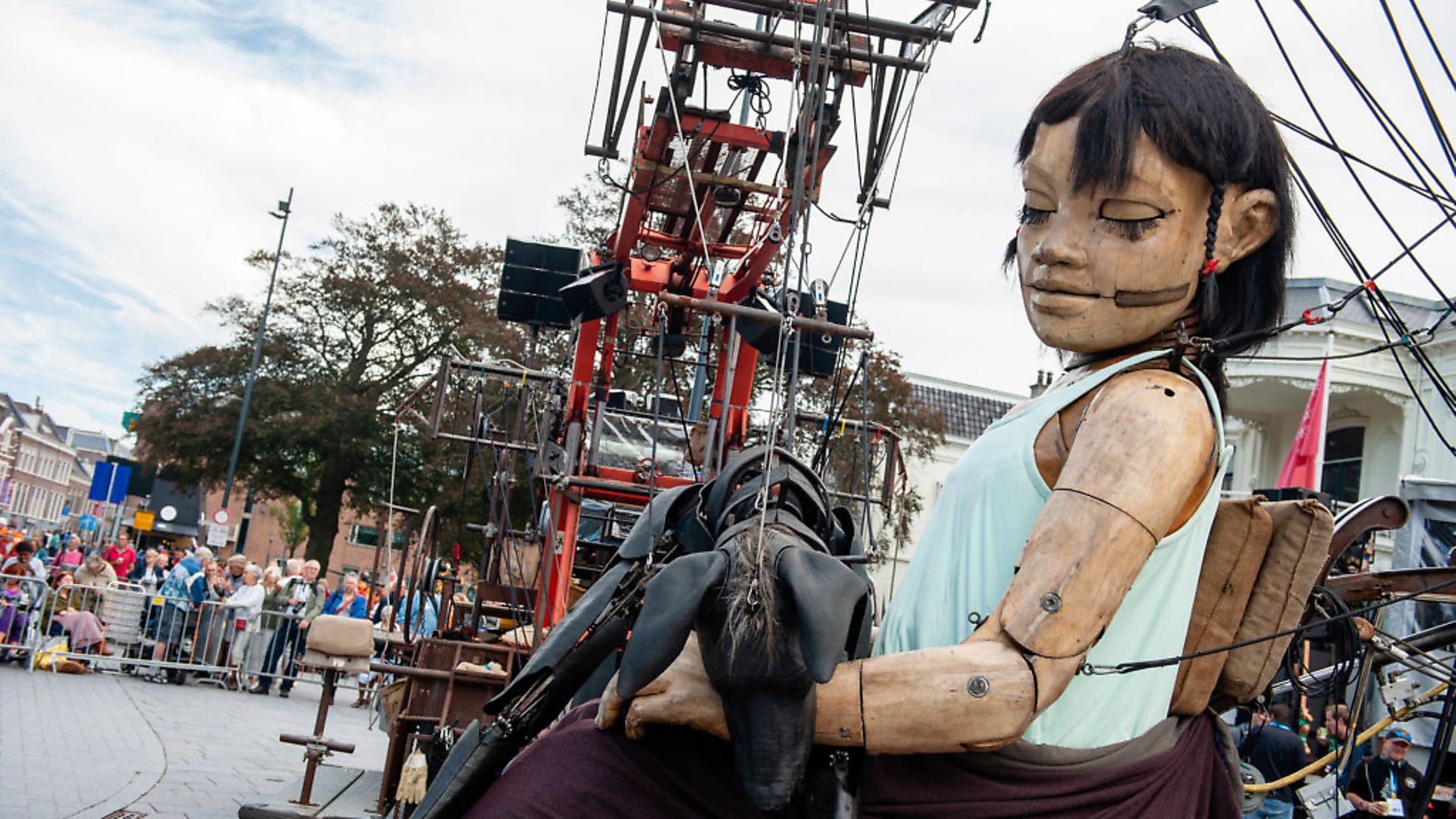 It is home to the world's tallest people and boasts 200 recorded spellings, but Leeuwarden's real claim to fame is its artistic outlook. CLAUDIA PRITCHARD reports on a city which has taken the Capital of Culture title, and given it a twist
There are only 79 known Ru ceramic objects in the world. One, a small, shallow dish with gentle celadon green glaze, designed for washing calligraphy brushes, belonged to the art-loving emperor Huizong, who ruled China at the turn of the 11th and 12th centuries.
Discreet and understated, it is one of the treasures in the remarkable Dutch national museum of ceramics in Leeuwarden, in the northern province of Friesland. The exotic dancer Mata Hari was born in this city. So was the painter Lawrence Alma-Tadema, who added his middle name to his surname to be an early entry in alphabetical catalogues, and his fellow artist M. C. Escher. The town also has a link with Rembrandt: his first wife, Saskia van Uylenburgh, born in 1612, was the daughter of a local grandee. An exhibition about their marriage, Rembrandt and Saskia: Love in the Dutch Golden Age opens at the Fries Museum on November 24.
Armed with these and a handful of other artistic credentials, including an annual music festival in nearby woods, the Oranjewoud, Leeuwarden was successful in its bid to be European Capital of Culture 2018, in tandem with Valletta, Malta, beating off Dutch rivals Utrecht and the Hague in the first round. The town had a secret weapon, though: an age-old embrace of diversity and inclusivity that it converted into an events programme planned from the grassroots up.
When one community from the surrounding area was consulted about its goal during its reign as capital of culture, it caught everyone off guard by calling for a new swimming pool. But this will materialise, with a twist – the unheated pool will project into the sea, creating a new landmark.
Strategically placed for trade, Leeuwarden is 140 kilometres north-east of Amsterdam – local people observe that they consider the distance between the two cities shorter than their south-eastern neighbours do. Its population of only 100,000 includes 128 nationalities. More than 60 languages are spoken, among them the original local language, Frisian. It is taught in schools, half the province uses it as its first language, and 85% of Frisians understand it.
The delight in linguistic athleticism – the two local languages, plus German and English, are juggled effortlessly by many – underpins one of the city's proudest pavilions, purpose-built between the canals, gardens and narrow streets with calmly shared use by many bikes and pedestrians and few cars. At a new institution for Leeuwarden's cultural year, named Lân fan taal ('Free state for all'), the world's 6,720 official languages are listed in a wall of words, a reminder of their value and, in some cases, fragility. Three works on native tongues by the British artist Tim Etchells pick up the language theme.
Internationalism is deeply-ingrained here. From Maria Louise of Hesse-Kassel (1688-1765), is descended every crowned head in modern Europe, including Queen Elizabeth II. Twice regent, Maria-Louise designed her own unostentatious, elegant palace, which dominates the fine main street to the light and airy Grote Kerk, where she is buried.
Ruling into her seventies, after the death of both her husband and his heir, William Prince of Orange, she is celebrated in a mural outside the Lân fan taal, with her wide-reaching family tree. Street art has been encouraged by the capital of culture team in a collaboration with local graffiti enthusiasts, who have been invited to use their skills to improve eyesores such as pavement-side electricity junction boxes.
Every winter, skaters are poised for news that the ice on canals between the 11 cities of Friesland is, at every point, at least 15cm thick. Then, at only a day's notice, 30,000 participants assemble for the 200km race from city to city, starting and ending at Leeuwarden. Or they would do, but rising temperatures mean that the last such event was in 1997; since the launch of the Elfstedentocht in 1909, the race has been staged only 15 times.
Even the last sharp winter – remember the Beast from the East? – could not bring about a race to open Leeuwarden's year as capital of culture. And so the city chain has been marked instead by the commissioning of 11 fountains, one in each city of the skaters' route. Leeuwarden's, opposite the railway station, shows two children's faces in oversized profile, and the water takes the form of a mist. The pure white profiles, however, proved irresistible to the person who sprayed on a black moustache and his own tag, perhaps testing the city's inclusiveness to the limit.
Leeuwarden regards itself as capital of water management as well as culture. Built on reclaimed land, half the province is below sea level. Repelling and harnessing water comes as second nature. No wonder, perhaps, that so many works by Maurits Cornelis Escher feature running water.
Born in Maria Louise's palace, converted into apartments after her death, Leeuwarden's most famous son studied architecture for one year. Failing his exams, he transferred with relief to Haarlem School of Decorative Art. 'I 
was never interested in building 
houses,' he later said, 'unless they were mad houses.' Those mad houses, and indeed castles, towns and metamorphoses, would be the subject of his later work, and no student bedroom would be complete without a reproduction of an Escher impossible vista. In Escher's Journey, the year's keynote exhibition at the Friesland Museum, the route to these visual puzzles retraces the artist's progress, out of his native land, and after several visits, permanently to Italy. No other European country could contrast more with the flatlands and quiet streets from which he sprang than the vertiginous, spiralling hill towns of his woodcuts in the 1920s and 1930s.
'Italy, the landscape, the people, they speak to me. Switzerland doesn't and Holland even less so,' he declared in 1968, four years before his death at the age of 73. Leeuwarden takes this on the chin, and celebrates its most famous son, undeterred, justifiably proud of this exhibition, alongside which runs Art Beyond Escher: Phantom Limb, featuring contemporary artists.
Escher may have turned his back on his birthplace, but 50 years on the flow of migration has changed direction. Leeuwarden likes to chalk up records: its people are the tallest in the world, it argues, on the basis that the Dutch are the tallest people on earth, and Frisians are the tallest of the Dutch. There are 200 recorded spellings of Leeuwarden. And Leeuwarden accepts more migrants than anywhere else in the Netherlands.
That this Capital of Culture year has not one but five artistic directors, illustrates neatly the year-long festival's theme… an open sense of community.