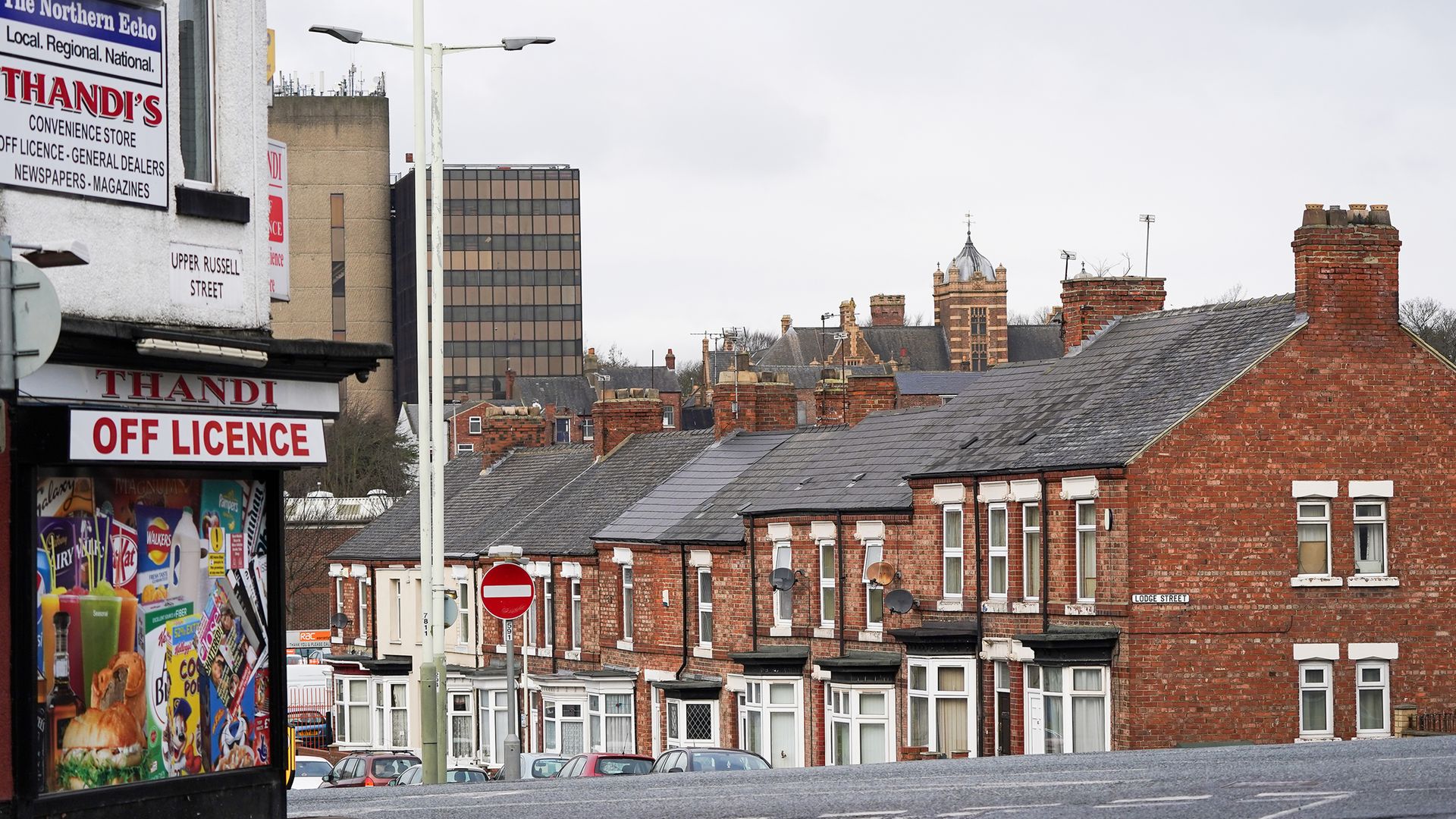 Levelling up has become a government cliche. But that doesn't mean we should dismiss the concept. SUNA ERDEM talks to enthusiast Lord Kerslake about the reality and necessity
Does levelling up harm the south? Amid the soul-searching following the Tories' shock by-election loss of leafy Chesham and Amersham, this issue was raised so much that Boris Johnson was forced to deny it.
The flagship – if ill-defined – idea, mostly targeted at northern Red Wall strongholds has started to lose its sheen among some Conservative backbenchers who say it alienates their core voters.
Could southern discomfort sink a rebalancing agenda still in its infancy?
It's a question I asked crossbench peer and levelling up enthusiast Lord Kerslake when I interviewed him recently for The New European. It's fair to say if that if he had hackles, they would have been rising. "It's not a zero-sum game," he bristled. "There's also a vested interest in the south."
Rebalancing regional inequalities – given the snappier, boosterish title "levelling up" by the government – is now more, not less important because the pandemic increased inequalities, Kerslake explained. The former head of the Home Civil Service now leads the independent UK2070 Commission, dedicated to researching the subject.
"There's a risk at the moment politically that those in the south who are feeling quite acute pressures may well look to government policy and say they're only interested in the left behind towns. But the south loses as well (from regional inequality)," Kerslake said.
It's not hard to see disadvantages to the popularity of prosperous southeastern counties – ballooning house prices, lengthier commutes, tax revenues disproportionately benefiting other regions and environmental damage associated with densely populated areas.
No wonder planning was a major issue in Chesham and Amersham. Regional inequality affects a country's overall potential – the economy of the Midlands, the north of England and other poorer parts of the country has implications everywhere.
I sought out Kerslake to help make sense of levelling up, which has become popular and ubiquitous without anybody really knowing what it means – or at least, what the government means by it.
For Boris Johnson it is a rhetorical obsession – everything should be levelled up, everyone should expect good things from the government's interest in it. He even told G7 leaders in Cornwall that they should level up too.
But beyond a few controversial payouts (Towns Fund money reaching better-off Conservative constituencies), a decision to move some Treasury civil servants to Darlington, plans of disputed benefit such as low-tax freeports, and co-opting already existing projects such as HS2 (hated in Chesham and Amersham), there is little to show for this. After months of aimlessness, Johnson appointed the knowledgeable Harborough MP Neil O'Brien as levelling up adviser to save the project from going the same way as Big Society – an idea with merits, rendered meaningless and abandoned. Maybe he will stop every minister jumping on the bandwagon, confusing the public and diminishing the project.
"I've seen this before in government where departments jump on the media policy priority to mean everything. Very inventive people in departments find ways to connect what they plan or want to do anyway with this new agenda," Kerslake quipped. "I haven't heard the Ministry of Defence talk about their contribution to levelling up, but it's only a matter of time."
He finds O'Brien capable, but worries that levelling up could remain a useful veneer interest that never becomes reality if Johnson's famously flighty attention is lost or the ambitious changes needed are sacrificed to post-Covid and Brexit priorities. The government's approach so far has been ill-defined and underpowered, Kerslake said. He fears the lack of coherent policy and transparency over funding decisions is already causing damage.
So what is levelling up, exactly? Whatever the government eventually says it means in a long-expected White Paper, in essence, it is about rebalancing a regionally very unequal economy. Research by leading economic geographer Philip McCann for the UK2070 Commission found that the UK was 28th out of 30 on a long list of regional inequality measures – and the worst of all comparable developed large countries. McCann told me that the UK had greater regional disparities than communist East and capitalist West Germany before reunification.
When this was laid bare, Kerslake realised the true scale of the problem. "It struck me and many others that Germany had taken two countries and moved them towards being one, and we had taken one country and moved it towards being many," Kerslake sighed. Other research shows unequal countries do not prosper as they should – talent is wasted; society damaged; potential income lost through low productivity.
Individual and intra-regional inequality is harsh, but regional inequality presents a collective trap for people born in poorer regions. Its effect starts with reduced access to a good education, continues through a slimmer chance of acquiring useful skills and on to young adults despairing that they live somewhere shunned by industries and employers. The opportunities to travel for jobs within a region are curtailed by deficient local transport provisions, while moving to a more dynamic region is hamstrung by the higher house prices there. The most educated leave, taking their knowledge and skills with them, while those left behind struggle to fulfill their potential.
For another illustration of the harm regional inequality inflicts, notice the places hit hardest by Covid – according to a UK2070 report, nine of the ten worst affected local authorities are in the Midlands or the north west, while high-performing local economies, like Oxford, Milton Keynes, London and Edinburgh, were less exposed. There are also education disparities – Kerslake said 92% of schools in the most deprived areas were good or above while in Yorkshire and the Humber the figure was 56%.
This inequality has been growing for decades – particularly since the 1970s and 80s, when the UK deindustrialised quicker than other European countries, leaving communities shellshocked.
Governments tried to address the issue, but the scale and complexity of the remedy and long time needed for results was diametrically opposed to the short-termism of election cycles.
The Commission, which chose 2070 to highlight the long-termism required, called one of its reports "Go Big or Go Home" – a sentiment echoed by experts on regional economic imbalances the world over.
"If you are going to take this agenda seriously you have to do some big things, and you do them for quite a long time across a range of issues," said Kerslake. Promising immediate salvation through new buses or broadband is a red herring. It's not about a hierarchy of plans, but a web of interdependent policies – tricky to explain and define, definitely not a sexy sell to the public or media. "People often say 'is it about skills or is it about high tech spinout or is it about infrastructure or is it about devolution?'," Kerslake elaborated. "The answer is it's all the above. Unless done in a comprehensive way… you're unlikely to move the dial. Nothing less than that would do the job."
The UK2070 Commission's ten-point action plan includes using the transition to zero carbon to help deprived areas, increasing infrastructure investment, radically rethinking housing, devolution, a national skills plan and an overarching National Spatial plan for England. It calls for an extra £200bn over the next 20 years.
How can any government, especially this one, mired in Brexit and Covid, have the ambition and focus to see anything through? It's just too big, isn't it?
Here, Kerslake becomes impatient. Sustained leadership and investment helped transform declining cities such as Detroit and whole areas in Germany and Spain, while in the UK Glasgow, Liverpool and Sheffield turned themselves around. London inner-city schools have improved, and devolution created transformative mayors such as Manchester's Andy Burnham and Teesside's Ben Houchen.
"If we had set the targets for climate change and zero carbon 10 years ago, people would have said 'never can be done'. Now they're saying they'll do it. The same mentality's required here," he said.
Levelling up can work with the right mindset, despite the challenges. "I'm an optimist. I've no time for counsels of despair."
Most popular