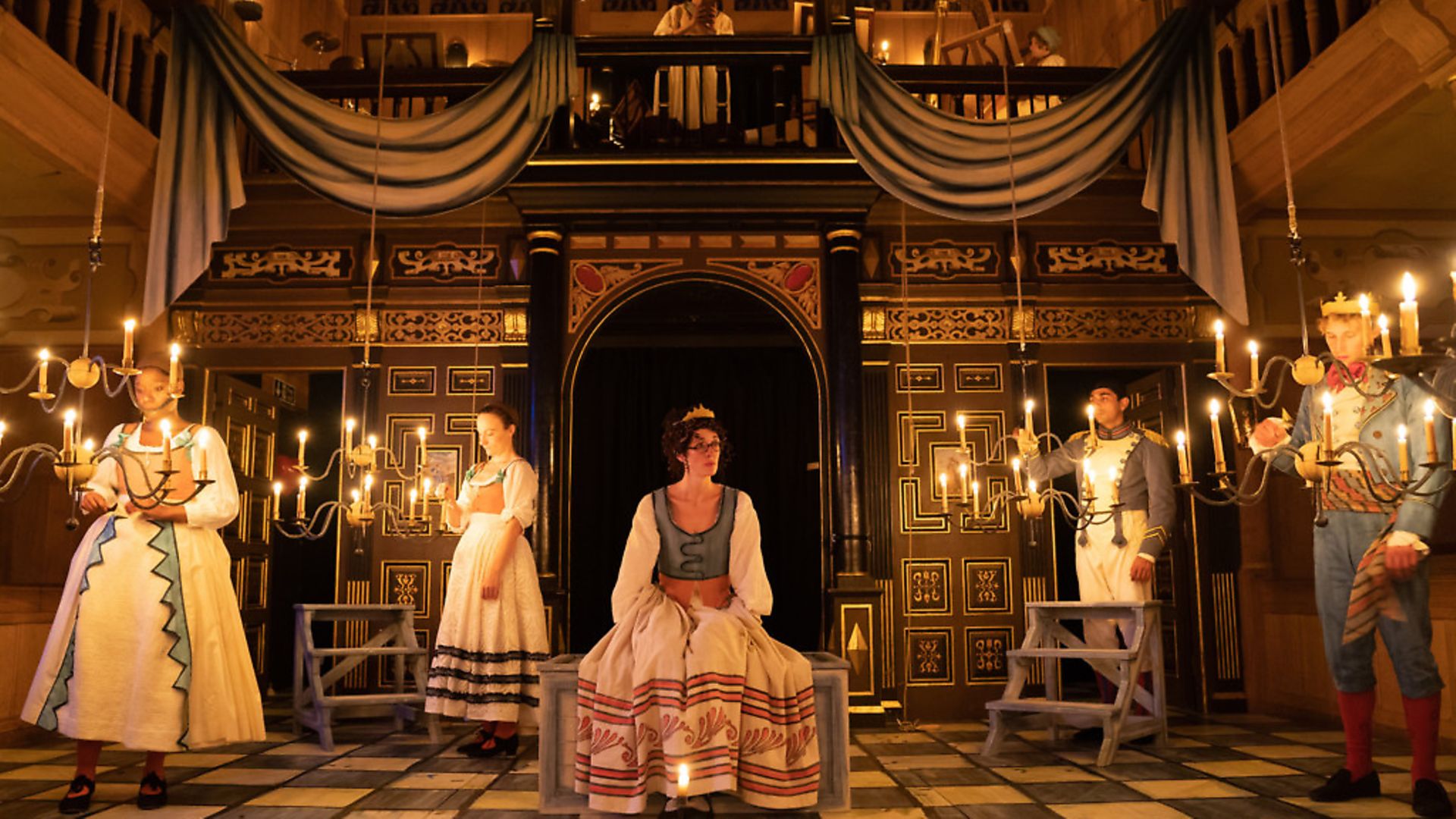 Play's not quite the thing here
The two apostrophes in Love's Labour's Lost do not engender confidence. This rarely performed work – uncertain if it's a morality play, a bawdy comedy or just an excuse for a lot of exhausting verbal acrobatics – shows that even Shakespeare had his off days.
The director Nick Bagnall concedes in the programme notes that he felt he was working with 'difficult' material, and his approach – a tad radical at a theatre that seeks to celebrate the genius of the Bard – is to ignore it as much as possible.
Bagnall keeps, of course, to its essential premise with the King of Navarre (Paul Stocker) deciding that love is, all things considered, more trouble than it's worth and banning anyone from succumbing to it in his court. The subsequent arrival of the Princess of France (Kirsty Woodward) and her ladies Rosaline (Jade Williams) and Katherine (Leaphia Darko) makes this easier said than done for the monarch and the young bucks around him.
Dharmesh Patel and Tom Kanji, as respectively Berowne and Dumaine, set about chasing the ornate skirt on offer as discreetly as possible, but, even in the intimate setting of the candlelit Sam Wanamaker Playhouse, it is hard to find their trials and tribulations terribly involving. The king's flirtation with the Princess of France – supposedly central to the play – is so poorly realised as to be almost unnoticeable.
Bagnall tries to liven things up by seeing the story as a prototype Carry On script. He has his principals ride around on preposterous-looking hobby horses, dresses them up as dancing Russians, and then – short of a kitchen sink to throw in – he makes Jos Vantyler, playing the role of the rakish Don Armado, an outrageously camp hybrid of Russell Brand and the late Kate O'Mara. Almost drowning in mascara, he even gets to sing To All the Girls I've Loved Before. Is this acting or simply showboating? I rather fear the latter.
The production at least acknowledges the work's two best-known peculiarities – it features the longest scene in all of Shakespeare's plays and also the single longest word in 'honorificabilitudinitatibus' – and, thanks to the designer Katie Sykes, it looks great. Laura Moody's elegant chamber music occasionally lifts the tone, too.
Overall, however, this Love's Labour's Lost is a dead loss. Through no great fault of their own, the members of the cast seem to have little, if any, idea of what to do on the stage or how to play their roles. They are good actors, for sure, but not one of them is cut out to be a natural romantic lead, which is a distinct disadvantage in a play that has romance at its heart.
The production lacks a centre of gravity and indeed any sense of purpose. I ended up wondering why Bagnall, when he was clearly so determined to make this production as different as possible from Shakespeare's original, felt the need to do it at all.
Most popular