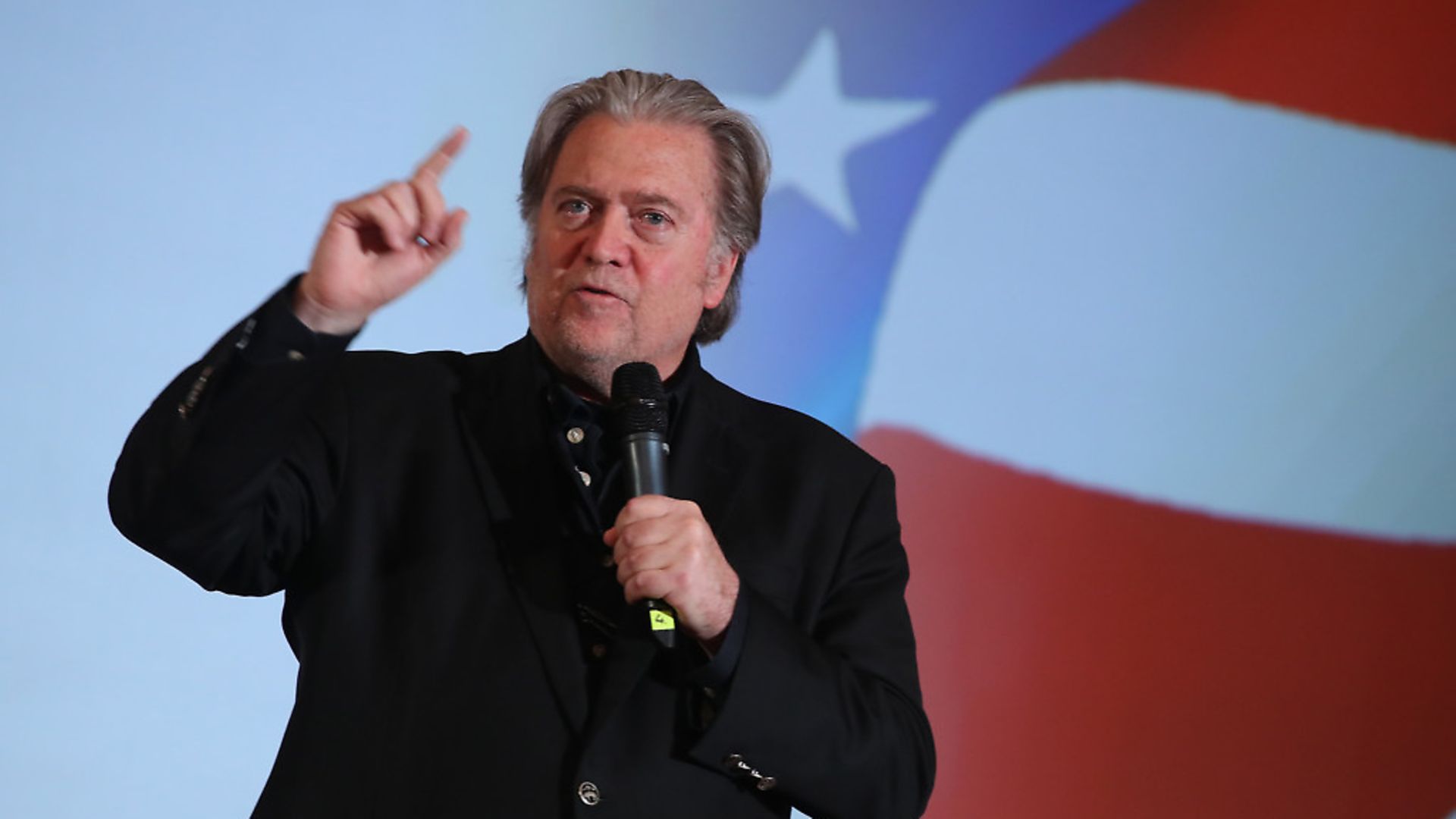 Steve Bannon appoints Michael Seed as chaplain to his controversial right wing institute, David Cameron competes with his former 'gatekeeper' to get his memoirs out first, the Today show silences another Remain voice and the Daily Express says 'thanks, but no thanks' to Gina Miller
Michael Seed – the so-called 'priest to the stars' who fell from grace over allegations he was selling papal knighthoods – has a new job, I can reveal.
He has become chaplain to Steve Bannon's Dignitatis Humanae Institute, which is opening what is being called "the centre of a European network of finishing schools for ultra-conservatives" at the Abbey of Trisulti in Italy. Bannon himself says he wants it to become his "gladiator school", and it has, not surprisingly, caused consternation locally.
The involvement of Father Michael, a former ecumenical adviser to Basil Hume when he was Archbishop of Westminster, is intriguing as he has close links to such prominent Brexit supporters as Ann Widdecombe – who he converted to the Catholic faith – the press tycoons Sir David and Sir Frederick Barclay, the former Daily Mail editor Paul Dacre and Damian Thompson, the editor of the Catholic Herald, who, along with fellow directors of the paper, recently held a controversial meeting with Bannon, himself a Catholic.
In 2012, a tabloid reported that Father Michael had offered a papal knighthood to an Israeli arms dealer named Hezi Bezalel in return for a £45,000 donation to charity. Father Michael's order, the Franciscan Friars of the Atonement, said his superiors were "appalled" by the disclosure. He was on indefinite leave from his order at the time after claims that he marked the 25th anniversary of his ordination with a champagne party at a racy club, with entertainment provided by men dressed as nuns.
Other notable figures involved with Bannon's Institute – pledged to "defending the Judaeo-Christian foundations of western civilisation" – include its patron, the former defence chief Lord Guthrie, who raised eyebrows when he switched sides to the Leave campaign in the EU referendum, saying he was worried by the prospect of "a European army".
Fall back
Mandrake wonders if Baroness Fall – David Cameron's former deputy chief of staff and 'gatekeeper' – may be about to pip him to the post with her memoirs.
I hear that Kate Fall has been commissioned by HarperCollins to write a book on 'politics' by 2020. It is doubtful if anyone knew more about the Cameron years in No.10 than she did. Her father, Sir Brian Fall, has the dubious distinction of being credited with Vladimir Putin's rise to power. As Britain's ambassador in Moscow in the 1990s, he introduced Putin to the then president Boris Yeltsin.
As I disclosed last week, there is still no publication date for Cameron's long-delayed memoirs and it may well be Rupert Murdoch – whose William Collins imprint paid the former PM £800,000 for his book – wanted to see Fall commissioned so he had a fall back position. Fall has not as yet disclosed how much HarperCollins – another part of the Murdoch empire – paid her.
Bum's rush
I've seldom, if ever, been surprised by what has come up when I've put into the Google search engine the word 'expenses' together with the name of a Brexit-supporting MP. It's a great game for all the family, and, if you have a moment, I recommend you have a go.
Now, I find myself doing it when I hear someone has been dropped by the Today programme on Radio 4, searching with the word 'Brexit' instead. The latest victim is the Labour MP Anna Turley. I leave it to you to do it – which is obviously what a producer on the show did, if belatedly – but Anna is at least wise to them, too. "I don't think my views accord with the preferred narrative," she sighs.
Different strokes
The Labour peer Lord Hattersley had a contract to write for the Daily Mail in the 1990s, but then in those days that kind of cross-fertilisation of ideas was not uncommon. Left-wing figures routinely wrote for right-wing titles and vice-versa. Strange as it may now seem, the Daily Telegraph once prided itself on being, above all things, a 'tolerant' newspaper.
The press has been blamed for exacerbating, if not causing, the division we now see in our country. Mandrake therefore had a modest proposal for Gary Jones, the editor of the Brexit-supporting Daily Express. How about employing Gina Miller as a columnist? Although Jones is a life-long Labour supporter who voted Remain, the idea did not, alas, appeal.
Most popular