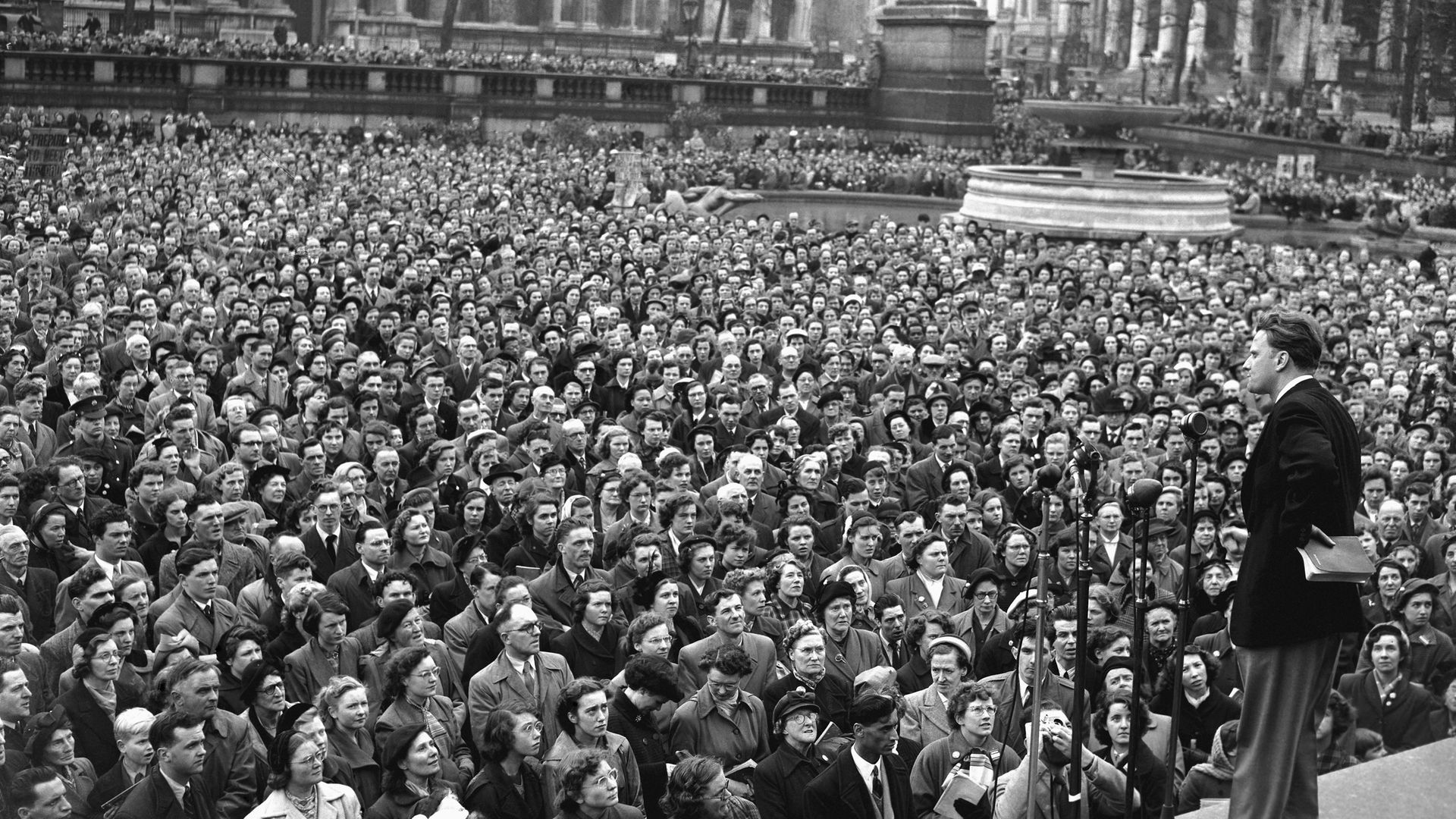 TIM WALKER on meeting Billy Graham.
As a venerable democracy, Great Britain used to take a somewhat condescending view of America and the way she liked to wave her flag and loudly profess her faith in God. It wasn't that we were by and large unpatriotic or ungodly, but we just felt that we'd reached a point – certainly in the political arena – when we didn't need to be so demonstrative about such essentially personal matters.
Still, at least Johnson has so far resisted the temptation to appoint a high profile spiritual adviser. That was the role that the late Dr Billy Graham fulfilled for every president from Harry S. Truman to Barack Obama.
I got to interview Graham 30 years ago when he was preparing to go on a UK-wide crusade that was to culminate in a rally in London, where he addressed an audience of a quarter of a million people, and, via satellite links, tens of millions more around the world. As a not especially religious individual, I must say I found him fascinating, but then I've always been drawn to actors and that is what he was in so many respects. 
He was turned out in a well-cut suit, the hair was clearly coloured and he was discreetly made-up for my photographer. He knew exactly what he was doing and anyone who had ever seen him perform knew, of course, how he could connect with an audience every bit as compellingly as Laurence Olivier.
I never doubted for one moment his faith, however, and, while American television evangelists have since often become mired in scandal, nothing ever stuck to Graham. When two of his staff joined us and said it had been a "wild night," it didn't occur to me for one moment that they were talking about anything other than the weather.
On feminism, homosexuality and even, at the outset of his ministry, segregation, Graham was behind the curve, but then, aged 70 when we met, he was very much a product of his time.
He was also unnervingly direct, and I've no doubt at all that, if he'd ever got to meet Boris Johnson, he would not have held back. "In my Bible, sir, it lists the Ten Commandments and not the ten suggestions," he told me when I asked him if he could ever see his way to forgiving someone who might have had a fleeting extra-marital affair or even just told the mildest white lie. "I am just a man, not a particularly intelligent man at that, but what I do understand is that it is the word of the Lord that matters, and it's not for me to try to reinterpret it to spare anyone's blushes."
As for his own showmanship, he was unrepentant. "I know a great many preachers who see a virtue in addressing small congregations in a way that's simple and unshowy, and, believe me, I have the greatest respect for them, but they can't, in all honesty, blame me for wanting to spread the Word of the Lord to the maximum number of people."
Graham drove himself hard and certainly he knew when he took on his job the word 'retirement' wasn't mentioned in the terms and conditions. "But I do not mind as I have read my Bible and I do not recall a single instance of a prophet of the Lord saying, upon attaining the age of 65, that he had done his time and was heading off for his retirement home by the seaside."
I found him funny and charming and also, in his utter conviction, very impressive. He changed the lives of a great many people. Sir Cliff Richard said it was at one of his rallies that he first publicly declared himself to be a Christian. Sir David Barclay, the late Telegraph owner, told me he'd been "mesmerised" every time he'd seen him speak. My friend Bill Kenwright, the theatre impresario, said he took the pledge not to drink alcohol when, as a youngster, he had heard him lay down the challenge to his audience. 
Graham died in 2018, at his home in Montreat, North Carolina, at the age of 99. He was permitted to lie in honour at the United States Capitol rotunda in Washington, D.C.
What do you think? Have your say on this and more by emailing letters@theneweuropean.co.uk
Most popular