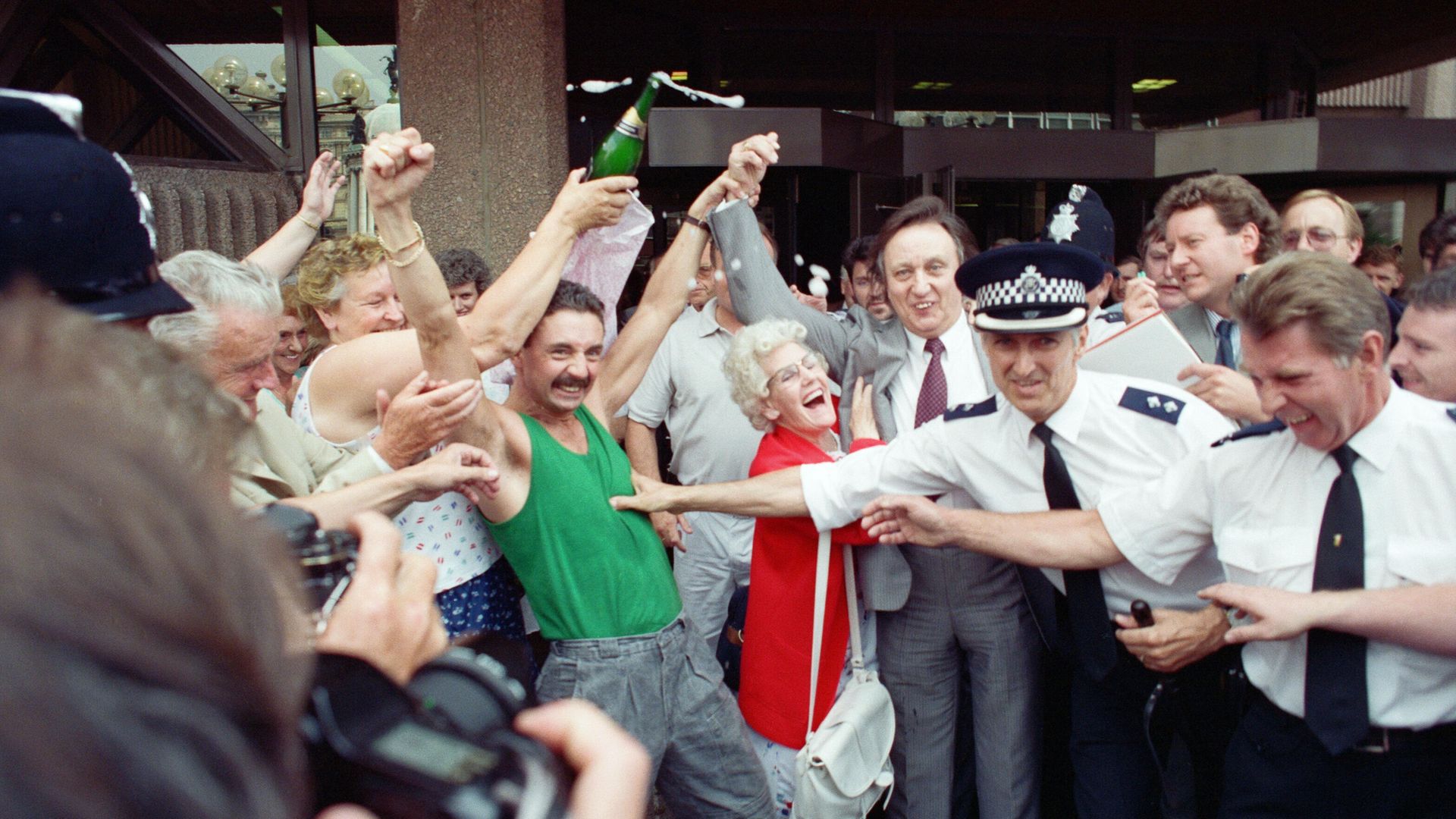 TIM WALKER reminisces on his time covering the tax evasion trial of Ken Dodd.
One normally only gets to spend an hour or so in the company of a big star – that's all that tends to be allocated for even the biggest interviews – but in the case of Ken Dodd it was for three long weeks and I don't think either of us found it especially convivial. The year was 1989, the scene Liverpool Crown Court and the charge tax evasion.
The celebrated comedian was then 61, but already looking old and frail, and George Carman, his wily QC, had already told the court, quite possibly to engender sympathy, that his client was suffering from a potentially fatal heart condition. The courtroom was housed in a vast, impersonal, slab of brutalist 1970s architecture, and Dodd, dressed for once in a sober suit and tie with no tickling stick in sight, looked painfully out of his comfort zone.
A number of newspapers had sent not regular court reporters to cover the case, but colour writers, such as myself, as they had imagined that Dodd playing Liverpool Crown Court would somehow be a barrel of laughs. I find it boring enough doing my own tax return, and it was hard from the outset to summon up much of an interest in the King of the Diddymen's.
Brian Leveson – later ennobled and now best known for his inquiry into newspaper ethics – led for the prosecution. It was a long war of attrition that he decided to wage against Dodd that required a degree of numeracy and familiarity with accounting parlance that was way above the heads of most of us.
Dodd's calling meant he had a terror of seeing anyone looking bored and occasionally when I yawned I'd catch his eye and he looked crestfallen. He'd joke occasionally when he'd see me with other journalists outside of the courtroom – "nice day for a hanging," he greeted us cheerily one morning – and one afternoon I found myself alone in a lift with him and I said I hoped he was bearing up. He shook his head sadly and said "I've played to better houses".
Leveson managed to pull a few good stories out of all the bundles of documents he brought in each day. Dodd used local children from stage schools to play the Diddy Men and had never paid them a penny. He also established that Dodd didn't trust banks. He had £336,000 in cash – equivalent to almost £1 million in today's money –stashed in suitcases in his attic. The headline writers had some fun with that – "Doddy's Knotty Stash," "King of the Diddle Men" and "the Diddled Men of Knotty Ash" all minor masterpieces – but levity was not, generally speaking, second nature to Leveson.
Dodd professed himself uneasy with money. "I am nervous of money, nervous of having it, nervous of not having it," he said. The case increasingly turned on whether he really understood what he was doing and was consciously being "devious and deceitful" – as Leveson had alleged – or was merely a befuddled old man with little or no idea about how things worked with money.
For all that Dodd has achieved in showbusiness, the star of this particular show was unquestionably Carman, who had earlier topped the bill at the Old Bailey where he'd managed to get the former Liberal leader Jeremy Thorpe acquitted of conspiracy for murder, and he'd managed, too, to get the Coronation Street actor Peter Adamson cleared of indecently assaulting two eight-year-old girls. In his immaculately tailored suit, Carman was every bit as much a showman as Dodd, and, after delivering a good line, he'd look to the jury with a sense of pride.
"Some accountants are comedians, but comedians are never accountants," Carman quipped to the jury. I got the impression some of his routines with Dodd had been rehearsed. "My grandmother was the first lady magistrate in Liverpool and also chairman of the Old Swan Labour Party," Dodd said in the witness box. Carman: "And she had 16 children?" Dodd: "She knew all about labour, yes."
Carman could eventually add Dodd to his long list of trophy acquittals and Dodd immediately capitalised on all the notoriety by playing at the London Palladium. He managed to make some jokes about what he'd been through – describing himself as "a failed accountant" – and, his heart condition notwithstanding, he went on to live for a further 29 years, dying at the age of 90 in his beloved Knotty Ash.
What do you think? Have your say on this and more by emailing letters@theneweuropean.co.uk
 
Most popular