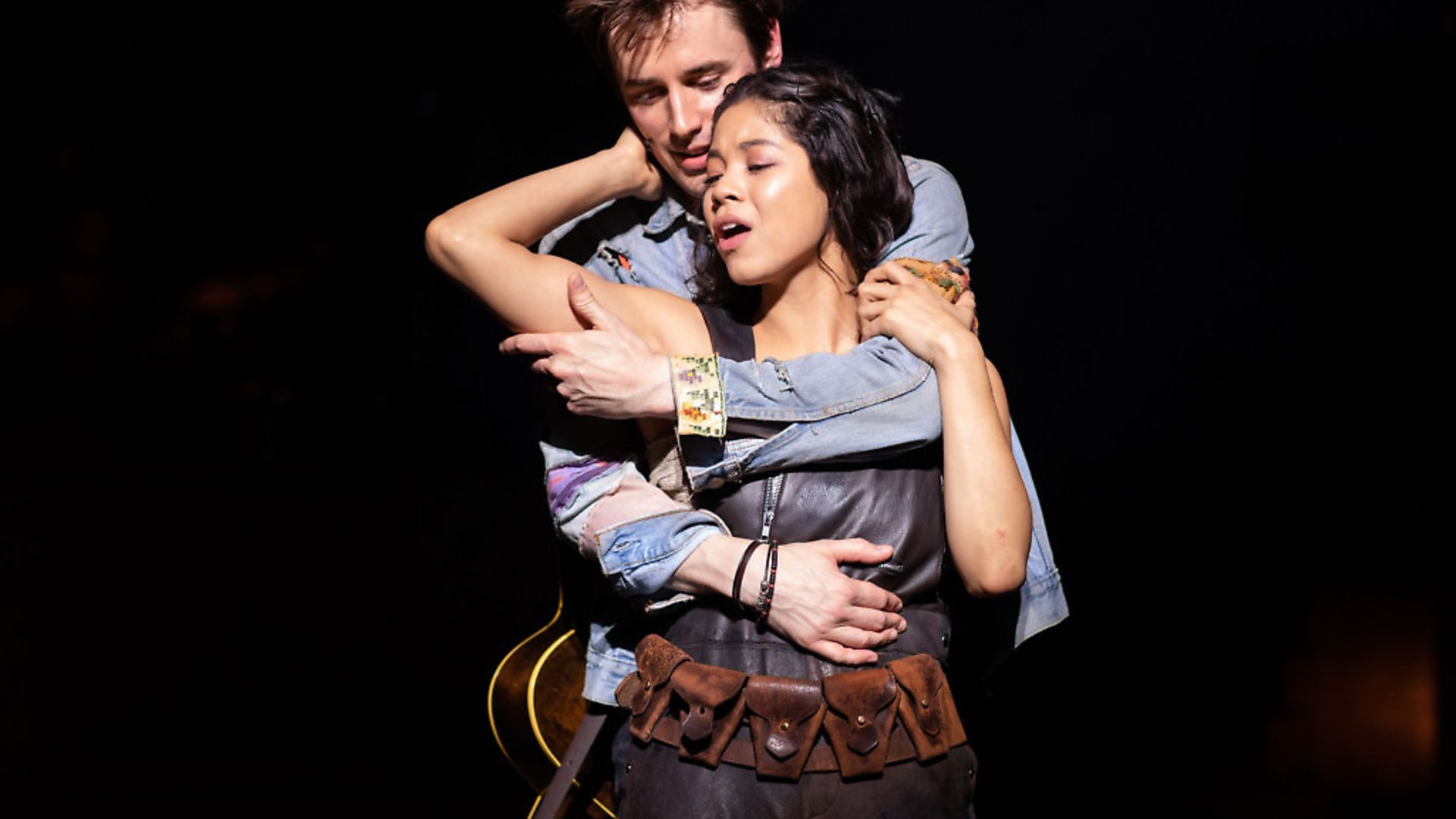 Orpheus goes down in style at the National Theatre, says TIM WALKER
Hadestown 
National Theatre, until January 26
The National Theatre likes to put on a big blockbuster in the run-up to Christmas and Hadestown is certainly that. It's a big jaunty, lively, rhythm-and-blues re-imagining of the ancient myth of Orpheus descending into the underworld to rescue his true love Eurydice.
The production's journey to the stage has been almost as eventful as its central characters' perambulations, having started out as a touring concert, metamorphosed into a cult album, and then set up stall as an off-Broadway show. What has emerged is something rather weird and wonderful: the music and spectacle will certainly appeal to the kids, and the darkly comic performances – and contemporary messaging – will no doubt keep the grown-ups happy, too.
It's normal with a show of this kind to praise its young stars and say what a great turning point it will be in their careers, but on this occasion Reeve Carney – the actor and singer playing Orpheus – and Eva Noblezada – as Eurydice – have two insurmountable challenges.
They come in the shape of two wily older performers who are at the absolute height of their powers and manage to steal every scene from them.
Andre de Shields in the narrator role of Hermes is an absolute joy to behold in his patterned suit and waistcoat, presiding over the proceedings with a wonderfully laconic and knowing air. Better still, perhaps, is Patrick Page, who invests Hades with a fearsome baritone voice and terrifying authority.
Both Messrs de Shields and Page move every bit as impressively as they deliver their lines, which is just as well as the stage revolves almost continually and just one false move could have thrown David Neumann's split-second choreography into total disarray. The two old actors also make it abundantly clear that they are having the time of their lives.
It's becoming almost de rigueur in theatreland now to draw out Donald Trump-like traits in gammon-faced baddies, and Hades, needless to say, sings a lot about his need for walls. There are nods, too, to climate change and Hades' muscular slaves – including Jordan Shaw and Joseph Prouse – are reduced to lives of continual drudgery, which I took to be a warning of the dehumanised world that automation has in store for future generations.
Rachel Chavkin's production – she had a hand in developing it with its writer, lyricist and composer Anais Mitchell – makes the most of every square inch of the vast Olivier stage. Rachel Hauck's stunning sets – possibly inspired by Fritz Lang's celebrated German expressionist film Metropolis – are awesome.
It may all lack substance or anything very definite to say for itself – and could really have done with a stronger lead performer in Carney – but it has so much style that these gripes only occur when you think it all over the next day. The show is simply and unapologetically tremendous fun, and – right now – I am all for that.
Most popular