I learned the result of the EU referendum as New Order were on our way to play the Glastonbury festival. To say it came as a surprise would be an understatement. The band had travelled there separately and when we gathered for a meal at the hotel that evening the mood was a mixture of sombre depression and outright disbelief
Arriving at the site the next day we could sense the palpable shock still hanging over a crowd still digesting the shattering news that Britain had voted to leave the European Union.
These were the people arguably most affected by the vote: young people, the future of the country, who'd grown up in a world of increasing globalisation yet just learned their right to travel and work freely in their own continent was now in serious jeopardy.
We felt as a band that we needed to reference what had happened, to make a statement showing we didn't like it any more than they did, so after our set that night we displayed an EU flag on the big screen and played over the PA a ludicrous 'little England' speech made in the seventies by Hughie Green.
Coming away from Glastonbury that weekend I looked out at the English countryside and felt like I now belonged to a xenophobic, divided nation. What had we done?
At times like this, with all the distress and violence there is across the globe, I think we should be pulling together as a solid block to stand against the troubles of the world, not fragmenting, pulling up drawbridges and isolating ourselves from each other.
I understand that people had specific concerns when casting their votes – the perceived economic implications related to immigration, the threat of terrorism, the health service becoming overburdened – and the EU undoubtedly has some stupid rules and regulations, but surely the way forward is to deal with these problems as part of a single entity. After all, they affect all of Europe, not just the United Kingdom.
The answer can't be to run away and the close the door. We can't claim to be open for business and ready to do deals while holding up a hand to stop foreign nationals coming to live here. We can't say to key trading partners that we want their money but we don't want them. I'm no businessman but that's not a great sales pitch.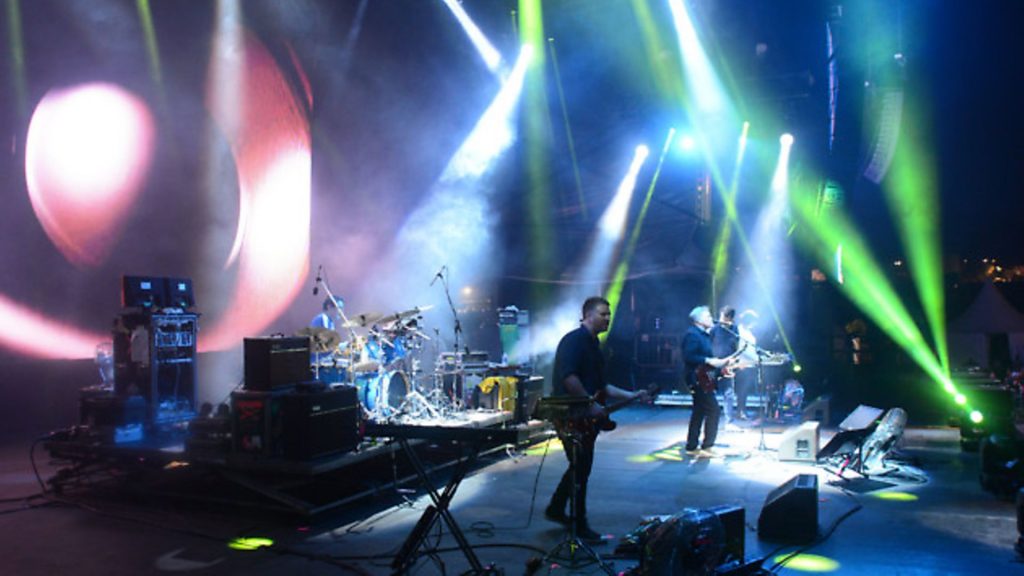 With Joy Division and New Order I've travelled and continue to travel all over Europe and the rest of the world and it's a brilliant feeling to be part of a greater something, interacting with other nationalities under a uniting umbrella like Europe.
I feel European, I regard myself as a European, and I certainly don't want to go back to some kind of little Britain, circa the 1950s. The days of Empire are long gone, the captive market it gave us is long gone. The world is a very different place now and you can't go back, no matter how much you might want to.
I'm from Salford, an industrial city built on manufacturing. The streets where I grew up were hemmed in by factories, plants, mills and foundries but they're all gone now because unfortunately we don't seem to make anything any more; certainly our industrial output is nothing to what it once was. Whether we like it or not one of the biggest generators of income today isn't the produce of people in overalls, it comes from people in expensive suits. I'm certainly no fan of city traders, but if their licences to trade freely with the EU are revoked who's going to make up the shortfall created by that income leaving the country? I won't be weeping for them but I'll weep for the knock-on effects that could potentially affect all of us.
There are better qualified people than me to talk about the economic and trade implications of Brexit, but certainly as a musician I've always been massively influenced by Europe and its people from the earliest days of Joy Division to our current touring commitments with New Order.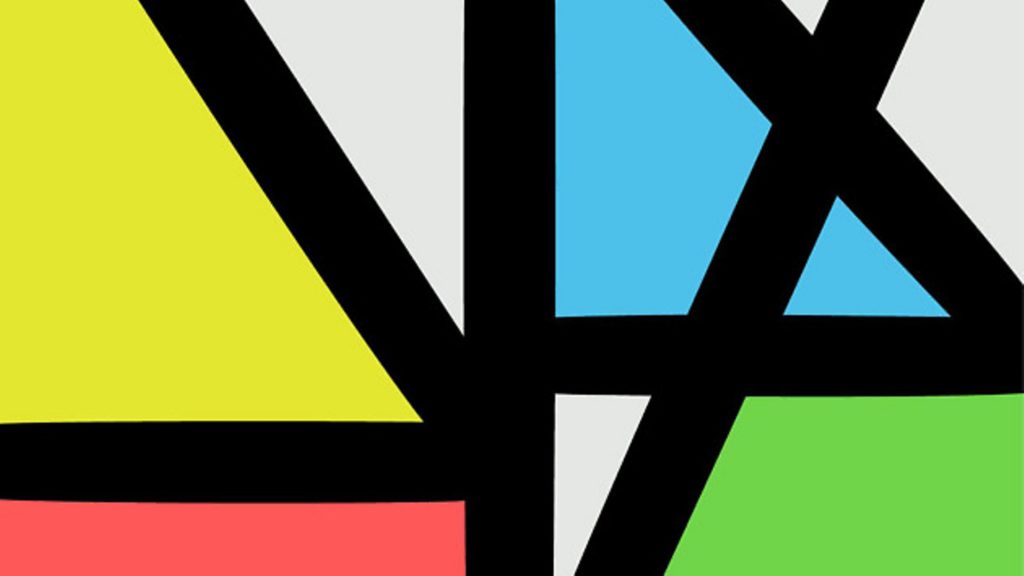 Right at the start, Europe was our stomping ground. When Joy Division first toured Europe in January 1980 we were four rejects from the north-west for whom driving a rain-lashed van full of gear onto a swaying cross-channel ferry felt like entering a portal into another world. It was thrilling and exciting; the dawn of a decade and a time when anything felt possible.
We drove through The Netherlands, Belgium and Germany absorbing all we could about the buildings, the people, the food, everything: the whole way of life seemed so exotic, especially compared to the post-industrial doom we endured at home in Manchester. That first tour brought home to me one of my favourite aspects of Europe, how it's so varied. You can drive for a couple of hours and see everything change: the architecture, the landscape, the food, the mentality and, of course, the language. It's one of the continent's great strengths, I think, this mesh of different people and cultures co-existing peacefully in such a relatively small area.
That first Joy Division tour ended with a gig at the old Kant-Kino cinema in Berlin, the perfect city in which to end our first European tour. I didn't know it then but Berlin would go on to become somewhere vital to the story of Joy Division and New Order.
On that first tour I remember walking with a friend through the Tiergarten from the Victory Column towards the Reichstag. Berlin was very different then: the Wall was still up and the damage from the Second World War was still clearly evident. As we drew nearer to the Reichstag we could see that it was, like many buildings across the city, still spattered with bullet holes and shrapnel damage.
I noticed something sloshed onto one of the columns in red paint and, thinking it must be some kind of political slogan, squinted to see what it was. As we got closer I could make out what it said – 'MUFC'.
If that itinerant, emulsion-toting Reds fan had given a little of Manchester to Berlin it was an early indication of an exchange that has been a constant part of the Joy Division and New Order story.
Not too long ago I read John Le Carré's The Spy Who Came In From The Cold and realised the sparse, angular, monochrome feel of the Cold War-era Berlin he described was exactly what we'd tried to achieve with Joy Division. The more I think about it, the more I realise how important Berlin has been to our story.
Bowie's trilogy of albums recorded in Berlin, particularly Low and Heroes, and Lou Reed's Berlin album have always been big favourites of mine and the rest of the band. I always associate them with two more of my favourite albums, Iggy Pop's Lust For Life and The Idiot, the former recorded entirely in Berlin, the latter in Berlin, Munich and a chateau outside Paris.
These could all be effectively one big album to me and have gone on to become major influences on the bands of which I've been a member. Part of the key to the sound on all those records is the processing of straight instruments through synthesisers, completely changing their traditional sounds and infusing them with a distinctly European feel.
Another Berlin influence is a very good friend I have there called Mark Reeder. Mark is from Manchester but has lived in the city since the late seventies (and became, among other things, Factory Records' man in Berlin and the founder of 'Masterminded For Success', a pioneering trance label, as well as releasing B-Movie earlier this year: a brilliant feature-length documentary about his adventures in Cold War west Berlin).
From the early eighties Mark would send me the latest twelve-inch singles from Germany, the stuff that was playing in the clubs there. I'd play them to death and in the early days of New Order they really helped awaken me to the possibilities presented by dance music.
Those records in turn were influenced by Kraftwerk, of whom New Order were – and remain – huge fans. Kraftwerk are unique, I don't think they could have happened anywhere else than Europe. Theirs is a very purist, crystal clear electronic sound, yet at the same time they come up with the most beautiful melodies like Computer Love, Tour de France and obviously Trans Europe Express: a great European soundscape. Talking about their first hit record Autobahn, Karl Bartos, who was a key member of Kraftwerk for many years, told me the key changes in the song represent gear changes, which is genius.
Kraftwerk, the Krautrock bands like Can and Neu! – of whom Ian Curtis and our drummer Stephen Morris were both early adopters – and the new dance records Mark was sourcing, for me were vital parts of this seismic shift in music, a movement away from guitars and America towards a new, synthesised European sound.
In the late eighties we would be in Ibiza when the Balearic beat and later the acid house movements took off there. It was a stroke of immense good fortune that the groundbreaking clubs at the heart of the next major cultural shift in European music were a short taxi ride from the studio where we were recording New Order's 1989 album Technique.
It's no wonder then that I've always loved playing in Europe. As well as the amazing music to come out of the continent, there's a real sense of culture there. On tour you don't find yourself with a great deal of free time but in Europe, if not too hungover and in need of a bit of normality, you can spend it taking in museums and galleries, soaking up a bit of history and culture. Elsewhere, the US for instance, I always seem to find myself walking aimlessly round shopping malls looking at stuff I have no intention of buying. It's not that America has no culture, of course it does, it's just that European cities are built for walking, allowing you to gain a real sense of a place in a relatively short time and I love that.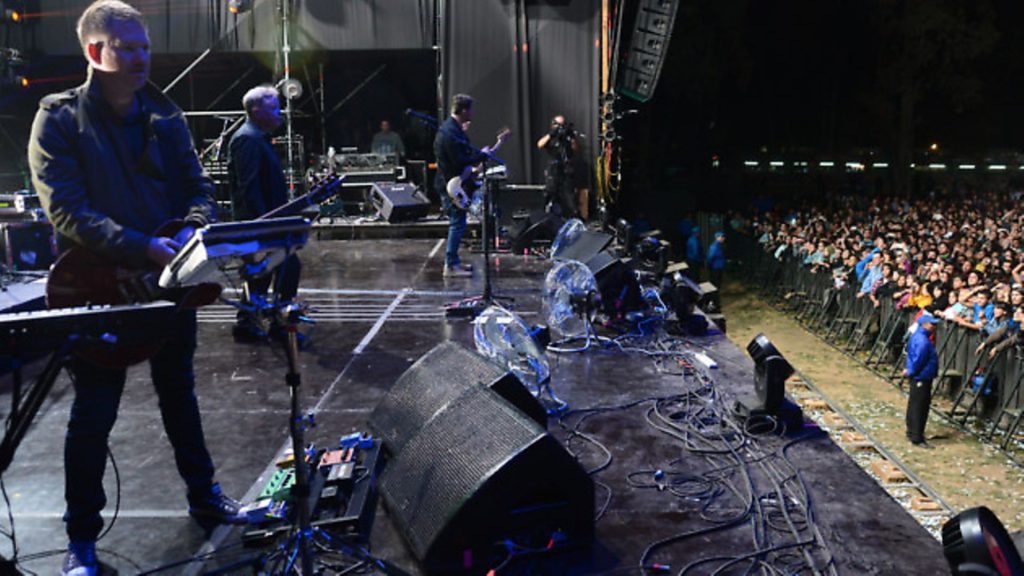 I'm pleased that New Order have been spending a lot of time in Europe recently. I write this at the end of a busy and successful period for the band. Since releasing our new album Music Complete in September last year we've spent much of the time since touring in support of it. While I don't do a lot of beating of our own drum I have to say the response has been overwhelming in its positivity.
A new New Order album, especially coming a decade after our last album of new material, was always going to face some pretty intense critical scrutiny and I'm delighted that it's been so well received all over the world. In addition I think our live show just gets better and better, certainly if audience reaction is anything to go by.
We have a settled line-up, a range of songs, old and new, well-known and the odd surprise from the past, making up a live set that seems to go down well with both the die-hard New Order fan and the festival-goer seeing us for the first time.
We took the album out on the road last November, with the first gig of the tour at the beautiful Casino de Paris. Just over a week later came the terrorist attacks at Le Bataclan which were a terrible shock. The news had extra resonance for us, not just because we'd played in the city so recently.
We were horrified to learn that the backstage catering girl from our gig had been shot and injured in the attack. Also, when New Order played live in 2011 after a four-year hiatus, we only booked two shows, one of which was at Le Bataclan, so it was a significant venue for us. Indeed as I write this I can look up at a framed poster of our gig on my wall here at home: Le Bataclan had been a big part of a new era for New Order but is now a name that represents dreadful, pointless butchery that achieved nothing.
The music world was determined to continue, however. Our next dates were two storming gigs at the Brixton Academy which we dedicated to the victims of the attack. We played some great shows in Brussels, Stockholm, Berlin and beyond, sensing a tangible pan-European feeling of positivity through unity that already seems like it was a long time ago.
The show went on. One particularly memorable occasion for New Order was a science event staged by Professor Brian Cox at the Hammersmith Apollo, in London. It was a great night featuring comedians and speakers from different areas of science (the astronaut Chris Hadfield in particular was dead interesting) and a surprise, unannounced band at the end that happened to be us.
Brian is a great guy and came on and joined us on keyboards for Your Silent Face. It was a nice change from the routine and intensity of touring. It was good for us to play for an audience that wasn't a typical New Order crowd.
In March we toured America, did a couple of gigs in Tokyo and arrived in Australia to play four nights at Sydney Opera House, a world-class statement in architecture and a beautiful room to play. We were joined by the Sydney Chamber Orchestra, with string arrangements of our songs by a Manchester composer called Joe Duddell.
The second night in particular was fantastic and I stepped off the stage on a real high. When I walked into the dressing room, however, our manager Rebecca took me to one side and told me that a dear friend of ours, Alan Wise, had died. Alan was a tremendous character, a promoter whose name will be familiar to anyone involved with the Manchester music scene, who
died basically of a broken heart: at the
start of the year his young daughter Natasha had committed suicide after an 18-month battle to get vital mental health treatment.
When the Leave campaign made that pledge to spend £350million a week on the NHS and then immediately dismissed it as a 'mistake' I thought of Alan, Natasha and all the people to whom that kind of investment could have been literally life-saving. To use something so heartbreakingly important as the NHS as a cheap political football like that stinks to high heaven.
We returned from Australia to play some of Europe's best festivals, like Sonar in Barcelona, Electric Picnic in Dublin, Werchter Festival in Belgium and Denmark's Roskilde. Roskilde was great and I find Denmark particularly interesting because everyone cycles: the whole place seems almost to run on two wheels. You take your life in your hands cycling in British cities but in Copenhagen they're properly set up for it. As we drove into the festival site we saw two whole fields packed with parked bicycles: there must have been 10,000 of them. Imagine getting a bit wasted watching the bands then trying to find your bike among all that lot.
After Denmark we also played festivals in Finland and Norway, which confirmed how much I love Scandinavia. It's a region that's always seemed mysterious to me, with its endless summer nights and long, dark winters, almost as if it's not a part of Europe at all but some mystic land that doesn't really exist. We flew into Oslo over this beautiful, rugged and dramatic countryside in that special, essentially Nordic light when normally you fly into a capital city and see motorways, industrial estates and petrol stations. They get it right in Scandinavia but they don't seem to know it, they're just so chilled about everything.
We finished the festival season a month ago at Lollapalooza in the city towards which New Order's European story always seems to gravitate – Berlin. It was almost the perfect European occasion: beautiful weather, a wonderful city, bands from all over the continent and a great, mixed audience. It was a fantastic gig with almost an end-of-term feeling for the band in front of a crowd many of whom were probably seeing New Order for the first time and having an absolute ball.
I had the chance to take a good walk around Berlin and it was as beautiful as ever. Strolling through the Tiergarten in the sunshine and walking up to Museum Island brought home what a cultural and historical epicentre the city is. Even the TV tower built in the Soviet era of the late sixties has a special fascination; its spherical observation deck reputedly designed by a subversive and possibly religious architect to focus the sun's rays into a golden cross to match that on the nearby Berlin Cathedral.
Back at the hotel I looked out of the window down at the busy street and thought how, given its history over the last century, Berlin should really have a weird, messed-up kind of atmosphere. But it doesn't. It has a positive, optimistic atmosphere.
Berlin has been the seat of evil, home to one of the most dreadful political regimes in history, and then found itself as the major fault line of the Cold War, yet it's clear the city has already come to terms with that recent past and purged it from the atmosphere.
I believe the secret behind that lies in its people. Berliners have shown a willingness to confront their past and emerge from it as a confident, inclusive city determined that their place in Europe shouldn't be defined and hindered by negativity. It's a confidence tempered by humility and shows that positivity can emerge from bad times. Change always happens, it's inevitable, it's part of how the world works in its constant state of flux, and maybe Brexit is an extension of that.
We find the pound at its lowest level for 30 years, our economy's dropped from fifth to sixth in world and we're facing the prospect of the EU not doing business with us without open borders. The whole thing's a mess and the way it's been conducted is a mess: the most important political decision of the last half century and it was made after the most ill-informed campaign in political history, and even then with a majority so slight it can't possibly be held up as a mandate for wholesale change. From what I see on television it's obvious politicians still haven't a clue what's going to happen. If they don't know what's in store after Brexit how could we have been expected to know and vote on it?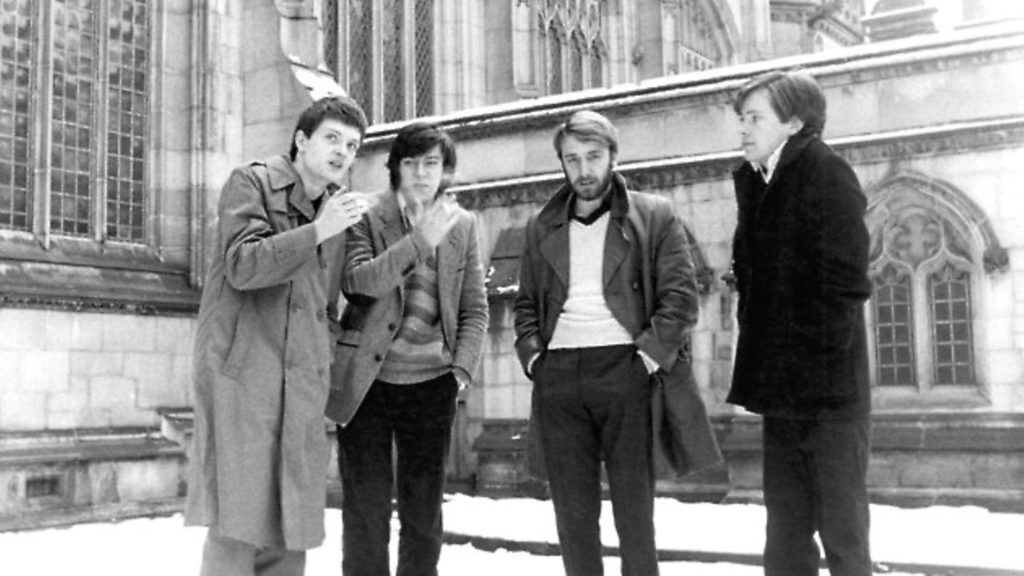 Walking through the Tiergarten retracing my steps from more than 35 years ago I thought about what Europe means to me, the daunting uncertainty of Brexit and the story of Joy Division and New Order, of how there have been crippling lows and, like today, great highs since that chilly walk on the same path in January 1980.
Maybe the key is to embrace the past but not be defined by it, to keep looking forward.
I headed back to hotel, passing the Reichstag. They've cleaned the 'MUFC' off the pillar.
Bernard Sumner is the lead singer and founding member of New Order