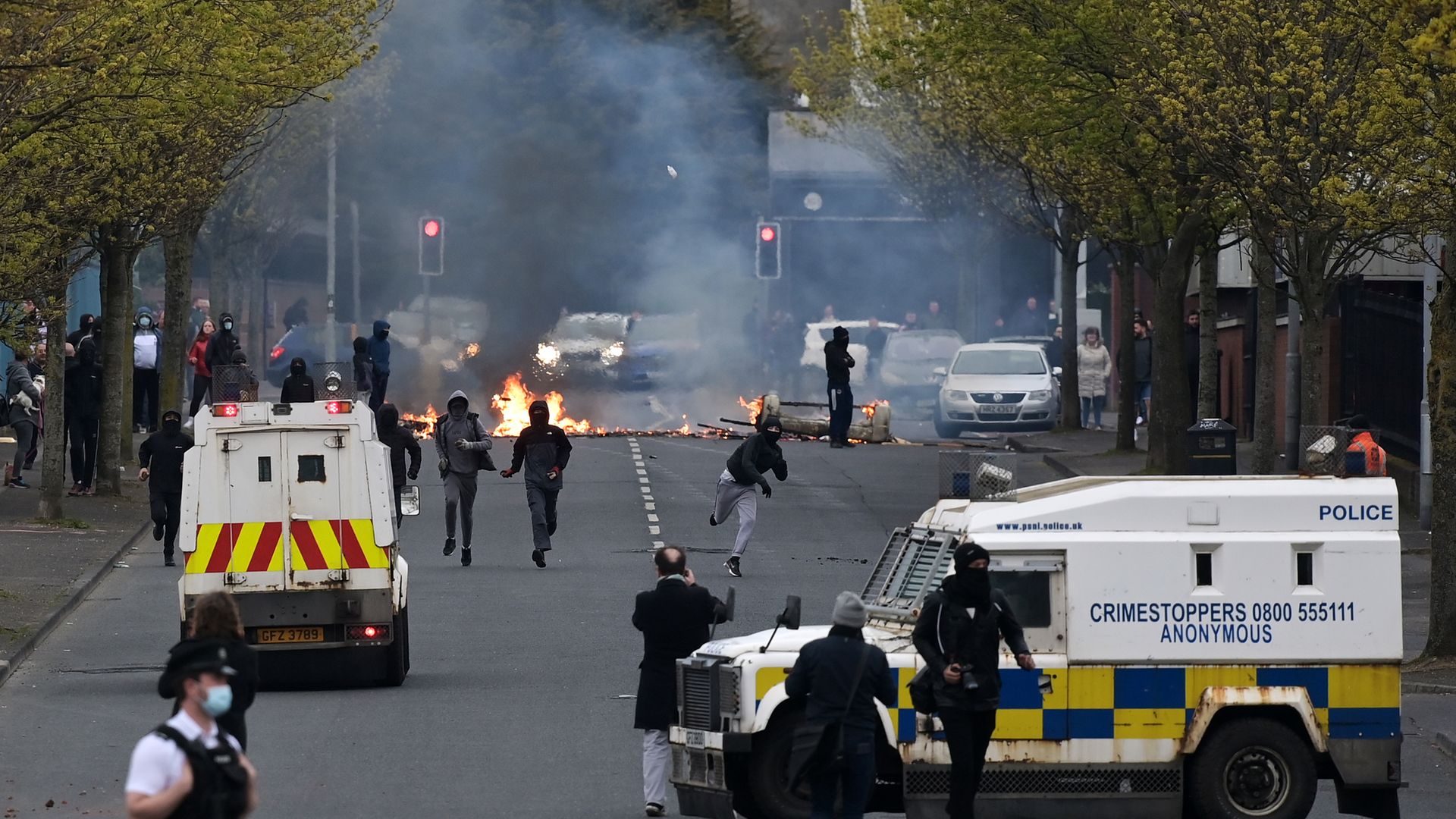 Nowhere are the consequences of Brexit being felt more acutely than in Northern Ireland, where the tensions are continuing to rise and the full ramifications are yet to play out
Five years ago this month Arlene Foster was in France to cheer on Northern Ireland's heroics in Euros 2016. Just months into her stint as first minister, she posed for pictures with fans, capitalising on the feelgood factor back home. How long ago those sun-splashed photo opportunities seem.
Now her tenure as FM is over, after her forced resignation and replacement as DUP leader by Edwin Poots. While her opponents' motives seem myriad, the disastrous outworking of Brexit for unionism, which delivered the Northern Ireland Protocol with its Irish Sea Border, undoubtedly provided the catalyst. Ultimately, Brexit would appear to have been an own goal for Foster and indeed the wider party leadership at that time.
Though attitudes to the Protocol are coloured by political and constitutional positions, its impacts are significant. Farmers and fishermen lament the impact of increased red tape on their livelihoods. Shoppers complain of higher prices and goods hitting shelves with an about-to-expire "best before" date.
Brexit negotiator, David Frost, met European Commission vice president Maroš Šefčovič, in London last week to discuss the Protocol, in the wake of having had his knuckles rapped by both Brussels and Dublin for simply urging the EU to show more flexibility. The Protocol went on to be a major theme, even eclipsing the G7 summit in Cornwall. The determination of Dublin not to discuss the issue directly with either Belfast or London has struck many as at odds with Ireland's wish to enhance north-south relations. It has also convinced unionists that the Protocol itself is less a customs mechanism and more a political tool.
It's not pricier blueberries that led to riots on Belfast streets in April or saw 300 loyalists, a few wearing balaclavas, march through a Co Down market town recently, watched by around 500 spectators. It's the perceived border in the Irish Sea, separating NI from the rest of the UK.
Paramilitaries are never far from political unrest and it doesn't take much to raise the temperature on the streets, which can be exploited by darker forces. There were even claims of paramilitary intimidation during the DUP leadership contest. The imminent Orange marching season, albeit curtailed due to Covid, will provide many platforms for unionist expression, delivered with customary directness.
The emergence of the Good Friday Agreement as a core argument in favour of EU membership arose late in negotiations towards the Withdrawal Agreement. Ironically, unionists might now nostalgically hanker after the original 'backstop' solution which entailed the whole UK maintaining a common customs territory with the EU until some device were found which would render customs controls between Northern Ireland and Great Britain unnecessary. Boris Johnson's victory in December 2019 allowed him to pass a revised Withdrawal Agreement – with the Protocol – despite unionist opposition.
While the fact the DUP held the balance of power at Westminster for three and half years is not wasted on DUP insiders, unionists feel betrayed by Boris but equally blame those leaders who walked them into it.
They feel the EU has viewed the Protocol as a way of punishing the UK for Brexit; that NI unionists are being 'punished' for partition (which marks a low-key centenary this year); and that it is just another instrument leveraging NI closer to the nationalist dream of a politically united island.
Complicating matters further, the EU's touch on Northern Ireland has not been sure. Thanks to delays at the European Medicines Agency, cancer patients in Northern Ireland are having to wait longer for life-saving drugs. For all the talk of the primacy of the peace process, the EU was first to invoke the 'nuclear option' Article 16 clause in the Protocol (on January 29), threatening to throw up a hard border, announcing controls on exports of vaccines. Coming in the midst of an EU dispute with AstraZeneca on the supply of vaccines, the move was universally seen as opportunistic, high-risk and tin-eared.
While the view of the Protocol as one of political expediency may bear the hallmarks of unionist paranoia, it could have unexpected consequences. Poots has been careful to distance his withering criticism of former Taoiseach Leo Varadkar and his foreign minister Simon Coveney of Fine Gael, from the current incumbent Micheal Martin of Fianna Fail. Possible rapport there could be hugely productive.
This comes in a half-decade of extreme uncertainty in Northern Ireland. The Executive collapsed in 2017, and remained non-functioning for three years. A variety of failures to resolve key issues – Irish language, cultural identity, the legacy of the Troubles – placed the ruling partnership under persistent strain. The fall-out from the mismanagement of the 'renewable heat incentive' – cash-for-ash – scheme brought it down.
The passage of time is now taking its toll on hitherto monolithic power blocs. Only a few months after he stood down as deputy first minister in 2017, the hugely-influential Sinn Féin figure Martin McGuinness died. SF has recently had to dismantle the entire party structure in one of its electoral heartlands, including publicly sidelining two women politicians, one of whom was former MEP Martina Anderson, to a flurry of unprecedented protests from inside the party. This amid pressure from dissident paramilitaries on one side and a firming-up of electoral support for the moderate nationalist party, the SDLP, on the other.
Meanwhile, how the DUP's new senior team will fare remains to be seen, though a poll conducted the day after Poots's election found support had fallen to 16% from an earlier low of 19%. Certainly, it's hard to argue that the party has broadened its appeal over the last month. Foster was removed by what seemed a palace coup by those on the party's religious wing. Poots is a fundamentalist 'Creationist'. Another key mover against her was Ian Paisley, whose father founded both the party and Free Presbyterian church.
Sir Jeffrey Donaldson, the defeated leadership contender, who broke his silence briefly to warn Poots of the need for outreach, is understood to be considering his future. Anything is possible, including schism. Remarkably, Poots has chosen not to take up the post of first minister, nominating Paul Givan, a 39-year-old also on the religious wing, who will now be catapulted into the hothouse of prime ministerial briefings.
A new Executive team has rooted out Foster allies. The process for appointing a new first minister will require the approval of SF and that party has upped the stakes by saying that this is by no means a certainty. They are looking for a clear timetable for implementation of an Irish Language Act, a particularly thorny issue for unionists sensitive to the security of a British identity. It's symptomatic of Northern Ireland that it could be a seemingly cultural impasse that might yet derail the progress of the Poots/Paisley coup to the seat of power.
If that happens, there could be a rush to the Assembly polls much earlier than the planned May 2022 schedule. While his resumption of north-south meetings and friendly overtures to the Taoiseach may confound early attitudes to Poots's leadership, it will be interesting to see how these unexpectedly soft stances play out among the hard core which it is presumed backed his elevation to leader.
It is highly possible that should the DUP stumble at the polls, SF will gather sufficient votes to become the single largest party and so claim the first minister post for the first time. That would be a seismic event in Irish and British politics and would surely provoke the much-anticipated 'border poll' – a one-off plebiscite on a united Ireland.
It's not in the playbook, but that's certainly one way unionism might resolve the Protocol issue.
Gail Walker is the Belfast Telegraph's editor-at-large
What do you think? Have your say on this and more by emailing letters@theneweuropean.co.uk
Most popular