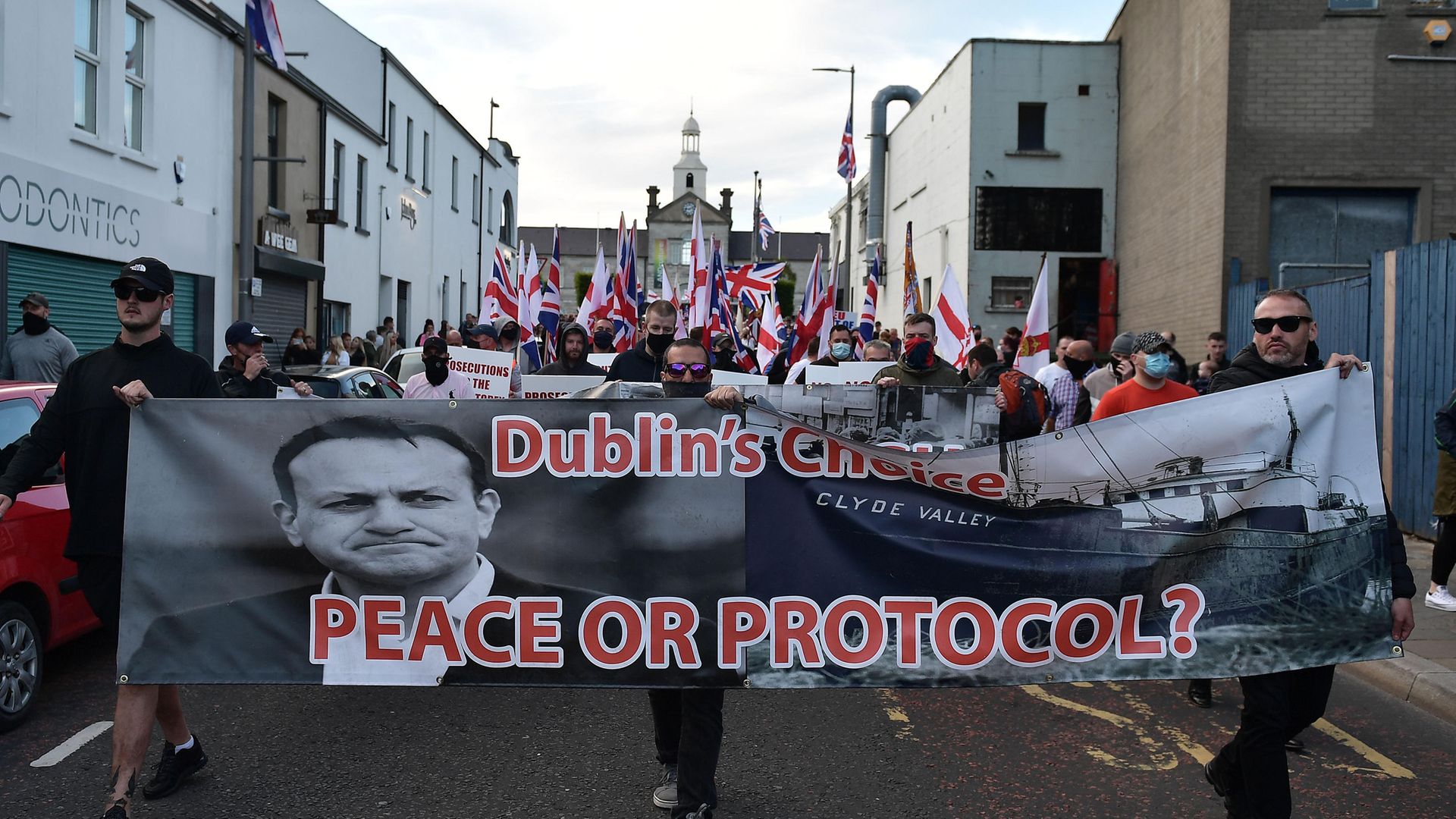 The arrangement comes with many advantages, even for Unionists who hate it the most. 
Northern Ireland's Unionists are extremely angry right now, with some reason. A Conservative government and indeed movement with which many sympathised – just trying to 'get Brexit done' – has ended up building a trade barrier down the Irish Sea.
That has cut Unionists off from the rest of the United Kingdom, only lightly practically but much more important symbolically – challenging their own sense of statehood and nationality in a changing world.
They have, to be quite honest, more than enough to complain about. It's not just that they have joined the long list of people betrayed by Boris Johnson, a roll call of rather dog-eared promises and hopes that will only grow longer over time.
It's that the British government went over their heads, as it has done so many times before, in negotiating with Dublin and Brussels, before presenting Unionism's leaders with something almost impossible to sell to their activists, and to Loyalism's more intractable adherents on the streets.
The point of principle is also an important one: why should Antrim and Armagh be treated any differently to Sussex and Surrey? If you are an employer in Northern Ireland, you should in principle have every right to move your or other people's goods, within your own country, just the way you like. It's not rocket science.
That said, principle isn't everything, and there are many ways in which everyone in Northern Ireland may come to embrace (or, perhaps, grudgingly accept) the Protocol. The world is full of intolerable injustices, and many are close to home in a Northern Ireland that is still riven by divide and distrust: are sausage imports and (admittedly a lot of) form-filling really as important as they seem in the abstract?
One would think not, when set against the entirety of the infrastructure which the Brexit settlement lends to Northern Ireland.
The Protocol unlocked everything, after years under Theresa May spent trying to batter down a door not so much nailed shut as bricked up and painted over.
It relied on a kind of magical thinking: that Northern Ireland could at one and the same time live within the customs union that helps constitute the UK, but also follow most of the rules of the single market as they pertain to the trade in physical goods.
That meant, bingo: a full house. Goods could flow freely around the island of Ireland without the UK having to join the EU's own customs union, or shadow lots of its regulations. Everyone was happy: except Northern Ireland's exporters and especially importers, who would have to prove that everything was compliant with EU rules, and where everything was going to and coming from.
That full bingo card also conjured up or preserved a huge number of other benefits for the region, some new, some established. Northern Ireland now exists as a kind of half-way or clearing-house between the UK and the EU, and given a moment's thought that might make a lot of people very rich indeed.
Everyone born in Northern Ireland can claim an EU passport, and move around the EU as they wish; Northern Ireland's universities are going to continue as an integral part of the EU's student placement scheme, Erasmus; and they get all this without paying into the EU's budget at all. It really is a unique solution, and it explains why the Europeans become so exasperated when under pressure over the Protocol: they feel they've carved out a special set of advantages for Northern Ireland, not obligations.
It's also possible that the Protocol can be amended, so that it's less burdensome and bureaucratic – and so it offends sovereignty and statehood rather less. If Northern Ireland importers source more products from the Republic, and narrow down the range of goods they are importing from the EU, that will mean checks are streamlined and make the Protocol easier to work.
Although the UK is unlikely to accept EU veterinary and sanitary rules in full, a set of baselines could be established that, yes, cramp its style somewhat in future trade talks elsewhere – but at least can be presented as a joint, not a 'European', set of rules.
Then there is the reality of the Protocol's detailed provisions, rather than its mythology. Its actual text makes blindingly clear, throughout, that Northern Ireland remains a part the 
UK's customs territory, and that it will take a full part in that country's new trade deals. It is explicitly designed to protect the Belfast or Good Friday Agreement of 1998, a document that itself not only sets in stone Unionist representation within the governance of Northern Ireland but the need for popular consent if there is to be any change in its constitutional status.
That reality, and the Protocol's true advantage, come together when you take a look at what could be gained by being inside the UK's customs area but the EU's single market. Northern Ireland's exports to the Republic have recently been surging. Although the numbers are likely to have been distorted by recovery from one low point of the Covid crisis in the spring of 2020, in the first four months of this year Northern Ireland's exports southwards rose by 60% (to £859m).
If the Protocol can be made to work, investors the world over will be casting a very interested eye over Northern Ireland as a new trading hub that could allow them to export as much as they like to both the UK and the EU. As one of the critical providers of high-end, specialist jobs in the area, that makes a big difference – and will be another reason why Unionist politicians may find their constituents urging them to keep the Protocol, not tear it up.
Last and by no means least, Unionists should consider whether this row could leave them altogether high and dry. Northern Ireland is changing. More moderate and non-aligned voices are stirring themselves: the cross-community Alliance Party has been on the rise for some time. Unionist parties together can only just about command half the vote, something that the past few weeks of chaos within the Democratic Unionist Party won't have helped much.
Administering yet another kicking to the Protocol might not help them very much when voters respond 'well, you were the ones who wanted Brexit in the first place'. That is an especially apposite warning to Unionist parties when not only did Northern Ireland that voted by 56% to 44% to stay in the EU, but polling reveals that fairly large minorities of Ulster Unionist Party and DUP voters also voted Remain.
Sound and fury over the Protocol are all very well. They are understandable. It is right for Unionism to make itself heard beyond all doubt. 
But strategy, diplomacy, economics and elections all point in the other direction: learning to live with the Protocol might be better than the alternatives.
Sound and fury over the Protocol are all very well. They are understandable. It is right for Unionism to make itself heard beyond all doubt. But strategy, diplomacy, economics and elections all point in the other direction: learning to live with the Protocol might be better than the alternatives.
Most popular