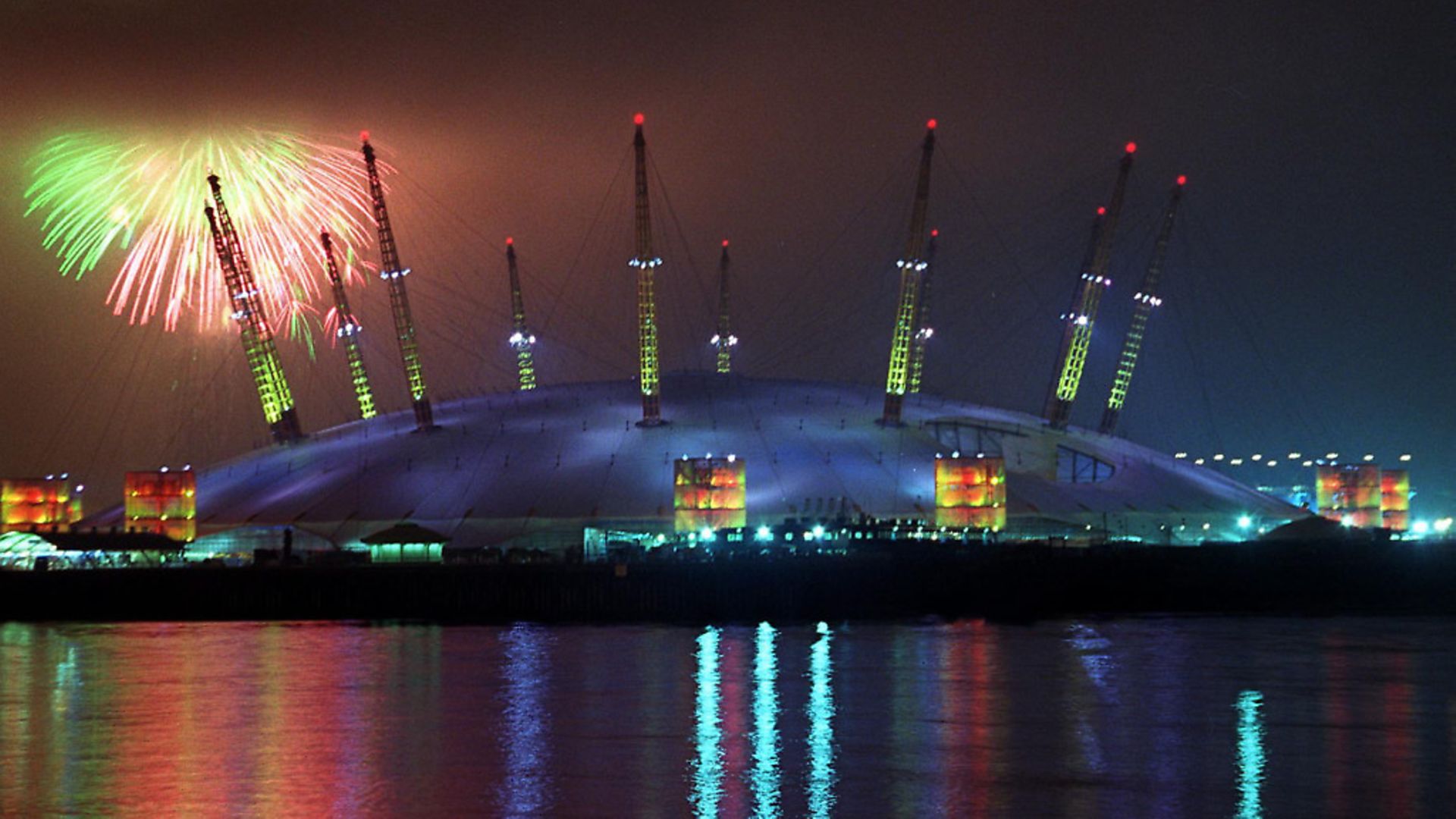 A vintage year for the industry saw the most No.1s ever, as attempts to greet the new millennium with gravitas fell flat. SOPHIA DEBOICK reports.
The Millennium Dome summed up the pricked pomposity of the year 2000. Tony Blair called it 'a triumph of confidence over cynicism, boldness over blandness, excellence over mediocrity'. In the event, the Dome's Millennium Experience was over-hyped and just a bit silly, and Tate Modern and even the initially wobbly Millennium Bridge were ultimately better regarded additions to the capital of that year.
While everyone strained towards a gravitas fitting to the moment that the clock ticked from one millennium to another, instead the absurd tended to rise to the surface. The BBC's 2000 Today coverage – a 28-hour marathon programme, broadcast internationally over New Year's Eve – opened with David Dimbleby sagely explaining international time zones from Greenwich, and worthy, wholesome programmes were planned for the rest of the year – from Castaway billing itself as a serious social experiment, to Alan Titchmarsh et al designing a garden for Nelson Mandela, Blue Peter unearthing its time capsules, and coverage of both the 2000 Sydney Olympics and Queen Mother's 100th birthday. But it was the spectacle of a nude Keith Chegwin presenting game show Naked Jungle, the back-stabbing of Nasty Nick on the debut series of Big Brother and the celebration of filthy lucre in the first £1 million winner on Who Wants to be a Millionaire? that the year's telly would be remembered for, and music too would find attempts at profundity in the battle for Millennium No.1 deflated by pop fluff, in a year of bubblegum and a new monster boyband, while Brit flicks put music centre stage on the silver screen.
A clutch of Millennium-themed hits got a new lease of life as the moment the year rolled over approached. Prince's 1982 declaration that 'Tonight I'm gonna party like it's nineteen ninety-nine' seemed ready-made for the millennium celebrations. But as an anti-nuclear protest song recorded at the height of the Cold War ('Everybody's got a bomb/ We could all die any day', 'Two thousand zero zero/ Party over, oops, out of time'), it was hardly upbeat, his Seventh-day Adventist faith meaning he was more interested in the apocalypse than most.
Yet, the song fit the slightly uneasy atmosphere around the Millennium – not just the threat of the Y2K bug, but the sense of some sort of cosmic threshold being crossed at the stroke of midnight. 1999 was used to its full potential as the final song performed at Prince's pay-per-view Rave Un2 The Year 2000 that aired on New Year's Eve, and it was meant to mark the retirement of the song. Unsurprisingly, it still cropped up in later setlists.
While Pulp's Disco 2000, the follow up to Common People, had reached No.7 way back in December 1995, its anthemic chorus ('Let's all meet up in the year 2000/ Won't it be strange when we're all fully grown?') made it a dead cert for use all over the media, promising a royalties bonanza for the band. But Select magazine reported early in 1999 that Cocker and co. had revoked the song's synchronisation licence which would have allowed it to be used in television, film and such like, seeing it 'absolutely banned from use in adverts until 31 January 2000', adding 'Presumably Pulp want to use it in their own way'. Indeed, when Nick Cave recorded a slower-tempo, knowingly schlocky cover of the song as the B-side for Pulp's single Bad Cover Version in 2002, and then a cacophonous 'pub rock' version for the deluxe edition of Different Class four years later, it was clear that the band had succeeded in protecting the song from being rendered flavourless through over-use.
Robbie Williams had no such qualms about Millennium, his 1998 single which had made an early bid for use ad nauseam in the run-up to December 31, 1999, getting him his first No.1 single in the process, and it appeared frequently throughout the run-up to New Year, not least at Williams' headline slot at that summer's huge Slade Castle gig.
His following No.1, November 1999's She's the One, peaked too early to be in contention for the millennium night No.1 spot, but there was plenty of other interest in it. For all of Williams' pound shop philosophising ('Live for liposuction/ And detox for your rent/ Overdose at Christmas/ And give it up for Lent'), the real attempt on the pop charts at gravitas as we said goodbye to the past 1,000 years was the re-release of John Lennon's Imagine at the end of December. It was a symbol of the complete failure to take ourselves seriously that on the night itself it ended up at No.7, behind South Park's Mr Hankey The Christmas Poo, Artful Dodger and Craig David's Re-Rewind (The Crowd Say Bo Selecta), Alice Deejay, S Club 7, Steps and the Vengaboys.
Chuckaway pop was evidently still packing a punch, and in the event, millennium night found the bizarre spectacle of new boy band sensation Westlife covering Jacques Brel at No.1, their Seasons in the Sun a version of Rod McKuen's syrupy English-language rendering of Brel's dark-as-it-sounds Le Moribond.
The song had been an international No.1 hit for Terry Jacks in 1974 and was released as a double A-side with another cover, of ABBA's I Have a Dream. To be fair to the other contenders for millennium No.1, this was the fourth of a record-breaking run of five No.1 singles from Westlife's eponymous debut album – they seemed, inexplicably, unstoppable.
Even Cliff Richard's tailor-made and fascinatingly awful The Millennium Prayer, setting the Lord's Prayer to the tune of Auld Lang Syne, couldn't beat it, threateningly sitting at No.2 in the previous week's chart after a run of three weeks at No.1 earlier in December 1999, but plummeting to No.8 by the day itself. Even so, it won an Ivor Novello, even as it topped many a 'worst song ever' poll.
It was indeed a vintage year for pop, as 2000 made a still-standing record for the most No.1 singles in a calendar year (a whopping 43). Britney Spears followed up a debut run of four UK Top 5 singles with Oops! I Did It Again, a return to the meaningless but pop catnip catchphrasing of the previous year's lyric, 'Hit me baby one more time'.
She also played her first world tour, sealing her global domination, but Christina Aguilera was a looming threat to Britney's pop princess crown, winning 
the Best New Artist Grammy, her 
What a Girl Wants following up on 
the No.1 success of 1999 debut Genie in a Bottle.
While the teenage Spears embraced some submissive lyrical themes ('I was born to make you happy' was a pretty problematic statement), and fellow all-American poplets Mandy Moore and Jessica Simpson struck similar notes, new star Anastacia, who debuted with the bombastic I'm Outta Love, was altogether more ballsy, as was Kylie's pop comeback, Spinning Around. Madonna's American Pie and Music were as a big a pair of hits as she'd had in years.
British women were proving attitude sells, as Geri Halliwell and Mel C both had No.1 singles, while the Sugababes' debut Overload was brim-full of sass. Sonique and Sophie Ellis Bextor, whose vocal on Groovejet (If This Ain't Love) with Italian house DJ Spiller relaunched her career, scored just two of several dance No.1s which brought the infectious sound of the Balearic clubs to the UK charts, from Italo-British outfit Black Legend with their Barry White-referencing You See the Trouble with Me, German trance act Fragma, Australian duo Madison Avenue, and French act Modjo with the late summer smash Lady (Hear Me Tonight). Daft Punk's One More Time just missed the No.1 spot, but was a future French house classic.
Meanwhile, British-made films were highlighting their knack for a really decent soundtrack. Billy Elliot put glam and punk on the agenda, as several T-Rex hits, The Clash's London Calling and The Jam's Town Called Malice featured memorably, along with Tchaikovsky's Swan Lake. The Leonardo DiCaprio-starring The Beach was all style over substance and had the soundtrack to prove it, a finely-calibrated selection, typical of director Danny Boyle.
Pete Tong oversaw the playlist, with the William Orbit-produced Pure Shores giving All Saints a career fourth No.1, and a whole raft of British electronica, including Leftfield, Underworld, Orbital, Faithless and New Order, while Angelo Badalamenti wrote the film score. In the US, the Charlie's Angels remake gave Destiny's Child a hit with Independent Women, while LeAnn Rimes made a comeback after 1997's How Do I Live, with Coyote Ugly tie-in Can't Fight the Moonlight, a smash hit across Europe.
The millennium bug may have failed to materialise as a result of a massive operation to upgrade computer systems, but the apocalyptic feel to 2000 didn't go away. The May Day riots saw Churchill given a mohawk and anti-capitalist protestors handing out burgers as they ransacked McDonalds, but more gravely, fuel protests in the summer caused massive disruption. It only proved that however seriously the change from 1999 to 2000 was taken by some, a change in date doesn't change human nature.