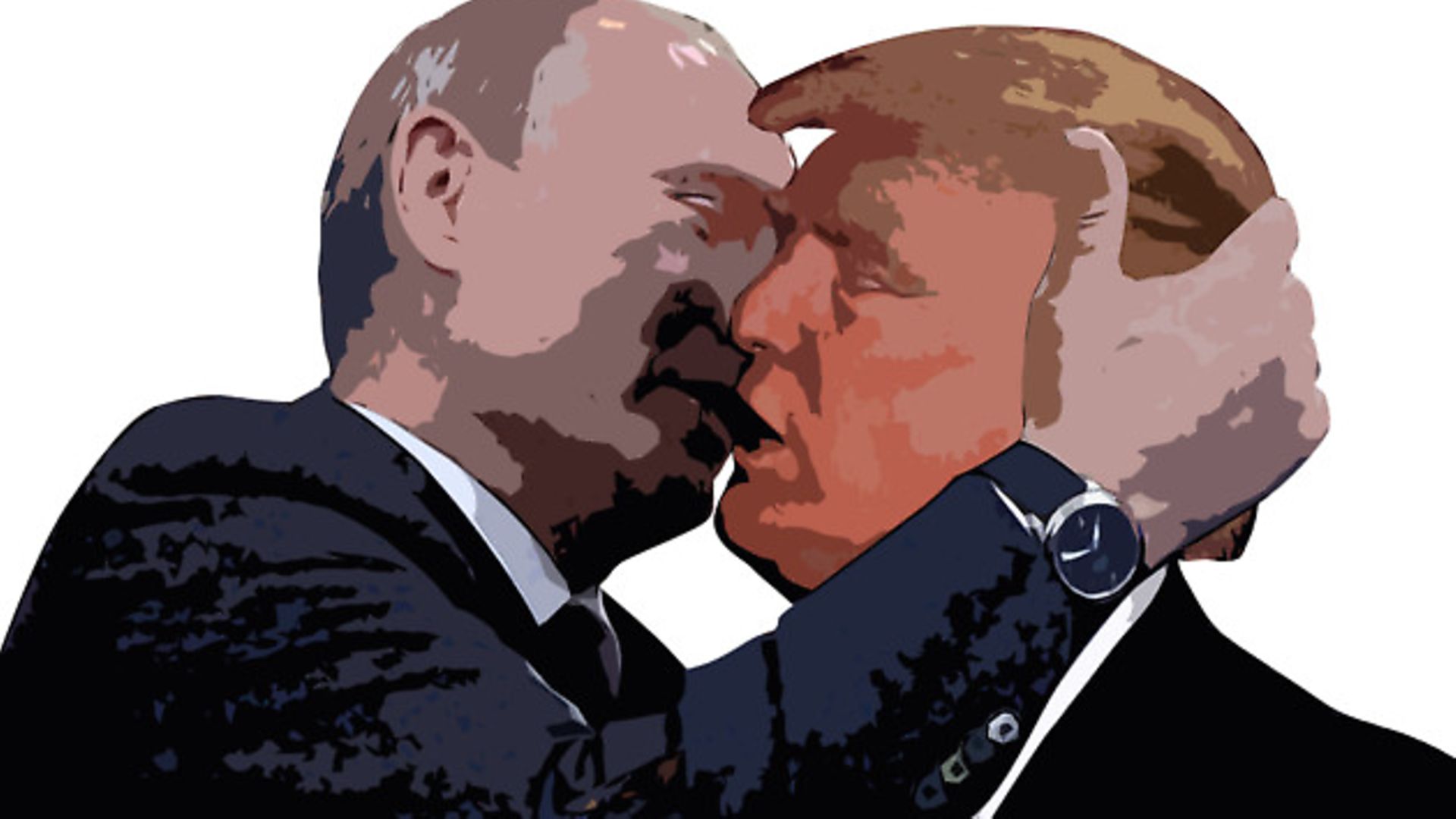 With Brexit, and the election of president Trump, UK-US relations are set to enter a new era – for Britain it will be one of impotence and desperation
https://twitter.com/TheNewEuropean/status/801018323639169024
The mind boggling and unexpected election of Donald Trump in the United States triggers a wholly predictable fantastical reaction in the UK.
This is a great opportunity for post Brexit UK! Trump and Theresa May will be the new Ronald Reagan and Margaret Thatcher! Stop whinging and let us hail the post Brexit UK march in alliance with the new pro-Brexit President!
With that bizarre mixture of swagger and desperate insecurity that marks the UK's side of the 'special relationship' Number Ten is working sleeplessly to secure an early visit to Washington for May. Once again a UK Prime Minister plans to be shoulder to shoulder with a new President, a powerful force on the international stage.
Step back from the pathetic fantasy and take a closer look at the dark reality. When Trump failed to make an early call to the Prime Minister the day after his victory there was near panic in UK diplomatic circles. The leaders of Egypt and Ireland got a call before May. The special relationship is so special she was left waiting as Number Ten tried to make sure Trump phoned her at some point in the sequence of his long list of calls.
But beyond the symbolic trivia of whom an exhausted, bewildered triumphant candidate sought to phone first are much harder realities. Above all the context is unrecognisably different from the 1980s when Reagan and Thatcher had their love-ins. Equally important, Trump is not Reagan. May is not Thatcher. Putin is not Gorbachev. The differences are much greater than superficial similarities.
Trump is a nationalist populist with views close to right wing outsiders currently thriving across much of the democratic world. Reagan was a small government populist, but with enough experience of public office to infuse simplistic ideas with open-minded pragmatism. Putin's nationalism is partly a counter to Gorbachev's reforms that made their mark on Reagan and Thatcher. Putin seeks to make Russia great again in ways that alarm the EU and the UK but appears to impress Trump.
Thatcher was a Prime Minister engaging with Reagan when the UK was a force in the EU. She fumed about the EU but never left it, and Reagan never urged her to do so. May is the Prime Minister negotiating the UK's exit, about to be immersed in hellish negotiations with the rest of the EU as she seeks to discover what form Brexit will take.
Every US president before Trump has argued that the UK was better off in the EU, even President George W Bush, who stood ready to express his support for the UK's membership if Tony Blair had called his once promise referendum on the EU constitution.
History never repeats itself, not even as farce. There will be no echoes with the transatlantic relationship of the 1980s, now a decade almost as distant from the current one in terms of challenges and personalities of leader as the Middle Ages.
In a comical counter to the fantasy narrative the harder real version is already taking shape in front of our eyes. The first UK leader to visit Trump was not the mighty Prime Minister but Nigel Farage. The latest triumph for Farage was another twist to throw the nervy British government into a tizzy. Help! What should we make of this? Should we use him to help secure a trade deal? Should we pretend this is not happening and await the Prime Ministerial visit to Washington, the one that will reaffirm the special relationship? Should Farage become one of us or not?
In reality Trump will lose interest in Farage when he becomes president. That is not because he does not like and respect the UKIP acting leader. Evidently he does. Farage's latest smart move was to pick the winner in the US election that most assumed he would lose. But Trump has spoken openly about acting for what he regards as the US interests when he becomes president, whether they take the form of protectionism or breaking up international alliances. Unavoidably he will be interested in power and dealing with those that wield it. Farage will soon be a former acting leader of a party with one MP. Trump will have other leaders on his mind.
Not that Theresa May will be on his mind very much even if she is the Prime Minister rather than a UKIP leader, or former leader. Before examining Trump's international priorities let us briefly reflect on the recent history of the so-called special relationship. President Barack Obama has placed it in perspective by declaring that the first visit on his farewell tour will be to Germany and Angela Merkel who has 'probably been my closest international partner these eight years'. He was polite enough to put in a 'probably', but he would not have made the wider assertion if he felt there were any genuine qualifications. There was no reference to the UK, the barbecues with 'Barrack and David', the futile, doomed attempts by 'David' to become like 'Tony' and 'George' and back 'Barack' in his plans to attack Syria that the President did not fully believe in anyway. Instead Obama cites Merkel, the leader at the heart of the EU as his closest ally. He knows where power lies and it is not within a small island leaving the EU.
For a further insight on the limits of the special relationship, when it was supposedly at its strongest, read Jeremy Greenstock's book on what happened in the aftermath of the Iraq War. Greenstock was the UK's special representative for Iraq and his book suggests that the US decided more or less on its own what should happen once Saddam had fallen, with the UK a minor, largely-ignored player in spite of its craven, assiduous loyalty.
That was in the glory era of the special relationship when President Bush and Tony Blair shared podiums together as Blair tried to prove that a Labour Prime Minister could do what Margaret Thatcher did, work closely with a Republican President.
Now consider what President Trump's priorities will be. Even if he plays down or ignores some of the pledges he made during the campaign he cannot unsay completely what has been said. No President comes to office and turns away entirely from the stance taken in the campaign that preceded victory. The nationalist, protectionist Trump will not metamorphose into an internationalist free trader. At the very least he will have no choice but to look again at the North America Free Trade Agreement that he derided with unqualified contempt. Similarly even if he does not walk away from NATO he has reiterated that members must pay their way, and those that do not cannot rely on the US. Part of his protectionism extends to imposing tariffs on China, a policy with tumultuous consequences for the existing global superpower and the next one.
When Theresa May visits Washington she will be given the VIP treatment, but she will be immersed in a Brexit negotiation of mountainous complexity and Trump will be involved in high stakes policy changes that might recalibrate the world order. She will be largely irrelevant to him. With no direct involvement in the EU's response to Brexit, he will be largely irrelevant to her.
Trump might have been a supporter of Brexit, but only because it showed that outsiders putting a nationalist argument could win. Characteristically he viewed Brexit purely in terms of his own destiny. When he is president he will know where the greater power and economic strength lies, as Obama did. He will turn to Germany and the rest of the EU countries that form the world's largest single market. The UK will be negotiating to leave the market as Trump makes his early moves.
The UK government's energy is devoured by the demands of leaving the EU. The energy-sapping endeavour becomes even more perverse when the election of Trump highlights the importance of powerful international institutions, ones that transcend the rise to power of eccentric or dangerous individuals.
If Trump is willing to weaken NATO, a stronger Europe will be needed as part of the new order. If Trump demands higher spending on defence from US allies in Europe, as Obama did too, Europe must find the resources and the most effective means to deploy its potentially mighty foreign, security and defence policies. A Trump administration is set to weaken America's commitment to the security of the European continent. That means the European continent has no choice but to become a stronger force, no longer reliant on the US.
While the EU will become a more coherent and formidable force in foreign affairs and defence, and Trump seeks to recalibrate the world order, where will the UK be? Far from strengthening its position, Brexit risks leaving the UK and its exhausted government in bewildered isolation, negotiating to withdraw from trade deals without knowing what form new agreements will take, leaving the single market, alienating allies in Europe without having strong reliable friends in the US.
Obama visits Merkel. Farage visits Trump. EU foreign ministers meet to discuss their response without the attendance of the UK. In the UK ministers shout alone about how powerful they are. No one listens. Trump and Brexit do indeed mark a new era for the UK, an impotent, powerless and friendless one.
Steve Richards is a political writer and broadcaster; follow him at @steverichards14