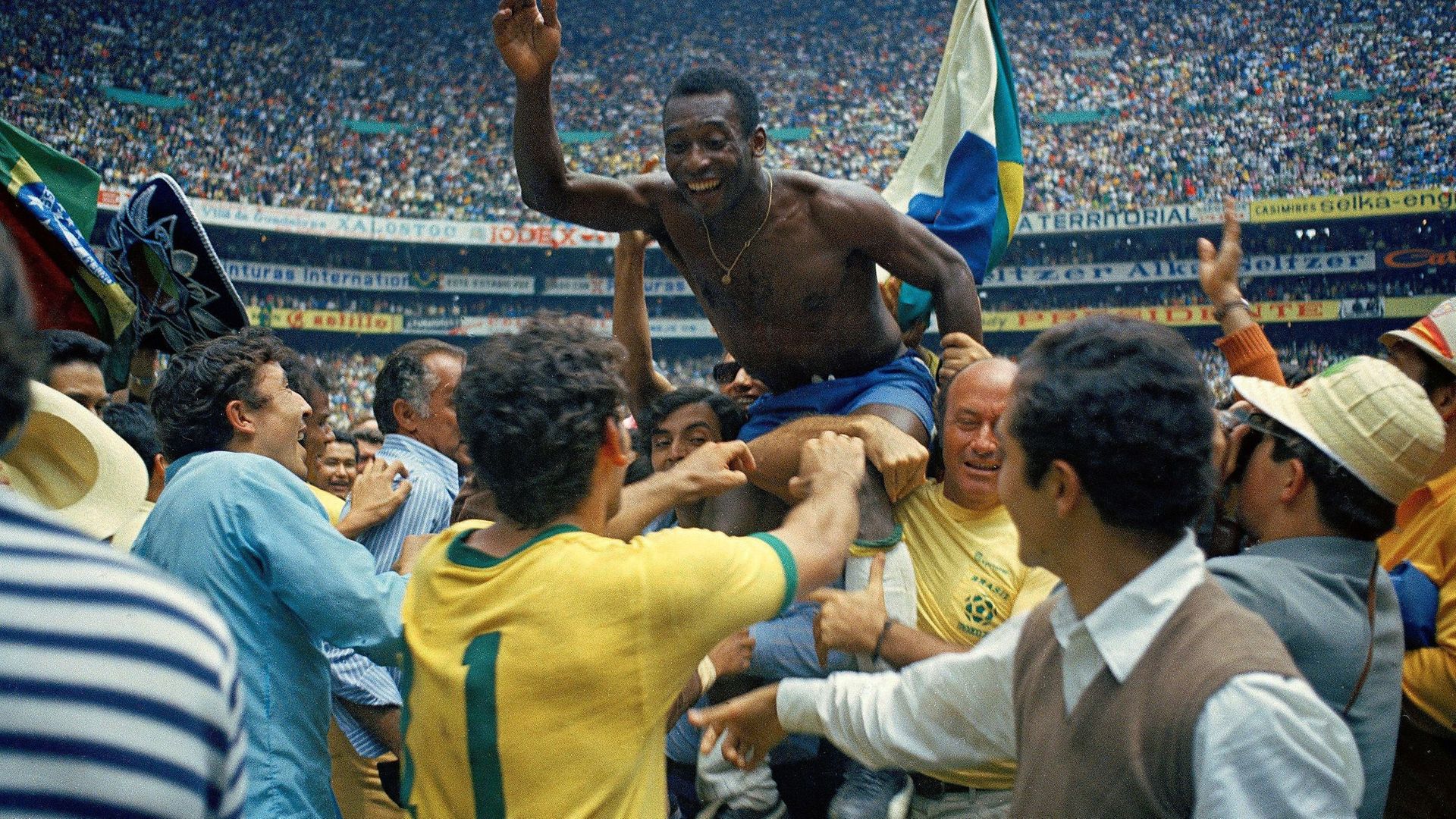 JASON SOLOMONS on a new Netflix documentary which places the footballer's rise amid his country's oppressive regime.
Talk about finding a new angle. I've seen that Carlos Alberto goal, the fourth for Brazil in the 1970 World Cup Final against Italy, over a hundred times. Maybe we all have – but never from Alberto's point of view.
But now, a new documentary on Pele shows the action from the other side of the pitch, so we see Pele's selfless flick into space and Alberto charging onto the ball sitting up perfectly for him. He doesn't have to break magnificent stride for a second. We see the gap to the keeper's right and follow the ball as it leaves the player's boot, watching from behind as it arrows low into the corner, buzzing the green grass, to be forever buried in football history.
It's a moment that's not only frozen in time but one which, seen from this new perspective, almost freezes time itself. The iconographic magnitude of the moment – for sport, for Brazil, for Pele – as well as the sheer thrill of experiencing it as if for the first time combine for a wonderful, out-of-your-seat finale.
"As soon as we saw that Mexico '70 final again and had access to new camera footage of it," says documentary maker Ben Nicholas, "we just knew it had to be the climax to our movie."
What the film does, then, is make sure we, the audience, are in optimal position to appreciate the significance of that goal, something which may have got lost in the mists of time and in the overplaying of it in countless clips and highlights reels. Like Pele himself, the film makes it look easy. And the film has also found a new angle to Pele's often familiar story.
Just as the recent Maradona doc by Asif Kapadia concentrated on the Argentinian player's time at Napoli, the Pele film rarely strays from its tight focus between the World Cups in Sweden and Mexico. Sure, there's a bit about the birth, his father, a pretty good player himself, known as Dondinho and the early years at Santos from 1956.
But the constant background to the film is more political than personal or sporting, more about Brazil. Basically, it posits that Pele becomes intrinsically bound up with the soul of the nation. Tryhorn says they spotted a pattern: "When Brazil is on the up, Pele is on a high; when the country sinks into dictatorship and turmoil in the mid-60s, Pele is felled and brought low."
As the singer, poet and politician Gilberto Gil observes in the film: "Through Pele, Brazilians learned to love themselves."
"You have to remember that some of the stuff we're talking about is 50 years old," remarks co-director David Tryhorn. "A lot of it is 75 years old. We had to make it fresh and relevant. The story of Pele has been told so many times and he started so young and he's still with us, still telling the tale, so we had to find something new."
Nicholas adds: "Pele became the most famous player in football after Sweden '58 and he was just 17 years old, relatively poor, certainly not well educated and he's had a camera and a microphone thrust into his face almost everyday since, so he's built up some stock answers over the years and we just had to dribble round those, get something deeper and more definitive."
The player is injured at the 1962 tournament in Chile, although Brazil still go on to win it, beating Czechoslovakia in the final, Pele's stand-in, Amarildo getting them back into the match, so the nation can continue to flower. Still a young democracy, there's a burst of culture and an explosion in film, music, TV and media, and Pele is the nation's young star, with his own coffee brand and TV adverts, while the bossa nova sound travels the world – tall and tan and young and lovely, we all know how it goes.
To the documentary's credit, all that clichéd, Rio de Janeiro, early 1960s glamour is passed over pretty quickly. "To be honest, it was such a fleeting moment," says Ben Nicholas. "The 1964 coup and dictatorship came swiftly and darkly and it changed the lives of so many people – although Pele seems to have got through it unscathed."
While thousands of protesters and dissenters were 'disappeared' and artists such as Gilbert Gil found themselves forced into exile, this film isn't that story, but it does ask Pele why he didn't speak out more against the regime, something many people still hold against him.
"Nothing changed," admits Pele, facing the camera when asked about not standing up to the dictatorship and about his continued fraternising with the regime leaders. "Whose side was I on? That of Brazil, of course. I've done more for Brazil than many politicians."
And yet he also sheds tears when remembering some of his team mates and the beauty of his own youthful exploits. He's 80 years old now. There's a smashing cut from the 1970 final, with the familiar tones of BBC commentator David Colman talking over a close-up of Pele, the "man in whose legs Brazilian hopes are pinned". Nowadays, that man enters the shot using a zimmer frame.
It's a little harsh to show his thus, perhaps, but the film is also about the passing of time as much as the preserving of it. At his best – and we see plenty of that – Pele seems to be able to make time stand still.
For those, like me, who never really saw him play, even on TV, there are many goals here. His trademark move seems to be the ability to stop the ball with his chest, control it with his knee and volley it into the corner. He does it time and again in crowded areas and it's quite beautiful. But his other trick is a hammer drive from the edge of the box, a rasping, rising shot with little backlift, that looks like it's surely rising too high but somehow repeatedly nestles in the top corner, unstoppable in power, speed and trajectory.
"We didn't want to get into all that debate about who's the best player ever," says director Nicholas. "Obviously for us, there was no question about it being Pele but we did have to show enough of him and his goals for a new generation to be convinced of it."
I grew up marvelling at Cruyff and Platini before Maradona took control of the 1986 World Cup, which I'd never seen anyone do, before or since, so single-handedly. But now there are plenty of advocated for Messi and Ronaldo and their relentlessly impressive longevity and numbers.
Perhaps the more instructive comparison is with Mohammed Ali, who was a young world champion and the undisputed best in the world but who took a political stance in refusing the Vietnam draft, something many still hold against him when assessing these Greatest of All Time lists (GOAT as they call it).
"We do use Ali," admits Nicholas. "Messi, Ronaldo, even Maradona – they wouldn't be who they are without Pele and whatever you want to say, however you want to argue it, Pele will always be the first to do it. He was the pioneer and that's something no one else can be in the world game."
Nicholas has another theory, too. "Personally, I grew to see him like a Hollywood star from the studio system, a teen idol. His thoughts were basically: I'm going to turn up, score goals, do my job, smile for the camera, represent my country and club as best I can, shake everyone's hands and be on the cover of magazines. At 17, he was hailed as the king, and once you're into that and you realise you're a symbol of a new, brave, beautiful country, he just knows he has to embody that, and I think he found it difficult to suddenly kick against that and become some kind of radical world political figure or rebel."
Some of the film's best moments come on British shores, at the 1966 World Cup. There's the wonderful incongruity of seeing Pele facing the local BBC reporter at the Lymm Hotel in Warrington. But that tournament's star attraction is kicked out of the game, marked and fouled and Brazil go out against a really tough draw, facing Hungary and Portugal, with their rising star Eusebio keen to outshine Pele.
The other highlight surrounds the hype and circus around Pele's 1,000th goal, which was a national occasion, in 1969, as his club Santos face rivals Vasco.
"That day gripped the nation like a fever," says Tryhorn. "It was hard not to make too much of it or it would outshine Mexico '70 in importance, but it was celebrated just as much – one individual landmark being claimed as an achievement by the whole country, as if they were personally part of it."
Gilberto Gil explains that football is the soul of the people and even at the darkest moments of the dictatorship, Pele gave them something to believe in, a hero to bring hope: "Pele was a shining star, glowing in the black sky of Brazilian life, symbolising the promise of a fairer and happier country."
Tyrhorn says: "What we found was that Pele had this great sense of occasion and could reserve his best for it. He started with brilliance and ended with brilliance, but the 1,000th goal was pure theatre at a time when there was very little culture to celebrate under Medici's dictatorship. Pele gave them all a reason to feel joy."
Of course, the politicians exploited that, too, and Mexico '70 risked becoming a "governmental matter, with fascist slogans and a nationalist euphoria". There's talk of Pele not making the team, with manager Joao Saldanha accusing his star player of being blind.
Sensing the nation's nerves, that coach is suddenly replaced and Pele's old teammate from the 1962 team, Zagallo comes in, bringing Pele to the fore just in time for them to walk out into the bold, colourful new world of the Aztec Stadium.
Watching it now is to witness the birth of a new era – it reminded me of the Wizard of Oz, when Dorothy wakes up and it's all in colour, all that shiny yellow. Here, the 1970 World Cup begins and it's Brazilian gold that shines.
There's the epic match against England, with Gordon Banks' save and the swapping shirts with Bobby Moore. Yes, the players and fans realise that if Brazil do well, it only bolsters the dictatorship and gives them a victory to claim. But as Pele says on reflection: "When the football starts, your heart takes over and you only care about football".
The narrative of that tournament unfolds with tension and beauty. There is a semi-final against Uruguay that brings back memories of the Brazil's great trauma, the loss at home in the final of 1950 at the newly-built Maracana, the world's biggest stadium, with 200,000 fans expecting to mark their new country's emergence and announce it to the watching world.
They lost 2-1 to Uruguay (Alcides Ghiggia got the winner) in that final, a collective disaster known as the Maracanazo, an event that haunted the national psyche, a ghost that hovers over the national side every time glory approaches. As Pele recalls, listening to the game as a child, like most of the nation, on the radio: "That was the first and only time I saw my father cry."
All of that floods back and, as this doc would have it, it is Pele whose brilliance slays such ghosts, with his dummies, his feints, his passing and his audaciously famous attempt at scoring from the halfway line.
Then comes the final – in which Brazil go ahead through Pele but get pegged by a goal from Roberto Boninsegna – and the full expression of joy when the unprecedented third Jules Rimet is in sight, culminating in that beautiful Carlos Alberto goal in the 87th minute.
I cheered it again, as if watching a match whose outcome I did not know, such is the context and momentum of the documentary.
Of course, there were celebrations back home and the dictator Medici claiming the triumph for his nation. But, says Pele, calm as you like, reflecting on his great moment in tranquility: "History remembers. Nobody says now that 1970 was Medici's World Cup. We all know, the world knows, it was Pele's."
Pele is showing on Netflix from February 22
What do you think? Have your say on this and more by emailing letters@theneweuropean.co.uk
Most popular