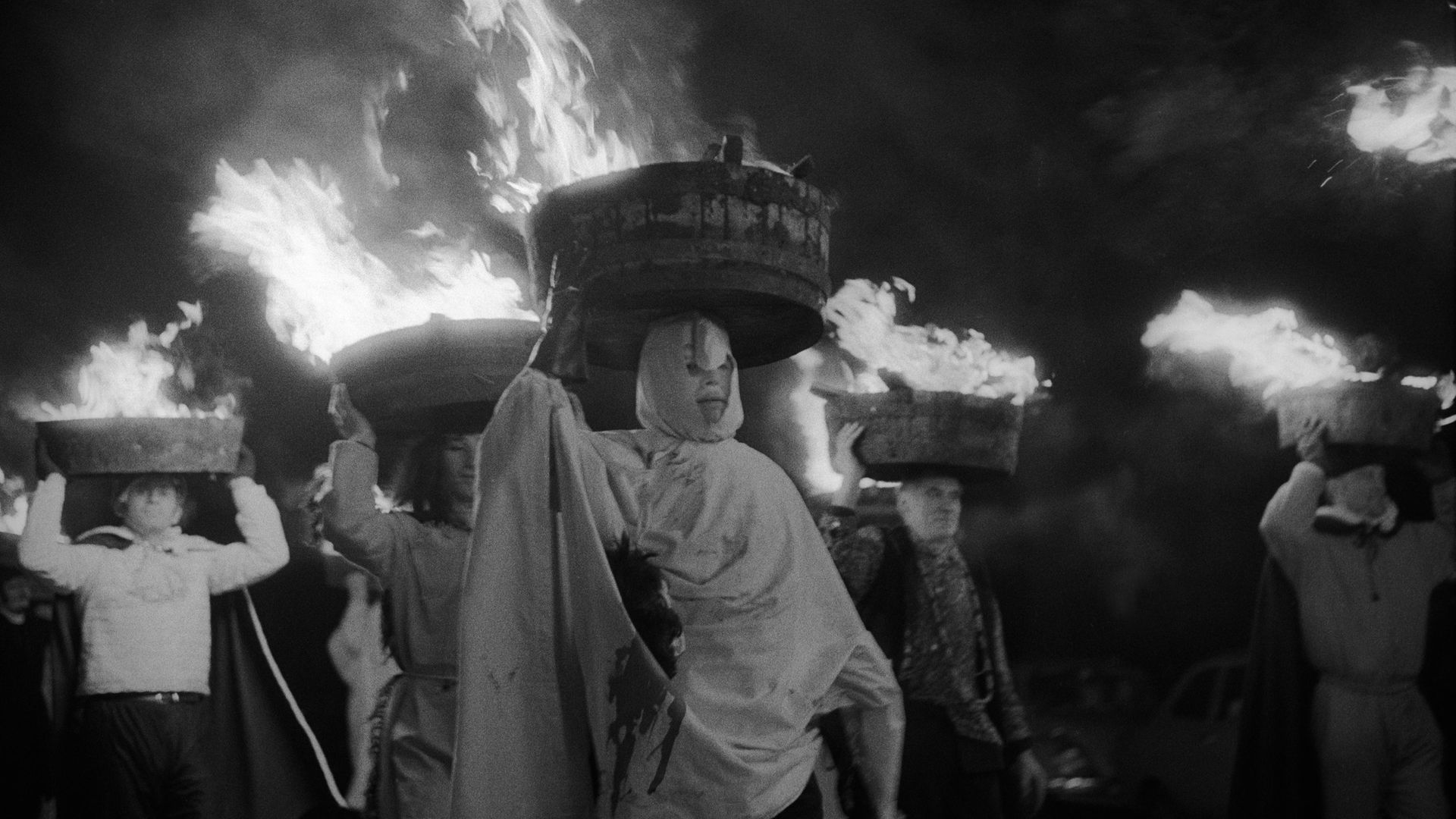 An extraordinary photographic exhibition focuses on Britain's most peculiar local folklore rituals. But how are these events still managing to survive changing times and attitudes while attempting to remain true to their traditional roots?
How about this to get the health and safety bods hot under the collar? A procession of extroverts in fancy dress balancing on their heads barrels cut in half, filled with tar and set alight in a blaze of flames.
And what about this for race relations? A bunch of clog dancers who don white turbans with blue plumes, dark jerseys and red and white skirts contrasting nicely with white hose and black clogs. Oh, and they blacken their faces.
These are two unique images of folklore rituals taken by photographer Homer Sykes in an exhibition, Once a Year, at the Lucy Bell Gallery in St Leonards, Sussex.
The photos, which were taken in the 1970s, offer a sideways glance at a world of tradition and ritual dating back centuries but which, in defiance of 21st century sensibilities such as political correctness and personal safety are still flourishing 50 years later.
The world Sykes has recorded springs directly from rituals whose beginnings have often been lost in the fog of time yet still attract crowds to watch, say, a cheese being rolled down a hill in Birdlip, Gloucestershire, or cheer on a lad in Minehead, Somerset, pedalling along in what looks like a rickety box but is a hobby horse cobbled together from willow branches and tarred cord into the shape of a boat.
Gurners, bell ringers and mummers like the Marshfield Paperboys from Gloucestershire, who stage a sword fight in the village every Boxing Day and strut like oversized chickens in costumes made from strips of paper – they were all photographed by Sykes who was surprised to discover that rituals like these were being held all over the country but not being documented.
"I assumed I was catching the end of an era," says the photographer, whose work has been shown at Tate, the Arnolfini and the V&A. "They were about tradition and the idea of disguise which I could not imagine surviving modern times."
But they have. The clog dancers, the Britannia Coconut Dancers, or Nutters as they call themselves, still slip on their turbans and slap on black face for their annual Easter outing in Bacup, Lancashire.
Like so many of the traditions he photographed, the origins of the Nutters are obscure. Some suggest the custom was brought to the area by Moors who settled in Cornwall in the 17th century, became miners, and then moved to work in quarries in Lancashire. Their name comes from the wooden nuts worn at their knees, waists and wrists, which are made from the tops of bobbins, the spindles on which yarn is wound. They are taped together like castanets and clatter along as the accompaniment to the dance.
Inevitably objections have been raised about the use of blackface, which the dancers maintain was adopted by miners emerging from pits covered in black dust. Sykes, whose eclectic range of work has included the winter of discontent in 1979, the miners strike of 1984 and Crufts dog show in the 1990s, argues that for the mummers and dancers it is really about being in disguise and, simply, just the way they have always done it.
Be that as it may, it is an adroitly poised – not posed – composition taken on a slant with the four men in their regalia against a grey sky and a greyer industrial backdrop. They are having a chat and a fag after the performance, a boy is looking up at one man, perhaps it is his dad and he is asking a question, while a women and daughter in the background button up against the cold wet of a Lancashire day.
The picture he took on his first visit to Bacup in 1969 was in colour but during a trip to New York in the early 1970s he had a 'light bulb moment' when he visited the Museum of Modern Art and saw the works of Cartier-Bresson, Robert Frank, Bruce Davidson and Garry Winogrand which were mostly in black and white .
"I realised that the vogue was to use black and white and if I was to be taken seriously as a photographer that's what I would use rather than shoot in colour for commercial clients which I didn't have anyway."
There's no doubt working in black and white gives his pictures an extra heft of nostalgia – and impact.
In the Allendale Tar Barrel Parade, which welcomes in the new Year, a procession of guizers – someone disguised in fancy dress – parade through the Northumberland village, with their burden of barrels blazing into the night sky before being used to light a mighty bonfire.
The origins of the festival are unclear, with claims for both Christian and pagan roots and whether it was Sykes's intention or not there is something strangely sinister about the marchers with their scruffy white cloaks, masks and burning brands.
The background to the Burry Man of South Queensferry, Lothian, is just as obscure. Every summer a resident dresses in a woollen suit which is covered in burrs, creating a disquieting hybrid of man and cactus, and walks around the boundaries of the town.
Sykes photographs this apparition being escorted down a cold, wet, road by two friends as he totters from pub to pub – an essential part of the ritual – before perching incongruously on a bar stool in full prickly regalia where he drinks his whisky through a straw, encouraged by his two mates.
Who is the Burry Man and why? He could have been seeking good fortune for the town or for a fruitful harvest. Some argue he was acting as a scapegoat, the burrs representing the guilt of the village.
Sykes, who invariably used two or three rolls of film for his projects, captured the delightful lunacy of the the Haxey Hood Game which takes place in Lincolnshire. It is a chaotic rough and tumble, vaguely like a rugby game, which can be traced back to the 13th century when a hood worn by one Lady de Mowbray blew off.
Thirteen farm workers or 'Boggins' rescued it and in return Lady de M left a piece of land to the village in her will as long as the inhabitants promised to re-enact the event annually. Today, 13 Boggins gather to sing ale-enhanced songs before a leather hood is thrown up in the air and two scrums battle to get it to their favourite pub where drinks are on the house.
If it is a surprise that so many rituals survive from the 1970s, let alone centuries past, there is a subtle change in the way they are performed today.
"They have become a town hall tourist event," says Sykes. "Recreated by town halls to bring in tourism and for everybody to have a jolly nice time. Little did I realise that the events would grow and grow thanks to people having more leisure time and the internet telling everybody what's going on. TV companies are making programmes about them so now you might get a thousand people at an event."
Take the Bottle Kicking and Hare Pie Scrambling held in Hallaton, Leicestershire. The challenge is to get small wooden casks filled with ale from the village to neighbouring Medbourne in a chaos of scrums as the teams heave the casks across fields, over fences and streams. Sykes captured the good-natured hurly burly of it all as one purposeful lad resists the challenges of two rivals to grab the cask off him.
Today, to illustrate Sykes's' point about tourism, a website ensures all goes well for as many visitors as possible with details of parking, advice to arrive early, where to find the food stalls and the pubs, even the state of the pavements.
"It's about belonging to a group," says Sykes. "It's like football fans who dress up in the colours of their club, paint their faces so that they are part of a clan, a society. Everybody can identify with each other and know which side of the barrier they are on."
But many rituals lack that crash bang appeal and here the photographer's technique of 'looking away from the obvious image' comes into play. As he puts it: "I've always been interested in the little bits in the background, the asides. I always shot with a subjective eye for an objective purpose."
Caking Night (pronounced "cacking") in Dungworth, Yorkshire, is a case in point. Held in a hotel on November 1, competitors were judged for the best disguise before going around the village singing, "caking, caking, copper, copper" and collecting money or a piece of parkin cake. Instead of focusing directly on the event, Sykes's camera picks out one male participant, disguised in mask and skirt, supping a pint of beer through a straw.
He is ignored by a couple – she looking like a young Prunella Scales, he somewhat embarrassed by the entire proceedings, both in their woollen jumpers, slacks and pointy collars.
And what to make of the strip tease tent at Pinner annual fair, Middlesex in 1971? Bizarrely, two women have stripped off and sit self-consciously before a gawping crowd. What caught Sykes's eye – apart from the obvious – is the way the master of ceremonies pulls back the ragged curtain to reveal a poster of Humphrey Bogart looking out into the audience.
"I always look for what is not predictable, the asides," he says. "If I was being more commercial I would have come closer on the two women, I would have had the Nutters dancing not standing around and with the caking I chose that reflective moment so that people wonder 'what the hell is going on.'
"I am not keen on forcing a picture, getting close and making it happen. I like to stand back and be an observer. I kind of feel the cheese rolling ceremony in Birdlip with the man throwing up the sweets for the children is slightly forced. I've gone in to make the picture happen and I don't like doing that.
"I bang on a bit about this. In my career as magazine photographer I very rarely made the cover. My pictures were nearly always the ones used on the turn of the page. They were the little asides but they were moments which I really enjoyed taking."
Homer Sykes, Once a year. British folklore customs and traditions is at Lucy Bell Gallery, St Leonards, East Sussex, until June 26
Most popular