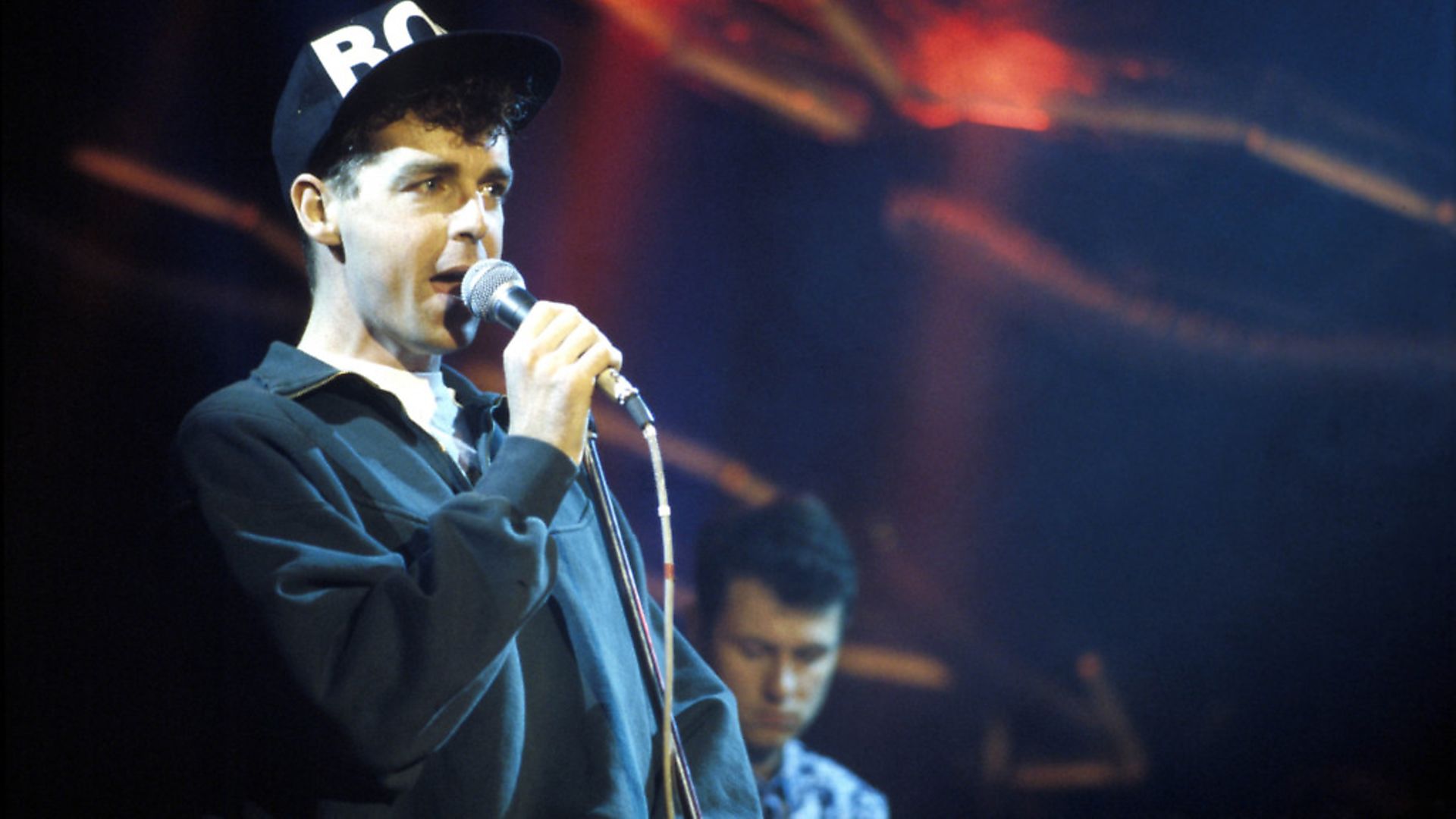 SOPHIA DEBOICK on a year when the pop charts were filled with vibrancy and variety.. characteristics that were about to become severely stifled
There was never a dull moment to 1986. While the Sun gave us 'Freddie Starr ate my hamster', 30 million watched Dirty Den leave Angie on Christmas Day, and globally millions more watched another huge royal wedding.
The political background – a year-long printworkers' strike, Michael Heseltine with a resignation that threatened Thatcher's premiership, and Jeffrey Archer's front-page sex scandal – was no less dramatic, while Chernobyl, the Challenger disaster and the advent of the BSE crisis formed a trio of tragedies.
That year, pop's visual touchstones were the red-lipsticked and theatrically bored models of Robert Palmer's Addicted to Love video, the kaleidoscopic claymation world of Peter Gabriel's Sledgehammer and Chevy Chase lip-syncing to Paul Simon's You Can Call Me Al on the song's riotous promo, an MTV favourite. Indeed, vibrance was a chart theme in a year of brilliant British pop duos, ongoing musical efforts for charity and outstanding film and stage music.
The single that claimed the highest overall position on the charts internationally was, exceptionally, a German-language song – Austrian solo act Falco's bombastic electro anthem Rock Me Amadeus. Europe's The Final Countdown – another synth-laden earworm – took second place but was even more over-the-top.
Different stripes of sexiness were represented by other singles in the 'highest charting' Top 5. Madonna's black bustier in the video for Papa Don't Preach, the second single from June's True Blue, the best-selling album of the year, was the first hint of the Madonna of 1990 and Blond Ambition, while Berlin's seductive Take My Breath Away benefitted from the atmospheric production of electronic music king Giorgio Moroder. But it was a British act who trumped everyone else for synth-driven sophistication.
The Pet Shop Boys' West End Girls was the first UK No.1 of the year, having begun its chart climb the previous November. The duo's breakthrough single and a hit around the world, it could claim to be the most atmospheric London song to hit the charts since Waterloo Sunset. It may not have shared the romantic underpinning of the Kinks' classic, but the two songs had a common sense of ennui and detachment from the cityscape, and the song's intro of street sounds and synth strings exuded a very British cool, underscored by Neil Tennant's unique vocals.
West End Girls was followed by the re-release of Opportunities (Let's Make Lots of Money), a yuppie anthem despite its obvious irony, which captured the spirit of excess and misguided confidence a year before Black Monday. The Pet Shop Boys would have four Top 20 hits in total in 1986 and, guided by Tennant's pop genius honed through years of observation as an editor at Smash Hits magazine, would elevate British pop to a new art form. They would begin their association with filmmaker Derek Jarman with the video for the following year's No.1 hit It's A Sin, and never failed to prove their ability to marry intelligent lyrics to unit-shifting danceability.
Another synthpop duo were also making an impression on the charts in 1986, as Erasure, composed of ex-Depeche Mode and Yazoo creative heart, Vince Clarke, and vocal force of nature, Andy Bell, released their debut album. Their fourth single, the bitter-sweet Sometimes, hit No.2 in mid-December, and in Erasure another true original British pop act with serious longevity had been born. With less long-term cult appeal and four years in the business already under their belt, yet another pop duo – the inimitable Wham! – announced their split in February. George Michael wasted no time in issuing a solo release, the cloyingly earnest A Different Corner, which mimicked the success of his similarly pained Careless Whisper of two years before to go to No.1.
But Michael's time with musical partner Andrew Ridgeley was not quite up, as they released a greatest hits album, The Final, in May and their single The Edge of Heaven hit No.1 in June. The video for that song presaged the future as Michael showcased all the key elements of his Faith-era image – ditching his bouffant for shorter hair and designer stubble, and establishing the trademark silhouette of leather jacket and skin-tight jeans.
This new, more ruggedly masculine look was on full display when Wham! played an epic farewell concert at Wembley Stadium at the end of June, where the 72,000 attendance figures proved the band's ongoing appeal.
Michael's performance of Don't Let the Sun Go Down on Me at the previous year's Live Aid was the moment he emerged from the shadow of pop tweeness and showed his vast potential as a solo star, and the response to the devastating Ethiopian famine of 1985 continued in the world of music into 1986. Boomtown Rats frontman Bob Geldof received an honorary knighthood in June for his fundraising efforts, and he would also feature heavily when Comic Relief held its inaugural fundraising shows on three consecutive nights at the Shaftesbury Theatre in April.
The Comic Relief shows included performances from Howard Jones and Kate Bush, while Geldof joined Midge Ure in leading the cast in a stripped-down version of Do They Know It's Christmas?, as well as standing in for Cliff Richard on a performance of Living Doll with the cast of The Young Ones. Richard, sporting a truly terrifying mullet and cerise suit, had already appeared during the short run, and the song – Comic Relief's first fundraising single – was at that point sitting at No.1, over a quarter of a century after a then teenage Richard had first put it at the top of the charts.
Indeed, 1986 was a vintage year for Cliff, also scoring a No.3 hit in October with his duet with Sarah Brightman, All I Ask of You, from the recently premiered Phantom of the Opera. In Phantom Andrew Lloyd Webber had a serious hit on his hands, and the title song had already had Top 10 chart success at the beginning of the year, with Steve Harley of Cockney Rebel fame taking the eponymous role.
Ken Russell's music video for the single, borrowing heavily from his feature-length project Gothic of the same year, had played no small part in the song's success.
It was a significant year in dramatic music all round, as the Frank Oz-directed film version of Little Shop of Horrors paid affectionate tribute to the era of doo-wop, Motown and Phil Spector, its trio of narrators named Crystal, Ronette, and Chiffon in homage to the great girl groups of the early 1960s.
John Hughes' Ferris Bueller's Day Off gave massive exposure to Sigue Sigue Sputnik's Love Missile F1-11 and Swiss band Yello's Oh Yeah, but also referenced the music of Hughes' early adolescence. The use of the Beatles' Twist and Shout in the film's central extravaganza at Chicago's German-American Day parade saw it return to the US Top 30 that summer. Despite abject critical and box office failure, Julien Temple's Absolute Beginners gave a new platform to Sade and The Style Council, both already hot property, but its chief contribution to music was that its soaring title song was David Bowie's best single of the decade.
That the UK's biggest-selling single of 1986 was The Communards' Don't Leave Me This Way not only proved the enduring impact of gay club culture on the industry, but was also apt in its sentiment in a year of tragic endings. Thin Lizzy's Phil Lynott succumbed to drug-related septicaemia in January, having collapsed the previous Christmas Day, while 24-year-old Metallica bassist Cliff Burton was killed in a tour bus crash in Sweden in September.
Both are figures for whom huge affection is still felt. For the UK, 1987 would be a year characterised by disasters. It was also the year that Stock, Aitken and Waterman began to exert a stranglehold on the charts, and as such, 1986 was confirmed as the last gasp, for a while at least, for variety in pop.