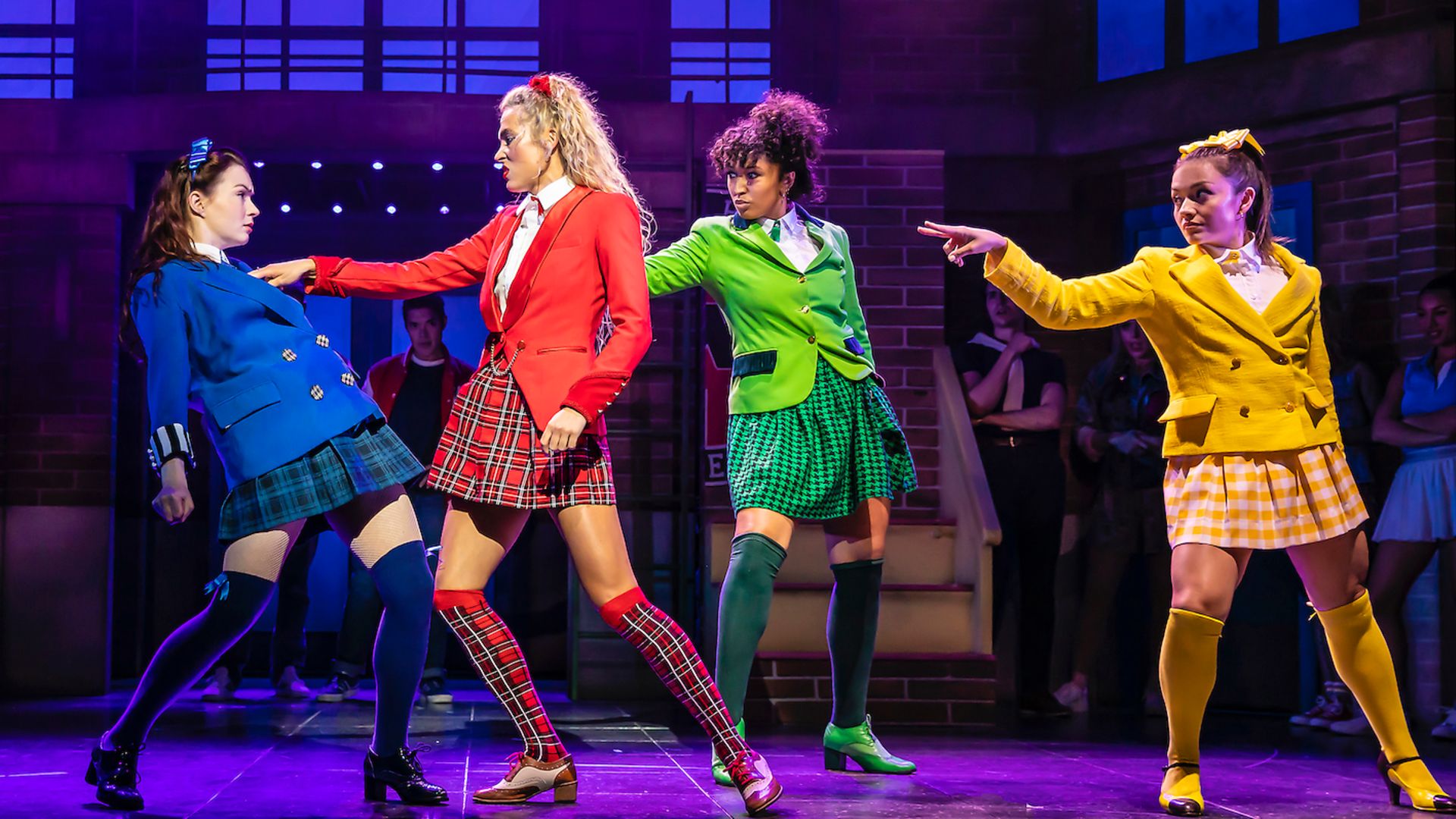 TIM WALKER on a musical production which ticks many boxes, but leaves uncomfortable questions in the way it treats the issue of suicide
Heathers The Musical
Theatre Royal Haymarket, London; till Sept 11
***
It's almost axiomatic that edgy, cutting edge theatre will cause offence in some quarters. Productions such as Hair – the musical that came out in the late 1960s which daringly featured nudity – and The Romans in Britain – the 1980 Howard Brenton play prosecuted (unsuccessfully) for gross indecency – were nevertheless staging posts in a continuing journey that theatre needs to be on if it's to remain relevant.
Still, sometimes I wonder if, too often, shows don't cause offence just for the sake of causing offence. I am not thinking when I say that of The Book of Mormon, which, while it sold itself on the basis it was offensive, was always going to be sanitised, pre-packaged, American "offensiveness" that never had any real hope of offending anyone, short perhaps of an agoraphobic nun. I am not thinking, either, of The Producers that, with its big number Springtime for Hitler, actually parodied the whole business of how theatre sometimes tries to be offensive.
I am thinking more of shows like Heathers The Musical that spends an awful lot of its time talking (and, yes, singing) about suicide. To be fair, not all of the deaths in this show turn out to be genuine suicides. Some turn out to be murders. I wonder, however, if a musical is really a fit and proper place to get into an issue as deadly serious as this. I suppose it could be justified if it had something useful and worthwhile to say on this subject, but, in all honesty, it doesn't. Worse, it makes a bit of a joke about it.
It's based on a creepy film that came out in 1989 that starred Winona Ryder and Christian Slater, as respectively Veronica and Jason 'J. D.' Dean. J. D. is a weird young man who, after enrolling at a high school in Ohio, proceeds to murder people he regards as being bad. In Andy Fickman's stage adaptation, Jordan Luke Gage makes a very good job in the Slater role. The young actor – he appeared in Harry Potter and the Order of the Phoenix – understands how to communicate the seductiveness of evil. Christina Bennington (she was once Christine in Phantom of the Opera) is on fine form, too, as his conflicted girlfriend.
The music and lyrics are adequate rather than amazing, but it's got some funny, sassy lines – "saying someone is the smartest guy in the football team is a bit like talking about the tallest dwarf," a character observes at one point – and there is no question that the predominantly young first night audience enjoyed themselves. It'd be churlish not to accept it's a big, exuberant, well-acted and expertly staged musical on which no expense has been spared. 
I don't think in all the circumstances I am being unduly po-faced when I say I just wish it had a little more sensitivity. The film seemed perhaps less offensive than the stage production because it was more subtle and less, as they say, in your face. Try as I might, I just can't feel entirely comfortable with this story as a musical. I accept theatre has every right to be offensive on occasions, but, in this instance, I just can't see the artistic argument for it. And I can't even begin to imagine what anyone who has lost someone they love to suicide would make of it all.
Most popular