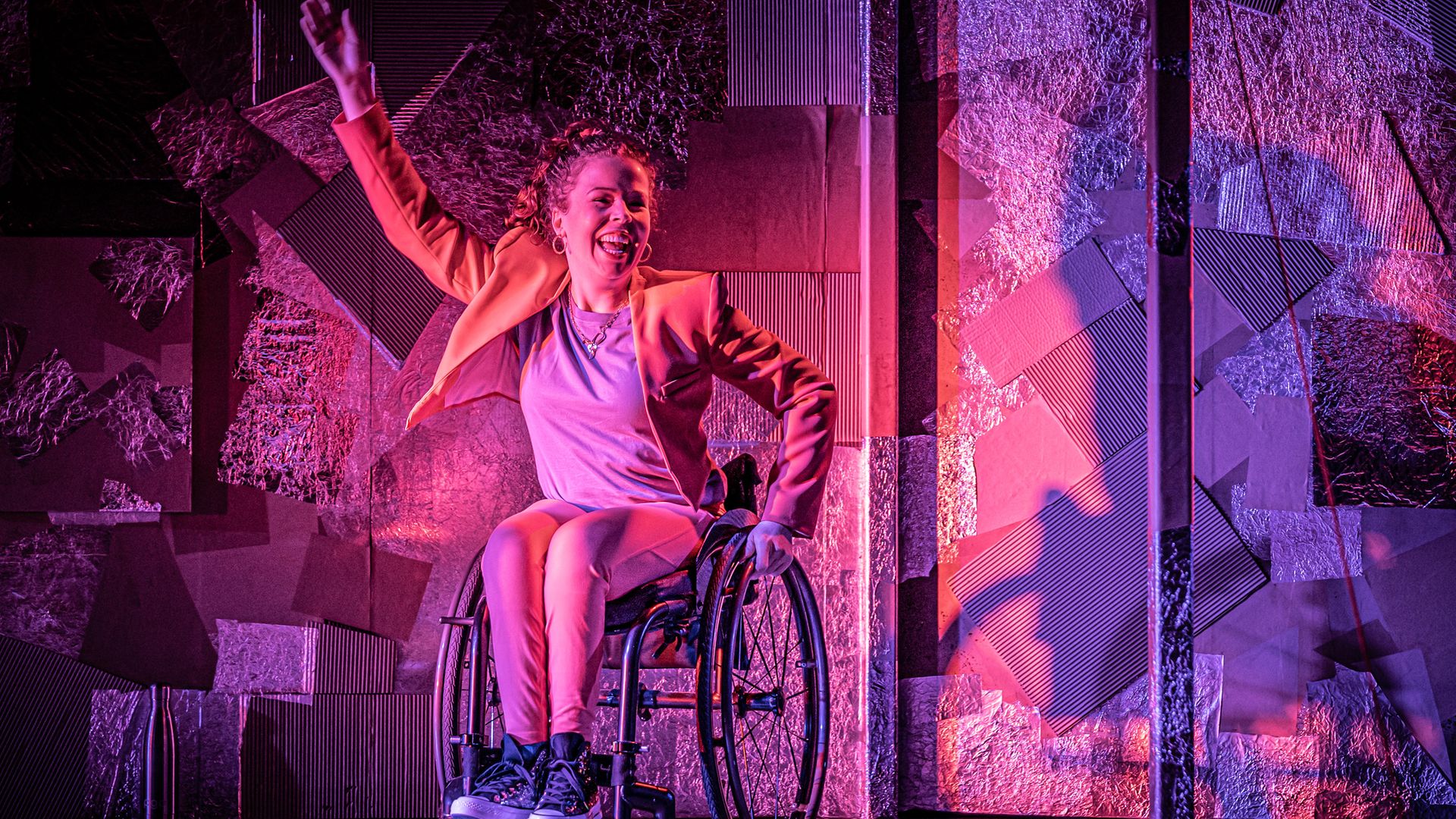 TIM WALKER on one of the few pieces of 'serious theatre' to get going after lockdown
Reasons You Should(n't) Love Me
Kiln Theatre, London
*****
Don't let anyone kid you that theatre is coming back in leaps and bounds. We're talking at best about small, hesitant, faltering steps. There's the occasional costly stumble, too, as we saw when Walden had to be cancelled at the Harold Pinter Theatre last week just minutes before curtain-up. A possible case of Covid was identified among the backstage company.
The West End is understandably in no mood to take on any more risk than necessary. Some would say it's a mug's game investing in theatre at the best of times. Accordingly, it's almost all tried-and-tested musicals, sturdy old warhorses like The Mousetrap and big American movie spin-offs like Back to the Future, and, oh God, there's another Andrew Lloyd Webber on the way.
Serious theatre can, however, still be found at the smaller venues and the plucky Kiln in north London has just made something of a statement with Reasons You Should(n't) Love Me. It's about a young woman with spina bifida whose courage and determination maybe catches something of the spirit of our times. It is written and performed by Amy Trigg, who was the first wheelchair user to graduate from a performance course at Mountview Academy of Theatre Arts. She went on to win film roles in the two Mamma Mia! films, some serious classics up at the Royal Shakespeare Company, and, along the way, collected a series of new writing awards.
I'm not sure if Trigg is a better writer than she is an actor, but that's not to say she isn't brilliant at both. She has described this work as a love letter to her younger self, and, alone on stage for an hour and a half, she delivers a performance of mesmerising intensity.
She is dressed in a cheerful pink outfit, and, at first, she puts a brave face on her condition, with a nice line in self-deprecating gags and a beguiling smile. She lured the socially-distanced first night audience into thinking in maybe the first hour or so that they were watching something of a comedy, until, of course, she started talking about her depression and the suicide attempt.
This is very clever but also emotionally literate theatre that she and her director Charlotte Bennett have created: it challenges prejudices with a certain audacity and there's absolutely no attempt to either make light of its central character's condition or to exploit it for emotional purposes.
"You know," she says towards the end, contemplating all the operations she has had to have to keep her condition in check, "people have been trying to make adjustments to my body – to me – all my life. And I just need someone to be like 'nah, she's good.'" This, it seems to me, is what great theatre should be about: helping us to understand each other, get into the head of someone we have little, if anything, in common with and see things from their point of view.
I admit I've slightly devalued the currency in five star reviews lately, but it's the achievement of actually putting a show on against all odds that I've been acknowledging as much as the show itself. This is the first five star review I've given since the lockdown rules where the show is itself an unqualified success.
We were all, of course, distanced and masked at the first night and it occurred to me this must make acting harder than ever. It made it impossible in a small venue like this for Trigg to see the smiles of encouragement and even the tears that fell beneath the masks.
Most popular