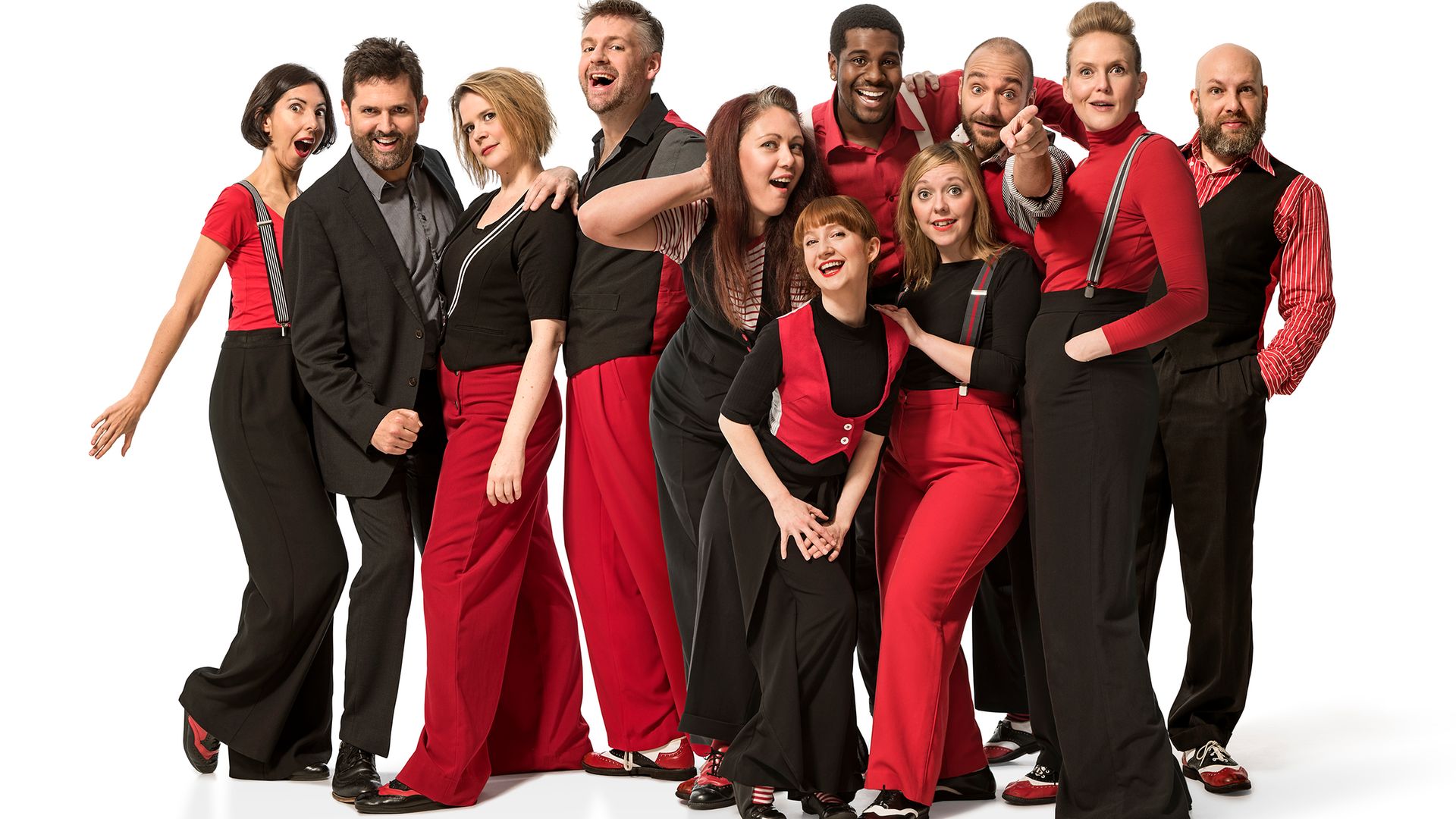 TIM WALKER reviews a cheering show breathing fresh life – and fun – back into theatre
Showstopper! The Improvised Musical
Garrick Theatre, London
****
Playing the first Monday of each month
Theatre professionals have long been aware of the need to attract younger audiences and the pandemic has given this a new impetus. Even with their two jabs, a lot of older people are still hesitant to return to the stalls, just as they are to the football stadiums and cruise ships and anywhere else that requires them to be in close proximity to a lot of other people.
The producers of Showstopper! The Improvised Musical seem to have grasped this and their show is aimed fairly and squarely at a plucky young demographic. They have set up Twitter, Instagram and Facebook accounts – the handles are all up there on the stage – to inter-act with them, and it is, in many ways, a show that's almost guaranteed to find audiences, come what may, since the audiences help to create it. Adam Meggido, playing its director when I went to see it, even offers the audience a series of plot lines to choose from at the start. We opted, with a resounding show of hands, for Murder at a Dog Show.
As it so happens, in 2015, an Irish setter named Jagger died after competing at Crufts, having apparently eaten poison – but, to be clear, what the cast members improvised had absolutely nothing to do with that unhappy episode. The actors alternate as well as the story lines – I saw it with Pippa Evans, Justin Brett, Lucy Trodd as well as Meggido – so you could never see two performances that were remotely alike, which the producers hope will encourage repeat visits. When the actor playing the director of the show feels it's dragging, and the laughs aren't coming, he just intervenes to tell the cast to do it in the manner of Shakespeare, Phantom of the Opera, Gershwin, Cabaret, you name it.
I got a strong ensemble, but Pippa Evans was a particular delight as a very upright lady trying her best to maintain her dignity in increasingly embarrassing situations. The character is, I suppose, a staple of comedies – think of Joyce Grenfell, and, more recently, Celia Imrie – and Evans is, I fancy, an actress to keep an eye on.
The show was around in various shapes and sizes before the pandemic – it can boast an Olivier Award, as well as numerous sell-out runs at the Edinburgh Festival – and it's the sort of thing I'd probably once have been quite snobby about, but, in its new home at the Garrick theatre in these challenging times, it seems cheering and immensely reassuring.
Socially-distanced theatres, with masked audience members, are hardly conducive to creating a fun environment, but it turned out, for all that, to be the happiest night I've had out at the theatre for a very long time. Maybe a few drinks beforehand helped. I can be reasonably confident in saying, given all the precautions that were put in place, that only the laughter was infectious.
It's playing one Monday each month, with the next performances on July 5 and then August 9, September 13 and October 11. This seems to me a shrewd, pragmatic way for the producers to limit their exposure to the vagaries of the pandemic and a government that it's clear the theatre industry – in common with so many other industries – cannot trust.
Most popular