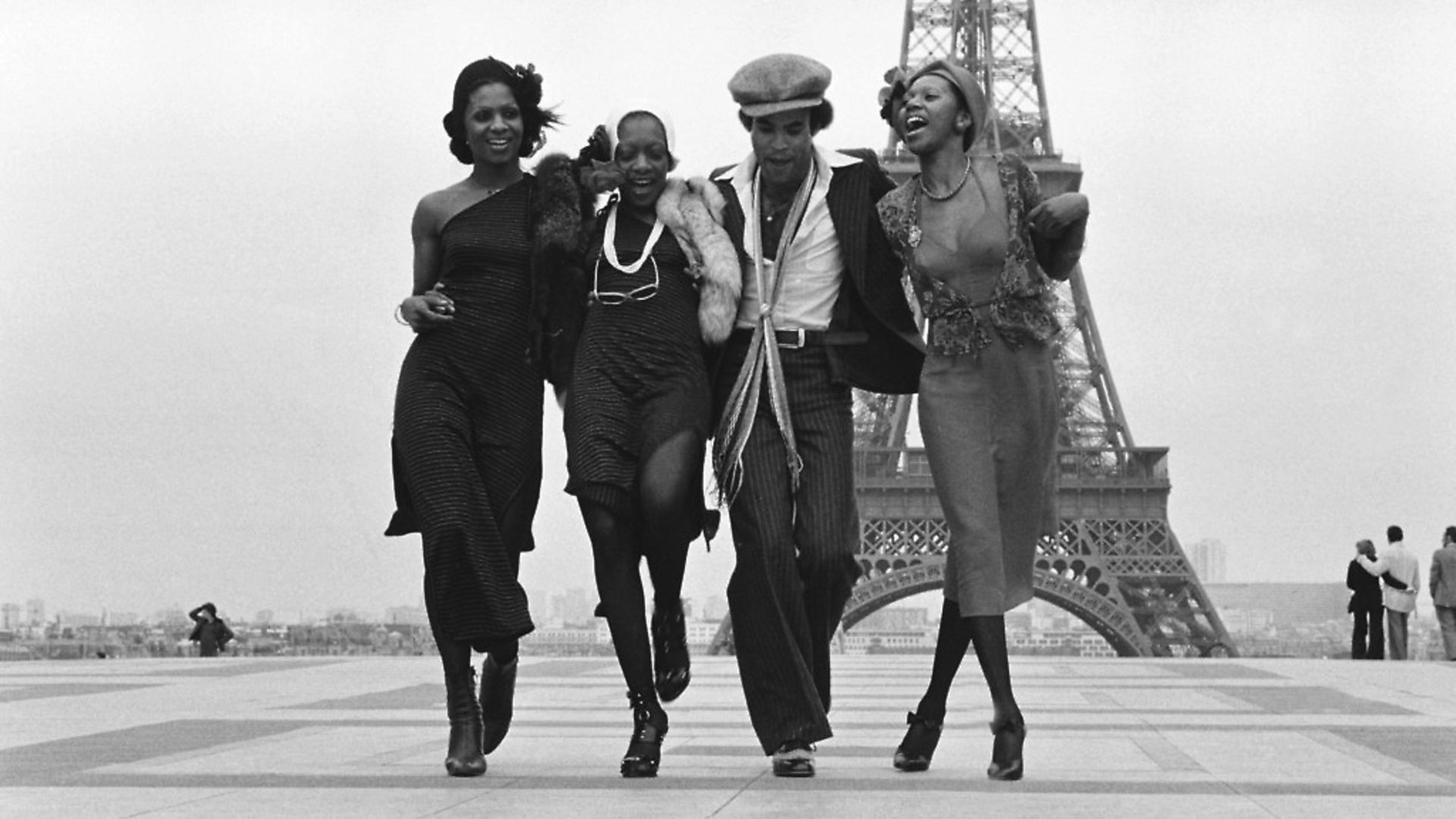 Boney M.'s 1978 just kept on getting better. RICHARD LUCK recalls the German disco outfit's annus mirabilis and the smash-hit festive No.1 that finished it off.
The race for the Christmas No.1 has always been a big deal in the UK. Not that there were too many acts making a special effort to nab the top spot in 1978. Yes, The Smurfs had a crack with Christmas In Smurfland, inspiring spoof act Father Abraphart And The Smurps to do likewise with their Lick A Smurp For Christmas. And while Judge Dread unleashed his reggae-fied Jingle Bells upon an undeserving world so The Dickies had a go at re-imagining Silent Night.
The only other act seeking to court the seasonal market were California AOR legends The Eagles (Please Come Home For Christmas). Otherwise, the charts were crammed with – admittedly excellent – tracks such as The Clash's Tommy Gun, Ian Dury's Hit Me With Your Rhythm Stick, Blondie's cover of Hangin' On The Telephone and Le Freak by Chic, plus none-more-70s artists such as Racey, Darts and Rocky Sharpe And The Replays.
However, these non-festive acts were every bit as powerless as their Christmas-coated counterparts with regard to making it to the top of the chart tree.
For that all but belonged to Boney M. (the full stop's really important, apparently), a German disco outfit who released three singles over the course of 1978, shifting some five million discs in the process. Which wasn't at all bad given that they weren't really a group: at least, not in the conventional sense.
Boney M. – the name came from the Australian crime series Boney – were the brainchild of Frank Farian. A German record producer based in Miami, Farian looks exactly as you'd imagine he would. Long before he made his millions, the man born Franz Reuther had been trying to make it as a recording artist.
After a few misfires, he enjoyed his first taste of success in 1975 with Baby Do You Wanna Bump, a frankly execrable reworking of Prince Buster's Al Capone. Though the record was almost entirely his handiwork, Farian released it under the pseudonym of Boney M. This was all well and good until the track became a hit and Farian was faced with trying to promote an act that wasn't.
It was to this end that Farian hired Jamaicans Marcia Barrett and Liz Mitchell, Montserratian Maizie Williams and Dutchman Bobby Farrell. In truth, Boney M. weren't complete impostors. In her autobiography Forward, Barrett stresses that she had been recording with Farian for some time, while Mitchell was a gifted musical performer who'd previously recorded with the Les Humphries Singers. But Williams and Farrell? Neither sang on the group's biggest hits. And talking of hits, Boney M.'s were bigger than most everybody's.
The epic sales of 1978 must have seemed a world away when the group set about touring their first album. Take The Heat Off Me (1976) is as brief an LP as it is bizarre. Running to just eight tracks, it featured the aforementioned Baby Do You Wanna Bump, together with the singles Daddy Cool and Sunny, a cover of the old Bobby Hebb number. Elsewhere on the covers front there were reworkings of Fever, made famous by Peggy Lee, and No Woman, No Cry where Farrell took on Bob Marley and lost emphatically.
Follow-up album Love For Sale (1977) was both longer and even more baffling, featuring as it did songs by Cole Porter (title track) and – get this! – Credence Clearwater Revival (Have You Ever Seen The Rain?). The singles taken from the LP were also rather surprising, featuring as they did tracks about the Irish Troubles (Belfast) and America's first lady of crime (Ma Baker – changed from Ma Barker since Farian claimed it sounded better). A moderately successful act almost in spite of themselves, Boney M. ended 1977 the proud owners of two gold discs. Fast forward 12 months and the rag-tag outfit would be multi-platinum performers.
In her memoirs, Barrett sums up the rise of Boney M. and the triumph of 1978 in the following eye-catching fashion: 'Three years previously we'd been slogging around Germany, Holland and Belgium in a Ford Transit, performing to my backing tape in front of tiny audiences on even tinier nightclub stages. During [1978], we played to six-figure crowds; became the first Western group to perform in the Soviet Union, [were] presented to Her Majesty the Queen, sold over 60 million records [worldwide], had a Christmas No.1; [and] got two singles into the UK all-time best-sellers top ten.'
Barrett also took great pride in both her and Liz Mitchell now receiving vocalist credits on all Boney M. releases, a further indicator that, while the group might have been one man's idea, he needed bona fide performers to bring it to life.
Still, it was Farian who deserves the credit for believing that a Jamaican pop song adapted from Psalm 137 would elevate Boney M. to the next level. Although she liked the idea of recording a song by her countrymen The Melodians, Barrett couldn't see the hit potential of Rivers Of Babylon.
Likewise, she didn't have that much time for the B-side, Brown Girl in the Ring; a traditional Caribbean number that Farian had given his unique touch. So it was quite a surprise when Barrett returned from a trip to Jamaica to find that not only was Rivers Of Babylon number one in the UK but Brown Girl in the Ring had proven so popular, it had been upgraded to double A-side status.
To this day the biggest-selling single in Germany, Babylon/Brown Girl also gave the group their only top 30 hit in the US. As for the UK, the track stayed in the charts for a staggering 40 weeks and remains one of only a handful of singles to shift two million copies. Babylon also received one of the highest accolades of the time, a parody courtesy of comic pop troubadours The Barron Knights. ('There's a dentist in Birmingham/He fixed my crown/And as I slept/He filled my mouth with iron…')
As for how one follows up a success of this magnitude, it depends very much upon the person. If you're Farian, you record a track about one of the most infamous figures in Russian history and set it to an infectious disco beat. By far the most entertaining of the singles Boney M. released in 1978, Rasputin reached No.2 in the UK and went to No.1 pretty much everywhere else on the continent. Farian would later attribute this relative failure to the band's third album, Night Flight To Venus, having been released a month ahead of the single.
Speaking of the LP, Venus was yet another eccentric offering, complete with a cover of Neil Young's Heart Of Gold. That it reached No.4 in Britain and went platinum in half-a-dozen other countries was a remarkable achievement for a singles band.
Then, just when it looked like Boney M. were done with 1978, Farian had an idea that would seal the outfit's place in British pop history.
Aware of just how big a deal the Christmas No.1 was in Britain, the producer summoned the troops to his studio in early November to record Jester Hairston's Mary's Boy Child – the track made famous by Harry Belafonte – which he in turn mated with an original composition Oh My Lord.
As the track wasn't available on Night Flight To Venus, Farian assumed that sales would be brisk. But the combination of the song, the band's popularity and a snow-bound video filmed in Red Square during Boney M.'s historic trip to the USSR struck a chord in the UK. As Barrett recalls: 'It was at the top for four weeks and ended up selling 1.8 million discs, which put us in the UK all-time best-sellers list again. We are the only act there to have two entries in the top ten: not The Beatles, not Michael Jackson, not Abba – Boney M.'
With pop's Everest conquered, there was only one way for Boney M. to go. Not that they didn't enjoy further visits to the hit parade. The following year produced another platinum album – Oceans Of Fantasy – and three further top 20 hits. Come 1980, however, and the group were struggling to crack the top 40.
Album sales also dried up, although it doesn't help if, like Farian, you see fit to release an LP with a title like Boonoonoonoos, which he did in 1981. The same year Farrell was kicked out of the group for unreliability, leaving his band-mates and new recruit Reggie Tsiboe to limp along until the middle of the decade.
Sure, a raft of reunion tours and a seemingly never-ending line of 'best of' LPs – 48 at the last count – gave the illusion that the group is still a going concern, but the key participants have all moved on. Liz Mitchell and Maisie Williams both found God. Marcia Barrett lives in Berlin and continues to record as a solo artist. And Bobby Farrell passed away in 2010, aged 61 – conspiracy theorists making much hay from his having died in the same city as Rasputin, St Petersburg, on the same day as the 'mad monk', December 30.
As for Frank Farian, he would fashion another front to declare chart war on America. And for a while everything worked wonderfully. Three No.1s on the Billboard Chart, a Grammy for Best New Artist – the producer appeared to have succeeded in cracking the market that had alluded Boney M. Then someone noticed that his group, Milli Vanilli, didn't actually sing on their records. Amid much outcry, the band were obliged to return their Grammy before collapsing into obscurity.
While Farian's ambition would come back to bite him, Barrett is fully at peace with her Boney M. experience. The proof of this can be found in her autobiography where she talks at some length about Joe Simpson, the British mountaineer whose heroics, during a near-fatal ordeal in the Andes, were documented in Kevin Macdonald's Touching The Void.
When not so much at death's door as sitting in the lobby reading a paper, Simpson found the lyrics to Brown Girl in the Ring going round and round his head. 'Why am I hearing Boney M.?' he exclaimed. 'I don't even like Boney M.! Bloody hell, please don't let me die to Boney M.!'
That Barrett includes the anecdote in her book says a lot for her sense of humour and refusal to take herself too seriously. There's that, and the fact that she can still sing all the words to There's A Dentist In Birmingham.