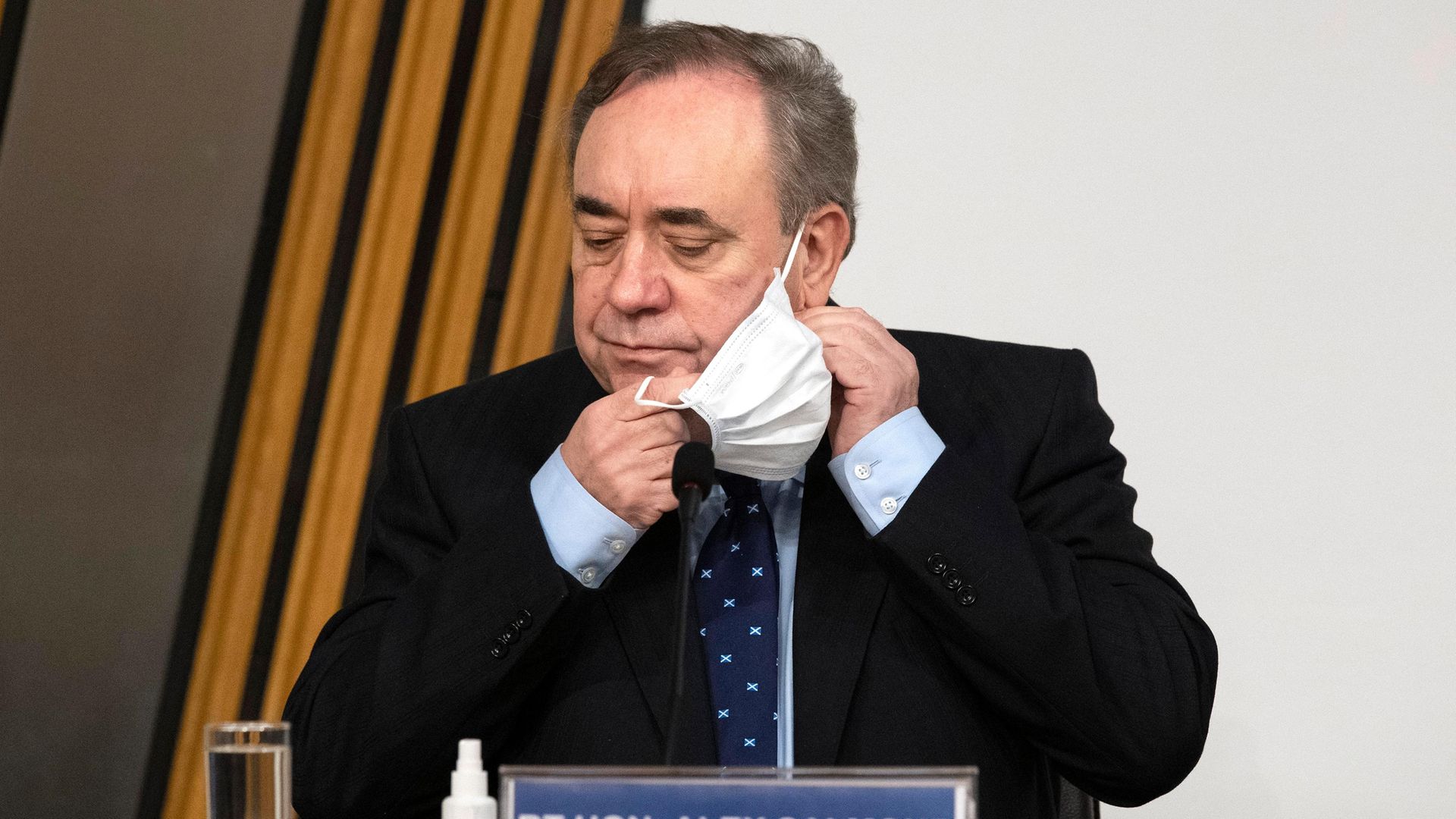 What impact will the SNP's extraordinary internecine battle have on the prospects for Scottish independence?
He wouldn't… would he? Would Alex Salmond, smarting and furious at what he sees as a top-level plot not only to damage his reputation but to have him thrown in jail, really try to bring down his successor, and risk derailing the chance of an independent Scotland?
That thought saw the Scottish chattering classes hold their breath as a parliamentary committee hearing dragged into its sixth hour last week. Members had been treated to a bravura Salmond performance. Painstakingly, and not a little theatrically, the former first minister set out his case, quoting legal documents, dates, court hearings, and even WhatsApp messages, as he sought to convince his erstwhile peers of his case.
A year ago this month, Salmond was acquitted of sexual misconduct charges involving nine women after an 11-day High Court trial. He promised then that he would reveal damaging material that his defence team had been prevented from using in court. Ever since, Scottish political circles have been agog with speculation about what may or may not be disclosed.
Put simply, Salmond has alleged that Scotland's most senior civil servant, Leslie Evans, acted improperly in her and her department's handling of complaints about Salmond's behaviour towards staff while first minister – the job he gave up after losing the independence referendum in September 2014.
Salmond alleges a plot involving Evans and others, including several of Nicola Sturgeon's "inner circle" and the first minister's husband, Peter Murrell, who just happens to be chief executive of the political party she has led since replacing Salmond.
Finally the committee last week asked, Salmond whether he believed that his successor had breached the ministerial code and misled the Scottish parliament about where and when she first heard of the investigation in 2018.
Yes, he said, she had misled parliament. To the inevitable follow-up question about whether Sturgeon should therefore resign, he drew back. "That is not for me to decide," was his well-rehearsed response.
Salmond was wise to stop short of demanding his successor stands down. Better to leave that to the opposition parties, and to the mainly right-wing voices in London, all of whom would love nothing more than the scything down of Nicola Sturgeon, just weeks before the May election that seems likely to deliver her party a fourth successive term. An overall majority would escalate demands for a new independence poll.
The SNP and the broader "yes" movement are becoming bitterly divided by the row. Salmond loyalists online have circled the wagons and speak loudly about alleged conspiracies to bring their man down. Reading their social media, you might conclude quickly that the first minister is surrounded by a mixture of "woke" feminists and a civil service "controlled from London", who together have plotted to undermine their hero, Salmond, even to the extent of landing him in court facing unproven claims of sexual assault.
There may be signs that all this is sinking through to the electorate. Last week support for independence ebbed very slightly from the high points of recent opinion polls. But it remains the favoured option, and has done so virtually since Boris Johnson's UK election win in December 2019.
You might think the apparent cracks in the previously unbreakable SNP would be seized upon by the UK parties, determined as they say they are to "preserve the Union". But there is a little sign of them capitalising. A Downing Street effort to focus on Scotland appeared to disintegrate with the departure of Vote Leave loyalist Oliver Lewis after just two weeks in the job. There has been talk of plastering government-funded projects in Scotland with Union flags, just to remind people there of the "benefits" of the UK.
Meanwhile, Anas Sarwar was elected as the new leader of the Labour Party in Scotland last week, pledging to win back the millions of voters who have shifted to the SNP since 2007. He will have a difficult job, not helped by his leader Sir Keir Starmer's recent penchant for draping himself in the Union flag, a move that is less likely to attract sympathy north of the border.
The Tory failing in Scotland is partly because of its redolent image as a very "English" party, obsessed with Brexit and personified by Johnson, Jacob Rees-Mogg and an Old Etonian disdain for "the Jocks". Labour's dilemma is more acute: having lost its Scottish stronghold in a manner later emulated in the northern English 'red wall' seats, it cannot yet win back credibility and votes. Previously, Labour held as many as 50 Westminster seats in Scotland: now it has just one.
The Salmond "conspiracy" rests on the circumstances of the criminal charges presented to him in early January 2019. Having been told about allegations which had emerged during a retrospective investigation, the former first minister took the government to court for judicial review, where it admitted that it had acted unlawfully. Salmond was awarded costs of more than £500,000.
That victory seemed short-lived. No sooner had Salmond won his case than the police arrived with the criminal charges that led to last year's trial.
In the aftermath, Sturgeon told parliament that the first she had heard of the original investigation was on April 2 2018, when Salmond arrived for a meeting at her Glasgow home, accompanied by his former chief of staff, Geoff Aberdein, and a lawyer. In court, however, Aberdein said he had informed her of the claims at an earlier Holyrood meeting on March 29.
Then there is the role of her husband. He claims he was not involved in the April 2 meeting because Salmond and Sturgeon were discussing a government matter. Sturgeon had told MSPs she did not report the meeting to civil servants because it had been party business. Plainly, it could not be both.
MSPs are being asked to investigate the government's handling of the judicial review. External lawyers had warned civil servants that they could not win their case, because of a flaw in their handling of the initial investigation, yet they pressed on with the case.
A separate, private inquiry into whether Sturgeon did mislead parliament is being led by James Hamilton QC, a former head of prosecutions in Ireland, who will report next month.
Some Salmond supporters are baying for blood. They include so-called "fundamentalists", frustrated that Sturgeon has not pressed for an new referendum more urgently. Salmond's allies favour a more aggressive approach, relying on the 2016 Scottish majority against Brexit. They are convinced that independence will be easier to achieve with such an unequivocally "English" Tory PM in power.
The Conservatives would like nothing more than Sturgeon's political demise. Her ratings are much higher than Johnson's in Scotland, her handling of the Covid crisis has appeared more sure-footed. The Tories poll less than half the figures of the SNP, and frequently vie with Labour for a distant second place. Despite so many years in power, the SNP light remains undiminished to many voters because of the independence question: if you believe in it, you care less about the party's performance in government. Opponents will say the SNP should spend more time on education, or health, or other policy areas, and accuse it of "obsessing" with constitutional debate.
Whatever that argument, pollsters say the only question about May 6 is whether or not the SNP will regain the majority they achieved in 2011, a position that led to the 2014 referendum. There is no doubting who will remain the biggest party, and by some distance. Only a major shock such as Sturgeon's departure would alter that.
Assuming Sturgeon survives her current battle, and wins on May 6, what then for Downing Street? Do they "love bomb" Scotland with promises of more attention, more money? Or do they play hardball, perhaps refusing a second referendum, or emphasising the economic benefits of the Union, the massive intervention to support people and businesses through the pandemic, or the so-far successful vaccine roll-out? The recent fall-outs in Downing Street indicate that Downing Street remains unsure of the way ahead regarding Scotland.
Back at Holyrood, Salmond could not come out and insist that his former protégé must resign her position, lest he be accused of undermining the independence cause by sinking its popular leader. But he certainly wants satisfaction, and there is speculation that at least one scalp may have to be proffered from within the Sturgeon circle.
When Sturgeon became leader, she was quick to dismiss suggestions that husband Murrell should step aside as SNP chief executive. She argued that there would be no conflict of interest, a decision both may come to regret. Salmond and Sturgeon have dominated Scottish politics over the last two decades. Without Salmond, the party lost its way until his return to the leadership – with her as deputy – in 2004. They won power a year later, and the SNP has run Holyrood for 15 years.
If Sturgeon is forced to stand down the result would be seismic. The SNP has no obvious contender to lead. Sturgeon remains enormously popular, particularly with women voters. It would be ironic if she, and the independence cause, were to falter in the face of a scandal born within the heart of the movement itself.
What do you think? Have your say on this and more by emailing letters@theneweuropean.co.uk
IF NOT HER, WHO? STURGEON SUCCESSORS
John Swinney MSP
If Nicola Sturgeon was forced to resign, her deputy Swinney would take over at party and government level. Seen as a safe pair of hands, Swinney, currently education secretary at Holyrood, was party leader between 2002-06 and is not expected to seek the job permanently.
Humza Yousaf MSP
Currently justice secretary, a popular and ambitious party loyalist. He may see himself as a future leader, but would have to reach out to his party's traditionalists to win support beyond a younger base.
Joanna Cherry QC MP
Won UK attention as part of the team who made court challenges to Brexit. Pro-Salmond, she has had her share of fall-outs within the SNP's Westminster group of MPs, and was foiled in an attempt for a Holyrood nomination which was seen as a move to position herself as a successor to Sturgeon.
Kate Forbes MSP
Has won plaudits for her performance since being catapulted into the finance secretary job a year ago, aged just 29. She is seen as a future leadership contender, but a contest now would probably be too soon for a politicians so early in her career.
Alex Salmond
Has denied any suggestion that he sees himself as a contender to replace Sturgeon at the head of the SNP and Scottish government. Aged 66, Salmond has experienced a gruelling period in the public eye before and since his acquittal. He continues to host a weekly show on Russia Today.
Most popular