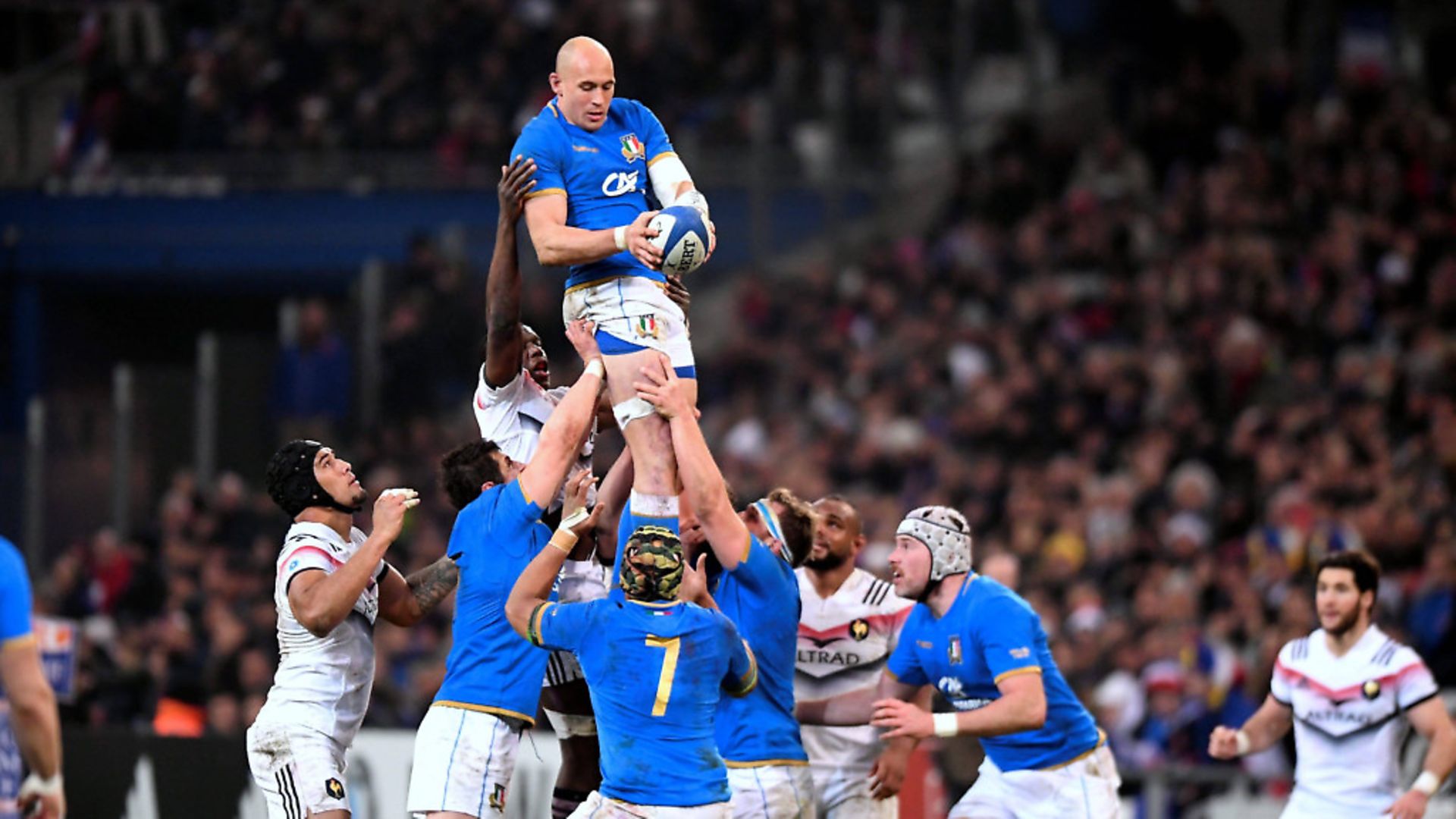 As Sergio Parisse takes part in perhaps his last Six Nations, RICHARD LUCK pays tribute to a sporting great who found himself in a team of also-rans, and wonders what might have been.
If you were to construct the perfect No.8, he'd look a lot like Sergio
Parisse.
At 17-and-a-half stone and 6ft 5in, the Italian skipper might not be the biggest man to have played in the position, but that which he lacks in bulk makes him a useful option at line-outs. And as for his athleticism, it's completely off the charts. His ball skills are also quite incredible.
In his debut match against the All Blacks, the 18-year-old Parisse chipped over the advancing New Zealand defence then ran through to regather the ball before it bounced. Watch the replays carefully enough and you'll see Kiwi full-back Christian Cullen sporting a look of somewhere between utter surprise and grudging respect.
Hey, but just don't take my word for it – 35-year-old Parisse is so remarkable a player, even England's taciturn coach Eddie Jones has nice things to say about him: 'Athletically, he's one of the most gifted players in the world.' And then there's former Ireland and Lions captain Paul O'Connell: 'Sergio has everything – he catches high balls, he chases high balls, he chips, he makes turnovers, he intercepts. He's a phenomenal carrier, he has great footwork, he's a brilliant passer.'
Respected and feared in equal measure, it sadly seems that, after 17 years and 135 tests, Sergio Francesco Antonio Parisse Jr could be about to call time on a stellar career. A fifth World Cup, in Japan this autumn, would be the perfect place to say farewell to the game. With a successful club career to go with his international plaudits, Parisse hasn't anything left to prove. However, had things been a little different, Italy's greatest standard bearer could have been a key figure in a rather more competitive outfit.
As they share heritage so Italy and Argentina have also shared a number of rugby stars. Back when the Pumas were pretty tame and Italian rugby was awash with money, Diego Dominguez, Argentina's prodigiously-gifted outside-half, swapped Cordoba for Milan. When the Azzurri were admitted to the Six Nations in 2000, their appeal grew stronger still, what with Argentina more than a decade away from being invited to play in the southern hemisphere Rugby Championship.
All of the above must have played on the mind of the young Sergio Parisse. Born in La Plata in 1983 to Italian parents, Parisse could have played for either Italy or Argentina. In his case, however, it wasn't cash or opportunity that saw Parisse opt for Italy. The son of a rugby-mad father – Sergio Sr won the Italian national championship with L'Aquila in 1967 – and a mother who made sure her boy spent as much time as possible in Italy, Parisse wasn't a South American mercenary but an Italian who just happened to be born overseas.
Though he had played university rugby in Argentina, Parisse made his first-class debut after signing with Italian club side Treviso in 2002.
It was shortly afterwards that Italy coach and former All Black John Kirwan decided to take the teenage Parisse on the Azzurri's tour of the Land of the Long White Cloud. That New Zealand romped to victory in the tour's only Test match was no great surprise. Rather more remarkable was Parisse's refusal to be intimidated by a team that comprised such greats of the game as Doug Howlett, Reuben Thorne and Andrew Mehrtens. The aforementioned chip was but one of many flourishes that suggested that the big chap with the thinning thatch was someone worth watching.
Come 2003, Parisse was back in the southern hemisphere as part of Italy's World Cup squad. After a hiding at the hands of the All Blacks, the Azzurri racked up a decent win against the no-nonsense outfit from Tonga. They then enjoyed perhaps their greatest victory in the history of the competition, a 19-14 defeat of the highly-fancied Canadians. The scorer of the winning try? The 20-year-old Sergio Parisse. Our man also gave a good account of himself against Wales in the final group match. As was now standard to the form, Italy were heading home following the first phase of the competition. In Parisse, however, they had a player who was a match for anybody.
While representing Italy, success for Sergio was a relative concept. With only two wins in the first three years of their Six Nations adventure, every victory was to be savoured. So it was that defeating Scotland in 2004 was the sort of event deserving of a national holiday.
An away win in Argentina, meanwhile, must have meant an awful lot to Parisse. A draw with Wales in 2006 was also noteworthy since this was the first time in the history of the competition that Italy had got a result away from home. Then, a year later, came a real breakthrough, with Italy winning consecutive Six Nations matches against Scotland – at Murrayfield – and Wales. A decent showing at the World Cup suggested that the team and its rugged No.8 had really turned a corner.
If baby steps had become the norm at international level, Parisse's domestic career was coming on in leaps and bounds. Having won the Coppa Italia plus two Italian league titles with Treviso, Sergio joined Stade Francais in 2005. Very at home in a team which featured Mauro and Mirco Bergamasco – bona fide Italian rugby royalty – and a host of top Argentine talent, Parisse was crucial to Stade winning the 2005-06 Top 14 title. And if Italy were never likely to win the Six Nations, the big man was in line for his share of individual honours.
In 2008, he was not only made captain of the national team but he became the first Italian to be shortlisted for the IRB's World Player of the Year award. Nominated again in 2013, he remains the only player to have been acknowledged in this manner while playing for Italy.
Back on the pitch, Parisse's Italy continued to stutter and stall. Ever-changing management, sticking with players who were well past their best, undervaluing homegrown talent, overvaluing players born overseas – the constant state of flux made consistency impossible.
Whitewashed in both the 2010 and 2011 Six Nations, Italy's first ever tournament defeat of France was the sole highlight of 2012. They beat the French again in 2013, the same year they chalked up a first Six Nations success over the Irish. Whatever optimism these triumphs might have conjured up was quickly crushed, however. Wooden spoon 'winners' in 2014, a 2015 World Cup campaign that was as underwhelming as their 2011 competition – the Azzurri had every right to despair.
Thanks to Sergio Parisse, however, Italy had the best possible standard bearer. Whether he was shrugging off tackles or cheekily passing the ball behind his back, Parisse oozed class and confidence. As he bullocked his way down the pitch, it was easy to believe that, with a few more players like Parisse, Italy really could be a match for anyone.
This notion seemed still less like wishful thinking after the skipper led his side to their first victory over the Springboks in the autumn of 2016. Alas, subsequent results – including last Saturday's 33-20 defeat by Scotland in the 2019 Six Nations opener – have been disappointing but in showing that Italy can triumph over the strongest southern hemisphere opposition, Italy's captain has given his teammates and their fans plenty to dream about.
Yet again, it would be club rugby that would afford Parisse the regular success his talent deserved. After a second Top 14 title in 2014-15, Stade Francais went on to win the European Challenge Cup in 2016. As club captain, it fell to Sergio to lift the silverware, the champion player now regularly a part of a championship-winning team.
So much more the pity that, as the light fades on Parisse's international career, Italy's Six Nations future appears uncertain. Talk of the Azzurri being replaced with the hard-scrummaging Georgia remains just talk for the moment. Further whitewashes, combined with a failure to find an adequate replacement for Parisse, could yet see Italy dispatched to European rugby union's second tier to compete against Romania and Spain.
Whatever might lie in store for the national side, one can only hope that the future holds plenty of good things for Parisse, whose cap against Scotland was a record-breaking 66th Six Nations appearance. Formerly married to Miss Europe 2006, Alexandra Rosenfeld, with whom he has a daughter, he has now started a family with second wife Silvia Bragazzi. Should young Leonardo wish to follow in his father's footsteps, he has a remarkable journey ahead of him. For though Sergio Parisse has 101 Test defeats against his name, he has been a big winner in life.
Sure, things could have been different had he opted to play for his country of birth. Besides their admission to the Rugby Championship, Argentina have a brace of World Cup semi-final appearances to their name. To say Parisse would have looked completely at home in such surroundings is to understate the extent of his talents. Had he become a Puma, Sergio would have been but a cog in a machine. Playing for Italy, he has shown that it is possible for one man to carry a side on his shoulders.
A gladiator preparing to leave the arena one final time, Sergio Parisse – born in Argentina, made in Italy – is deserving of the biggest possible 
thumbs-up.