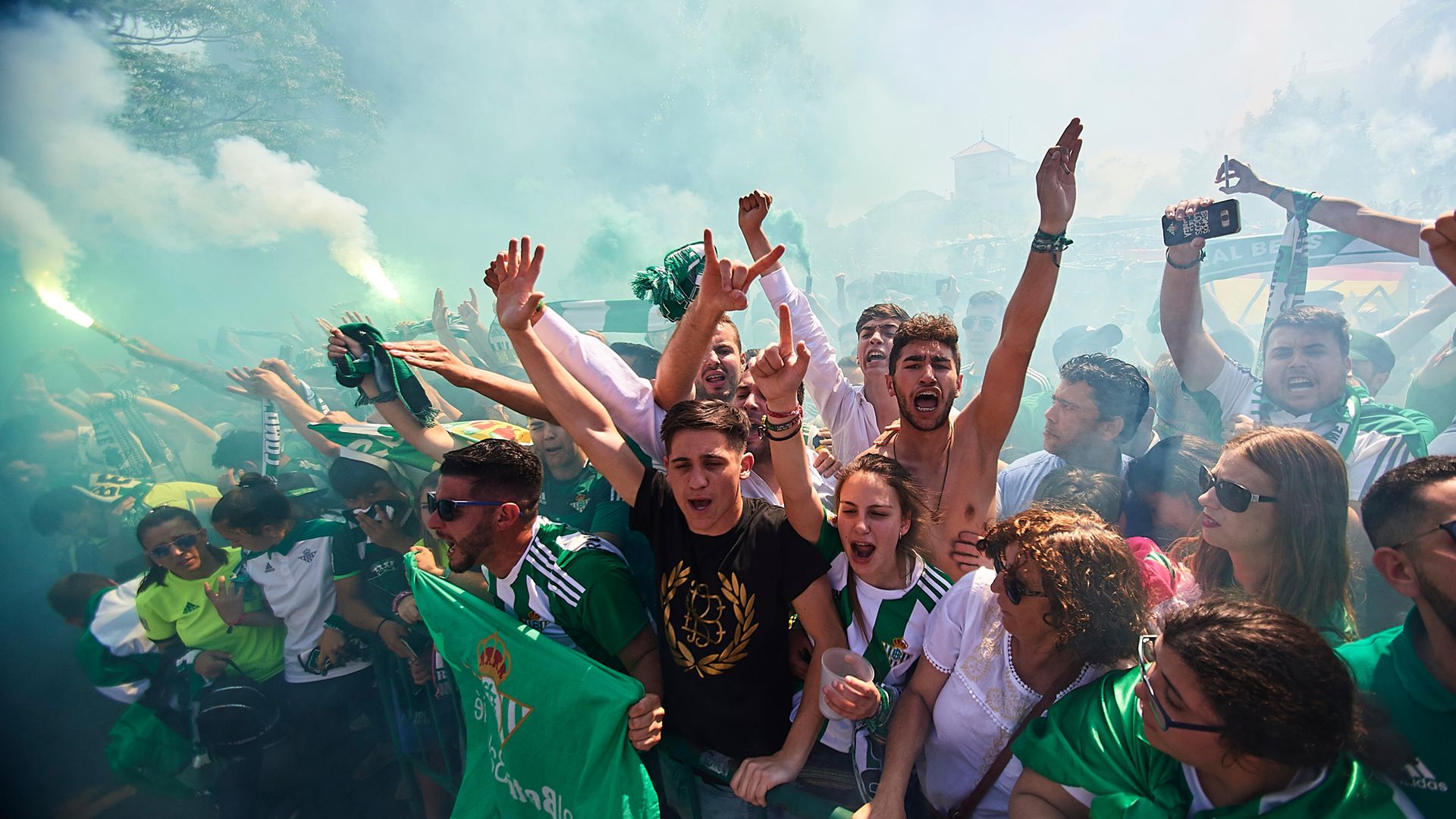 El Clásico might get all the attention, but the greatest clash in Spanish football is between Seville's two sides, says EMMA LUCK.
It is no coincidence that La Liga chose El Gran Derbi to kickstart the league competition after its coronavirus lockdown last season.
The showdown between local rivals Sevilla and Real Betis was given pride of place as the first game to welcome back top flight football in June as the country came out of a 93-day hiatus. Even with fans absent, the historic intensity of this clash between the two sides from the Andalusian capital was chosen to help ignite Spain's slumbering sport.
After all, Seville's local derby is the nation's greatest. Never mind the often overblown El Clásico, which is not strictly a derby, even though it is sometimes referred to as such, and seldom lives up to its bombastic billing; Barcelona-Espanyol is too one-sided; Real Madrid-Atlético Madrid, too cautious; the Basque derby is played between teams from different cities; Real Oviedo-Sporting de Gijón has lost its lustre as neither club are any longer in the top-flight; Valencia-Levante is good but does not compare to the Seville affair.
The rivalry between Sevilla and Betis is one which has divided allegiances and even families within the city for more than a hundred years. Football was brought to the area at the end of the 19th century by its large British – mostly Scottish – expatriate population, made up of owners or managers of manufacturing and mining companies.
Indeed, Sevilla FC was founded as Sevilla Foot-ball Club at a Burns Night supper in 1890, its establishment duly reported in the Dundee Courier a few weeks later. It can boast of being one of the country's two oldest football clubs, together with fellow Andalusian side Recreativo de Huelva – another club founded by British miners – who nowadays tend to toil outside Spain's top flight.
Betis followed several years later, in 1907, initially as Sevilla Balompié. (The word is another term for football, from  balón – 'ball' – and pie – 'foot'). In 1914, this side was merged with Betis Football Club which in turn had been established after a spilt from Sevilla FC, caused when a director had refused to sign a working class player.
Two dissidents from the board had broken away in protest to set up Betis Football Club – the name deriving from Baetis, the Roman name for the region, and the Guadalquivir river which passes through the city.
The issues that led to this initial split have remained central to understanding El Gran Derbi to this day. Like many other local rivalries in football, there are class tensions between the clubs. Seville are still seen as more white collar than Betis, which still prides itself on its blue collar roots.
That said, the club formed by the 1914 merger of Sevilla Balompié and Betis Football Club received royal imprimatur the same year, when it was granted the honorary title Real Betis by the Spanish king, Alfonso XIII.
The first Gran Derbi followed a year later and ended with a 4–3 Sevilla victory. After many official and unofficial early meetings in competitions as diverse as the Copa de Sevilla, Copa del Duque de Santo Mauro, the Andalusian Championship and Southern Regional Championship, the two clubs were founder members of La Liga's second tier, with Betis winning both 1928/29 meetings, 3-0 away and 2-1 at home.
Betis were the first to be promoted to the top flight in 1932, but Sevilla followed two years  later. Sevilla's first season in the top flight coincided with their rivals winning their first title, under the guidance of Irishman Patrick O'Connell, beating Real Madrid by a single point. By this stage, they were known simply as Betis Balompié, having had to drop 'Real', as all royal patronages were nullified under the Second Republic, which had started in 1931.
Indeed, Spain's traumatic decade was to have a heavy impact on Betis. Not long before the civil war broke out, the club had signed off a major deal to move into a new stadium in Heliópolis, a southern suburb, which remains their home to this day and is now known as the Estadio Benito Villamarín.
Seville became the first big city to fall to the Nationalists, following an uprising in July 1936, and Betis was to suffer a particularly severe economic hit. The new stadium, then called Estadio de la Exposición, was requisitioned by the local authorities and turned over to the military, while the talented Betis squad – which featured six Basques, three Canarians and an Almeria, along with three Sevillians – disintegrated, as players found themselves stranded north of the front line, or conscripted.
Sevilla suffered too. In 1937, the club bought land for a new stadium near their ground, Estadio de Nervión, in the suburb of the same name. In the event, construction did not start until 1954 with the ground – which is Sevilla's current home, now known as Estadio Ramón Sánchez Pizjuán – not opened until 1958.
The Spanish league was suspended from 1936 to 1939, and Betis were relegated the season the sport returned. They were promoted back to the top flight in 1942, but only survived for a season before entering a period of steep decline, which included seven seasons in the third tier.
Many fans now see these spells in the doldrums as formative years for the club and its image. Their lowly league position actually helped them cement their high level of local support. While their more exalted rivals Sevilla – still in the top flight – were playing matches all over the country against Spain's biggest teams, Betis, in a regional league, were involved in fixtures in the pueblos, small towns and villages of Andalusia. These locations were far easier for travelling fans to get to, and Betis became renowned for the massive numbers of supporters they attracted to their away matches, a following which became known as the 'Green March'.
Sevilla, meanwhile, were enjoying a purple patch. They firmly established themselves in the top flight and won their first title in 1946.
Those years of vastly differing fortunes after the Spanish Civil War helped to seal the relative positions of the two clubs, with Sevilla, the more well-healed of the two, tending to be in the ascendancy, and Betis, the working class club, as the underdog. Yet, despite this dynamic – or perhaps because of it – Betis, or the Verdiblancos (the Green-and-Whites), have a larger fanbase than their rivals, the Nervionenses (a reference to their home suburb).
Over the years, there has been a fair amount of parity between the two and since Betis returned to La Liga in 1958, they have spent 49 seasons there, compared with Sevilla's 55. In total, the clubs have won two national titles each, though Sevilla have a remarkable recent record in Europe, having won six Europa Leagues from 2006 to 2020, with which Betis cannot compete. Of their 98 meetings in La Liga, Sevilla have won 46 and Betis 29.
Seville is Spain's fourth most populous city and levels of support for its two clubs are extraordinary.  Around 14% of the local population have season tickets for either club: 50,000 at Betis and 44,000 at Sevilla in 2019. When the stadiums are full, as they often are, they account for almost one fifth of the city's population.
Families and friends often support different teams in the city and the rivalry runs deep.  At one end of the spectrum are the more moderate peñas, which are organised supporters' clubs embedded in the local community and very socially active.
Many of these run bars and restaurants affiliated to either club such as La Peña Bética de Los Remedios for Betis. One of Sevilla's largest is La Peña Sevillista Al Relente which encompasses a bar and even a small informal museum. They also have a display dedicated to 22-year-old player Antonio Puerta who died of heart complications after collapsing during the first match of the 2007 season. Sevilla fans clap through the 16th minute of every home game in his honour and the club attempted to retire his shirt, until prevented by the Spanish Football Federation.
However, as is ever present in European football today, at the other end of the spectrum both of Seville's clubs have their ultra fans, some of whom are amongst Spain's longest established. The Biris Norte are Sevilla's most notorious. They take their name from the club's Gambian former player called Alhaji Momodo Njle, who was known to all as 'Biri-Biri' and became a hero on the terraces in the 1970s. With a dedicated area in the north stand, the Biris identify as far left and anti-racist yet have a reputation every bit as violent as their right wing counterparts.
A series of incidents prompted Sevilla bosses and La Liga to take action. In 2015 Sevilla became the first Spanish club to have part of their ground closed for violent chants. The authorities shut the North Goal stand, the Biris' nucleus, on match-day as a punishment.
The clampdown was ratcheted up in February 2017, when flags bearing the name 'Biris' or 'Biri Biri' were banned from the Sevilla stadium. Reports on the effectiveness of this ban vary; fans suggested banners were still being smuggled in, while others claim the group was simply waving banners bearing the legend "Sevilla 1975", an obvious reference to the Biris' foundation.
Real Betis has its own rival hard-line ultras, Supporters Gol Sur. Named after the southern stand, they were recognised in 1986. They were originally a far left grouping but the arrival of a faction called Skin Betis in 1991 led to a seismic shift to the right. La Liga have also targeted Los Verdiblancos over some of their supporters' chants and taken action against them.
Both of the city's supporters have an enduringly prickly relationship with La Liga and often feel that they are under the spotlight more than other Spanish clubs. An armed police presence on match days remains high to this day (Covid notwithstanding).
As with all derbies, ultimately it comes back to the fans. On that sunny June day, La Liga celebrated the end of its football hiatus with Sevilla earning local bragging rights over rivals Betis with a 2-0 win. The virtual fans beamed onto the rows of seating were no comparison to the real thing but in the city the die-hard supporters cheered their teams on regardless.  
 
 
 
Gran Derbi turncoats
Only nine players have worn both the Verdiblanco and Nervionenses jerseys in Seville derbies over the years, dating back to defender Joaquín Jiménez Postigo, who won a La Liga winners' medal with both clubs in the 1930s and 40s. Defender Diego Rodriguez switched teams in 1988 while Spain's Euro 2008 winning coach Luis Aragonés spent three seasons at Betis as a player, while also sitting on both benches in La Liga derbies.
Home-grown players have been a prominent feature of this fixture over the years. The clash in September 2018 saw Sevilla captain Jesus Navas equal the club's single player derby appearance record (17) – a number he has now surpassed – while Betis skipper Joaquin Sanchez' winning goal that night was the veteran player's second across his record 29 La Liga derbies.
Hometown legend José Antonio Reyes, who died in a road accident in 2019, is the fixture's leading goal scorer since 2000 with five goals. Behind him sit Fredi Kanouté and Kevin Gameiro, both French-born Sevilla strikers. Betis have spread their goal scorers out over a longer period with their top derby scorer since 2000 being central midfielder Beñat Etxebarria, who now plies his trade for Athletic Bilbao.
The Night of Seville
Both Seville stadiums hosted games during the 1982 World Cup, including one of the most notorious clashes in the tournament's history.
Scotland lost their group game against Brazil 4-1 in Betis' Estadio Benito Villamarín, having gone a goal up thanks to a strike from David Narey. Brazil also scored four goals in the second match at the stadium, a 4-0 victory over New Zealand.
The South Americans remained in the city for all their group games, having played the first tie, a 2-1 victory over the USSR, at Seville's Ramón Sánchez Pizjuán Stadium.
That ground also hosted the infamous semi final between West Germany and France, which is known in both countries as the Night of Seville (Nacht von Sevilla, Nuit de Séville).
The game finished 3-3, with four goals in extra time and West Germany winning on penalties. It is considered one of the greatest ever World Cup matches.
But it is also remembered for an incident in the second half when Frenchman Patrick Battiston was clear through the German defence and racing towards goal, when the onrushing German keeper, Harald Schumacher, collided with him.
Battiston was left unconscious, with cracked ribs, damaged vertebrae and teeth knocked out. The referee took no action against Schumacher, while Battiston, who had only been brought on ten minutes earlier, had to be substituted off. By contrast, West Germany had the opportunity to bring on Karl-Heinz Rummenigge in extra time, and he scored five minutes after taking the field.
Most popular