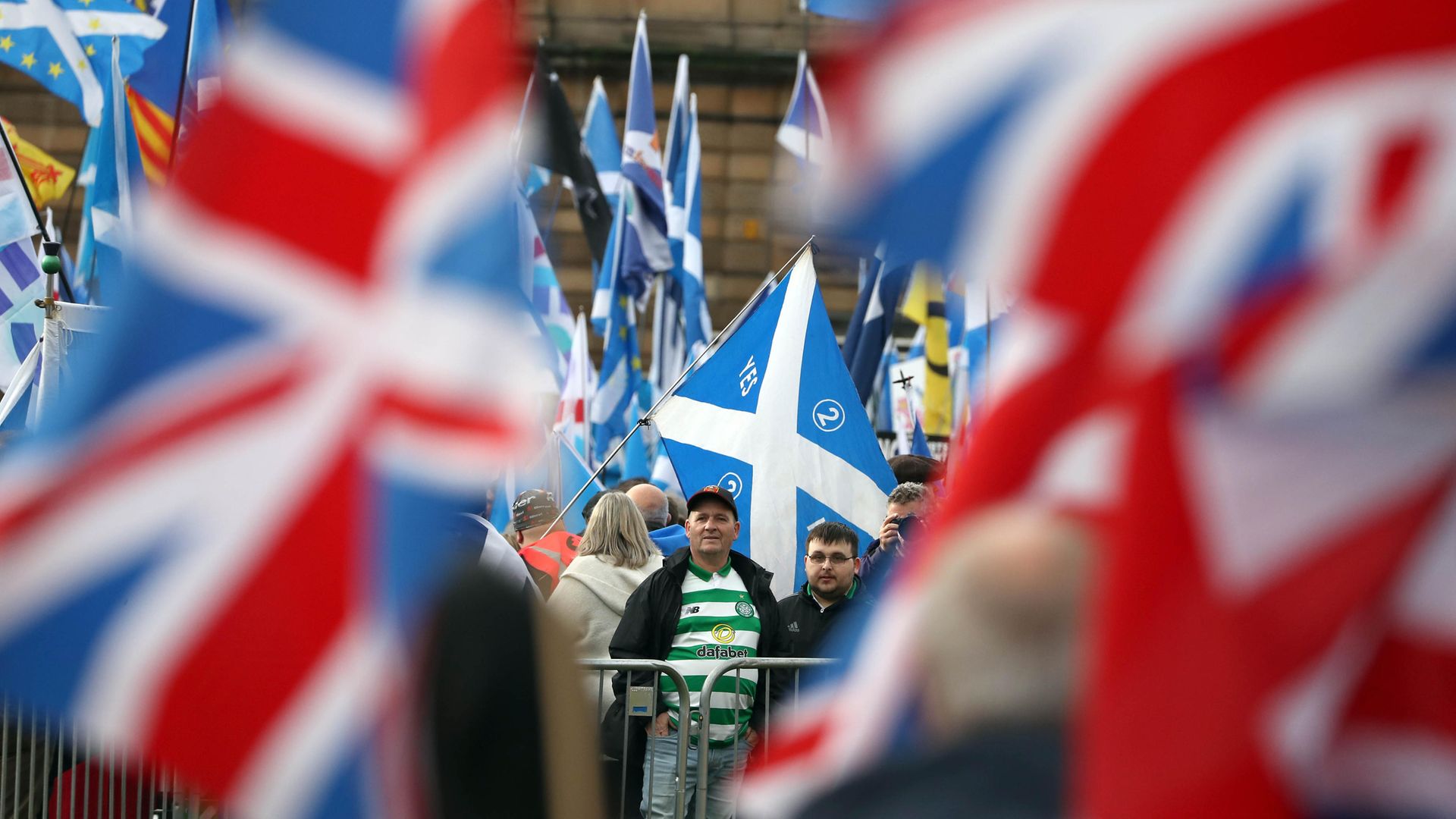 Boris Johnson's bid to save the Union by splashing the cash won't be enough. He will need to do a lot more than that. 
The ballots cast by Scotland's voters hadn't been fully counted when the high-stakes game of constitutional poker between Nicola Sturgeon and Boris Johnson began.
As it became clear – to no one's surprise – that the SNP would emerge from last Thursday's Holyrood election as the largest party, Scotland's first minister said she expected Downing Street to bow to democratic demand and allow another independence referendum. Johnson quickly replied as he always has: no chance. He also invited Sturgeon to a meeting to talk through economic recovery from the Covid crisis. The symbolism was clear: this, rather than a referendum, was his priority.
When the final result was confirmed, the Nationalists had fallen a single, agonising seat short of an overall majority. The Scottish parliament's electoral system – part first-past-the-post, part proportional – was designed to stop a single party winning outright and to encourage European-style coalitions. But in 2011, Alex Salmond, Sturgeon's SNP predecessor, had pulled it off, and David Cameron had felt obliged to grant a referendum.
Sturgeon narrowly missed that totemic target, even though, with the Greens winning eight seats, there is a comfortable pro-independence majority in Edinburgh, with the two parties between them taking 72 of the 129 seats.
This is a clear mandate for a referendum, she insists. Still, Johnson refuses to be budged. The Tories ask what has changed – after all, there was an SNP-Green majority in the last parliament too. They point out that when all the constituency votes are totalled up the Unionist parties received the backing of 1,364,656 Scots, while those supporting independence got 1,326,194. This hardly shows a nation desperate for a vote on leaving the UK, they argue.
A further hurdle facing the SNP is that recent opinion polls have shown support for independence falling rather than rising, with a small majority in favour of continued Union. And most voters say that even if there is to be a referendum, they do not want it on Sturgeon's timescale, which is by late 2023.
This is the tricky, uncertain terrain the two leaders must now navigate. It sets the scene for a five-year War of Independence, which will test the cunning and creativity of both power centres to the full and which may well end up in the Supreme Court. Principle will have its place, but politics will drive the decisions.
The British government has been thinking about the politics of it all for a while now. Ministers are aware that, despite the billions spent on furlough and the extra cash found to support public services across the UK during the pandemic – Scotland alone received £8.6 billion, protecting 930,000 jobs, they claim – few Scottish voters seem willing to give them much credit. Instead, Sturgeon is lauded for having led the nation through the past 12 months, and having done so effectively. Her trust ratings are sky high, while those of the prime minister are dangerously low – he swerved the Holyrood campaign trail, aware he might do more damage than good.
Rather than retreat, Westminster is doubling down on a fiscal splurge that it believes can save the Union. Johnson is said to be planning to send still more billions north, and for the money to be spent in areas that are normally the preserve of the devolved parliament. This includes investment in Scotland's road and rail network, as well as opening up English hospitals to Scottish patients to help with a backlog in cancer treatments that built up during the pandemic.
Foul play, cry the Nationalists. Much of this extra resource will come from the repatriation of EU structural funds that has followed Brexit. This is controversial, as previously Holyrood had controlled this spending. But Whitehall intends to bypass the devolved administrations and create a Shared Prosperity Fund, which Conservative ministers say will allow them to extend their 'levelling up' agenda across the whole of the country.
Meanwhile, foreign secretary Dominic Raab has been asked by the PM to ensure the UK's diplomats seek support for the maintenance of the Union in overseas capitals. It may make for an interesting and somewhat crowded waiting room, as Sturgeon too intends to take the case for independence directly to the chancelleries of Europe and elsewhere.
There is a danger in all this – that the politics of Scotland becomes Ulsterised, with ever greater sums sent north in an attempt to bribe the nation to stay in the UK and keep quiet. Pork-barrel may work around the margins, but it seems unlikely to buy off an independence movement that is driven by identity, distaste for Westminster and its archaic conventions, and a broad and deeply-felt dislike of the Conservatives in general and Boris Johnson in particular.
Sturgeon, meanwhile, will not sit back. She has the numbers at Holyrood to pass referendum-related legislation, and is daring Downing Street to challenge in court her right to hold one. UK ministers seem loathe to go down that route – even though they may well win – as it would add to the growing suspicion that the Union is being kept together by force and trickery rather than as a genuinely voluntary partnership of nations.
Shiny new bridges and slick new roads may be enough for some, who will benefit from 15 minutes lopped off their daily commute, but it seems a unlikely to be a game changer. It's at least as plausible that there will be a degree of irritation that Johnson is undermining devolution, which remains popular in Scotland.
Scots would instead like to see the Westminster government do the things it is meant to do better, and in ways that are more in tune with their values. Monetary policy, foreign policy, defence, international development, and large parts of the welfare system are all reserved matters. In many of these areas, Scots feel distant from decision-making, ignored by power-brokers, and that they would wish to pursue a different course.
Which brings us back to Brexit. For many living north of the border this shattered the Union's essential balancing mechanism, whereby, despite England's vastly superior size, all four home nations had something like an equal say in big pan-British decisions.
Brexit spectacularly broke that pact, and the damage will reverberate for years to come. In the end, if you can't run the country in ways that unite the majority of the population, then a few billion here and a few billion there is just so much small change. The Union is far from lost, but its supporters will need more than money to save it.
Chris Deerin is director of the think tank Reform Scotland, and Scotland editor of the New Statesman
What do you think? Have your say on this and more by emailing letters@theneweuropean.co.uk
Most popular