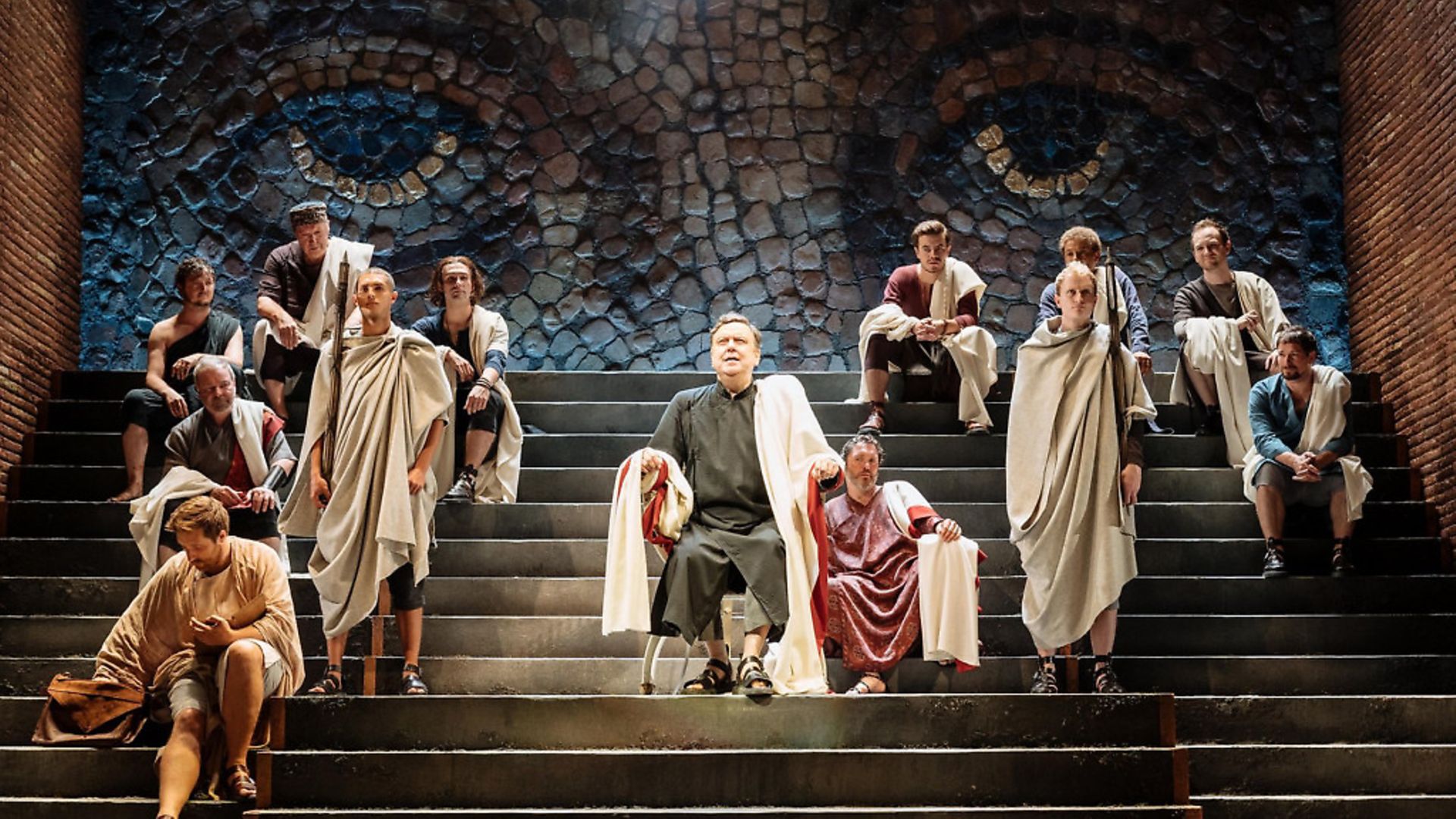 TIM WALKER on the plays that show nothing ever changes in politics.
Gielgud Theatre, London, until September 7
If there's one political speech that's stood the test of time – and I always wonder at how brilliantly manipulative it is every time I hear it – it's the 'Friends, Romans, countrymen' eulogy that Mark Antony delivers in Julius Caesar.
Few, if any, would dispute that great tragedy has as much to say now as when Shakespeare first penned it four centuries ago. There is therefore a whiff of vaingloriousness about the very idea of Robert Harris's Imperium plays.
The author compounds things by saying in the programme notes that he chose Ancient Rome as the setting for his trio of Cicero novels – on which the plays are based – as he deemed it a good way to 'universalise' politics for modern audiences.
I should, before I go on, declare an interest where Harris is concerned: I worked with him a quarter of a century ago on the Observer. I remember a dashing, intelligent, witty man and a great writer. In sitting in judgment on him now, I can but think of what Oscar Wilde said when he learnt that Sir Edward Carson – a contemporary of his at Trinity College, Dublin – was to act for the Marquess of Queensberry in the court case he had initiated. 'No doubt,' the playwright intoned wearily, 'he will pursue his case with all the added bitterness of an old friend.'
In that spirit, I will say there is nothing this double bill of plays has to say that is new: they focus on a collection of old men grasping for and debating power, while the women are relegated to the tropes of doting daughter, suffering-yet-supportive wife, harlot and victim.
There are some all-too-knowing nods to contemporary populism – 'stupid people tend to vote for stupid people' etc – and, frankly, Christopher Saul's Trumpian wig as Pompey is, so far from being clever, already something of a cliché in the West End (as anyone who has seen Strictly Ballroom will attest).
I would add that the plays – which Mike Poulton has adapted into two stand-alone parts – are very long. Anthony Ward's promising set is under-utilised, and, shirking its dynamic promise, it seems to encage the actors and necessitate curiously static performances.
Having said all that, witty, intelligent individuals are generally incapable of coming up with plots that don't have at least some of those characteristics themselves. I will admit I was not for one moment bored.
Richard McCabe breathes a lot of life into Cicero – he portrays the world-weary old politician as a strange cross 
between Hubert Humphrey and Charles Laughton – and it was hard not to see something of the late Oliver Reed in Hywel Morgan's wonderfully debauched Hybrida.
There is also among the second-tier actors a mesmerising performance from Daniel Burke – making his West End debut – as an informer to Cicero who drips vampiric menace.
The direction by Gregory Doran is, meanwhile, brisk and efficient. And I need hardly add that if the plays have nothing new to say and they often 
seem prosaic, then that is generally true of politics and politicians through the ages.
Rating: 4/5
Most popular