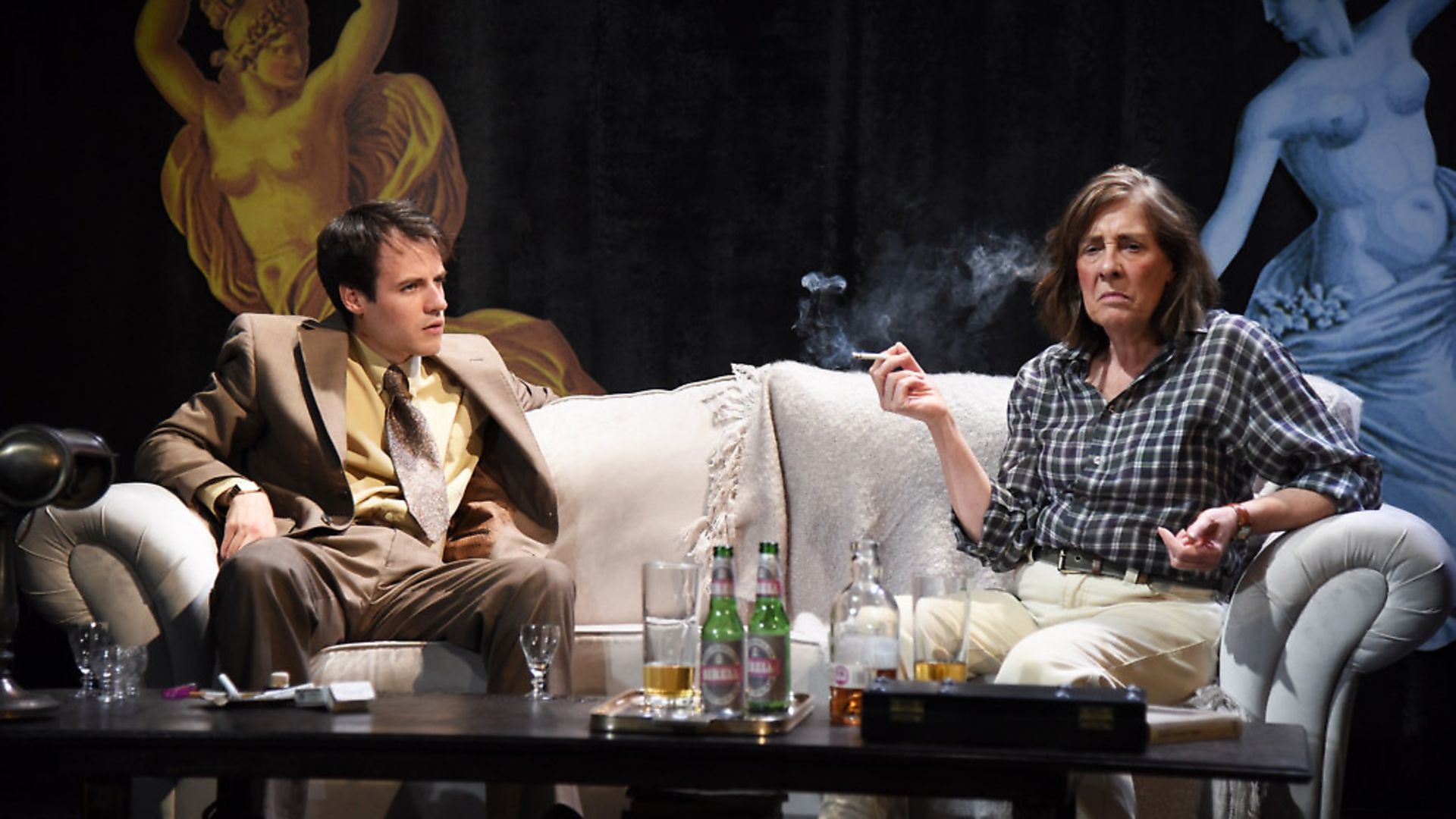 In his latest review, TIM WALKER watches Joanna Murray-Smith's Switzerland at London's Ambassadors Theatre.
When Christmas approaches – and with it the prospect of big family reunions – the thoughts of the nation always seem to turn inexorably towards murder. No festive season is, after all, complete without Miss Marple making an appearance on television, along with Sherlock Holmes, and good, old-fashioned horror films seem suddenly to be in demand, too.
The West End is already getting into the homicidal spirit with Joanna Murray-Smith's Switzerland. It is a deceptive title for a darkly comic piece about the real-life author Patricia Highsmith, depicted here contemplating new ways of dispatching characters in a follow-up novel to her most celebrated work, The Talented Mr Ripley.
The cantankerous Highsmith – played as pure arsenic in old lace by Downton Abbey's Phyllis Logan – did indeed live in the shadow of the Swiss Alps in Locarno, but, judging by the proximity of the mountain tops visible from her windows in William Dudley's preposterous set, you could be forgiven for thinking her property was at least 4,500m up.
Somehow an anaemic young man from her New York publishing house – played by Calum Finlay – manages to make the journey to see her and announces that his job depends on him getting her to sign a contract to write a further Ripley story. He presumptuously offers to help out with the plot and help her, too, to devise a bloodcurdling new murder.
The lad loves musicals and tells his reluctant host that her work Strangers on a Train really spoke to him, but, for all that, Highsmith doesn't seem to twig that he is gay and wonders out loud if he has a girlfriend. This is one of two fundamental problems with Murray-Smith's work: her Highsmith just doesn't seem to be terribly bright.
The chemistry between the two actors isn't exactly electrifying, either, which, when the play is a two-hander, is a bit of a downer. The lines – some of them are mildly amusing – ought to bounce between the two principals. This feels more like chucking a succession of ping pong balls at a pair of blancmanges.
The piece is an uneasy mix of fact and fiction – yes, the real Highsmith did live in the shadow of a mountain, but no, she didn't generally threaten her guests with knives – and what it lacks, above all, is any of the sense of fun that is to be had, for instance, in The Mousetrap, playing just a stone's throw away from this theatre.
The director Lucy Bailey has form when it comes to directing plays in this genre – her Witness for the Prosecution is still playing at County Hall – but it still feels less like a whodunnit than a whatsthepoint. Certainly Murray-Smith is no Agatha Christie and I rather imagine this playwright must have Highsmith – who died in 1995 – turning in her grave. I won't spoil it by saying who kills who at the end, but I can say, so far as I was concerned, the deadliest murder weapon utilised in this piece is ultimately boredom.
Most popular