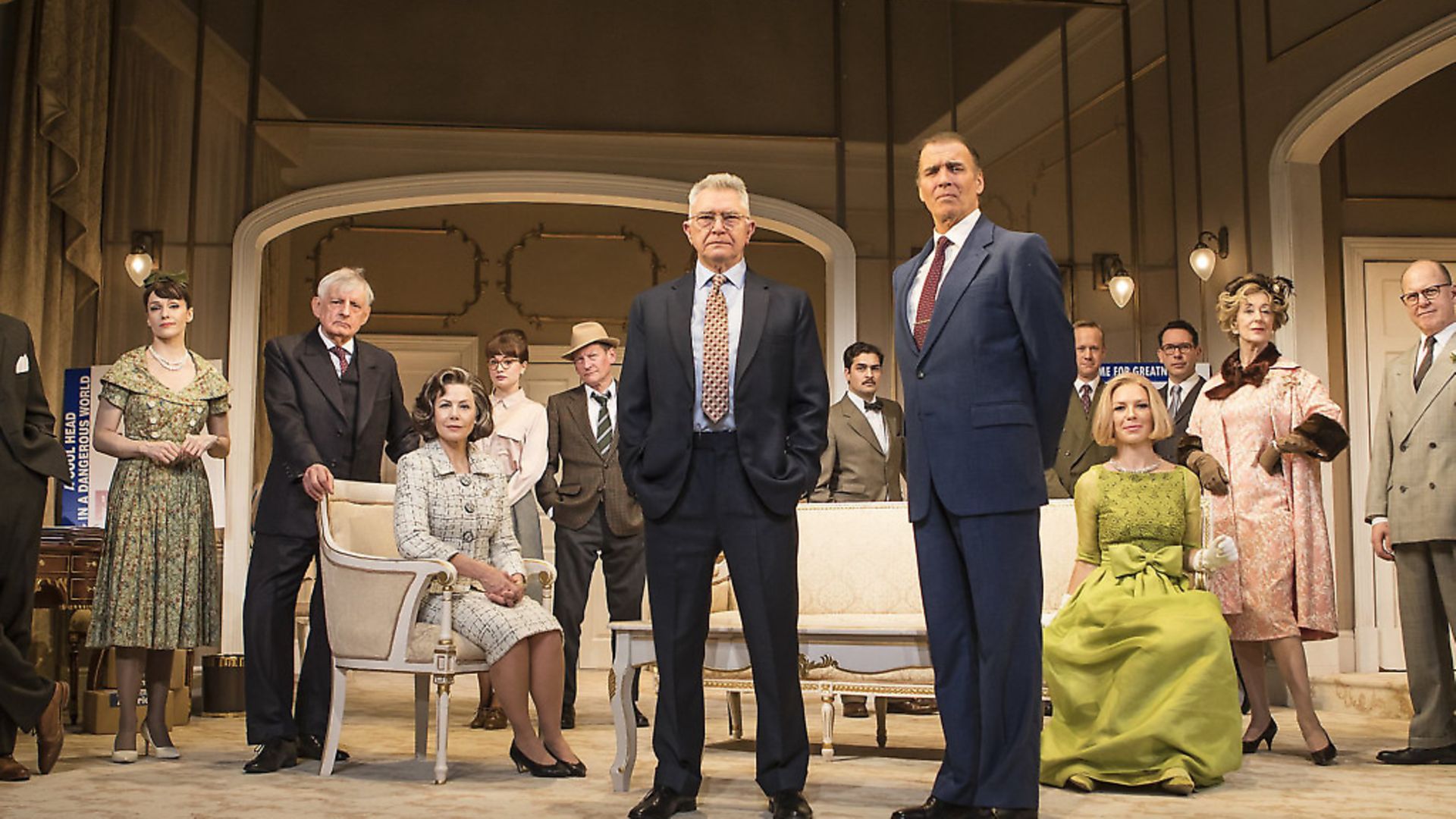 TIM WALKER says Martin Shaw has his vote in this Gore Vidal stage drama
Ronald Reagan used to say that politicians shouldn't merely represent the people, but they should represent them at their best. I look at Donald Trump – and, on this side of the Atlantic, Boris Johnson – and I'll admit that I do indeed see something of myself in both these individuals.
They are me at maybe three years of age, when I thought the whole world revolved around me, and, if I was told I couldn't have any more sweeties, I would scream blue murder. Sadly, some politicians never do grow up, and always make us look to the gutter, as others – like, say, John F Kennedy – have made us look to the stars.
In Gore Vidal's The Best Man, an idealist fights it out with a cynic for their party's presidential nomination. It's almost 60 years since the play was written, and, if Simon Evans's revival has a message, it is that the more things change, the more they stay the same. Indeed, had the work been written this year, I could see accusations of point-scoring over Trump and Brexit.
There's a lot of talk of how people can't be blamed for wanting the wrong thing when they are misled by the press, how 'bastards' don't necessarily make bad politicians, and how it's important to consider very carefully whether a man competing for the highest office in the land might be 'mentally unstable'.
This intelligent and darkly comic production wins by a landslide because its all-star cast twigs that, at its heart, it's an intensely human drama. Martin Shaw is on great form as the world-weary, but decent William Russell, who is competing against Jeff Fahey's cold and ruthless Joseph Cantwell (a dead ringer for the former Tory cabinet minister and jailbird Jonathan Aitken). Glynis Barber and Honeysuckle Weeks, meanwhile, both communicate very well the occupational hazards of being political wives: the loneliness and the phoniness.
Jack Shepherd proves to be a wily old scene-stealer as the dying President Hockstader, whose endorsement Russell and Cantwell both crave, and Maureen Lipman is pure arsenic in old lace as the ghastly Mrs Gamadge, who claims to be able to mobilise women voters.
There is a great scene in which old Hockstader tells Cantwell that he is dying, and the candidate – utterly self-absorbed – fails to even blink at the news. He is, as the old boy says, a man who feels no sense of responsibility to anyone or anything, which is 'a tragedy in a man, and a disaster in a president'.
The show takes us into a world of tense, testosterone-charged negotiations in smoke-filled hotel rooms, of vacuous slogans (you can 'Hustle with Russell' or 'Go with Joe'), appearance versus reality and a democratic political process that still, sadly, turns out saints and sinners with the randomness of an inebriated bingo caller.
Ultimately, as voters, we have to learn to manage our expectations.
'All I want is a strong president who can keep us all alive just a little while longer,' says Hockstader, resignedly. Amen to that.
Most popular