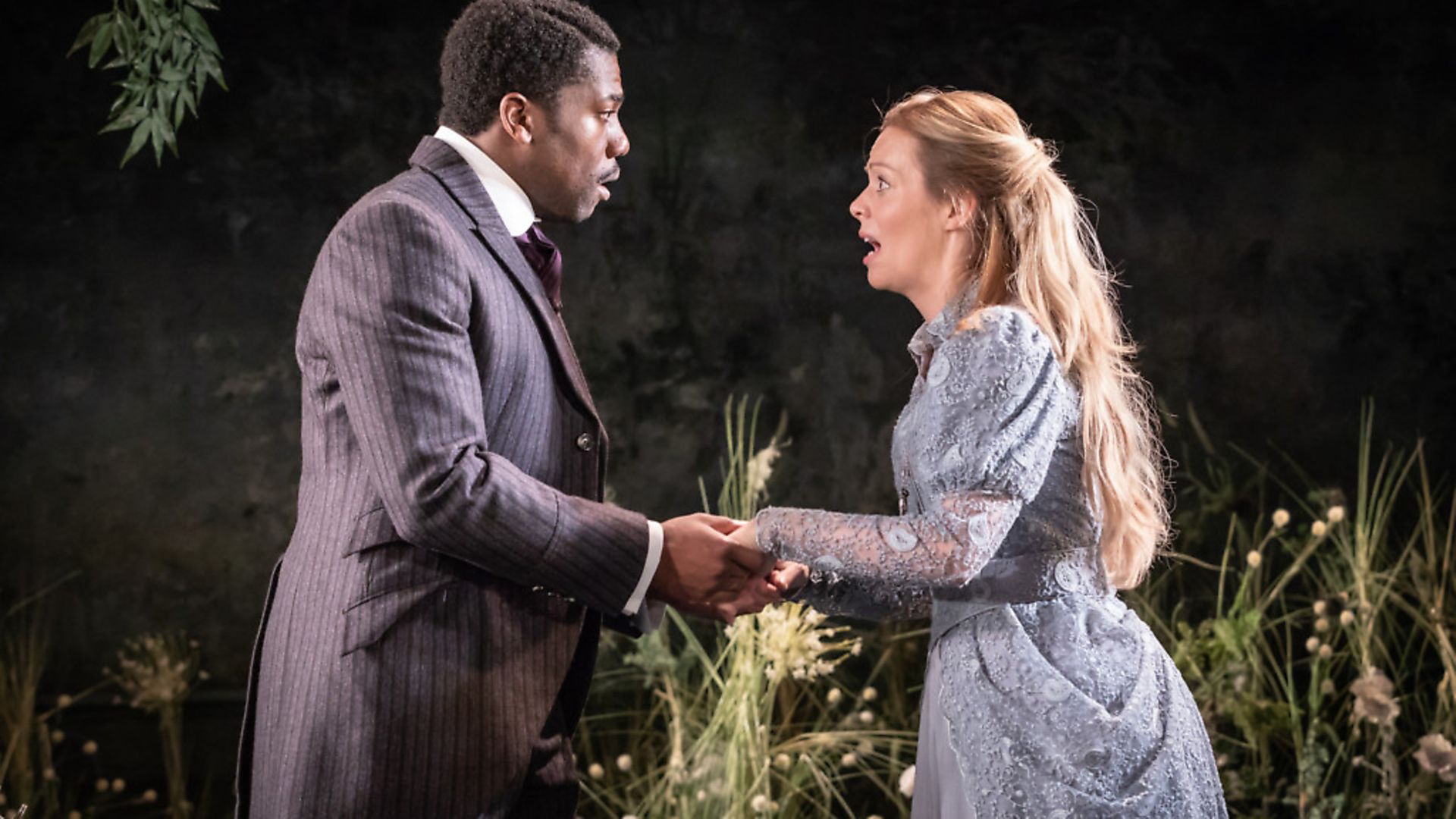 TIM WALKER on how this seductive production of the comedy classic makes it funnier than ever.
Vaudeville Theatre, London, until October 20
There is a great deal of kissing going on in Michael Fentiman's adaptation of The Importance of Being Earnest. Men kiss women, women kiss women and men kiss men. Fehinti Balogun's dashing Algernon even, in the opening scene, shockingly feels the need to kiss outside of his class and generation when he gives his old retainer (Geoffrey Freshwater) a smacker full on the lips.
It is hardly necessary to out Oscar Wilde as a homosexual, but I suppose this is Fentiman's way of drawing attention to the way that the playwright often seditiously challenged the conventions of 19th century sexuality in his works. They were to some extent always about titillation: a great big private joke that audiences allowed Wilde to inveigle them into time after time until, of course, the Marquess of Queensberry blew away all of the pretence.
This looks like a very traditional, old-fashioned staging of the comic masterpiece, but, beneath the surface, it's daring, if not actually radical. It starts off with the basic premise that the play is all about sex. Thomas Eakins' oil painting Wrestlers even hangs in the living room of Algernon's apartment, and, in this context, seems overtly homoerotic. The endless kissing suggests that everyone in the play is having it off with everyone else, while straining at all times to keep up appearances and conform to the mores of society.
Fentiman – who also directs – takes a lot of the emphasis off the traditional comedic highlights. There is not even a grand dame in the role of Lady Bracknell, but a relatively youthful Sophie Thompson, who plays the part of the ruthless social climber almost matter-of-factly and virtually throws away the famous 'handbag' line. It has always been up for discussion, in any case, if Dame Edith Evans – when she made the part her own – didn't make much too much of a fuss of it.
There are no big star names among the other cast members, but a professional, attractive ensemble that includes Jacob Fortune-Lloyd as Jack Worthing, Pippa Nixon as Gwendolen, Fiona Button as Cecily and Stella Gonet as Miss Prism. The emphasis is, however, placed very much on Algernon, who is, of course, the most overtly amoral and louche character of the piece. Balogun doesn't disappoint and flirts as overtly with the audience as he does other cast members. He delivers lines that get across the play's subtext with lascivious relish, in particular: 'The amount of women in London who flirt with their own husbands is perfectly scandalous. It looks so bad. It is simply washing one's clean linen in public.'
There have, of course, been radical productions of this comedy before – one thinks, for instance, of the decision to cast David Suchet as Lady Bracknell not so long ago – but I can honestly say I have never seen the play performed quite so seductively before. This makes it funnier than ever.
Rating: 4/5
Most popular