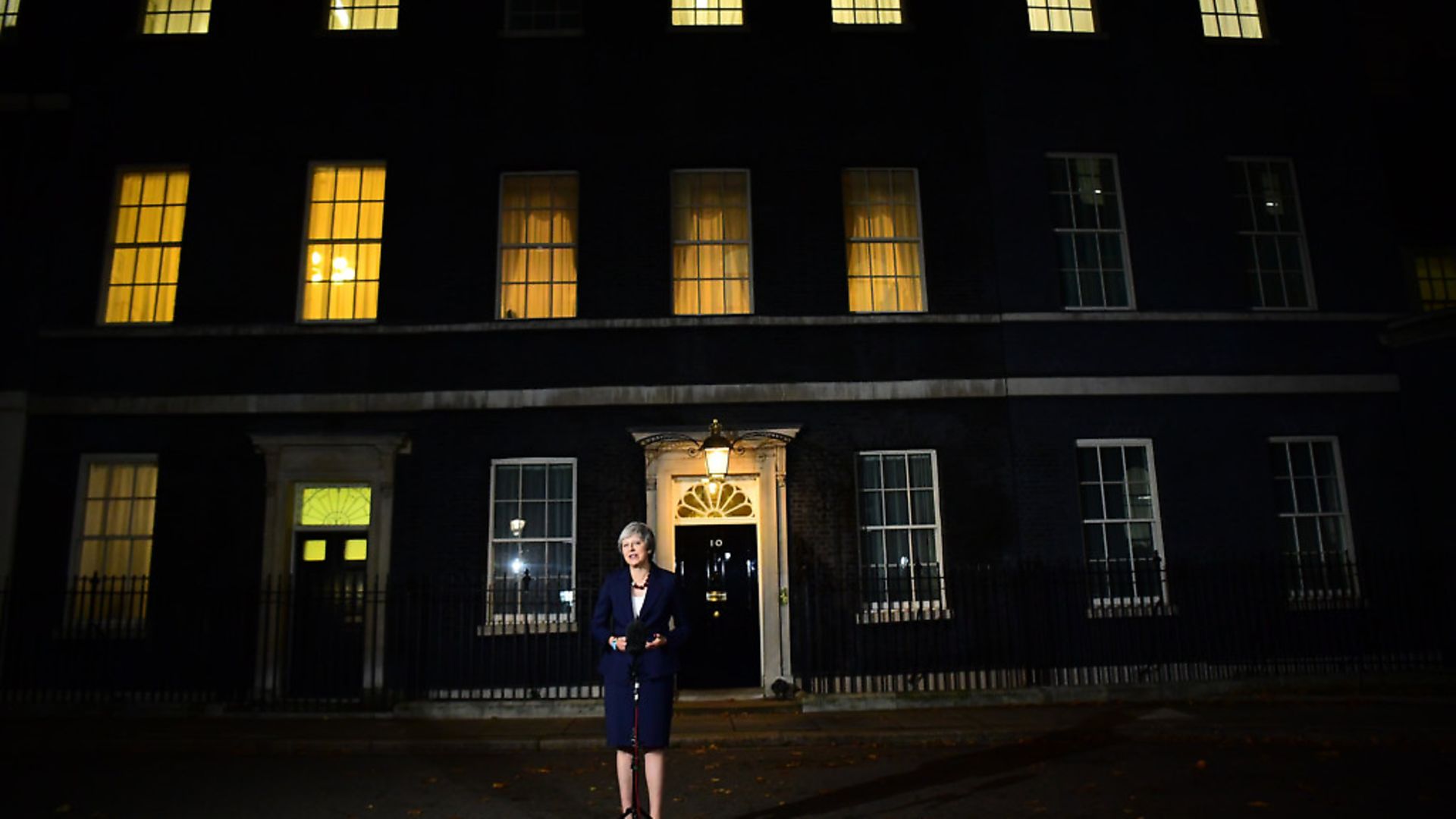 STEVE RICHARDS on a year in which events and politics moved so fast that the words of politicians could not keep up with them.
How do we make sense of the dark nonsense? This was the political year when at some point most days a mind blowing twist was followed by a bizarre turn, each one more surreal than the last.
Let us return briefly to a sunny morning in July, two days after Theresa May had finally presented her detailed plans for Brexit to her cabinet. Her Brexit secretary, David Davis, announced his resignation early in the day. A few hours' later May's foreign secretary, Boris Johnson, resigned too. The cabinet had gathered in Chequers on the previous Friday, their mobile phones had been removed and ministers were warned that if any of them resigned that day there would be no ministerial cars to take them home. The implication was that any rebels would have to walk home late at night in the dark Buckinghamshire countryside.
At the end of the day, No.10 declared that the cabinet had backed May's convoluted proposals, the ones that became known briefly as the 'Chequers Plan'. Over the weekend May hailed the unity around her cabinet table. Yet within 48 hours her two most senior pro Brexit ministers had gone. While Davis and Johnson took their bow with a flurry of separately choreographed events, neither had a credible, detailed alternative plan. They performed noisily in a Brexit vacuum. The entire whacky sequence was emblematic, shedding light on May and her internal dissenters.
The weird dance kept on repeating itself. In November, May agreed her final Brexit deal with the EU and brought it back to her cabinet. At the end of the lengthy meeting May made a statement outside No.10 declaring that the cabinet had backed her deal. The next morning her latest Brexit secretary, Dominic Raab, resigned, along with several other ministers. Raab declared that he could not bring himself to back the plan even though he had no other credible option to present as an alternative.
What was May thinking on that cold November night as she stood outside No.10 to declare that the cabinet had backed her plan? She must have known that her Brexit Secretary was almost certain to resign within hours. Her statement was factually correct when she made it in the sense that no minister had walked out during the cabinet meeting, but was to become factually incorrect very quickly, another familiar pattern. May would utter many statements that had no connection with the reality of her situation. The misleading words got her through the next few hours until she had no choice but to utter new words.
If May had been governing in 2018 with a landslide majority there would still have been deeply destabilising patterns. Her government would still have been deeply divided in a battle between fantasists, despairing pragmatists and those like May who believe their only duty is to deliver on the 2016 referendum even if the consequences make the UK poorer and less influential. But May has no majority at all and the parliamentary context guarantees that heightened craziness was the motif.
Consider a more recent sequence. There was an 'historic' summit in Brussels on a Sunday in November. EU leaders with more than enough on their various plates gave up their weekend to sign the Brexit deal. The following day in the Commons May made a statement on the deal. For more than an hour of brutal parliamentary theatre not a single MP uttered a single word in favour of the proposed arrangements. In response, and without any evidence to support her claim, May declared she had full confidence she would win a Commons vote on her deal. Strangely in the hope of parliamentary victory she headed off for a brief UK tour as if it were a general election, even though no one apart from MPs have a vote.
A few days' later the attorney general, Geoffrey Cox, spent three hours in the Commons performing like an ageing Shakespearean actor, insisting that his legal advice to the government on May's deal must not be published and would not be published. Within 24 hours the government was forced to publish the legal advice and was held to be in contempt of parliament for refusing to do so. On that same day May opened the five day debate on her Brexit deal as if nothing had happened. She made no apology for her government being held in contempt. In an interview with the BBC a day later she repeated that she would win the vote. On the fourth day of the debate May announced she was pulling the vote and would return to Brussels to negotiate a deal even though she had declared that there was no scope for any further negotiation.
Here was a prime minister trapped with no room to move. So most days she wriggled to get a tiny amount of space that enabled her to carry on in her job. The wriggling meant her words were constantly at odds with what was actually happening.
In a competitive field the most bizarre moment from a year that will fascinate historians in centuries to come also occurred in November. The government published detailed documents that showed clearly the UK would be poorer after May's Brexit deal. Ministers claimed the findings were a triumph because the UK would be even more impoverished if any other Brexit option were to be implemented. In the 1970s, Monty Python's Flying Circus performed a sketch about the policies of the Silly Party. The economic policy of the Silly Party was to make the economy poorer. Viewers laughed then. It is happening now.
Politics moved so fast in 2018 that there was no time to pause and reflect on how astonishing and surreal it all is. Yet in politics nothing happens by chance. There are always deeper reasons for shapeless chaos. Politicians have not become uniquely stupid, although sometimes there is cause to wonder whether perhaps part of the silliness is down to unique stupidity.
Part of the explanation goes back to before the referendum, Indeed the referendum was a symptom of the already wild times as well as a subsequent cause. Since the financial crash of 2008 the UK has elected two hung parliaments in a system where previously one party nearly always won an overall majority, and there have been two epoch-changing referendums, the one in Scotland and the other on Brexit. This was in a country that previously rarely held referendums.
After the Brexit plebiscite in 2016 the two main UK parties held leadership contests simultaneously. The Labour contest lasted several months and the party elected the same leader. The Conservative campaign seemed to last for around an hour and it elected a new prime minister, with the bodies of other fleeting candidates lying on the political stage like the final scene of Hamlet or King Lear. The financial crash heightened anger, suspicion and mistrust among voters. The global economy created deep insecurities. The technological revolution meant working patterns were fractured. Voters have stirred. Politics responds to the stirring. Politics seems dysfunctional. The opposite is the case. The bewilderment of voters in an era of fast moving change is reflected in political chaos too.
But the tumult of 2018 has a more precise cause. Brexit is impossible to deliver. The UK is the least suited to leave the EU because of the Irish question and its dependency on the financial sector. May wants to be close to the EU and separate from it. Her red lines were in place long ago. There would be no freedom of movement. There would be no role for the European Court. The UK would leave the customs union and the single market. At the same time May wanted to secure the supply chains on which UK based manufacturers depend, and to retain a soft border between Northern Ireland and the Republic. At times, though nowhere near often enough, she could be candid. In her statement to MPs explaining why she was delaying the vote on her deal she pointed out a fundamental point.
'Behind all those arguments are some inescapable facts: the fact that Northern Ireland shares a land border with another sovereign state; the fact that the hard-won peace that has been built in Northern Ireland over the last two decades has been built around a seamless border; and the fact that Brexit will create a wholly new situation: On March 30 the Northern Ireland-Ireland border will for the first time become the external frontier of the European Union's single market and customs union. The challenge this poses must be met not with rhetoric but with real and workable solutions. Businesses operate across that border. People live their lives crossing and re-crossing it every day. I have been there and spoken to some of those people; they do not want their everyday lives to change as a result of the decision we have taken. They do not want a return to a hard border. And if this House cares about preserving our Union, it must listen to those people, because our Union will only endure with their consent.'
These words alone explain why she is attempting the impossible while, unlike the hardline fantasists, being smart enough to recognise there is no answer. No other EU country, for all the many problems across Europe, has the equivalent of the Irish Question. The only answer is for the UK to stay in a customs union or to remain in the EU. May has come to recognise the centrality of the question but cannot answer it.
She genuinely supports the backstop that provides an answer of sorts, the UK stays in a customs union until an alternative solution is found. Her latest contortion is to find a way out of the backstop even though she supports it. This is a smaller contortion to the most fundamental one. She knows Remain is preferable to Brexit but feels compelled to deliver on the calamitous 2016 referendum, the fantasy binary contest that should never have been held.
Because May is politically weak and yet more obstinate than any modern prime minister she endures ministerial resignations and parliamentary defeats. In spite of the impossibility of her situation she presses on, cocooned in No.10 and determined still to prevail.
The only certainty about 2019 is that it will be even wilder than 2018. May's technique of kicking cans down the road will reach an unyielding obstacle before March of next year. There will be a vote on her deal in the Commons at some point soon. Her only hope is that a significant number of Labour MPs back her plan out of fear of no-deal, the dreaded option that moves closer as the clock ticks. Her hardliners will not back her deal. For them this is personal as well as ideological. They feel betrayed by her, even though their sense of betrayal is a convenient alibi for their strategic ineptitude and imprecise fantasies. If she loses the vote there are so many moving parts that come in to play. The cabinet becomes stronger, but ministers are divided and will urge different Plan Bs. The DUP has bargaining power that it can only have dreamt of.
For those of us who want this hell to end and for the UK to stay in the EU there is some hope for 2019. In the parliamentary paralysis and with the clock ticking towards a no-deal perhaps MPs will dare to revoke Article 50 or support another referendum. But here is a key question, one that applies to all the options being floated: What is the agency that delivers the outcome? The answer every time can only be a prime minister and his or her government. They alone can instigate the legislation for an urgent change of direction.
In 2019 who is the prime minister and what is the government that legislates for a referendum or revokes Article 50? No one knows the answer. Brexit is the equivalent of a Netflix boxset where the ending is nerve-shredding in its unpredictability. 2019 will be like 2018. Turn away for a moment and risk missing another bizarre twist or turn of historic significance.
Steve Richards' latest book Modern Prime Ministers- From Wilson to May is published by Atlantic next year