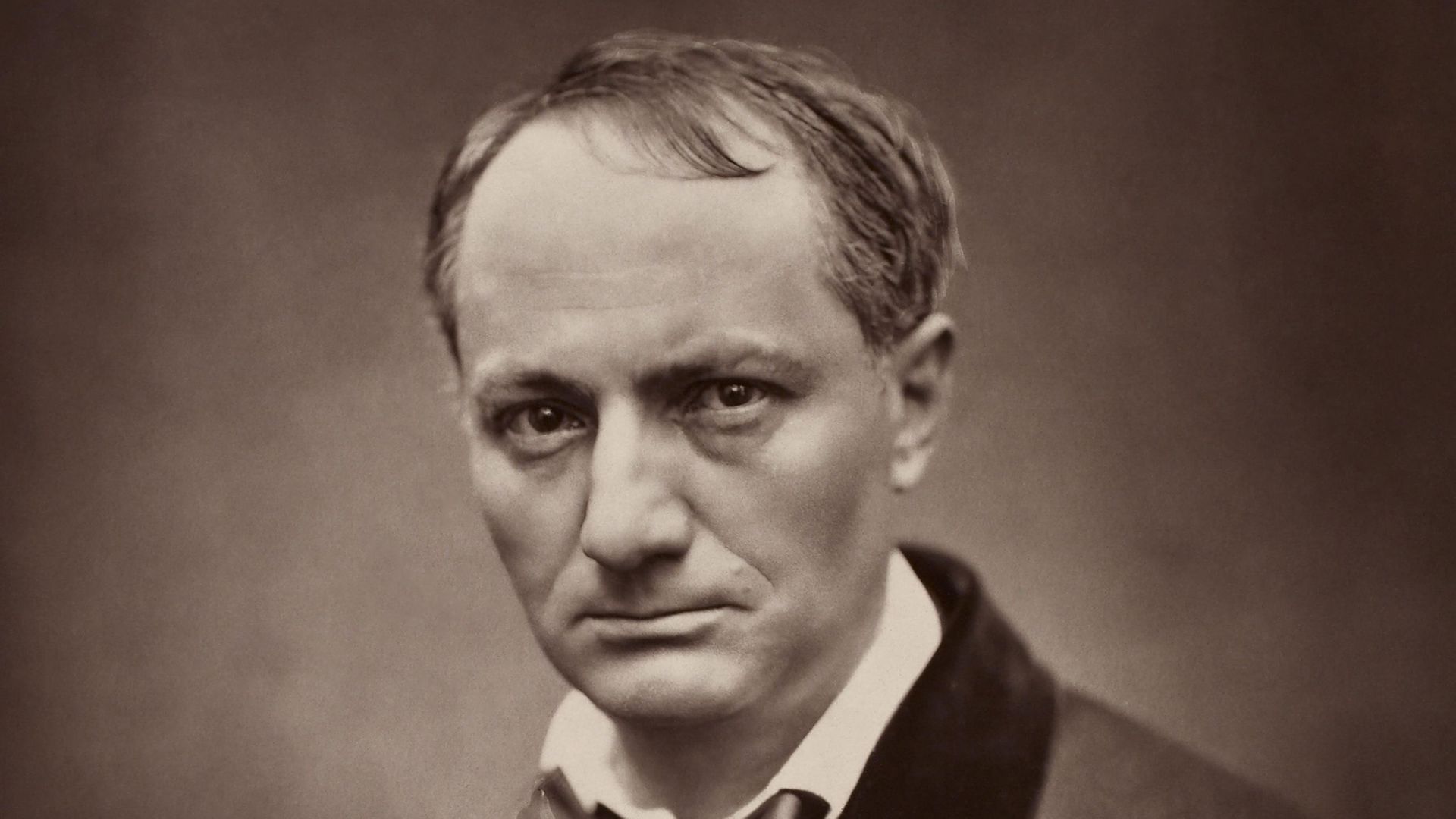 Born 200 years ago this month, Charles Baudelaire continues to inspire memes, musicians and even Monty Burns in The Simpsons. CHARLIE CONNELLY explains his remarkable relevance.
The most famous image of Charles Baudelaire is a portrait taken in or around 1863 by the Parisian photographer Etienne Carjat. It was part of a series called Galerie Contemporaine, in which 241 notable figures from politics and the arts were photographed as being representative of the French Second Empire. Of all the images from that series the photograph of Baudelaire's remains the most striking.
He wears a capacious coat with a dark collar, a white shirt and large, loose-fitting silk bow tie, combining the formality and flourish of the mid-19th century dandy. His hair is short, thin and receding, a lick flopping down onto the top of his forehead. His chin – entirely clean shaven, unusual for the times – recedes slightly beneath thin lips turned down at the corners, but it's his eyes that prevent you from looking away. At first it's as if he's staring straight at you but when you look closer he's glancing just over your shoulder. There's a darkness to the eyes beneath shadows cast by his brow, haunted and haunting, hinting at a deep-set melancholy belied by the raffish knot of his tie. He's smart, immaculate even, yet there's still a faintly ragged air about him. He was in his early 40s at the time and didn't have long to live but here manages to look both old and young, tired by life yet still with a tangible zest.
Perhaps the most striking impression created by the photograph is of its modernity. Even allowing for the foppish outfit this is a portrait of a modern man in sepia, someone living out of their time.
"The profound originality of Charles Baudelaire is to represent modern man, powerfully and in his essence," said poet Paul Verlaine. "Modern man, with his sharpened, vibrant senses, his painfully subtle mind, his brain saturated with tobacco, his blood burnt with alcohol."
April 9 marks the bicentenary of Baudelaire's birth. For most writers such milestones are an opportunity to look back at their lives and legacies but Baudelaire, more than 150 years after his death, remains almost too contemporary to evaluate with hindsight. His verse has never lost its relevance and is still a strong influence on writers, artists and musicians today. He can even boast that most ringing endorsement of contemporary relevance: becoming a meme. During the rise of authoritarian populism in recent years we've seen Baudelaire's name appearing on social media beneath an aperçu built for our troubled times, "The greatest trick the devil ever pulled was convincing the world he didn't exist".
Baudelaire lived a rock star's life, dissolute, extravagant and debauched, heavy drinking underpinning an addiction to opium and extensive sexual exploits that all contributed to his early death from the effects of syphilis. He burned through a not inconsiderable inheritance so quickly he spent most of his life up to his eyes in debt and courted controversy under the rigid social mores of the time through a tempestuous unmarried relationship with his long-term, mixed-race partner Jeanne Duval.
He was largely responsible for introducing the work of Edgar Allan Poe to Europe by translating the American writer's stories into French, championed contemporary artists like Manet and Delcacroix – often as a lone voice among wider derision – and wrote musical criticism so astute that Richard Wagner was a fan. He lived much of his life with depression and made at least one unsuccessful suicide attempt, writing in a farewell letter, "I am killing myself because I cannot live any more, because the fatigue of falling asleep and the fatigue of waking are unbearable".
All that before even considering his poetry. Baudelaire was the first major poet to be influenced by the increased urbanisation of 19th century Europe and it's this aspect of his work that contributes most to keeping him relevant to our own times, making him, in T.S. Eliot's opinion, "the greatest exemplar in modern poetry in any language".
"Which of us, in his moments of ambition, has not dreamed of a poetic prose, musical, without rhythm and without rhyme, supple enough and rugged enough to adapt itself to the lyrical impulses of the soul, the undulations of reverie, the jibes of conscience?" Baudelaire wondered. "It was, above all, out of my exploration of huge cities, out of the medley of their innumerable interrelations, that this haunting ideal was born."
The roots of Baudelaire's ennui and addictions were embedded in the death of his father when the poet was five years old, leaving him alone with his mother for a year. "I lived constantly through you, you were mine alone," he wrote in one of his hundreds of letters to her. "You were both an idol and a comrade."
Perhaps inevitably, when Caroline met and married a strict military officer named Jacques Aupick, Baudelaire was distraught and never recovered. To say he became a wayward teen puts it mildly, and when he was 20 Aupick despatched him on an arduous sea voyage to India in an effort to remove him from bohemian society and cure his perpetual insolence. It didn't work. Indeed, such was Baudelaire's antipathy to his stepfather that during the revolutions of 1848, despite having no great political convictions of his own he could be found among the crowds exhorting them to "shoot General Aupick!"
He was able to claim his inheritance on his 21st birthday, took an apartment at the prestigious Hôtel Pimodan on Paris's Île Saint-Louis and set about spending his father's legacy as quickly as possible, writing and performing his poetry when not spending vast sums of money in the pursuit of hedonism. High living in the form of rent, fine dining, expensive clothes, works of art, a library of books, vintage wine, not to mention voluminous quantities of hashish and opium, saw Baudelaire use up half of a legacy designed to support him for the rest of his life within two years.
His defining 1857 collection Les Fleurs de Mal, 'Flowers of Evil', contained poetry written at various points during the previous two decades and remains Baudelaire's best-known and most significant publication. In it he rejected the bucolic nature of traditional Romanticism and applied it instead to his an increasingly materialistic world. The poems also explore the dark side of the soul and, in particular, death.
The book was published in the midst of Haussmann's redesign of the centre of Paris, clearing away the city's narrow streets and alleys in favour of the symmetrically-planned wide boulevards of the city we know today. Les Fleurs de Mal was plunged into a Paris in the midst of dramatic reinvention, a Paris that Baudelaire no longer recognised and from which he felt an increasing alienation. For him the spirit of Paris was in the outsiders of the city, the homeless and the prostitutes, an entire stratum of society dispersed from a new, clean version of urban life made artificially respectable.
It was this new city that objected to Les Fleurs de Mal, charging Baudelaire and his publisher with offending public morals. The prosecution argued the erotic nature of six poems in particular – including La très chère était nue, 'My darling was naked' – would "lead to the excitement of the senses by a crude realism offensive to public decency".
"I have seen my judges and they are as ugly as they can be," huffed an indignant Baudelaire in the courtroom. "Their hearts can be no different from their features."
The poet received a 300 franc fine and the book was withdrawn, reappearing four years later with the six offending poems removed but with the addition of Tableaux Parisiens, a cycle of poems scathing about the new city.
In 1949, 82 years after Baudelaire's death, a change in the law meant an appeal was lodged and the conviction overturned, but as recently as 1983 in the United Kingdom editions of Baudelaire containing Hashish, Wine, Opium, an early exploration of potentially mind-altering substances, were among books confiscated during police raids on bookshops under the Obscene Publications Act. Nearly 130 years after his court appearance Baudelaire was still tweaking the nose of authority.
It was this renegade reputation as well as the explorations of internal conflict he explored in his work, not to mention a reputation for fast living, that sustain Baudelaire's influence on popular culture even today. Bob Dylan namechecks Baudelaire in Tangled Up In Blue while Serge Gainsbourg set the poet's Le Serpent qui danse to music (on Gainsbourg's death in 1991 French president Francois Mitterand said, "he was our Baudelaire"). Mick Jagger's lyrics for Sympathy for the Devil came "from an old idea of Baudelaire's", he's namechecked in Rod Stewart's Red Hot in Black, while The Cure's How Beautiful You Are was adapted from Les Yeux des pauvres. Only last autumn the internationally-acclaimed Norwegian singer and composer Susanna released a selection of her settings of the poet's work as the album Baudelaire and Piano.
"I think it's impossible to get through this vale of tears entirely sober," said Leonard Cohen. "I'm more like Baudelaire: let me be drunk with wine, with women, with poetry – whatever the thing is."
So wide-ranging is Baudelaire's influence on musicians and composers, in fact, that a long-established research project at the University of Birmingham documenting music inspired by his verse has a constantly-updated website brimming with examples. Among the best known are Debussy's Cinq Poèmes de Baudelaire, but perhaps the pick of the avant garde end of the spectrum, even allowing for Italian thrash metal, is Flowers of Evil, the 1969 album by pioneering American composer of electronic music Ruth White on which she performs her own translations of Baudelaire's poetry over an exotic soundscape created on an early Moog synthesiser.
Performance poet John Cooper Clarke cites him as a key influence and regards The Vampire as the definitive literary summation of drug addiction. "Baudelaire was the baddest motherf**ker on the block," he says. "Him and Shakespeare are the only people I think are better than me."
He's even been lauded on screen by two notable fictional Montys in Mr Burns from The Simpsons and Withnail and I's Uncle Monty, while away from the arts – about as far away as you can get, in fact – when J. Robert Oppenheimer sat waiting for the minutes to tick down ahead of the first nuclear bomb test at Alamogordo in 1945 he passed the time with a volume of Baudelaire.
That might be an extreme attempt to emulate the poet's constant search for beauty in unlikely settings but Baudelaire, the pioneer of modernity who is still modernising European culture two centuries after his birth, keeps turning up in the most unlikely places.
"Like all beauty, like all elegance, like all nobility, the best of Baudelaire springs up unnoticed," wrote Jean Cocteau in 1957 marking the centenary of Les Fleurs de Mal. "Forever will such verbal stars sparkle in the literary heavens."
What do you think? Have your say on this and more by emailing letters@theneweuropean.co.uk
FIVE GREAT BOOKS OUT THIS WEEK
DALVI: SIX YEARS IN THE ARCTIC TUNDRA
Laura Galloway (Allan & Unwin, £14.99)
When a DNA test reveals a genetic connection to the Sami people Laura Galloway heads straight for the Arctic. A relationship with a reindeer herder ends six months after leaving New York for the small town of Kautokeino in the far north of Norway and common sense tells her to head for home. Instead, she stays for the six years recounted in this fascinating memoir.
THE MANNINGTREE WITCHES
A.K. Blakemore (Granta, £12.99)
This debut novel from poet Blakemore is receiving rave reviews, and rightly so. She brings a poet's touch and rhythm to this gripping story from the witch trials of mid-17th century Essex where the villages are depleted of men fighting in the civil wars and Matthew Hopkins arrives among the women, reticent about his true purpose.
HIGHER GROUND
Anke Stelling (Scribe, £14.99)
Resi lives with her husband and four children in an apartment in Berlin owned by members of a commune. Having watched the idealists slowly become seduced by capitalism, an eviction notice sends Resi on a mission to introduce her teenage daughter to the realities of life under capitalism when ideals and principles die.
REVOLUTIONS: HOW WOMEN CHANGED THE WORLD ON TWO WHEELS
Hannah Ross (Weidenfeld & Nicolson, £16.99)
A celebration of the women who fought against the patriarchy to claim that most versatile of vehicles, the bicycle, for themselves. From Simone de Beauvoir's two-wheeled adventures in Paris to the extraordinary Annie 'Londonderry' Kopchovsky who in 1894 set out to circumnavigate the world on a bike these are remarkable stories, wonderfully told.
PERMAFROST
Eva Baltasar (And Other Stories, £8.50)
Permafrost's lesbian narrator, desperate to leave Barcelona, heads first for Brussels, because a city "whose symbol is a little boy peeing was a city I knew I would like". It's not her final European stop on a journey to break out of traditional roles in a book from a Catalan poet that was a word of mouth hit in its native language (although no translator is named here).
Most popular