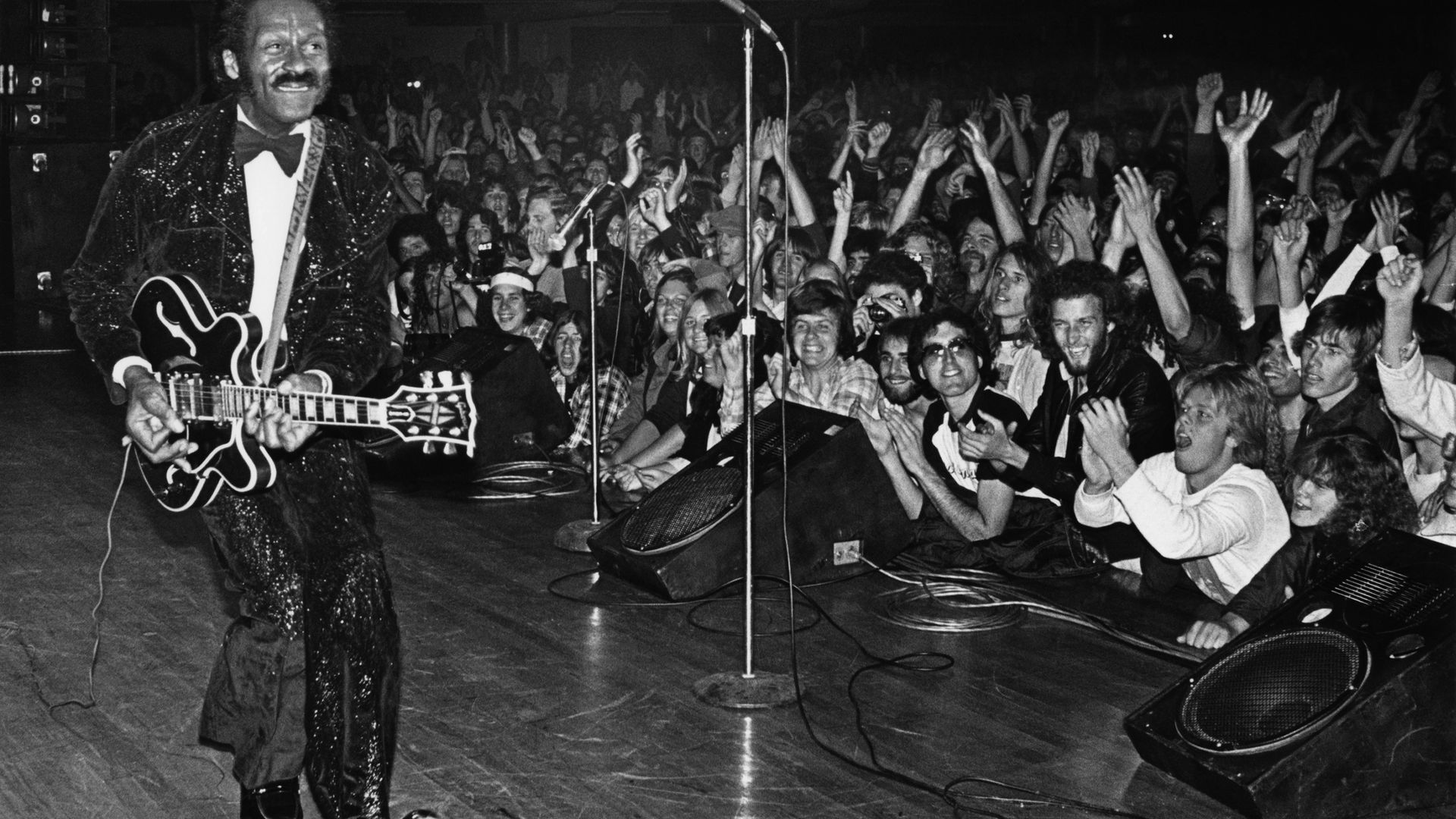 St. Louis has as strong a claim as anywhere to be the city where the sound was first heard
Rock 'n' roll was born at 3137 Whittier Street, St. Louis. Chuck Berry's debut single Maybellene had it all – teenage heartbreak, fast cars and a driving guitar break – and was written during Berry's eight-year residence in the single storey red brick house in the city's northern neighbourhood of Greater Ville, St Louis.
While its line of descent from hilly billy and country music was clear, being based on the country standard Ida Red, Maybellene was something new in both sound and attitude.
It gave St. Louis, already a centre of the development of the blues via W.C. Handy's St Louis Blues (1914) and incomers of the 1920s and 1930s like Lonnie Johnson and Robert Nighthawk, and of jazz via Miles Davis who jumped ship for New York at 18, a strong claim as a birthplace of rock 'n' roll.
When the single appeared July 1955, Cuban bandleader Pérez Prado's orchestral mambo Cherry Pink (and Apple Blossom White) had been exerting chart dominance for some weeks. But as the anodyne tune was superseded by Bill Haley's Rock Around the Clock and Fats Domino's breakthrough Ain't That A Shame, and Little Richard's Tutti Frutti appeared in the autumn, rock 'n' roll was coming fast. Berry was front and centre as the world of music shifted on its axis – Maybellene rocketed to R&B chart No.1 and, eventually, pop chart No.5.
Berry was St. Louis born and bred, and he maintained his links there all his life. The St. Louis of his youth was a heavily segregated one as a result of a Jim Crow-era city ordinance – Delmar Boulevard, cutting across the city from East to West, was the strict dividing line between the city's black north and white south. The Berrys lived in the black middle-class The Ville neighbourhood and were heavily involved in the Antioch Baptist Church.
Berry's early music training came through the church choir, as well as his piano-playing mother, and even when Berry rebelled against his parents' respectability and ended up in borstal aged 17, it only provided an opportunity for more music, as Berry founded a gospel quartet and a rhythm and blues band behind bars.
Berry was paroled on his 21st birthday, bought the Whittier Street house in 1950, and while working for his father's construction company, studying to become a hairdresser, and supporting a wife and eventually four children, he continued to pursue his musical dreams.
A major break was joining the Johnnie Johnson Trio, who played a residency at the Cosmopolitan Club on Bond Avenue on the other side of the Mississippi from The Ville for three years from 1952. Johnson's boogie woogie piano proved the perfect foil for Berry's fast developing unique guitar style, and the two began writing together. A future beyond the local scene beckoned.
In May 1955, Berry went to Chicago and blagged himself a recording session with Chess Records. Maybellene got put through 36 takes and Berry thought little of it until he heard the song being played on a shop radio as he walked down a St. Louis street.
Over the next three years, Berry and Johnson made records with Chess that provided the core blueprint for rock 'n' roll, from Roll Over Beethoven (1956) to Rock and Roll Music (1957) and Johnny B. Goode (1958). Berry proved himself a master storyteller as a lyricist and redefined the limits of what a guitar could do. His conviction for trafficking a 14-year-old girl sent him back to prison in 1962, marking one of rock 'n' roll's great watersheds – by the time of his release, a new musical era was on the way.
Berry continued performing into his eighties, including playing a legendary monthly residency at St. Louis venue Blueberry Hill for nearly 20 years. Despite the Whittier Street house being put on the National Register of Historic Places in 2008, at which time Berry commented "Many of my favourite songs came about while in that house", and the city of St. Louis putting forward plans to convert it into a museum, it remains boarded up and without plaque or marker. Only the 'B' on the veranda awning, an addition made by Berry himself back in the 1950s, hints at its history.
At the time that the Johnnie Johnson Trio was unleashing Chuck Berry's guitar and energetic stagecraft on an unsuspecting public, an incomer to St. Louis was both challenging the trio for bookings and making a claim to the role of rock 'n' roll pioneer.
Three years before moving to St Louis, Ike Turner had backed Jackie Brenston on his seminal single Rocket 88 – another automobile-based tune, and also released on Chess – with his Kings of Rhythm band credited as 'The Delta Cats'. Not quite as frenetic as Maybellene and rooted in rhythm and blues, it nonetheless brought together the essential components of rock 'n' roll in a similar way, and by 1954 the Kings of Rhythm were competing with the Johnnie Johnson Trio as the only combo in St. Louis not playing straight blues or jazz.
A visit to his sister and offer of a residency at Ned Love's club in East St. Louis led to Turner laying down roots in the city, buying a house on Virginia Place, a street over from Bond Avenue and a mile from the Cosmopolitan where Berry was then playing three times a week.
The Virginia Place house was also a rehearsal space and sometime recording studio, and it was there that Anna Mae Bullock – a teenage Tina Turner, who had moved to St. Louis just the year before and was then a student at The Ville's Sumner High School – first appeared on record, backing Turner's odd rock 'n' roll-calypso song Box Top (1958).
But it was only in 1960 that Ike and Tina Turner became crystallised as a duo and a pop force, as 'Little Ann' unleashed her vocal fireworks on A Fool in Love. Recorded at central St Louis' Technisonic Studios, a TV and film sound recording facility, but nonetheless also adopted as a recording location by Chuck Berry in the mid-1960s, the song was an alchemic mix of gothic gospel and perky girl group doo wop.
It broke the Hot 100 Top 30 and, as the Ike and Tina Turner Revue built a reputation as perhaps the most savage live act on the planet, a move to Los Angeles cut their ties with St. Louis. That it was the city that made them is however acknowledged by their inclusion on the St. Louis Walk of Fame on Delmar Boulevard.
In the years that followed Ike and Tina Turner's breakthrough, St Louis artists had a raft of hits, from Fontella Bass of Rescue Me (1965) fame, to Michael McDonald and rapper Nelly, whose first group, the St. Lunatics, punned on the city's name and whose debut single Gimme What You Got (1997) repeated, "And you say St. Louis city… gimme what you got".
The video for the eponymous single of Nelly's debut solo album Country Grammar (2000) featured the rapper wearing the shirts of the St. Louis Blues ice hockey team and the Cardinals baseball team, as well as standing beneath the 600-foot Gateway Arch that is the symbol of the city. While St. Louis has provided a staging post to stardom for many incomers, in its native musicians it has inspired a fierce, unbreakable loyalty.
JOPLIN, JOSEPHINE AND JAZZ
At 2658 Delmar Boulevard the St. Louis home of 'King of Ragtime' Scott Joplin is preserved. While living there between 1901 and 1903, Joplin wrote his most famous composition, The Entertainer. Three years after Joplin left the city, Josephine Baker was born in the Mill Creek Valley neighbourhood. After a tough childhood, during which she sometimes performed on the streets to survive, Baker was recruited by the St. Louis Chorus at the age of 15 and went to New York then on to Paris, where as a singer and dancer she became one of the defining figures of the Jazz Age.
What do you think? Have your say on this and more by emailing letters@theneweuropean.co.uk
 
Most popular