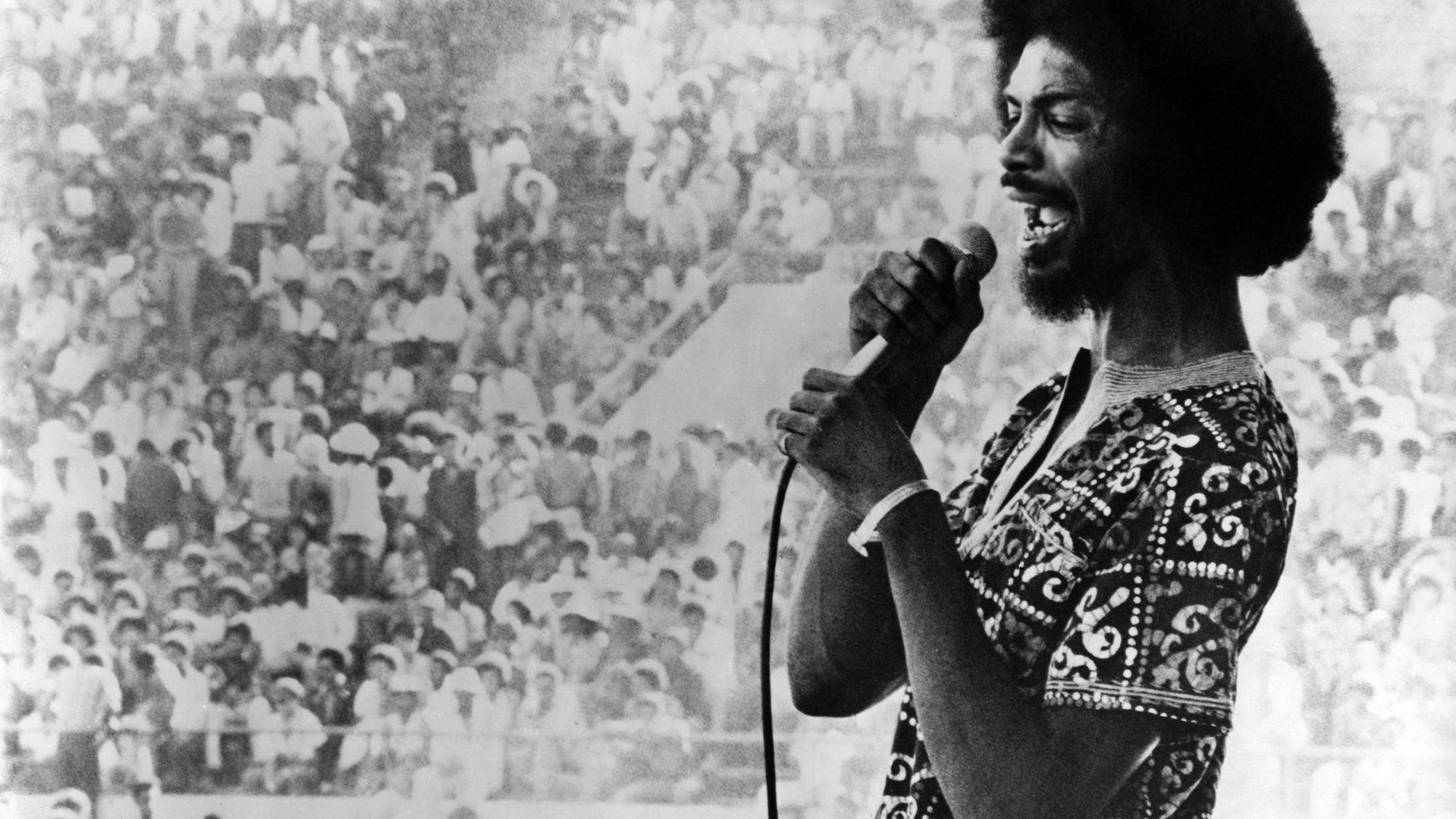 Musicians from the US capital city have been more effective than many of its politicians at articulating the country's problems. By SOPHIA DEBOICK
The official presidential playlists issued by Joe Biden – who marks 50 days in office this week – do not necessarily reveal much about his personal musical tastes. The practice, started by president Obama, mainly serves the purpose of optics and messaging, and his campaign trail songs were a multi-cultural mix of uplifting, hopeful songs of empowerment, although often tinged with bitterness – The Staple Singers' We The People, Stevie Wonder's Higher Ground, Bruce Springsteen's We Take Care Of Our Own and Lady Gaga's The Edge of Glory among them. The inclusion of the Average White Band's Pick Up the Pieces on the inauguration playlist was a welcome injection of ironic levity after four years of self-regarding humourlessness.
Now, as Washington's most famous resident, Biden may find new inspiration in the city's rich musical history which has long been a highly politically conscious one, critiquing the ills of society while creating whole new musical movements.
Washington has a long association with blues, jazz, folk, soul and funk. Duke Ellington was born in the city and Jelly Roll Morton played piano in the historically black Shaw district in the mid-1930s. Local jazz guitarist Charlie Byrd met saxophonist Stan Getz at the city's Showboat Lounge in 1961 and their Washington-recorded Jazz Samba LP of the following year became a classic.
The university district of Georgetown was home to jazz clubs and then Beatnik coffee shops that hosted spoken word and folk performances, and the legendary Blues Alley club opened there in 1965.
Marvin Gaye was raised in the city's public housing projects and was an artist who bridged chart-baiting soul and socially-conscious funk. But it was a figure from outside the city who would bring all these strands together in a genre-breaking, satirical and politically charged new music in the 1970s.
Poet, musician and activist Gil Scott-Heron embodied the intersection of music and politics. Born in Chicago, Scott-Heron spent his teenage years in New York and was strongly associated with the arts and activism of Harlem, his 1970 debut LP Small Talk at 125th and Lenox recorded at a club at that location and containing the seminal proto-rap The Revolution Will Not Be Televised.
But Washington was where Scott-Heron spent much of his twenties, living on the city's southern outskirts and then on 16th Street in the city centre, near Meridian Hill Park (known to locals as Malcolm X Park), and teaching literature at the Federal City College while also pursuing his musical fusion of blues, jazz, funk, soul and spoken word. Scott-Heron's musical collaborator Brian Jackson has said "D.C. inspired everything that we did".
The Washington of the 1970s was blighted by terrible race relations, poverty and crime. The damage from the three days of riots after the assassination of Martin Luther King in 1968 remained unrepaired in many districts, and the city's urban decay was a fitting background to the rotten state of the White House under Nixon. Scott-Heron's music responded directly to the city's social deprivation.
Scott-Heron's The Bottle (1974) painted a series of vignettes of alcoholism – "See that black boy over there, runnin' scared/ His ol' man's in a bottle/ He done quit his 9 to 5, he drink full time/ So now he's livin' in the bottle" – and was directly inspired by the spectacle of the morning queue outside Log Cabin Liquors in Shaw, not far from his home and just a mile north of the White House. Despite the song's downbeat message its compelling funkiness made it one of Scott-Heron's most successful songs.
Washington was a place where the fight for racial equality went on into the 1980s, and Scott-Heron would take that fight right to the corridors of powers. When Stevie Wonder's Hotter Than July appeared in the autumn of 1980, it closed with Happy Birthday, a deceptively cheerful protest song supporting the call to make Martin Luther King's birthday a national holiday. Scott-Heron became involved in the cause, touring with Wonder and appearing at a Washington Monument rally in January 1981 less than a week before the Reagan inauguration, right where King's 'I Have a Dream' speech had taken place.
Despite a six million signature petition being presented, still the new holiday was not agreed, and the following year Scott-Heron sung bitterly on Moving Target (1982), his final LP for over a decade, of the city as an "Outhouse of bureaucracy" where "Citizens of poverty are barely out of sight", concluding "It's a mass of irony for all the world to see/ It's the nation's capital, it's Washington D.C'.
The Martin Luther King Day bill finally passed in late 1983 after a bitter debate on the senate floor, and when he wrote his posthumously-released memoirs, The Last Holiday (2012), Scott-Heron remembered the 1981 Washington rally as a highlight of his career. Scott-Heron is remembered in Washington today via the Smithsonian National Museum of African American History and Culture including his personal artefacts in their collection and the annual DC Poetry Festival now being subtitled 'Honoring Gil Scott-Heron'.
By the early 1980s a new politically conscious sound was already coming out of a Washington. Bad Brains were founded as a jazz fusion outfit in 1977 before punk changed their direction. Reborn as a rare all-black punk outfit, they were known as a ferocious live act, so much so they couldn't get club bookings in their home city, resulting in their self-explanatory song Banned in D.C. (1982) (the cover of their 1982 eponymous debut LP symbolically featured the Capitol dome being destroyed by lightning).
But Bad Brains were no mere take-off of English punk, the band's musicianship giving them a seriously frenetic yet far more technical sound, and their anti-establishment, anti-fascist political message far less nihilistic. Hardcore punk had been born.
Teen Idles were the direct result of Bad Brains' influence, and vocalist Ian MacKaye and drummer Jeff Nelson set up their own label, Dischord, to put out their first release – the Minor Disturbance EP of late 1980. Dischord House, the label's HQ, but also a rehearsal space and virtual commune in Arlington, just across the Potomac River from Washington, became the geographical heart of hardcore.
But it was in their next incarnation as Minor Threat that MacKaye and Nelson made a truly formative contribution to the hardcore subculture, their Straight Edge (1981) from their 1981 debut EP a manifesto for maintenance of intellectual lucidity and abstinence from drugs and alcohol – "Always gonna keep in touch/ Never gonna use a crutch" – that became a key part of the movement.
The early 1981 release of SOA's No Policy EP on Dischord was also a seminal moment, its frontman being Washington's own Henry Rollins, who would join legendary West Coast hardcore band Black Flag that same year and go on to become a subcultural icon.
Later Ian MacKaye's Fugazi, with their DIY, socially conscious and financially ethical approach to their operations, advanced into a post-hardcore sound. Multi-racial band Scream, in which Nirvana's Dave Grohl was once drummer, and Government Issue, fronted by Henry Rollins' former bandmate John Stabb, were other key contributors to a scene that was Washington through and through.
Hardcore's principled confrontation of the skinhead element of the musical underground might make it a fitting, if unlikely, soundtrack to the Biden presidency, his decency the antidote to the Trump administration's flirtation with the 'fine people' of the alt-right, and Scott-Heron's call for racial justice is also echoed in the current mood music. As Washington's famous cherry trees begin to blossom later this month, symbolic of the world looking towards brighter times, perhaps some of the problems explored in Washington's music over decades will begin to be solved.
A DOWNER ON D.C.
Gil Scott-Heron's conflation of Washington with a corrupt state was repeated in a number of songs. The Clash's Washington Bullets (1980) was a critique of US foreign policy from the Cuban Revolution onwards, while singer-songwriters Steve Earle and John Mellencamp reflected with bitterness on the 1996 and 2000 presidential elections, respectively, on Christmas in Washington (1997) and To Washington (2003). Megadeth's Washington Is Next! from 2007 album United Abominations was laced with frontman Dave Mustaine's conspiracy theorist imagery.
What do you think? Have your say on this and more by emailing letters@theneweuropean.co.uk
Most popular