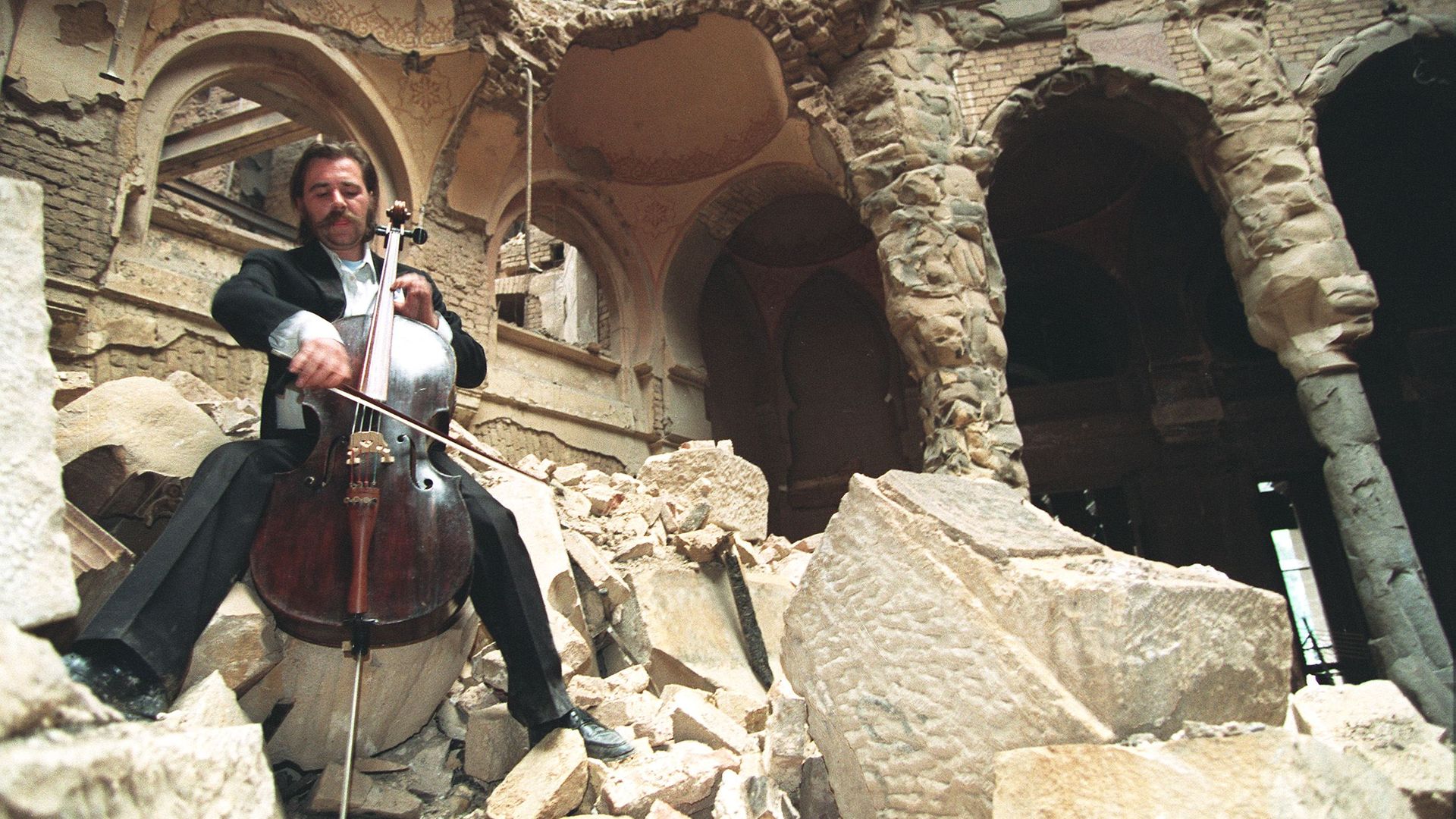 SOPHIA DEBOICK on how Sarajevo's musical heritage helped the city through its darkest hour.
To the outside world, 1,425 days eclipsed half a millennium of history. The sheer horror of the 1992-1996 siege of Sarajevo and the inter-ethnic violence of the Bosnian War obscured its past as an urban powerhouse and centre of learning under the Ottomans, and a cosmopolitan crossroads between east and west under the Habsburgs. In the decade before that conflict broke out, Sarajevo's role as host of the 1984 Olympics had brought it international recognition and something of a golden age.
But the 1980s had also seen a resurgence of nationalist feeling among Yugoslavia's constituent nations and the beginning of their break-up saw this city of Bosniaks, Croats and Serbs – a 'Little Jerusalem' where Orthodox and Catholic churches stood by mosques and synagogues – bombarded by Serb shells and menaced by snipers from April 1992. The city became defined by those 44 months, but Sarajevo's deeper history is found in its music, and the survival of song amidst the siege proved that it is deep in its soul.
Music was indeed a means of survival under siege. The Sarajevo String Quartet performed 206 concerts during those nearly four years. When in the autumn of 1992 first violinist Momir Vlačić was killed by a shell as he went to rehearsal and second violinist Kamenko Ostojić was shot by a sniper, the quartet regrouped and played on. The following August, a concert at the National Theatre, later recalled by journalist Ed Vulliamy, was briefly disrupted as an explosion shook the building and knocked over the viola player's music stand. He picked it up and they continued to play.
Vedran Smailović, the 'Cellist of Sarajevo', played Albinoni's Adagio in G Minor every afternoon for 22 days to mark the deaths of 22 people queuing for bread on Ulica Vase Miskina in a shell explosion in May 1992. He also played later vigils in bombed-out buildings in full evening dress.
Meanwhile, an underground music scene which had begun with the New Primitives subculture of the 1980s and bands like Zabranjeno Pušenje and Elvis J. Kurtović & His Meteors kept going throughout the bombardment. A lifeline was provided by alternative aid project The Serious Road Trip which brought in not just medicines on their brightly-coloured trucks but CDs and concert equipment. Sarajevo's own Gino Jevđević of the pop group Gino Banana, and now frontman of the Seattle-based gypsy punk band Kultur Shock, put on a long-running production of the musical Hair.
In January 1995 the Rock Under Siege event in the basement of the Sloga club saw 15 local bands defy the extreme shortages and ever-present threat of death to perform for 2,000 fans. Alternative station Radio Zid, founded in late 1992, offered an anti-war retort to the patriotic, morale-boosting songs like Dino Merlin's Vojnik sreće ('Soldier of Fortune') [1992] played on the public broadcaster, Radio Sarajevo.
But music had been a means of survival for Sarajevans long before 1992. While the sevdah folk music of Bosnia was put to patriotic uses during the conflict of the 1990s (veteran Sarajevan singer Kemal Monteno's sentimental Sarajevo ljubavi moja ('Sarajevo, My Love') [1995] is but one example), it carries hundreds of years of history. While its etymology is derived from the Arabic for 'melancholy', and Sufi Ilahije (sacred songs) may have influenced its development, sevdalinka (sevdah songs) like Kad ja pođoh na Bembašu ('When I went to Bembasa'), the unofficial anthem of Sarajevo, bear Slavic and Jewish folk forms. Sevdah is Bosnia's cultural and ethnic mix in sonic form.
Although sevdah ballads sometimes deal with easily graspable themes like frustrated love, they are often suffused with a pathos that is less easy to define, and the travails of Sarajevo and Yugoslavia more broadly were played out in sevdalinka long before the 1990s.
Flory Jagoda, born in Sarajevo in 1923, is a living embodiment of the musical tradition of both Sephardic Ladino songs and sevdah. Jagoda's ancestors had fled the Iberian peninsula in the 15th century and she was brought up amid the vibrant pre-war Jewish community of the town of Vlasenica, ancestral home of the Altaras family of her mother. During her youth in Yugoslavia, Jagoda learned to play the accordion, which had superseded the Turkish saz as the common accompaniment to sevdah, and developed a singing voice of crystal clarity and deep emotion, learning traditional songs directly from her mother.
Jagoda and her family had moved to Zagreb by the time of the Nazi invasion of 1941. Rampant persecution of Serbs, Roma and Jews followed and Jagoda's family fled by train for the port of Split in the hope of sailing out of the country. Without the right papers, it was a dangerous journey, but Flory played her accordion and sang all the way, rallying fellow passengers and creating a distraction which meant their credentials were never checked. They sailed away from the Balkans and eventually escaped to defeated Italy, where Jagoda met a US Air Force officer, married him and moved to the US.
Jagoda's recordings like 1989's Kantikas Di Mi Nona ('Songs of My Grandmother') and Memories of Sarajevo are artefacts of Bosnian musical history and Jagoda's last solo album, 2006's Arvoliko ('The Little Tree') – referencing the tree that marks the mass grave of 42 members of the Altaras family massacred in Vlasenica in April 1942 – shows how music can itself memorialise and document.
Within Bosnia, sevdah remained a key popular form throughout the post-war decades, and many of its stars were based in Sarajevo. Himzo Polovina, a practising psychiatrist in the city, became one of the most celebrated singers of sevdalinka after coming to prominence in the 1950s. While the 1970s saw Bosnian rock come of age, it also marked a high tide for the popularity of sevdah – 1974 was the year of the debut LP of seminal Sarajevo rockers Bijelo Dugme, but also of the first release of sevdah singer Hanka Paldum, who would go on to found record label Sarajevo Disk.
Paldum spent the siege in Sarajevo, taking part in a protest in its early days by singing the song Bosna je majka moja ("Bosnia is my mother/ Muslim, Serb and Croat/ They are all my people"). But during that siege a future sevdah star was also waiting in the wings, ready to take the form into a new age.
Amira Medunjanin was born in Sarajevo in 1972 and survived the siege by sleeping in a coal cellar, while the underground concerts by local bands provided some creative sustenance. After the war she worked as an interpreter for the European Commission and was only slowly convinced to become a performer. Her affectingly mournful voice, which has seen her dubbed "the Balkan Billie Holiday", was showcased on her debut album Rosa (2005). The cover showed the singer against the Sarajevo skyline of mountains and minarets, and she has said it was her "tribute to sevdah in its original and organic form". Medunjanin has gone on to tour internationally and give the genre new prominence outside of Bosnia.
Medunjanin's interpretation of the centuries-old sevdah – spiked by a jazz sensibility and her professed great love of Nick Cave, but also the experience of recent history– stands for Sarajevo today, going forward but always under the weight of history.