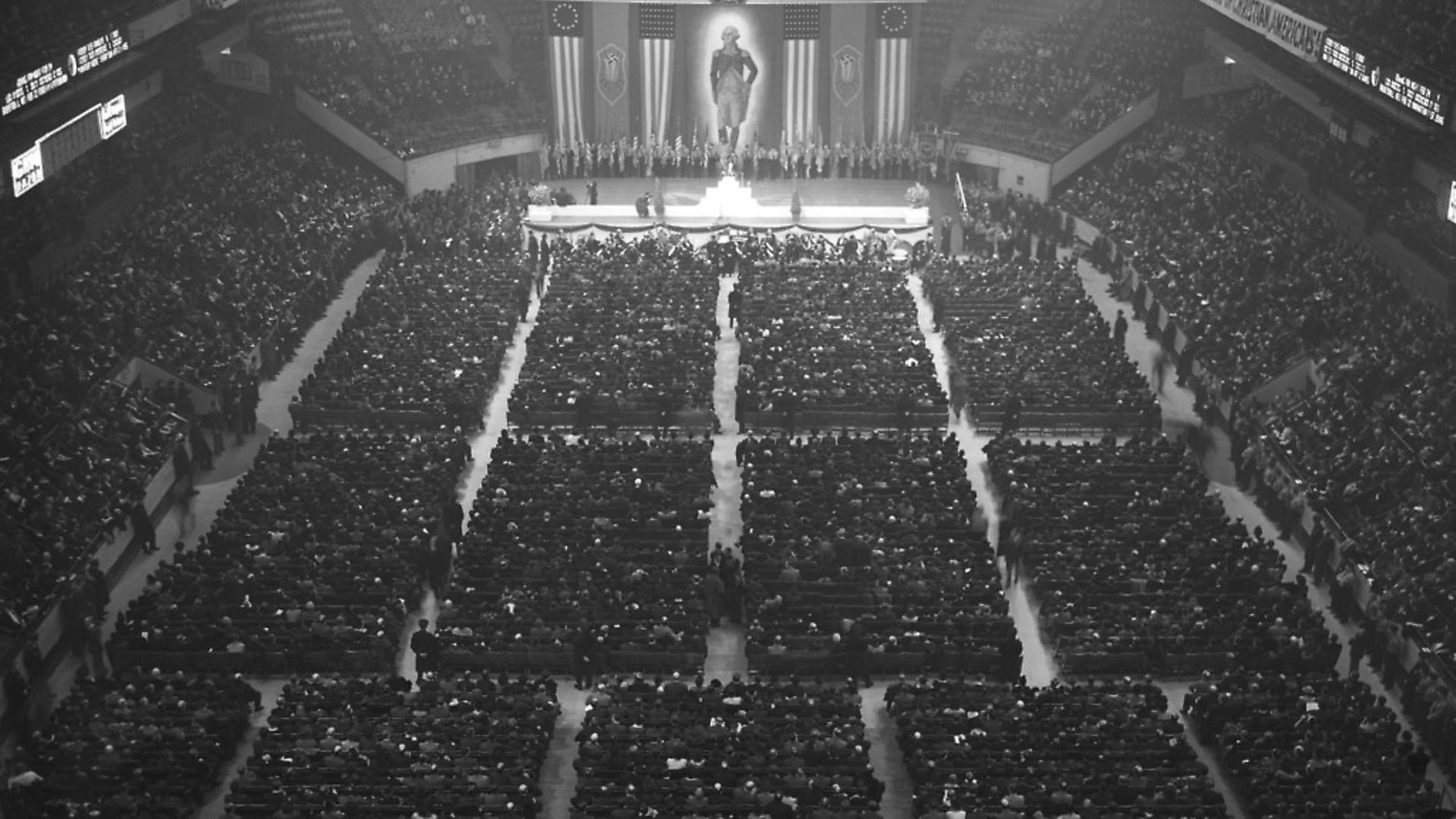 Ahead of tonight's star-studded ceremony, critic Jason Solomons watches the remarkable Oscar-nominated film looking back on a long-forgotten episode in American history.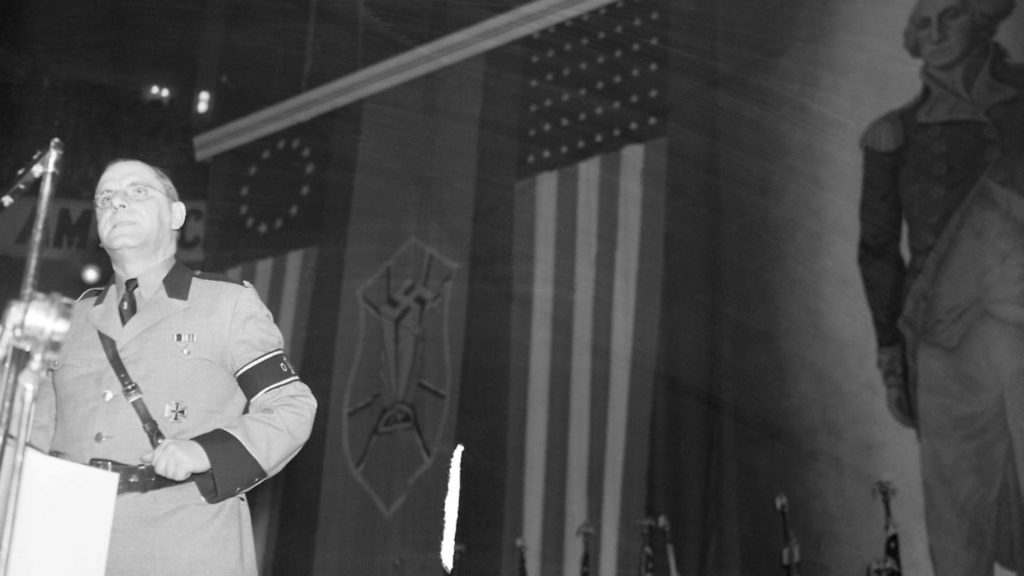 In February 1939, the month that German Jews were forced to turn over any valuables to the state without compensation, a rally was held at Madison Square Garden, where 20.000 Americans gathered to celebrate Nazism.
This little-known event is now the focus of an Oscar-nominated documentary short film, A Night at the Garden, and watching it, you could easily think you're seeing footage from Nuremberg.
But it's all happening in New York, complete with swastika flags and American banners, frenzied applause, youth marching bands and thousands of Americans proudly raising their arms in Nazi salute before a rousing rendition of The Star Spangled Banner.
The event had previously featured in a few historical documentaries but, according to the short's director Marshall Curry, had never been pieced together to form a whole. Collecting what survived was a feat of research in various film archives and the director began to think of making a documentary about the event.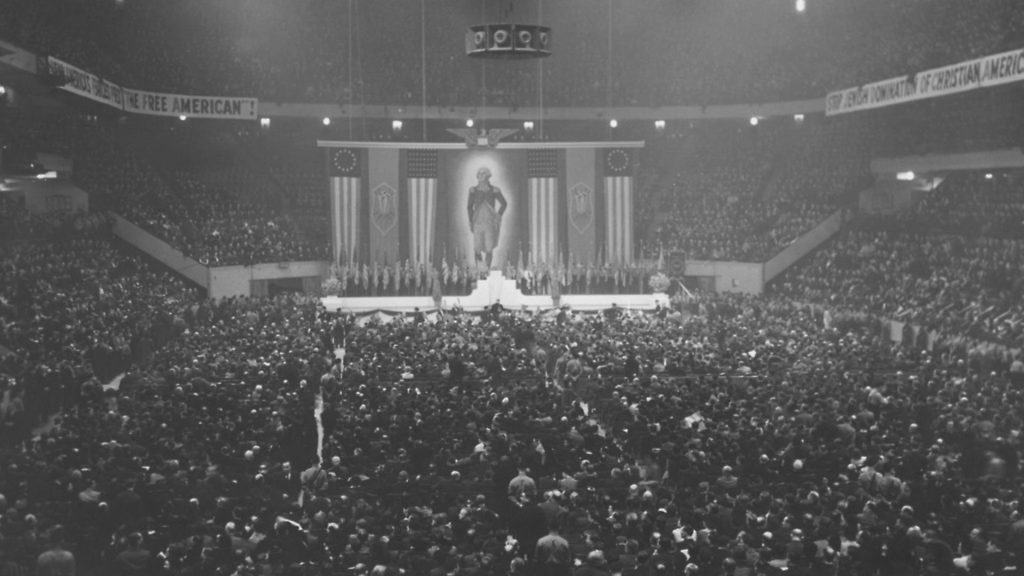 'I first thought I might do something a little more traditional,' he says, 'where I would interview historians and get some background on what exactly it was.'
Instead, Curry simply lets the six minutes of the film play out, with little context and no comment. 'I thought what it might be like if we just dropped the audience into this thing, with no explanation. What would that feel like? The more I started playing with it, the more I realised there was real power to the immersive, cinematic experience of having this thing unfolding before your eyes.'
And that's it. The finished product, which is in the running for an Oscar this Sunday night, is actually hard to believe as news footage. It looks more like something from a Hollywood movie – a spoof from the Marx brothers, maybe, some out-takes from Chaplin's The Great Dictator, or perhaps a long-lost Fritz Lang scene – but is far more frightening when given the status of actual news archive.
According to the film's own website, it transports viewers to this 'chilling gathering and shines a light on the power of demagoguery and anti-Semitism in the United States'.
The film is, of course, backed up by newspaper clippings of the time, reporting on the night of February 20, 1939 – exactly 80 years ago. Organised by a movement known as the German American Bund, the rally was lead by a German-born American citizen named Fritz Kuhn, who claimed Hitler had appointed him the 'American Furher' and who referred to president Roosevelt as 'Frank D Rosenfeld' and labelled FDR's New Deal as the 'Jew Deal'.
The irony of a thickly-accented German declaiming about American values is totally lost on the crowd so it's the sudden outburst of activity in the corner of the screen that shocks most – a man tries to run on the stage and is crudely stopped by police and 'stormtrooper' guards, dumped off the platform and led away. He is a 26-year-old plumber's assistant from Brooklyn, named Isadore Greenbaum.
In the ensuing court hearing the next day and covered by the New York Times, the Jewish man explained to a judge: 'They talked so much against my religion and there was so much persecution, I lost my head and I felt it was my duty to talk.' When the judge inquired if he'd considered that innocent people might have been killed by his actions, Greenbaum replied: 'Do you realise that plenty of Jewish people might be killed with their persecution up there?'
At the same time in Europe, we know now that Hitler was constructing another concentration camp. Unarmed with hindsight, there are protesters and mounted police outside at the start of the film (reports say that as many as 100,000 turned up to protest, but the film shows only a small handful). However that's the only signal that something that will come to be viewed as extraordinary is happening inside – the very matter-of-factness of it in 1939 is illustrated by the famous neon sign outside Madison Square Garden proclaiming: 'Tonight Pro American Rally. Hockey Tues Night Rangers vs Detroit Basketballs Wed Night Fordham vs Pittsburgh.'
So who is this man, striding to the podium and addressing his fellow Americans in such a purring, crisp Germanic accent (it's like a Bond villain parody) and dressed in a military-style uniform with leather sash? Who is this Fritz Kuhn, accusing the 'Jewish controlled press' of demonising him, demanding his American government be returned to the people, calling for a 'socially just, white, gentile-ruled United States… free from Jewish Moscow-directed domination'? And who are the masses cheering him on, lining up in serried ranks, the youth and the neatly-uniformed women, all stoking the fervour?
Kuhn was a First World War veteran who had earned the Iron Cross, and claimed to have been present in Munich at the failed Beer Hall Putsch that led to Hitler's imprisonment in 1923. Kuhn fled to Mexico, then worked for Ford in Detroit and became elected leader of the Bund after working as a leader for the Friends of the New Germany organisation – ostensibly a network to help keep Germans in America in touch with events back home. Under Kuhn, however, it began to raise its profile. He was a flamboyant figure, pictured in nightclubs and who designed his uniform himself.
He played on the nationalistic power of Americanism and coined the Bund's slogan, 'Free America'. He even set up youth summer camps directly modelled on the Hitler Youth camps, with Nazi-themed summer camps in California and New York state (later home to the famous Catskills and Borscht Belt Jewish summer seasons.)
The event at the Garden did indeed succeed in alerting Americans to the Bund's activities. Kuhn was investigated for tax fraud and thousands of dollars in ticket receipts for the night were eventually unaccounted for.
Charged with embezzlement, Kuhn was detained in Sing Sing prison in New York until the end of the war, then deported to Germany where he died in 1951. According to the New York Times, he died in Munich, 'a poor and obscure chemist, unheralded and unsung'.
All this – and much more – emanating from a tiny short film. As the director says: 'The footage is so powerful it's amazing it isn't a stock part of every high school history class. But I think it has slipped our collective memory because it's so scary and embarrassing. It tells a story about our country that we'd prefer to forget: we'd like to think that when Nazism rose up, all Americans were appalled. But they weren't.'
Curry says he left the footage to speak for itself so that audiences would be perturbed and confused by the sight of George Washington next to swastikas and crowds giving the Nazi salute. 'I wanted it to be provocative – an icy splash of history tossed into the discussion we are having about white supremacy right now.'
Of course that's it. It looks for all the world like a Trump rally, doesn't it? And indeed, there's are stories of a Jewish journalist who infiltrated the Bund, became a trusted member and then exposed Kuhn and his goons. Sounds very much like the plot of Spike Lee's BlacKkKlansman if you ask me, also an Oscar-nominated film this year, and all the better for the way it so chillingly reflects on the present-day, up to Charlottesville, where American Nazis saluted and rallied once more, just a year or so ago.
Most popular